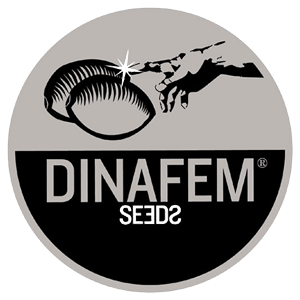 The forming of Dinafem was a process of love and passion. Yet, it is one that took many years, as the team behind its founding took their time to ensure everything was done exactly right.
Before Dinafem even became a hope and dream, the breeders behind it had spent years working together to grow and enjoy some of the most iconic cannabis strains of the time. Through their shared love, they eventually came to a point where they thought it was time to share their expertise and breeding with the world.
It wasn't a case of jumping straight into the cannabis seed market, though. In the Autumn of 2002, they decided to start laying the ground work for the company they envisioned. They dedicated a full year to finding suitable growing facilities, researching the finer aspects of large scale cannabis care, producing stable feminized seeds, and undergoing a rigorous selection process to find the perfect male and female plants to start up their seed-lines.
All of their hard work came to a head in 2003, when they successfully bred their first strain, the illustrious Power Kush. It wasn't long after this that they also successfully produced this strain in a feminized variety, cementing their skill as a new up and coming breeder.
It was in 2005 that Dinafem became an official company, ready to open its doors to the public. They became the first Spanish seed bank to offer their own varieties of feminized seeds, eventually adding Moby Dick, Blue Widow and Critical+ to their line up. At the time, these strain were little known, but quickly established themselves as rivals to even the "Dutch legends."
In the years after, Dinafem has worked to refine their existing strains, as well as combine them in new and interesting ways, introducing new genetics into their pool and producing many of the exciting cannabis varieties we love today.
Around the end of 2009, Dinafem's reputation had grown to the point where they could consider themselves amongst the best, holding themselves up as an international cannabis seed bank renowned for producing unique and high-quality seeds. By the end of 2010, they had introduced 10 new cannabis strains to their catalogue.
They have since continued to innovate, adding a range of autoflowering strains to their line-up, as well as well as branching out into CBD strain development.
Dinafem started from humble origins; a group of anonymous cultivators coming together to share a passion. That passion persists to this day, and can be seen throughout the way the entire company operates. There is a reason they have risen to such fame. They are a seed bank with the sole pleasure of growing in mind. To attest to this, Dinafem has won the Best Seed Bank awards at both Spannabis Malaga 2015, and Expogrow 2013!
If you are looking for some strains of theirs to try out, we highly recommend Critical+, OG Kush, and Blue Widow!
Packaging Dinafem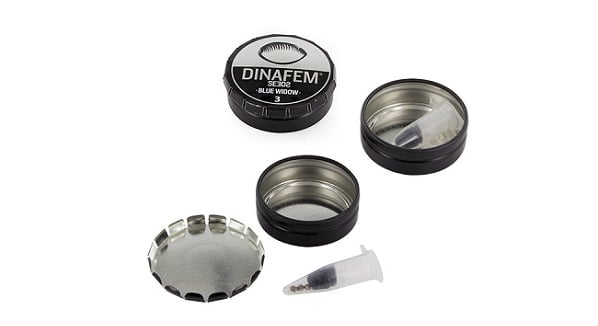 When it comes to ensuring the customer has the best experience possible, Dinafem is on it! This expands into their packaging, which has been painstakingly put together to ensure cannabis seeds stay safe and optimal both in storage and on their way to you.

To begin with, Dinafem houses their seeds in a re-sealable plastic tube. First, the seeds are placed in the tube, held at the bottom in a narrow point to ensure movement is kept to a minimum. Next goes in a breathable sponge to keep the seeds padded, followed by moisture beads to ensure humidity stays at an optimal level.

This tube is then placed in a circular metal pop-tin, further adding to the seed's protection. It is truly A-class packaging, and as it is re-sealable, you don't need to use all our seeds at once!

Dinafem cannabis seeds can be purchased in quantities of 3.
Awards Dinafem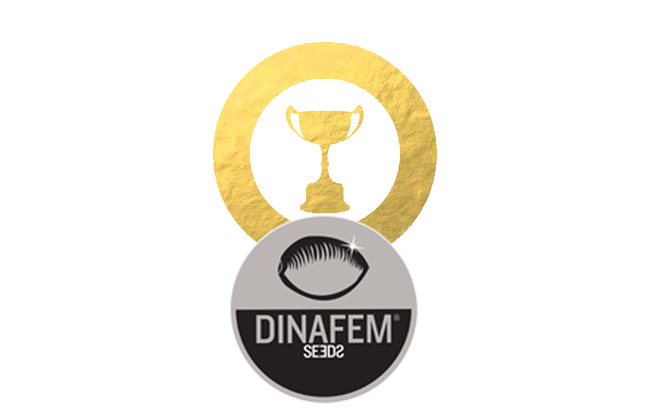 Being one of Spain's premier cannabis seed banks, it probably comes as no surprise that Dinafem has won multiple awards for their tireless efforts in breeding. Here are their strains that now wear a few medals around their necks.
---
Cheese Autoflowering


 
 

Awards:

• 2014 Expo Grow, 1st place for Best Solventless Extract

Bringing together an original Cheese specimen with the power of Critical+ Auto, Cheese Autoflowering retains the much-loved flavour of the original cheese, but deviates from the original by offering a slightly higher CBD content, altering the high to be even more relaxing. Being an auto, she will go from seed to harvest in 70 days, usually producing 40-135g per plant.

 
---
Original Amnesia


 
 

Awards:

• 2013 Expo Grow, 1st place for Best Sativa
• 2012 Expo Grow, 1st place for Best Sativa

As the name suggests, Original Amnesia is Dinafem's version of an all-time classic. Regarded as one of the most legendary strains to ever grace the market, Original Amnesia offers a fresh citrusy flavour and a skyrocketing high. She flowers in 65 days and can produce up to 600g/m2 indoors. Outdoors, she can pump things to the max, yielding up to 1200g/plant!

 
---
Purple Afghan Kush


 
 

Awards:

• 2015 Expo Grow, 1st place for Best Indica
• 2015 Spannabis, 3rd place for Best Indoor Bio

This indica dominant hybrid is the mix of G13 x Afghan x Neville's A5 Haze. It is a combination that gives her large yields of very powerful bud, as well as a short stature and quick flowering times. As the name suggests, her bud is sweet, fruity and tantalising, inducing deep relaxation.

 
---
Blue Widow


 
 

Awards:

• 2013 Treat Yourself Expo, 3rd place for Best Indica


Blending the genetics of Blueberry x White Widow, Blue Widow brings sweet flavours and a deep, dank body stone to the table, which also eases the mind. She grows with an extreme and healthy vigour, making her easy for novices to grow. Blue Widow flowers in 50-55 days, offering up a bounty of up to 525g/m² indoors, or 1100g/plant outdoors.

 
---
Critical Jack


 
 

Awards:

• 2010 Canarian Cannabis Cup, 3rd place for Best Overall Strain


Critical Jack combines the large yields of Critical+ with the prestige and heritage of Jack Herer. The result is a well-balanced and potent strain, offer all-round resilience, easy growth, and pleasurable high. Expect a long lasting cerebral high, accompanied with a woody, spicy flavour. Critical Jack flowers in 70 days, offering yields of up to 625g/m² indoors, or 1200g/plant outdoors.

 
---
Bubba Kush


 
 

Awards:

• 2015 Copa Cannabis, 1st place for Best Outdoor Strain


Bubba Kush is an indica dominant beast derived from a Pre 98' Bubba Kush. Just like her parent, she packs a lot of power, inducing a knock-back stoned effect. This isn't to say she is not manageable, but she can get you where you want to go very fast! She is a strong grower, especially when given a nice warm climate to thrive in. For your time an effort, Bubba Kush can produce up to 500g/m² indoors, or up to 800g/plant outdoors after 60-65 days of flowering – pretty awesome for a strain that is mostly indica!

 
---
Moby Dick


 
 

Awards:

• 2009 Canarian Cannabis Cup, 3rd place for Best Overall Strain


Named after the mythical leviathan, Moby Dick lives up to the reputation of her namesake, producing some gigantic and boisterous yields. A combination of White Widow and an Original Haze (two Dutch classics), Moby Dick is hailed as one of Dinafem's most psychoactive strain. It makes her an ideal choice for cerebral high lovers. Moby Dick takes roughly 63-70 days to flower, and can produce up to 650g/m² indoors, or a whopping 1500g/plant outdoors.

 
---
Super Silver


 
 

Awards:

• 2007 Copa de la Marihuana 2007, Copa de la Marihuana


Who has not heard of Super Silver? Seen as a granddaddy of the Haze world, Super Silver packs a classical potent cerebral high with an unforgettable spicy taste and aroma. Expect to have your mind launched clear of your body with this bad boy. To top it all off, Super Silver is capable of producing up to 1400g/plant outdoors, offering some very substantial yields!