As a mainstay in the cannabis scene since the early 2000s, Kiwi Seeds harnesses genetics from strains found in New Zealand and the South Pacific. Utilising predominantly Haze types and other sativa strains, the seed bank produces some truly unique varieties that are rare to come by in many other parts of the world. Although the origins of their business are directly linked to New Zealand, they are actually based in Amsterdam.
Kiwi Seeds breeds high-quality cannabis strains for the masses and has attained a huge level of popularity. This is reflected in their numerous prestigious awards, which include the High Times Cannabis Cup. The team at Kiwi Seeds strives to create great-tasting weed strains that maximise yields and deliver on potency and effects.
Based in Amsterdam, Kiwi Seeds is a seed bank specialising in premium-quality cannabis seeds.
What Are the Top 3 Cannabis Strains by Kiwi Seeds?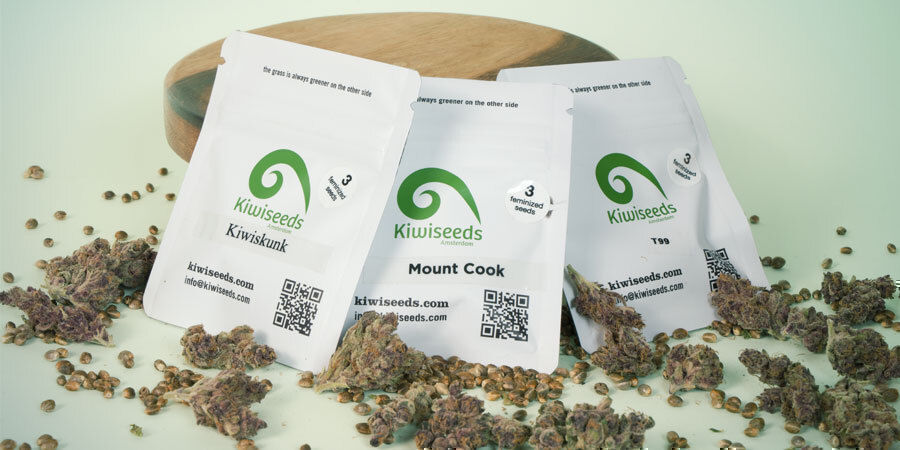 With so many different marijuana seeds available, it can be tricky to pick one that sums up exactly what Kiwi Seeds is all about. However, taking into account all aspects, we've put together the top 3 strains that make this seed bank so special.
What are the best Kiwi cannabis seeds?
By harnessing unique genetics, Kiwi Seeds offers a lot of variety with their seeds. However, a few of their most popular strains are 2 Pounder, Auto Mako and Alegria.
2 Pounder
This award-winning, feminized, sativa-dominant hybrid produces some absolutely huge yields, reaching up to 1kg/plant in the best possible conditions. She's a resilient growing project that's perfect for both indoor and outdoor settings. Derived from landrace strains from New Zealand, she boasts resistance to mould and can easily be cultivated in areas that experience a large amount of rainfall and humidity.
Once her short flowering period of 60–70 days is over, she'll be ready to harvest. Whether smoked or vaped, users can anticipate massive waves of euphoria that settle into deep relaxation. Coupled with fruity and sweet flavours and aromas, you simply can't go wrong with 2 Pounder.
Auto Mako
Auto Mako is an autoflowering sativa-dominant hybrid strain derived from crossing the legendary Mako Haze strain with ruderalis. The result is a potent, pocket-sized plant that reaches heights of around 60–70cm and is ready to harvest after a relatively short flowering time. After this point, she'll provide returns of around 400g/m² that are sure to fill a stash jar or two.
Auto Mako has a high THC level coupled with moderate CBD levels, resulting in a high that is soothing and relaxing, but still stimulating. Much like the original Mako Haze, Auto Mako offers up some superb spicy-sweet flavours that will blow away all who try her.
Alegria
This indica-dominant marijuana strain boasts huge CBD levels and a moderate THC content, making her perfect for taking the edge off at any time of the day. She won't get you stoned, but provides some much-needed creative and uplifting moments. She grows in a Christmas tree shape, and there will certainly be plenty to celebrate after her short flowering period of 60–70 days. At this point, growers can expect to see returns in the region of around 400–500g/m².
Ideal for growing in both indoor and outdoor environments, Alegria is a great project to cultivate at home. She's resilient to varied weather conditions, making her easy to manage, and her buds are astounding in aesthetics and aroma. Whether smoked or vaped, she provides unique flavours that are nothing like you've sampled before. We can guarantee it.
Where Can I Buy Kiwi Seeds?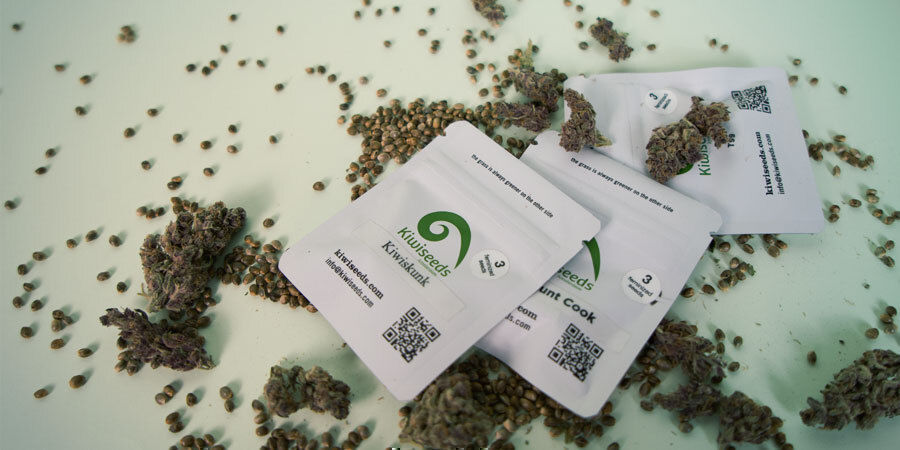 Feminized seeds from Kiwi Seeds are ready and available to purchase right now from Zamnesia's Seedshop. Zamnesia offers an accessible growing experience to suit all levels of cannabis cultivation. Sure, some prefer to grow regular seeds. However, they only offer a 50/50 possibility of producing female plants, whereas feminized strains have a 99% chance of doing so. This, in turn, allows growers to maximise productivity and efficiency. With each seed geared to produce a female plant, the decision to offer feminized seeds provides a much more cost-effective approach, complete with larger yields and a much larger variety to choose from.
Where can I buy Kiwi Seeds?
This is easy. Kiwi Seeds are available for purchase from the Zamnesia Seedshop. With a huge range to browse, finding a seed to suit your needs has never been easier.
How Are Cannabis Seeds From Kiwi Packaged?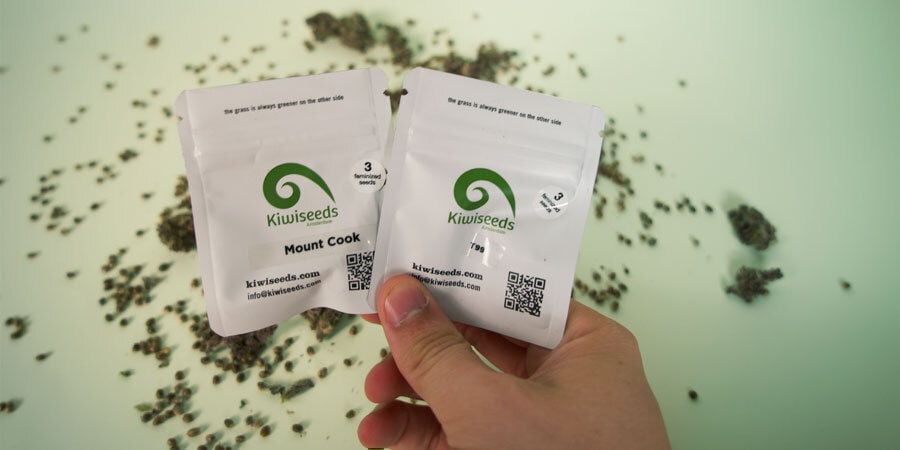 While some seed companies are content with cutting corners or skimping out when it comes to packaging their cannabis seeds, Kiwi Seeds takes enormous pride in their handiwork, which shows in how the seeds are packaged and presented.
There are no cheap, flimsy cardboard envelopes to be found here. Instead, they have opted for resealable plastic packets. With a tear of the top, growers get instant access to their seeds, and can take out as many (or as few) as they require. Complete with a resealable strip, the remaining seeds will stay fresh and ready to use for the next time.
How are Kiwi Seeds packaged?
To lock in freshness, seeds are packaged in resealable plastic packets. With a simple tear of the top, growers can get instant access to as many seeds as they need. Each packet has an eye-catching design that's sure to impress.
Kiwi Seeds: Keen for Kiwi?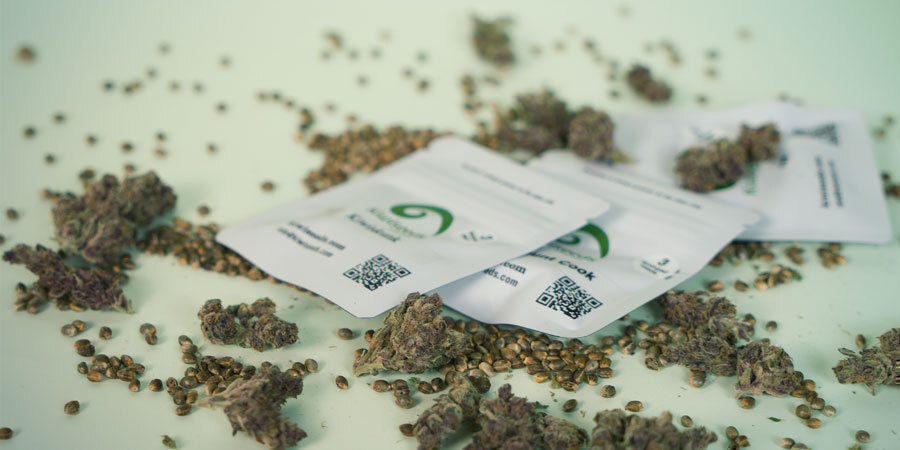 As you can see, Kiwi Seeds has a killer selection of strains available. Thanks to the unique genetics available to them, this seed bank stands out from the competition, and always delivers when it comes to effects, yields, and flavour. Not to mention, the plants themselves are easy to cultivate! So why not take the plunge and check out what Kiwi Seeds has to offer?
If you've felt yourself salivating over the thought of your own 2 Pounder, or feel that you could do with the relaxing vibes that Auto Mako and Alegria provide, now is the time to check them out. Regardless of your experience, these seeds are effortless to grow and geared to perform.
With Kiwi Seeds' award-winning cannabis strains and astounding record, they are definitely a company to keep track of. Expect many more great things from Kiwi Seeds as they dip further into New Zealand and South Pacific genetics.
---