Awards Philosopher Seeds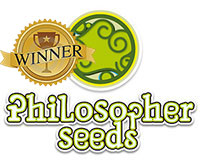 In the few years that Philosopher Seeds has been sharing their finely tuned and well-bred creations with the world, they have won some well-deserved awards. It has established them as a seedbank of pedigree, excellence, and thriving potential. Below are the award winning works of Philosopher Seeds.
Award: M.F. Association Cannabis Cup, 2012 - 3rd prize in the Indoor-Bio category

Black Bomb, as the name suggests, is explosive. And not just in effect either, Black Bomb offers growers high resilience, easy growth, generous yields, a two month flowering time, and high versatility when it comes to more advanced growing techniques – making it well suited to both novice and veteran. The bud produced is extremely potent, with a high THC content that induces a relaxing, indica focused body stone. It also produces a lot of resin, making it ideal for hash production. The flavour of Black Bomb has both sweet and earthy elements, making it an instant classic, and favourite of those who prefer a more old school taste.
---
Award: ExpoGrow Cannabis Cup, 2012 - 3rd prize in the Best Sativa category

Amnesika 2.0 is a sativa dominant beast that is well deserving of its award. It is the result of masterfully crossing Amnesia Haze with a Skunk, and offers new take on the traditional Haze Strain flavour – which is both nutty and sweet. The high is mainly cerebral in nature, motivating and energising, without overpowering – making it a great get-up-and-go strain. Despite being sativa dominant, Amnesika 2.0 has a flowering time of roughly eight weeks, and is extremely easy to grow. The only thing worth considering is space – being sativa dominant means the plant can get quite big! If you love sativas, then this is a champion to try.
---
Award: Spannabis Champions Cup, 2011 - 3rd prize in the Best Resin category

K13-Haze is a compact sativa dominant beauty, which, as the award suggests, is well suited to those who love high quality resin. It is the result of breeding Yumbolt with Kali Mist, and brings the best of the two together. K13-Haze is particularly easy to grow, has a flowering time of roughly eight weeks, and can produce yields of up to 600g/m². When smoked, K13-Haze produces a tropical, citrus flavour, with incense undertones - which become stronger the longer K13-Haze is cured. In terms of effects, expect a head soaring sativa head rush that energises, uplifts, and focuses.
---

---