About Philosopher Seeds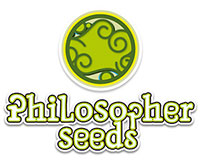 Philosopher Seeds is a Spanish seedbank that has made it their goal to produce and revitalise both popular strains, and old forgotten classics. They have been creating new seeds for the market since 2008, but their history and experience goes much further back.
They were founded thanks to a small group of pioneering growers coming together to share the best examples of their work, and pool their experience together to help and support each other in their quest to breed new and interesting strains of cannabis. It has resulted in Philosopher Seeds becoming something of a collective, with each breeder having an equal say on how every strain is developed. This cooperation has been going on since the mid 90's, and has allowed them to select, cross, stabilise and hone a whole line of premier quality strains.
The Philosopher Seeds Mission
Having got to know the guys from Philosopher Seeds, we understand the passion behind their work. To us here at Zamnesia, Philosopher Seeds is all about engaging with the cannabis community, and keeping it alive, fresh and invigorated. By striving to continually improve upon old classics, as well as come up with new and exciting combinations that have never been seen before, Philosopher Seeds ensure the cannabis seed market never becomes stale for their fans. They exemplify the power of experimentation, and the willingness to do so.
The Philosopher Seed Lines
Philosopher Seeds have multiple lines of cannabis seeds within their catalogue, each encapsulating a different theme.
CLASSIC Line
The CLASSIC Line, as the name suggests, contains all of Philosopher Seeds' tried and tested masterworks. All of which have years of dedicated breeding under their belt.
AUTO Line
The AUTO Line of cannabis seeds was created in conjunction with the famous Dr. Magnesio to produce some out of this world, 8th generation auto-hybrids. They are so stable that they are now being used as the base for philosopher Seeds' future auto hybrids, so expect more greatness from this line sometime soon.
GOLO Line
Probably the most interesting line from the Philosopher Seeds catalogue, the GOLO Line of cannabis seeds has been created in conjunction with the breeders at Reggae Seeds - taking the best of both groups' genetics, and see what can be produced. The main focus of this collaboration has been to produce new strains of cannabis with unrivalled tastes and aromas, but the high CBD ratio of many of Reggae Seeds' strains has resulted in hybrids that also hold a lot of potential medical value. It once again shows Philosopher Seeds' willingness to engage with other breeders, and experiment with what is on offer.
Packaging from Philosopher Seeds
Philosopher seeds have continued their reputation for great quality right up to their seed packaging. Each pack of seeds comes in a secure protective metal tin to hold the seed capsules. The seed capsules themselves are sturdy, thick, and padded with a wedge of interior foam to ensure the cannabis seeds remain secure and safe.
Each capsule is also filled with moisture absorbing balls, to help keep the seeds in a fresh and optimal condition as they are transported to you.
All cannabis strains from Philosopher Seeds are available in packs of 5 seeds. Their mix packs contain different strains and are available in packs of 4-12 seeds. All cannabis seeds from Philosopher Seeds are feminized.

---

---