French Touch Seeds: Seedbank Of The Month November 2018
4 min
Winter is here! The good news is, we've got a red hot seedbank to turn you into French toast this season. Our pick for Seedbank Of The Month is guaranteed to turn up the heat on the big name breeders. Get ready to meet some underdogs with an exquisite cannabis collection!
REEFER MADE OF THE RIGHT STUFF
Seedbank Of The Month is an honour we bestow upon exceptional cannabis seedbanks. Many are already household names to ordinary decent home growers, but others, like this month's pick, are experts rising in the ranks. This November, we've selected a real righteous reefer contender. Get ready for a ganja gang with a touch of class.
By honing their cannabis craft and breeding some rarities, this seedbank has impressed us. If you are looking for recreational cannabis creations, unique medical marijuana strains, and refined autoflowering genetics, get ready to smile. We believe you'll be blown away by these budding bon vivants.
SEEDBANK OF THE MONTH: FRENCH TOUCH SEEDS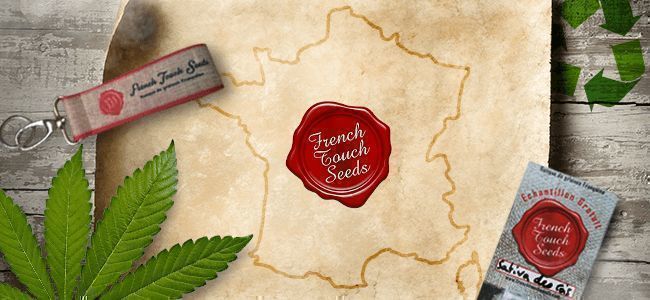 Four cannabis-crazy friends came together to breathe life into French Touch Seeds in 2010. Moving to Spain for legal reasons, the French quartet of connoisseurs have established a formidable cannabis force in just 8 years. Instead of the typical Haze, Skunk, and Kush foundations, the backbone of this unique cannabis collective is elite French cuts and exotic landraces sourced from former French colonies.
Sustainability and a love and appreciation for Mother Nature is the guiding philosophy behind French Touch Seeds. This eco-friendly ethos has attracted collaborators to the collective from far and wide. Moreover, their conservationist flavour is ingrained in every pack of seeds, which are packaged in recyclable materials. These guys are growers with a penchant for breeding rarefied dankness.
French Touch Seeds truly embraces diversity. From their exotic blend of genetics, they are dedicated to producing original autoflowering, feminized, and regular seeds. In an era of exclusively feminized seed production, this is a refreshingly alternative approach to contemporary cannabis breeding.
While they may not have the most expansive catalogue of cannabis seeds, there really is something for every kind of cannabis grower in the French Touch Seeds lineup. Whether you favour recreational cannabis with high THC levels or CBD-rich cannabis to use as natural medicine, they've got you covered. And by offering regular seeds and bolstering their collection with autoflowering genetics, there are also great choices for amateur breeders and impatient growers to boot.
For the cannabis cultivator seeking some inspired original sinsemilla that's got its own particular je ne sais quoi, you should broaden your horizons and consider French Touch Seeds. If the ordinary garden-variety ganja just doesn't do it for you anymore, or perhaps you desire some real head-turners like no other cannabis on the market, this is the seedbank you've been waiting for.
THE FRENCH TOUCH SEEDS TOP 5
Without further ado, let us dive into the French Touch catalogue. We present to you, five grade-A cannabis strains to please growers and smokers alike.
FRENCHEESE - FEMINIZED PHOTOPERIOD CANNABIS STRAIN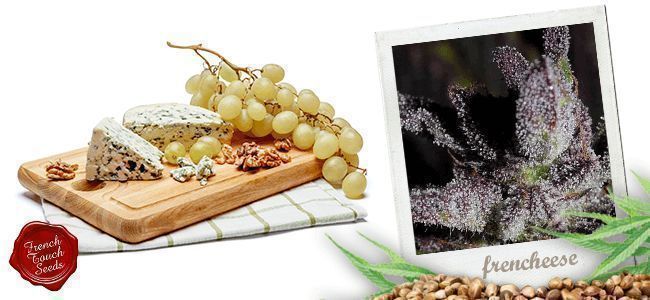 Frencheese is a gourmet blend of legendary strains Super Skunk and Master Kush rolled up into a compact indica-dominant specimen. This plant is friendly to the beginner grower and tasty enough to satisfy the most discerning Cheese connoisseur. Highly resistant and highly potent.
Ideally suited to the SOG method and smaller grow spaces, this chunky little hybrid will pack on the bud weight and really blow up with flowers after just 8–9 weeks of bloom. Rock-hard nugs that exude the most enticing Cheese aroma are the prize if you treat her right. If you're a fan of fine Cheese and enjoy the couchlock effect, this is the strain for you.
SATIVA DE ROIS - FEMINIZED PHOTOPERIOD CANNABIS STRAIN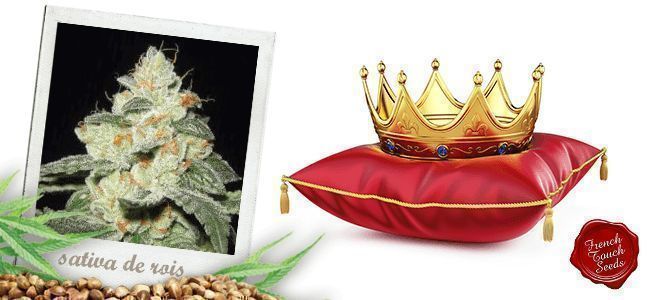 By carefully selecting and refining the most sativa-dominant original AK-47 specimens, French Touch Seeds has created the "Sativa of Kings". This girl grows big and tall, developing a trophy-worthy, long-running main cola if left to grow naturally. Although, if you don't have the space for a sativa weed tree, pruning and training early are advised to contain her explosive growth.
Sativa De Rois is a top producer indoors and outdoors in warm, dry climates. But make sure the RH is not too high for her succulent, dense flowers. The signature uplifting high of old-school AK-47 will blow your head off. 10 weeks of flowering and she is ready for harvest.
DOUCE NUIT - FEMINIZED PHOTOPERIOD CANNABIS STRAIN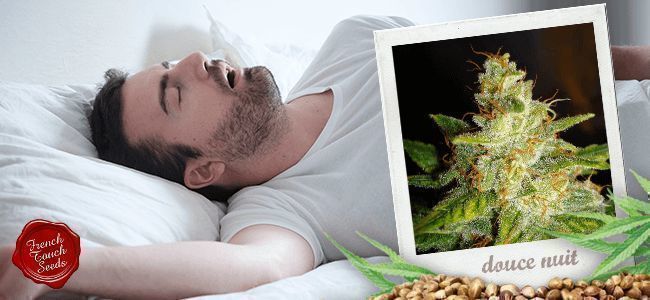 Looking for a knockout heavy indica with some panache? Get some Douce Nuit in the grow-op and you'll be enjoying sweet dreams in no time. This pure dreamland combination of Northern Lights and Hindu Kush is a heavy indica like no other. Get ready for a taste of pure, earthy old-school mountain Kush.
Short plants that rarely exceed 120cm when mature will almost certainly need support to prevent sheer bud mass from snapping the branches. After just 8–9 weeks of flowering, scale-tipping harvests can be achieved. Expect to be delightfully couchlocked by this powerful indica producer.
GUILLOTINE - FEMINIZED AUTOFLOWERING CANNABIS STRAIN
By crossing NYC Diesel with a select ruderalis specimen, an amazing one-of-a-kind autoflowering hybrid has been created. This pocket rocket has all the attributes the discreet cannabis cultivator is looking for.
Low-profile, fast-flowering, and still bursting flavour, Guillotine cuts the head off the myth that autos can't meet the demands of the contemporary cannabis connoisseur. Plants will race from seed to harvest in approximately 60 days post-germination. If you love that classic Diesel taste but don't have the patience for a lengthy flowering period, you'll be satisfied by these buds. And as an added bonus, this weed is packing a healthy CBD content too.
IRIE - REGULAR PHOTOPERIOD CANNABIS STRAIN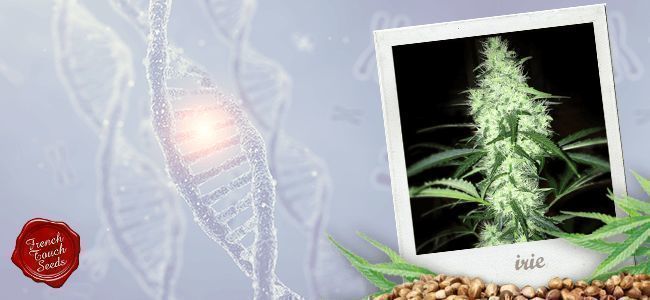 Irie is a cannabis cocktail of Kasper Diesel and Juanita La Lagrimosa, available in regular seeds. This special strain displays two awesome phenotypes; so it's up to you to choose your favourite! Just make sure to hang onto a mother plant. You won't forgive yourself if you lose these precious genetics. One pheno leans to the indica side of the spectrum, while the other is more sativa. And with a high CBD content, this girl is also of interest to medical growers too.
What distinguishes Irie most is her delicious apple-mixed-with-diesel scent that carries through to her unique flavour. If you're looking for an extraordinary cannabis strain, look no further than Irie. Ready for harvest after 75–85 days of flowering, buds of distinction will be yours.
WIN FREE GOODIES WITH EVERY NEW "SEEDBANK OF THE MONTH"!
Former Seedbanks Of The Month, like the one you are reading about now, deserve eternal attention from us here at Zamnesia! Read about past and present honorees, and continue to visit our blog for the honorees of the future. Each new month highlights yet another stellar seedbank, kicking off a new round of awesome promotions and surprise giftings pertaining to that specific brand. So go ahead: once you are done here, visit this month's new Seedbank Of The Month, and take advantage of goodie giveaways!