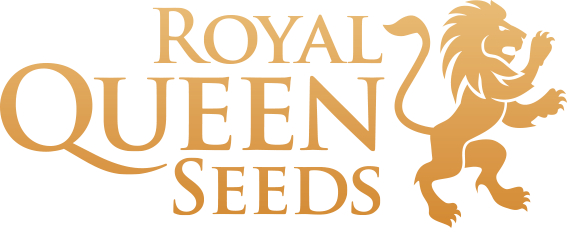 Based just outside sunny Barcelona, Royal Queen Seeds is a premier seed bank rapidly growing in popularity. It actually started out life in the Netherlands, in Amsterdam, where an RQS shop can still be found. After spending years growing and breeding cannabis seeds in the Dutch climate, the founders of Royal Queen Seeds decided it was time to share their creations with the world, helping spread high-quality genetics throughout Europe.  
With time, the popularity of the Royal Queen Seeds strain spread, gaining a momentum that even they did not expect. It has allowed them to expand and continue to develop world-class genetics to this very day.
The focus of the Royal Queen Seeds line initially started out on feminized seeds, ensuring that their customers were guaranteed female plants. This includes such classics as Special Queen 1, Special Kush 1, and even an award-winning variety of Amnesia Haze.
In recent years, their research and development has branched out a bit more, first into autoflowering cannabis strains, followed more recently by a drive to develop potent CBD strains. It has led to a number of award-winning creations, such as Royal dwarf on the autoflowering side of things, and Euphoria on the CBD side.
Without a doubt, Royal Queen Seeds have solidified their position as one of the great seed banks of Europe.

Packaging Royal Queen Seeds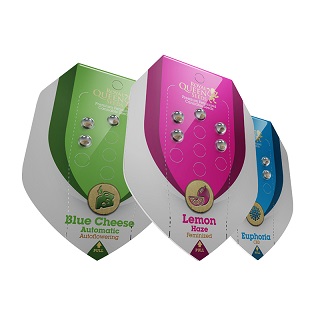 The Royal Queen Seeds packaging design combines concise style with seeds safety. Each seed is individually housed within a secure plastic blister pack, which is then surrounded by a sealed cardboard exterior – displaying the strain's name.
As the seeds are contained in a blister pack, each seed can be removed individually, allowing any remaining seeds to stay safe in their packaging until you are ready to use them.
Royal Queen Seeds blister packs of seeds are offered in quantities of 1, 3, 5, or 10 seeds.
All Seeds produced by RQS are feminized.
Awards Royal Queen Seeds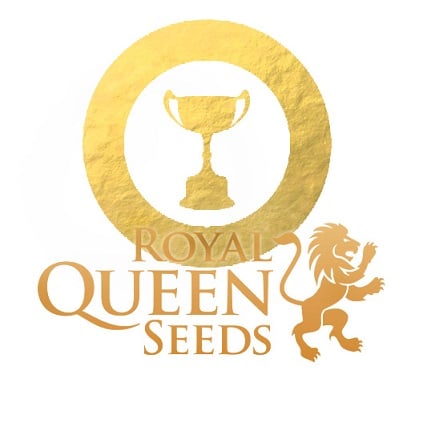 Royal Queen Seeds have developed a reputation for producing world-class genetics. As such, it is only fitting that their cannabis strains have won various awards over the years. To help you check out some of the best they have to offer, we have put together a list of their award winners.
---
Amnesia Haze


 
 

Awards:

• 2004 High Times Cannabis Cup, 1st place for Best Overall Strain
• 2012 High Times Sativa Cup, 1st place for Best Sativa Strain

Taken from the original Amnesia Haze line, Royal Queen Seeds have continued to hone and perfect this already renowned lineage. Indoors, she can grow to 1.2m, producing anywhere up to 650g/m² under the right condition. Outdoors, she will tower a bit higher, producing up to 700g per plant – although she does need a warmer climate to thrive in an outdoor setting. The bud produced is phenomenal, as you would expect of an award-winning strain; expect a skyrocketing cerebral high that blows your mind right out of your body, combined with a connoisseur level flavour – mixing pine with citrusy notes.

 

 
---
| | | |
| --- | --- | --- |
| Northern Light |   |   |
| Another classic of the cannabis world, Northern Light is a cannabis strain with worldwide reputation for excellence and an ultimately relaxing stone. The actual genetic background of the Northern Light line is murky, said to be the result of an Afghan indica with 12 different phenotypes, each bred and interbred with each other to produce the Norther Light varieties we have seen throughout the years. One thing is for sure, though; this award-winning specimen of Northern Light personifies everything cherished about the line. Expect manageable height, resilience, and high resin production, followed through with a knock-out high. |   | |
---
| | | |
| --- | --- | --- |
| Royal Moby |   |   |
| Royal Moby is a sativa dominant hybrid that grows into a leviathan of a plant – hence its name. She is a Spanish twist on a Dutch classic, producing a potent psychoactive high and pleasant body buzz. She also has a short flowering time of just 9-10 weeks, making her a preferable option for those who love sativa genetics, but don't like the wait usually associated with them. Indoors, Royal Moby can reach heights of 2m and produce up to 600g/m², outdoors, she can tower up to 3m and produce up to 1000g/plant of award-winning bud! |   | |
---
| | | |
| --- | --- | --- |
| Shining Silver Haze |   |   |
| Back in the pioneering 70's, a couple of breeders set out to create a Haze that not only personified everything loved about the Sativa, but also included the quick flowering times of an indica. It took a lot of trial and error with some very high-quality genetics, but eventually the combination of Haze x Skunk x Northern Light managed it, producing Shining Silver Haze. The Royal Queen Seeds variety stays true to the origins, offering the same great flavour and instant cerebral high. She flowers in 9-10 weeks and can produce up to 650g/m². Expect super sweet flavour and classic Haze high. A remarkable award-winner! |   | |
---
| | | |
| --- | --- | --- |
| White Widow |   |   |
| White Widow is one of the big names of the cannabis world. It is a strain that has sired thousands of different hybrids and remains a Dutch favourite to this day. A true legend. The Royal Queen Seeds variety is a feminized descendant of the original White Widow, maintaining and refining the quality on offer. She grows up to 1m tall and can produce 500g/m² indoors, or reach heights of 2m and produce up to 600g/plant outdoors. Her award-winning bud produces an uplifting and happy head high, combined with a clean and crisp flavour. |   | |
---
| | | |
| --- | --- | --- |
| Euphoria |   |   |
| Euphoria is an award-winning CBD focused strain with an extremely potent content. With a genetic background tracing back to Juanita la Lagrimosa, Euphoria is one of Royal Queen Seeds' crowning triumphs in the CBD market, able to produce a CBD content of 10%, with a THC content of roughly 9%. The result is an extremely functional high that won't lock you down. Ideal for those wanting large amounts of CBD, without an overwhelming THC content to go with it. |   | |
---
| | | |
| --- | --- | --- |
| Royal Dwarf |   |   |
| Royal Dwarf is one of Royal Queen Seeds' flagship award-winning autoflowering cannabis strains. It focuses on simple and high-quality results in a lightning quick time. As the name suggests, Royal Dwarf is a small plant, growing extremely short and compact (up to 60cm tall). However, she is still able to put out a reasonable yield of up of 60g per plant – which is pretty generous considering she goes from seed to harvest in just 8-9 weeks! Her small stature makes her an excellent choice for stealth growing, and her Skunk heavy genetics make for a very pleasant and relaxing smoke. An all-round auto superstar! |   | |
---
| | | |
| --- | --- | --- |
| Northern Light Automatic |   |   |
| Love the great flavour and high of Northern Light, but want it in an easy to manage auto package? You are not the only one, and Royal Queen Seeds have obliged. Northern Lights Automatic packs all of the award winning traits of her namesake into an easy to grow auto variety. She goes from seed to harvest in 9-10 weeks, produces an average yield of 90g per plant indoors, and maintains a relatively small size of 90-120cm. The yields produced have the classic crisp, sweet flavour of the original Northern Light, combined with its relaxing physical stone. |   | |
---
| | | |
| --- | --- | --- |
| Royal Haze Automatic |   |   |
| As the name suggests, Royal Haze Automatic captures all of the greatness of a quality Haze, in an autoflowering variety. Haze strains continue to dominate the cannabis market, and Royal Haze Automatic is no different when it comes to autos. She grows up to 1m tall, goes from seed to harvest in 10-12 weeks, and can produce up to 180g/plant! The high induced is the instant cerebral head rush that often goes hand in hand with Haze strains, creating feelings of happiness and euphoria. It makes her ideal for anyone who loves haze strains, but wants to avoid the high maintenance and long flowering times of her non-auto varieties. |   | |