Blog

2 min
Zamnesia VIP: Alex Grey

2 min
Alex Grey, a visionary artist and philosopher, is best known for his multi-dimensional psychedelic paintings. As an avid explorer of consciousness, his painting reflect visions of life, death, and the space in between.
Alex Grey, a visionary artist and philosopher, is best known for his multi-dimensional psychedelic paintings. As an avid explorer of consciousness, his painting reflect visions of life, death, and the space in between. Grey became well known for his paintings of human energetic systems and their spiritual significance.
Early years
He was born on November 29th 1953, in Columbus, Ohio as the middle child of a middle class family. Alex developed a keen interest in art from an early age, which was encouraged by his father, who worked as a graphics designer. Even from the beginning, Alex's work already showed the themes of death and transcendence that ultimately developed into his signature style. At the age of 18, Alex gained a full scholarship to the Columbus College of Art and Design, but dropped out at the age of 21. He went on to paint billboards for Columbus billboards advertising, but soon grew tired of it, only lasting a year.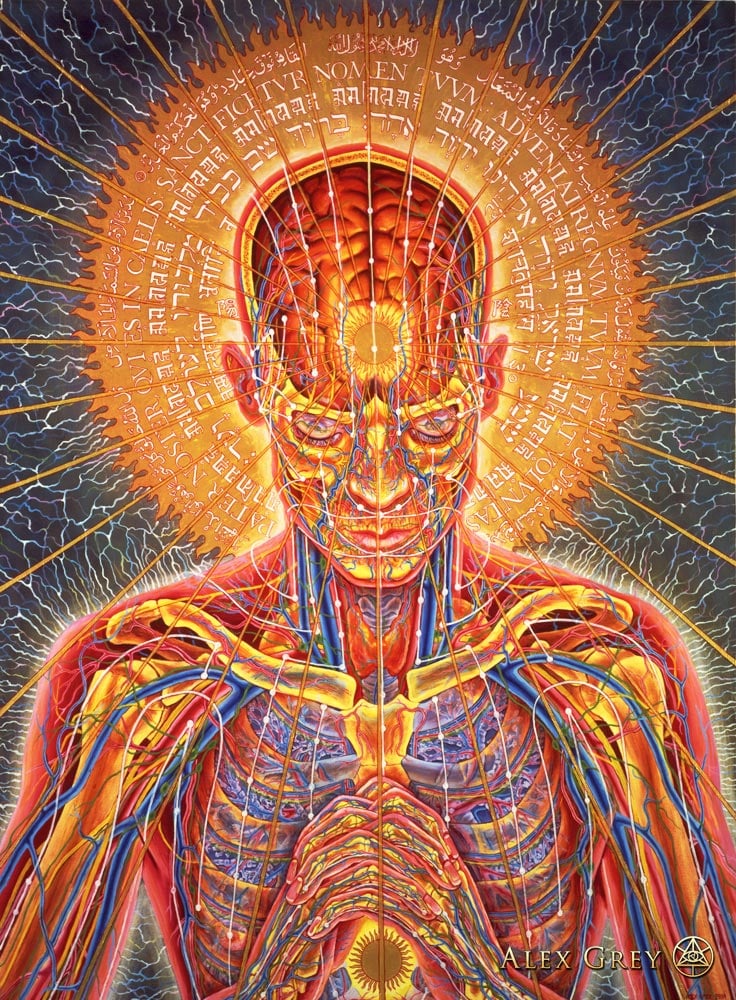 Alex Grey - Praying
In 1974, Alex took a position as a studio assistant in Boston where he studied under the conceptual artist Jay Jaroslav at the School of the Museum of Fine Arts. It is here where Alex really came into his artistic prime. Soon after taking the position, he met his wife to be, Allyson. Together they started taking LSD and other psychedelics to open up their minds. It was this experience that turned Alex's existential agnostic views to full blown radical transcendentalism. It was a journey that they continued to take together, becoming more in touch with themselves and the universe as a whole.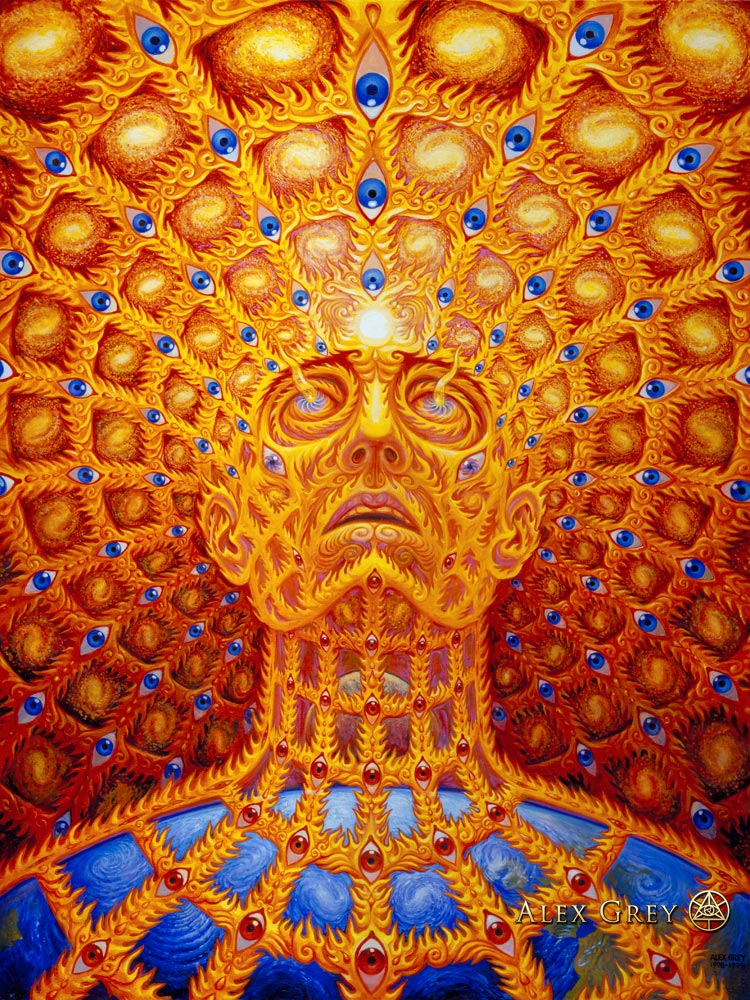 Alex Grey - Oversoul
Alex later took a job working at Harvard University within the Anatomy department where he prepared cadavers for dissection. This allowed him to study the body himself, further honing his skill. Whilst still at Harvard, Alex later went on to work for Dr. Herbert Benson and Dr. Joan Borysenko as a research technologist, conducting research into healing energies. Whilst it may not seem to be the obvious choice for an artist to take, his work with anatomy has played a large part in the realism and detail he now displays in his anatomical paintings. Doctors at Harvard saw his paintings, and offed him work as an anatomical illustrator for the university – the painting were that accurate.
The next portion of Alex's life was dedicated to furthering his academic career, combining what he had learn at Harvard with his artistic talent. He taught Artistic Anatomy and Figure Sculpture for the next ten years at the University of New York. He has also taught various art workshops around the USA. Both Alex and his wife Allyson still both teach Mystic Artists Guild International (MAGI) workshops at the Chapel of Sacred Mirrors in Wappinger, New York to this day.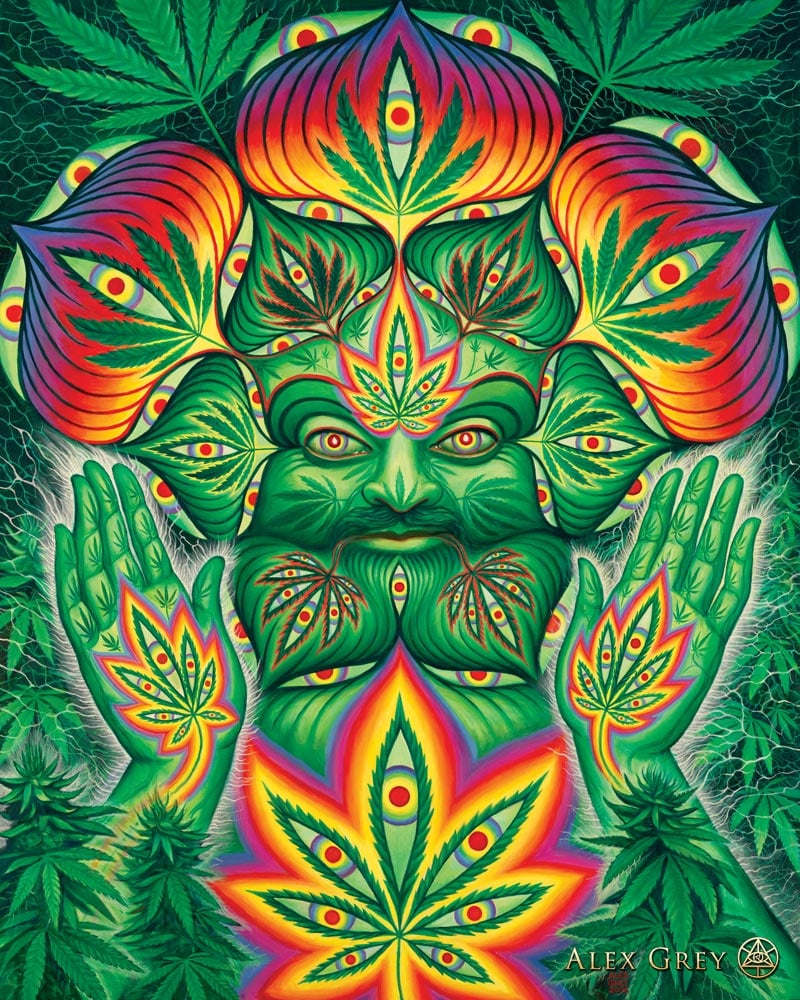 Alex Grey - Cannabacchus
The Chapel of Sacred Mirrors
Throughout his life, Alex developed a series of life size paintings called the Sacred Mirrors. The series was started in 1979 and now sit at the heart of his chapel. They take the viewer on a journey, exploring the body, mind and spirit, helping the viewer reach their own sense of inner spirituality and divinity. After finishing the Sacred Mirrors, he applied the multidimensional perspective he had developed to all other aspects of human experience, such as prayer, birth and death.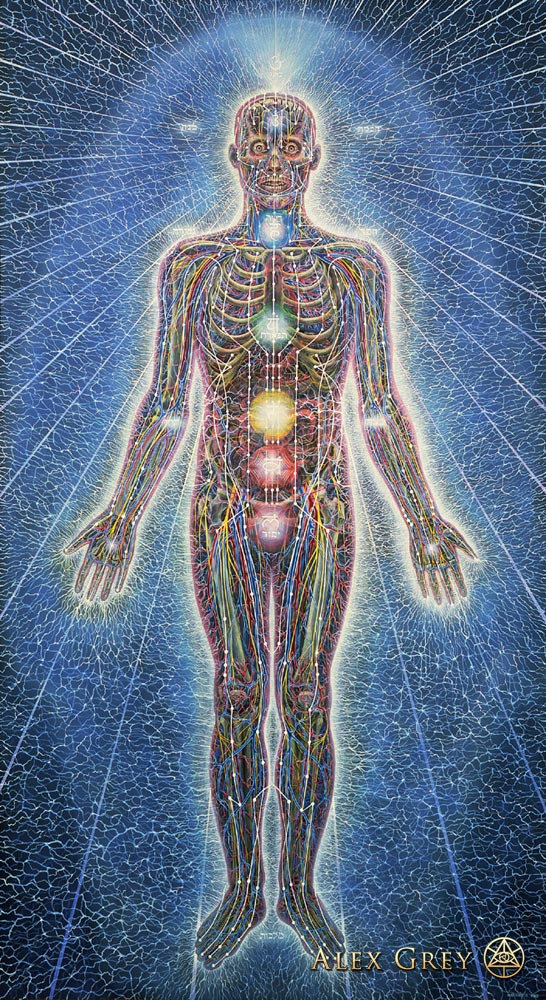 Alex Grey - Psychic Energy System
In 1996 Alex co-founded the Foundation for the Chapel of Sacred Mirrors Ltd, an organisation that seeks to inspire creativity, compassion and integral wisdom within all who looked for it. Through its increasing popularity, and its increasing significance in teaching spirituality, worship and sacramental ceremonies, the organisation was officially recognised as a religion in 2008.
Since then both Alex and his wife's role in the spiritual world has done nothing but increase; he is now considered one of the top 20 spiritual leaders of today by the Watkins Review, being held as being in the same league as the Dali Lama and Eckhardt Tolle. The Temple of Understanding declared both the Grey's as two of the top 50 most influential interfaith leaders alive today.
Alex now resides at the Chapel of Sacred Mirrors, which moved to a 40 acre plot of land in Wappinger, New York upon becoming a recognised religion. The large grounds are now said to act as a spiritual retreat for those who need it, offering large, lush gardens, reflective pools, spiritual ceremonies, mystical workshops, an extensive library and communal living areas. It is a center of spiritual awakening.
---