Only a handful of cannabis companies have become widely recognised brands across the world. Even novices take one glance at certain logos and associate it with high-quality cannabis products. As one such business, RAW has become known globally for their organic hemp papers and natural wooden products.
RAW rolling papers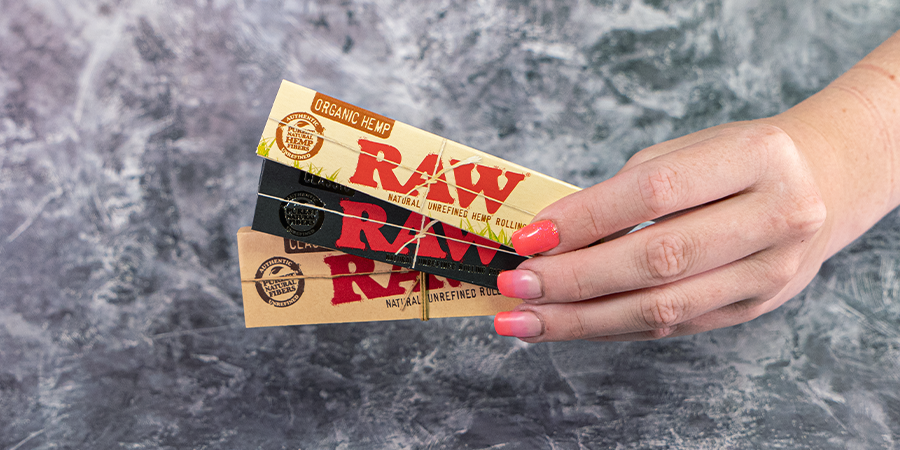 RAW has earned impressive status in the worldwide cannabis community. Known for their unbleached, organic and environmentally friendly approach, RAW crafts some of the purest and most natural rolling paper on Earth. Look closely, and you'll notice each and every rolling paper features a special criss-cross watermark. Aside from looking good, this unique pattern contributes to a smooth burn and prevents runs.
The company has striven to create papers that offer a smooth and enjoyable smoking experience while eliminating the presence of harmful chemicals and additives. Their unrefined natural papers allow smokers to fully experience the terpene profile of a given strain, free from the tastes of dyes and chemicals that don't belong in the lungs.
RAW proudly manufactures their papers without the use of genetically modified organisms (GMOs). Most cannabis smokers go out of their way to avoid consuming GMOs, making RAW a great choice for the conscious smoker.
RAW also makes their rolling paper unbleached—without chlorine bleach and dyes. Other companies add these products to create a more natural look without taking any real steps to make their products purer. RAW, in contrast, provides the real deal. Their papers contain no burn additives or chemicals made to falsify quality.
RAW rolling papers in several sizes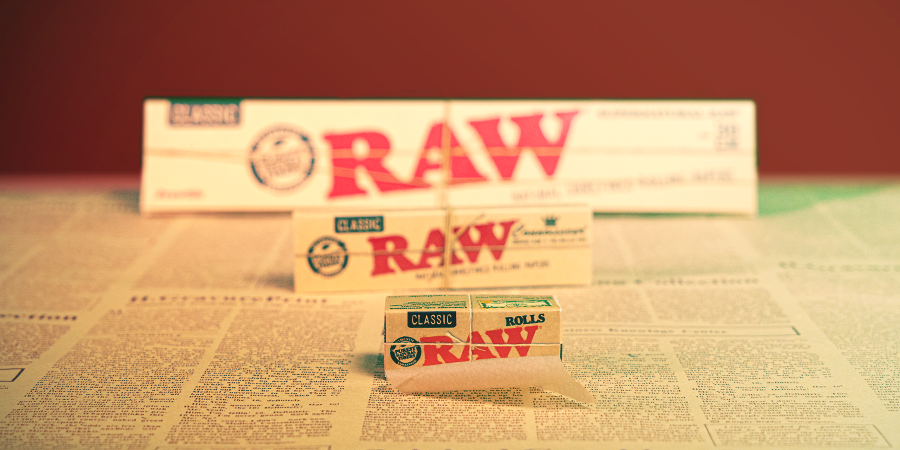 RAW papers accommodate every user and every occasion. Different-sized joints are required at different times, so keeping a variety of paper sizes in your rolling kit comes with big advantages. Raw Organic King Size Hemp Rolling Papers offer the perfect size for a casual smoking session. These sheets burn down slowly and fit just enough weed to get one person totally stoned. Share with a friend or partner during a wake-and-bake or mid-day session to remain functional and elevated.
Are you looking for something a little bigger? RAW Huge Rolling Papers will whet your appetite! These sheets are 30cm in length and suitable for rolling baseball bat-sized joints. Take them out of the rolling box when you've got some friends over, or when you feel like taking a deep solo dive into your own mind.
If you're constantly changing the size of your joints, check out RAW on Roll paper. The product features a whopping 3m of RAW rolling papers. Simply rip off the amount you need, when you need it. Roll anything from a tiny personal joint up to a metre-long beast to pass around the party.
RAW rolling papers made from different materials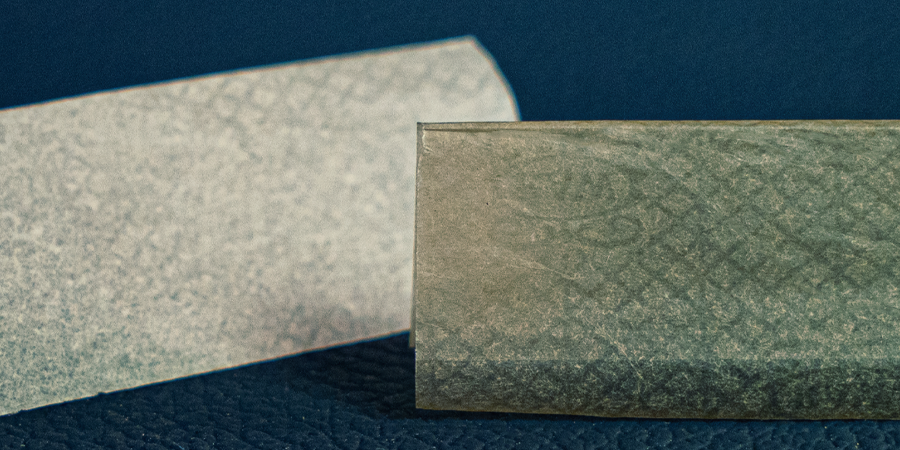 Most cannabis users love RAW for their finely crafted hemp rolling paper. However, this is for more reasons than novelty alone. Humans have used hemp as an effective and reliable resource for thousands of years, and rolling papers represent another domain where the plant provides an effective, robust solution.
But what about the gum strip? RAW Hemp Rolling Papers feature a pure natural gum derived from organic Acacia trees. Sustainably harvested in Ethiopia, the substance effectively seals the paper at the end of each roll.
Some smokers prefer to keep things simple and familiar with standard papers. RAW offers traditional papers as well, but they're also of superior quality. RAW King Size Rolling Papers are completely unrefined, free of chemical additives, and unbleached. Each sheet also features natural hemp gum to seal each cone.
The RAW imperium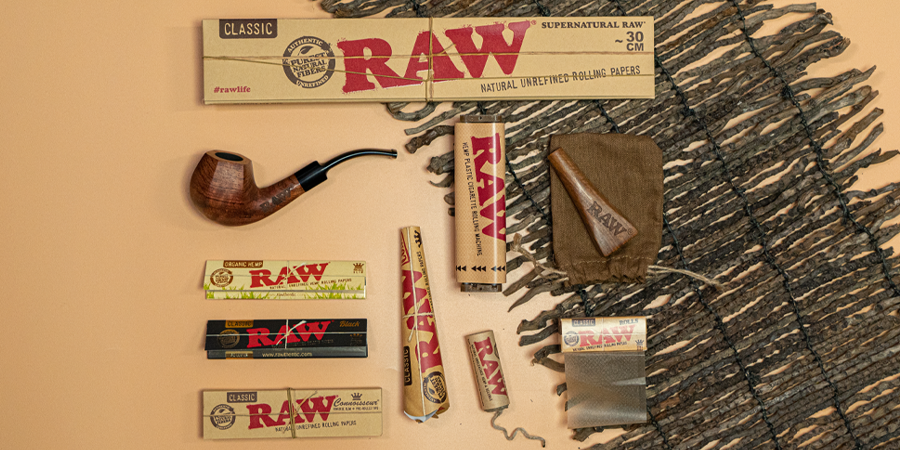 RAW's imperium has expanded far past their high-quality rolling paper. The brand now offers a massive assortment of accessories designed to make the smoking experience easier, more pleasant, and far more aesthetically refined.
The RAW Bamboo Backflip Tray makes smoking cannabis more simple than ever before. The natural container features space for everything you need to carry during an on-the-go smoke session: papers, flower, tips, and tobacco or an herbal mix. Eight strong magnets hold all of the supplies securely in place.
For some smokers, two joints are better than one. The RAW Double Barrel Joint Holder 2 allows you to burn two at a time. That's twice the terpenes and double the THC! Take a few hits and pass it around to instantly identify the most experienced smokers in the room.
RAW Hemp Wick shines more light on RAW's penchant for the plant! Light your joints, blunts, and bowl with this natural cordage to avoid polluting your tasty terpenes with lighter gas.
Sometimes you need to put the joints aside and blaze like a hobbit instead. Find a nice patch of grass in the sun and hit the RAW Wooden Pipe to experience some real-life Shire vibes. This beautiful piece comes with its own carrying pouch.
Too high to roll or never learned the art? Throw your flower into the RAW Joint Roller (made from eco plastic) and conjure a perfectly crafted joint in seconds.
RAW foundation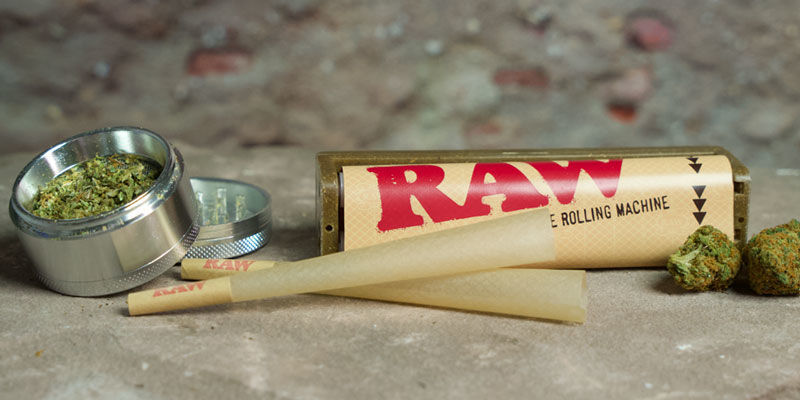 RAW doesn't just create environmentally friendly cannabis accessories. The company founded a philanthropic arm—The RAW Foundation—that is spreading good vibes all over the world. They've invested in numerous humanitarian visions, including the RAW water well project with Wine To Water.
The RAW Foundation has supplied hundreds of thousands of hungry children with meals, dug wells in Ethiopia, sponsored an orphanage in Bali, funded permaculture projects in Africa, helped to protect 3,000 acres of the Sumatra Rainforest, and much more.
Buy RAW papers online at Zamnesia
We've become extremely accustomed to the finest smoking accessories here at Zamnesia. Our vast archive of cannabis genetics and merchandise have enhanced the smoking sessions of weed lovers all over the world. After reviewing all of the gear RAW has to offer, we selected their very best items. Check out our extensive RAW range here.
---