Boundless CFV (V2)
4.5

5

1

(

6

)
The all-new Boundless CFV vaporizer with its full convection heating chamber, precise digital heat control, short heat up time and a stainless steel convection oven packs excellent vaping performance, superb functionality and a beautiful design into one brilliant vaporizer that doesn't leave a wish open.
Out of stock
You will be notified as soon as the product returns to stock
Product accessories: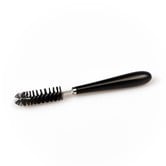 Boundless Cleaning Brush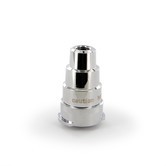 Boundless Water Pipe Adapter
Check all accessories
More info
This Vaporizer can be used with:
Boundless CFV Vaporizer (V2): Great performance and flavour paired with ingenious features
The new Boundless CFV is a full convection vaporizer that shines with some good features and a beautiful and functional design. The CFV has precise digital temperature control and a short heat up time of 30 seconds. The Boundless CFV version 2 features a solid stainless steel chamber.
THE BOUNDLESS CFV: THIS TIME NO GIMMICKS - JUST A BRILLIANT VAPE!
Boundless must have listened to vapers since the CFV pleases with something that is rare these days when you look at the various medium- to high-prized high-tech vapes out there. Rather than trying to sell you on a fancy software with which to control your vape from your phone, the CFV doesn't include any such thing but focuses on those things that are essential for a good vaping experience instead. One may speculate that the "V" in CFV would stand for "Value" (and it probably does), but in this case this "value" really doesn't mean that you would have to sacrifice anything.
BOUNDLESS CFV DESIGN
The Boundless CFV has a similar design as their previous vaporizers, the CFX and CF. There is a large display on the side and you will find 3 buttons and the USB charging port. What stands out is the nice finish of the CFV. The device feels very nice and comfortably soft when you hold it.
EASE OF USE
The CFV has three buttons, one big power button and two selection buttons. Press the power button 5x and the device will turn on or off. With the selection buttons you can select your desired vaping temperature which you can also see on the display. The display will also tell you when it has reached your chosen temperature and it does it in a rather short 30 seconds.
CONVECTION VAPING FOR A PURER VAPE
Convection vaporizers are unique because they can provide better purity of the herbs you put in your vaporizer because they produce heat at a safe distance, without direct contact. The Boundless CFV uses this technology to produce heat outside the chamber which will then pass through the herb for vaporizing.
Included with the Boundless CFV
1 x CFV (V2) full convection vaporizer
1 x Packing tool and dabber
1 x Water tool adapter
5 x Mouthpiece screens
5 x Water tool adapter screens
1 x Cleaning brush
1 x User manual (English)
VAPING PERFORMANCE
Unsurprisingly, there is nothing to complain when it comes to the CFV's flavour and smoke production. The Boundless CFV produces a wonderfully smooth yet flavourful vaping experience as you would expect from Boundless.
The Boundless CFV is a top notch convection vaporizer that fully delivers at a still reasonable price tag.
Boundless CFV (V2) data sheet

| | |
| --- | --- |
| Brand | Boundless |
| Type | Portable |
More information related to this product:
Reviews (6)
21/Aug/2019

Good price/quality
+++ Design Convection (little risk of combustion, better for health) Easy to use Easy to clean Great taste --- Very short battery life (but normal because convection) Feels a little cheap due to the plastic

04/Jul/2019

Bon achat
J'ai acheté le vaporisateur il y a quelques semaines, il n'est pas trop dur à prendre en main, le goût est très bien restitué et les effets bien plus prononcés. Un bon investissement, je suis un peu déçu qu'il ne fasse presque pas de vapeur ou fumée mais c' est normal avec un vaporisateur à convection.

03/Sep/2018

excellent
Mon 1er vapo et pas déçu, facilité d'utilisation, plusieurs accessoires et pièces fournit avec, vapeur et gout au top.

26/Dec/2017

Exellent vaporizer for the price
Does the job just right. I'd says the vape hits are as good as with my friends DaVinci. The product isn't as fancy, but if all you want is herb in your system, this is your vape.

You cannot post a review because you have not purchased this product
Restrictions
Please note that if your country is not on our general shipping list, we're unable to ship any item on our website to it. For more information check out the list here: Ordering & Shipping
Video (0)