About Sweet Seeds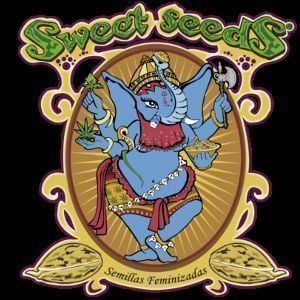 Sweet Seeds is a Spanish cannabis seed bank with a lot of breeding prowess. Through the release of three reliable and consistent feminized strains back during their founding in 2005, they managed to help turn the public perception of feminized seeds around, showing Europe they had value. Until then, many feminized seeds produced hermaphrodites, and were largely shunned by the community.

The three strains in question were Black Jack, S.A.D., and Sweet Tai, and are still considered popular classics to this day, winning multiple awards over the years.

It was smart thinking and skilled breeding like this that allowed them to send shockwaves through the market, cementing their place as a seed bank to watch early on in their life. Since then, they have gone from strength to strength, continuing to innovate not only with cannabis genetics, but also the accessibility and ease with which their seeds can be obtained and grown.

In recent years, Sweet Seeds have turned their eye to autoflowering cannabis, producing some well-known names such as Big Devil Auto and Fast Bud Auto, perfectly hybridising a myriad of genetics.

One thing is for sure, the consistent nature with which Sweet Seeds have continually produced top-shelf strains and sought to innovate has captured the hearts of many growers, making them one of Spain's top seed banks.

As a testament to their greatness, Sweet Seeds won the Best Seed Bank award at the 2008 and 2013 Spannabis Cup, as well as at 2007 Expocannabis.
Packaging Sweet Seeds
Sweet Seeds are a Spanish seed bank renowned for producing top-shelf cannabis seeds. Their packaging doesn't break the trend when it comes to quality. Each set of seeds is housed in a stoppered plastic tub to help minimise impact and humidity fluctuations, keeping them safe on their way to you. The plastic tube the seeds come in is resealable – ideal if you don't intend to use all seeds at once, or don't have alternative seed storage solutions.

Sweet Seeds' cannabis seeds are available in both feminized and autoflowering varieties, in quantities of 3.
---

---