Runtz Automatic (Zamnesia Seeds) feminized
4.5

5

1

(

292

)
Think you've seen all there is to see with auto strains? Well, Runtz Automatic will give you a run for your money. This powerhouse strain not only offers great flavours and aromas, but also provides a potent hit that will make her a permanent fixture of your smoking and vaping sessions. With so many good things going for her, let's see what the fuss is about.
In stock
You will be notified as soon as the product returns to stock
More info
Zamnesia - Runtz Automatic: Prepare for Maximum Flavour and Potency
From the good folks at Zamnesia Seeds, Runtz Automatic is the perfect combination of two seriously sweet and potent strains: Gelato x Zkittlez. Both are hugely popular for their exceptional flavour, high THC levels, and ease of growth. The result of this crossing is a special hybrid strain that offers a tropical and sweet flavour, and doesn't skimp out on potency. Runtz Auto is sure to be a new favourite for all those who try her.
The combination of Gelato x Zkittlez is no happy accident. Both strains were picked for their impressively sweet flavour profiles and high THC levels, offering potency and a great high on their own. Combined, they give us Runtz Auto.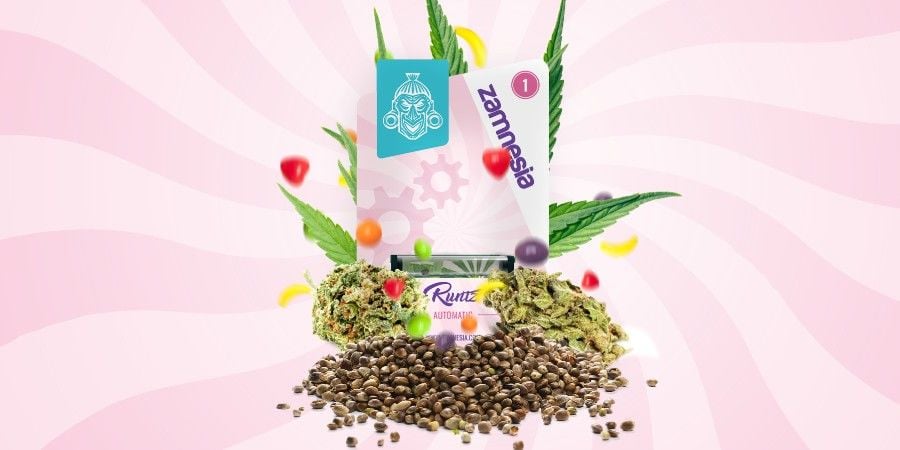 Growing Runtz Automatic
Thanks to her fine-tuned autoflowering genetics, growing Runtz Auto is a gratifying and painless task. Whether this is your first venture into homegrown cannabis or you regard yourself as having extensive knowledge of all things green, Runtz Auto is very easy to maintain and care for. She's not overly bushy or fussy, and only requires the occasional bit of pruning to keep her in shape. Otherwise, you can expect a relatively care-free growing experience.
Not a particularly tall plant—nor a complete "runt"—you can expect her to reach a maximum height of 1.2m. This makes Runtz Auto perfect for those working with smaller growing spaces, as well as those grouping many plants together in a SOG. Flexibility is a key trait exhibited by Runtz Auto. She is robust and ready to flourish in most climates and environments, indoors and out.
Cultivating Runtz Auto indoors is a perfect option for those undertaking their first homegrow project. Whether grown in a hydroponic configuration or a more traditional pot and soil setup, you can keep her under the same light cycle from the beginning till the end. To optimise results, a light schedule of roughly 18–20 hours a day will give her the best chance of delivering superior yields.
Treat her right, and she'll be ready to harvest in no time at all. Taking just 70 days post-germination to produce her bountiful, tight, crystalline buds, you can expect a return of 400–500g/m². Certainly not a bad haul for a plant of this size.
Of course, growing Runtz Auto outside is a viable option as well, and, in many cases, this is where she truly flourishes. With natural surroundings, grown either in a pot or directly in the soil, Runtz Auto is reliable, robust, and will thrive in most climates. Even as little as 6 hours of sunlight a day will be enough to give her a kickstart as she grows, though she prefers as much light as she can get. While little maintenance is required, she is perfectly up to the task of some LST if you want to maximise her potential. After a period of roughly 70 days, she'll be ready to harvest. Plants cultivated outside will deliver a respectable return of 70–100g/plant.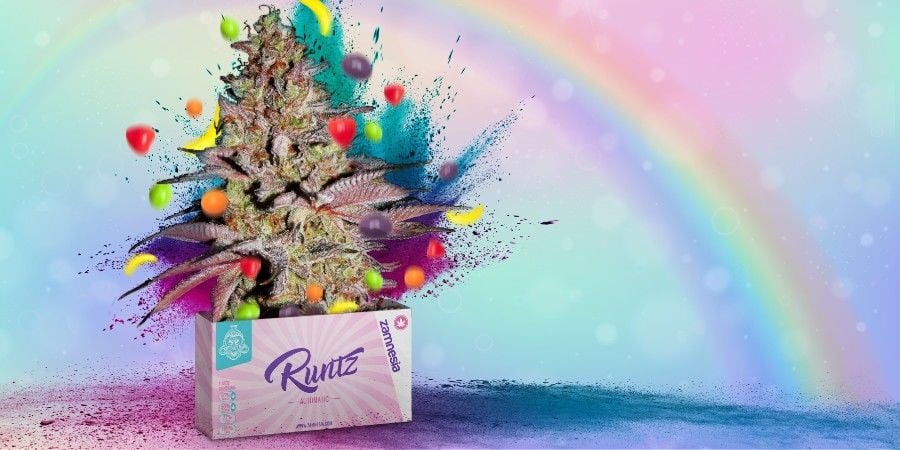 Flavour, Aroma, and Effect of Runtz Automatic
As soon as you've harvested and dried her dense and sticky buds, they'll be ready to enjoy. Given the sweet fruitiness of her parentage, you can anticipate a tropical and sugary aroma with creamy undertones that will have your mouth watering in next to no time.
The scent alone will have you going back to your stash jar just to get another whiff. But her taste is where Runtz Auto really shines. Expanding on the sweet tropical fruit notes, she backs them up with subtle earthy notes, eventually rounded off by hints of cream and musky flecks. A truly diverse flavour experience that will satisfy even the most seasoned of stoner palates. Whether smoked or vaped, this is one strain to sit back with and just bask in her glory. Her sweetness also lends itself to edibles, and is undoubtedly one to experiment with when it comes to concentrates. The only limit is your imagination with Runtz Auto.
Summarization of Runtz Automatic
With the potential to contain up to 23% THC, Runtz Auto offers unprecedented potency. Because of her heavy-hitting parents, she is a true hybrid through and through, providing a full mind-body high that is euphoric, strong, and long-lasting. But this is no knockout or couch-locking strain; expect deep relaxation coupled with uplifting moments that make her perfect after a long day at work, or if you're just looking to chill out with some friends.
Runtz Automatic (Zamnesia Seeds) feminized data sheet

| | |
| --- | --- |
| Brand | Zamnesia Seeds |
| Genetics | Auto Hybrid |
| Parents | Gelato x Zkittlez x Ruderalis |
| Flowering Time | 9-10 weeks from seed to harvest |
| THC | 23% |
| CBD | Low |
| Yield (Indoor) | 450-500 gr/m² |
| Yield (Outdoor) | 100-150 gr/plant |
| Height (Indoor) | 100cm |
| Height (Outdoor) | 120cm |
| Available as | Feminized seeds |
| Flowering Type | Autoflowering |
| Sex | Feminized |
*
Specified by breeder when grown under ideal circumstances
More information related to this product:
Reviews (292)
23/May/2023

De 6 semillas 2 plantas
Plantadas al abrigo de plantas mas grandes y bajo el riego automático, 2 plantas hab florecido.

22/May/2023

Super !!
J'ai déjà pue expérimenté la Runtz féminisé classique de cher Zamnezia (je la recommande très fort!! c'est arômes à ça puissance sont sans égale) et j'espère que ça cousine automatique est aussi surprenant. Pour le moment toute les graines que j'ai mis à germer on prises, j'attends avec impatience!!!!!

20/May/2023

Mittelmaß
Nicht perfekt. aber passt schon.

17/May/2023

Pas mal mais pas très robuste
3 graines sur 3 ont germé, malheureusement 1 seule pousse vraiment... Les 2 autres sont restées minuscules puis sont mortes après 2 semaines

16/May/2023

Très bon produit.
Toutes les graines ont poussé. J'attends la récolte

13/May/2023

Keine Keimung ?
Hallo, hab bereits schon oft samen bestellt und jede ging soweit auf nach 48 Stunden. Bei diesen hier sind bis jetzt nach 60 Stunden noch keine Keim erfolge zusehen liegt es vlt an denn Samen oder was machen die anders als andere? Von 3 Samen sind derzeit 0 aufgegangen? Schade eigentlich weil ich mich sehr über diese Sorte gefreut habe. Deshalb geb ich trotzdem weil alles soweit mit anderen bestellungen gut ging zwei Sterne. :/

10/May/2023

Solid
'k heb deze vorig jaar ook geplant. Gemakkelijk ontkiemt in een glas water. In vergelijking met de andere strains van vorig jaar had deze ook een betere wortelstructuur. Aanrader!

06/May/2023

Great Quality
The product description does what it promises. Therefore clear purchase recommendation.

05/May/2023

5ème semaine
Je n'ai semé qu'une seule graine sur les trois et je n'ai pas de soucis. C'est la première fois que je jardine et j'avoue avoir eu peur au bout de trois semaines car je voyais la fleuraison commencer Mais en fait ce n'était que la pré-floraison. Je suis quasiment à 6 semaines actuellement et ça fleuri bien pour le moment . Je pense être en bonne voie. Jardinage en intérieur sur une chaise à côté de la fenêtre avec une lumière à Led (4 branche 80watt) Terreau universelle (type pour tomate) sans engrais ni rien. Mon premier essai est donc assez concluant. Je re-post dans environ 4 semaine pour terminer mon avis. Je croise les doigts. Bravo pour l'instant

04/May/2023

B.E.T.O.
Nice Plant.. Big buds and totaly jummi

You cannot post a review because you have not purchased this product
Restrictions
Please note that if your country is not on our general shipping list, we're unable to ship any item on our website to it. For more information check out the list here: Ordering & Shipping
Video (0)