Runtz: Strain Review And Information
3 min
Prepare to have your mind blown and your tongue tested! Runtz is a powerhouse. There's no other way to put it. She marks the next generation of ultra-flavourful Cali genetics.
Runtz will add tantalising sugary tastes to your cannabis seed collection. The strain descends from Zkittlez and Gelato—two varieties adored for their flavour—and boasts a massive THC content of 27%..
If her immense tastes and exciting effects weren't enough for you, her rewarding yield will surely seal the deal! Runtz is a brand-new addition to the Zamnesia cannabis seeds catalogue, and we know you'll love her.
RUNTZ: GENETIC BACKGROUND
Runtz stems from truly legendary genetics. She's the progeny of two delicious parent strains that originated in the United States: Zkittlez and Gelato. She features a finely balanced genetic profile consisting of approximately 50% indica genetics and 50% sativa.
| | |
| --- | --- |
| Genetics | 50% Sativa, 50% Indica |
| Parents | Zkittlez x Gelato |
| THC | 27% |
| CBD | <1% |
| Flavours | Fruity, Sugary, Lemon, Sweet |
| Effects | Uplifting, Relaxing |
Breeders knew that Runtz would achieve greatness. It became clear early on that they were onto something huge. But let's be honest, what else would you expect?
Zkittlez emerged from the breeding mecca that is the West Coast of the US. The indica-dominant cultivar stems from citrusy parents Grape Ape and Grapefruit. It didn't take long for Zkittlez to send ripples from the West Coast all the way to Europe.
Her deeply stoning indica high and hoppy, peppery tastes made her a star. She went on to scoop up awards at the 2016 Emerald Cup and the 2015 Cannabis Cup in San Francisco and Michigan.
After confidently settling on Zkittlez, breeders made another effortless decision with Gelato. The story of Gelato echoes that of Runtz' other parent strain; she's a West Coast cultivar boasting outlandish flavour and potency. Her creators named her after a sweet Italian dessert, a testament to her sugary nature.
Gelato descends from terpene-rich parent strains Sunset Sherbet and Thin Mint GSC and provides a happy, euphoric, and uplifting effect. By crossing her with Zkittlez, breeders managed to balance out the genetic profile of Runtz. Today, Runtz represents a new generation of scrumptious and powerful genetics from the West Coast!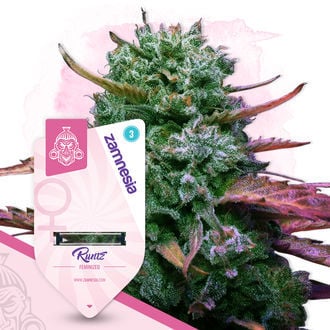 View
Runtz (Zamnesia Seeds) feminized
Parents: Gelato x Zkittlez
Genetics: 50% Indica / 50% Sativa
Flowering Time: 8-9 weeks
THC: 27%
CBD: <1%
Flowering Type: Photoperiod
HOW TO GROW RUNTZ
Runtz provides fantastic results, both indoors and outdoors. As a feminized cultivar, you can sleep soundly knowing she'll produce a canopy of female flowers! Grown indoors, Runtz will climb to a height of between 80–130cm. You'll receive a rewarding yield of 450–500g/m² after a flowering time of 8–9 weeks. Runtz also grows to a medium height when cultivated outdoors. Here, she'll produce a harvest of up to 500g/plant. Prepare to harvest your crop in early October.
Runtz produces visually stunning and aesthetically rare flowers. Her buds are compact and nugget-like in appearance. Expect to be treated to beautiful shades of deep purple and dark green. Bright orange pistils pop on this multicoloured canvas.
Her medium height makes her easy to control in almost all environments. Runtz displays a typical indica growth pattern and plenty of lateral growth.You can tame her wild side by using techniques such as topping and low-stress training. This will help to open up her dense canopy and expose bud sites to more light.
SMOKING RUNTZ: FLAVOUR & EFFECTS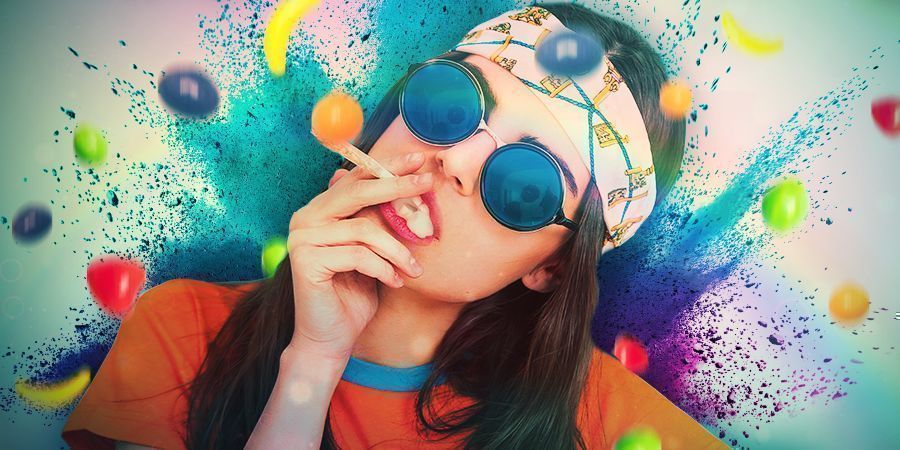 Runtz delivers an instant altered state of consciousness. A mammoth THC content of 27% fuels her powerful effects. Her balanced genetic profile of 50% indica and 50% sativa ensures the high targets both the body and the mind.
After hitting a bong or blunt, you'll notice the immediate onset of her sativa qualities. Her cognitive effects include a surge in motivation, a social mood, and the desire to get up and move. During this portion of the high, she's the perfect strain for outdoor activities. Hit the hiking trail with friends and delve deep into conversation as she supercharges your central nervous system.
Eventually, the high tapers off into an indica body stone. The muscles relax, the mind becomes still, and the appetite begins to increase. Now, it's time to get comfortable. Cook some food, put on a good film, and snuggle up in some blankets.
Delicious tastes of candy and fruit infuse every hit. Take her high to another level of potency by cooking up a tasty batch of edibles. Runtz features high levels of the terpenes caryophyllene and limonene. These molecules provide additional tastes of pepper and lemon.
Runtz: An Easy Ride
If you love the sound of Runtz strains, but don't have the time to tend to all the needs of a photoperiod strain, then we have just the thing for you. Runtz is also available as an autoflowering variety: Runtz Auto. Runtz Auto retains the same famous flavours and effects as photoperiod Runtz strains, but completes its lifecycle in 10 weeks or less, and requires significantly less maintenance. Granted, if you want the biggest yields and the most extreme potency, then the photoperiod version is better suited to you, but rest assured that Runtz Auto still delivers.
And it gets even better. Zamnesia and iGrowCan have collaborated to make growing Runtz Auto one of the easiest things in the world. The iGrowCan is an all-in-one grow kit that makes growing autoflowering cannabis seeds unbelievably easy. Simply plant the seed in the can and follow the included instruction. In short, these require you to water regularly and feed with the included nutrients. Other than that, give it as much light as possible and watch it flourish. After that, you can sit back and sample your own homegrown high grade.
RUNTZ HAS IT ALL
Runtz provides unique flowers with a monumental amount of THC and tasty terpenes. The strain offers great yields both indoors and outdoors while remaining at an easily manageable height. Just remember, take things slow. A THC content of 27% can be a shock to the system!