Arizer Air 2
5.00

5

1

(

10

)
Arizer has updated their popular classic Arizer Air, presenting us with their new and improved Air II. The Air II is even more powerful than the original, with a shorter heat-up time and a longer battery life. It's still as conveniently compact as before, making it an outstanding portable vape. The isolated air path and borosilicate glass ensure the purest and most flavourful vapor possible.
In stock
You will be notified as soon as the product returns to stock
Product accessories: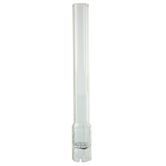 Arizer Mouthpiece
Check all accessories
More info
This Vaporizer can be used with:
Arizer - Air II: Powerful, Portable Vape
Arizer did a great job improving one of their most popular vaporizer classics, the original Arizer Air. The new Air II is now even more powerful. It still has many of the great features of the previous model, including the compact size, which makes the Arizer Air II one of the best portable vapes on the market.
ARIZER AIR 2 IMPROVEMENTS
The Arizer Air II is 50% more powerful than the previous model, with a longer battery life and a faster heat-up time.
The Air II now comes included with several matching steel filter screens. The filter screens prevent particles from entering the vaporizer's air path, so they don't end up in your mouth.
With the included micro-USB charger, you can charge the Air II anywhere and anytime. Thanks to the unit's pass-through functionality, you can even use the vape while charging!
The Air II has a crisp OLED display and is very easy to use thanks to the simple 3-button operation.
FULL TEMPERATURE CONTROL
The easy-to-read OLED display of the Air II allows you to adjust the unit's temperature in single degree steps, so you can dial-in your optimal vaping experience. The display also lets you know the remaining battery charge. You can adjust the brightness of the display and use it to activate the vape's auto-shutoff function.
ISOLATED AIR PATH & CONDUCTION HEATING FOR THE BEST FLAVOUR
The Air II features a completely isolated air path made from heat-resistant borosilicate glass for a flavourful, yet pleasantly smooth smoke. What sets the Air II apart from many other portable vapes is that its conduction-style heating chamber doesn't "cook" your cannabis. Rather, it ensures your plant matter is heated-up evenly, for maximum flavour and effect.
A POWERFUL PORTABLE VAPORIZER
Not only is the Air II an excellent portable vape due to its pocket-size, it also has an increased battery capacity that allows for longer, uninterrupted vaping while on-the-go. There is a rubber cap on the glass stem so you can easily pre-pack bowls before your travels. With the Air II being such an excellent travel mate, we have also included a protective carry case with a belt-clip.
EASY TO CLEAN
Due to requests from users, we are now including several stainless steel filters with the Air II. Both the screens and the glass stem are very easy to clean. You can simply soak them in rubbing alcohol. For cleaning the bowl, a quick swipe with an alcohol wipe is all that you need to remove any buildup.
USES REPLACEABLE, RECHARGEABLE BATTERIES
The Arizer Air II uses standard 18650 rechargeable batteries. You can charge the unit directly via its built-in USB port and the included charger cable. Tip: If you get extra rechargeable batteries and an external charger, you can always have one battery fully-charged and ready.
ARIZER AIR II - WHAT'S INCLUDED
The Arizer Air II comes complete with many useful accessories. Here is what's included in the box:
Arizer Air II Vaporizer
18650 Rechargeable Battery
Charger Cable with USB Power Adapter
Glass Aroma Tube 70mm
Tipped Glass Aroma Tube 70mm
Glass Aroma Dish
2x Silicone Stem Cover Caps
Carry Case with Belt-Clip
Stainless Steel Stirring Tool
4x Stainless Steel Filter Screens
Sample Aromatic Botanicals
Instruction Manual
The Arizer Air II comes with a two-year manufacturer's warranty. This warranty covers any workmanship issues or defects. The heating element of the unit is covered by a lifetime warranty.
Arizer Air 2 data sheet

| | |
| --- | --- |
| Brand | Arizer |
| Type | Portable |
More information related to this product:
Reviews (10)
25/Nov/2020

Goed toestel, goede prijskwaliteitsverhouding
De opwarmtijd van dit toestel valt goed mee, dit toestel is door zijn grote niet aan de discrete kant, maar voor deze prijs zijn de mogelijkheden die het toestel heeft wel de moeite waard. Grote pluspunten zijn de vervangbare batterij, als de batterij stuk gaat of minder performant is hoef je geen nieuw toestel aanschaffen, je kan de batterij vervangen. Mensen die reeds vapen zullen het model van batterijen kennen. Een ander groot voordeel is dat je het toestel kan laden tijdens het gebruik. De instelmogelijkheden voldoen prima en de opwarmtijd is aan de snelle kant. een ander groot voordeel is dat het toestel heel makkelijk te reinigen is in vergelijking met andere modellen van deze prijsklasse.

06/Oct/2020

Excellent
Très bon vapo, facile à utiliser. Le réglage précis jusqu'à 220 degrés procure d'excellentes sessions de vape, avec des tubes en verre munis d'un petit foyer pour caler le produit, très pratique. Belles sensations agréables avec ce modèle qui est d'ailleurs très sympa à avoir en main :) Design soigné, le top. La qualité est clairement au rdv, et les arômes sont parfaitement fidèles et bien rendus grâce à ce modèle. De plus, je remercie le service client qui a été vraiment exemplaire suite à un souci sur un premier produit où il y a eu un souci. J'ai été livré quelques jours après pour remplacer le défectueux, Zamnesia la classe. Aux petits soins avec les clients, good vibes :))

18/Aug/2020

Absolutely fantastic vaporizer
I bought the Air 2 with the Zamnesia coupon for my birthday: thank you! It turned out to be the best birthday present . My Fenix has served me well for 2 years but I won't be using it again. The Air 2 has a much lighter draw and the vapor is very soft. I used the mouthpiece with the plastic tip. I read about users complaining that the mouthpiece gets to hot : If it does, you're drawing to fast and too hard. There's no need to try and suck your herbs through the mouthpiece. Relax! I was sceptical when I saw the small chamber; my Fenix can hold about twice the amount of ground herbs. Well, I have never experienced a high this good with such a small amount of herbes. Amazing! As for the design: it's beautiful in mystic blue and comfortable to hold. Easy to clean too. Il does have a tendency to roll away so be carefull where you put it. As for it's supposed lack of discreteness: I think holding a Fenix, Crafty or similarly designed vaporizer will attract more suspicious looks than holding an Air 2 that looks like one of the more expensive electronic cigarette devices. 10 out of 10

20/May/2019

Arizer Air 2
Very good product, very good quality, very good service and fast shipping!! thank you very much!!!

17/May/2019

great product
I bought the Air 2 to replace my original Air, which I liked very much. The Air 2 I like even more, because it has precise tempcontrol and a lighter draw too.

17/May/2019

Great vaporizer
Very easy to use. Best quality and fast delivery.

28/Sep/2018

Το βαπόρι απ την Περσία
Excellent vape production even in low temps. More than pleased from this quality product and the transaction. Thank you!

28/Sep/2018

Super vapo
Excellent vaporisateur, bonne autonomie (Je tiens 3 jours avec mes 2 batteries de rechange)! Le goût des plantes est juste hallucinant (conduit tout en verre!!!)comparé à d' autres vapo..même beaucoup plus cher! La qualité de fabrication est au rendez-vous, simple d' utilisation, efficace et assez compact! + très facile à nettoyé :)

20/Aug/2018

Super Vapu
Ein toller Vapu, man kann Ihn gut reinigen, da das Mundglasstück bis auf den Boden kommt und somit die Kammer sehr sauber bleibt. Das einstellen der Temperautur, Display Helligkeit, °C/F, Timer ist sehr leicht. Desweiteren finde ich gut, dass man die Batterie wechseln kann und somit länger Rauchen kann. DA ich eeh ein nur für Kräuter suchte, war dies für mich eine gute Wahl. Ich bin mit der Verarbeitung und Qualität sehr zu frieden.

You cannot post a review because you have not purchased this product
Restrictions
Please note that if your country is not on our general shipping list, we're unable to ship any item on our website to it. For more information check out the list here: Ordering & Shipping
Video (0)