Storage Container CVault
4.5

5

1

(

76

)
The CVault storage containers are made of food grade stainless steel and are equipped with a silicone seal and lid with latches for airtight and light-proof sealing. The Cvault is well suited for use as a curing jar, especially the larger 21-litre size.
In stock
You will be notified as soon as the product returns to stock
Product accessories: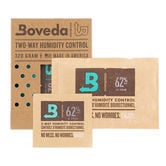 Boveda Humidipak
More info
The Cvault is one of the ultimate ways to keep your cannabis fresh and potent for as long as possible. Its stainless steel construction, airtight lid and light proof design ensure that any degeneration is kept to an absolute minimum.
To top it all off, the CVault uses a two-way humidipak, both taking excess moisture out of the air and replacing it when it gets low. It allows the CVault to maintain a perfect 62% relative humidity within the container – the ideal humidity for storing most herbs, including marijuana.
This functionality also allows the CVault to act as a curing jar. The 21-litre option is especially suited to this, as it can store fairly large yields.
1-2 Humidipaks included with CVault (depending on CVault size).
For the best results, we suggest to use the Humidipak sizes listed below that corresponds to the Cvault.
Sizes and measurements
Personal Cvault
0.175L - Small - Diameter: 8cm, Height: 4cm - Includes 1x 8 gram humidipak 62%
0.5L - Medium - Diameter: 10cm, Height: 6.8cm - Includes 1x 8 gram humidipak 62%
0.95L - Large - Diameter: 12cm, Height: 8.5cm - Includes 2x 8 gram humidipak 62%
Commercial Cvault
2L - Diameter: 20cm, Height: 10cm - Includes 1 x 67 gram humidipak 62%
4L - Diameter: 23cm, Height: 14cm- Includes 1 x 67 gram humidipak 62%
8L - Diameter: 26cm, Height: 18cm - Includes 2 x 67 gram humidipak 62%
21L - Diameter: 33cm, Height: 26cm - Includes 1 x 320 gram humidipak 62%
Note:
Due to the manufacturing process it's possible that you will find small welding marks on the top of the lid, furthermore because of the fragility of the smooth, mirror-like surface of the C-Vaults it's also very difficult to promise that you will receive the unit completely absent of tiny scratches and dents.
Rest assured that these do not affect the functionality in any way.
Storage Container CVault data sheet

| | |
| --- | --- |
| Type | Humidity control |
| Type | Jar |
| Usable For | Curing, Humidity control |
More information related to this product:
Reviews (76)
20/Sep/2022

This is what you need for cracker dry mushrooms
Best jar i ever bought. I store my cracker bone dried mushrooms in this jar with some epsom salt and silica gel bags in the fridge and they are perfectly dry and potent even after 2 months so far. Feels like my mushrooms are going to stay fresh for years. Thank you zammy

09/Jul/2022

2 liter
Super genau so wie beschrieben.

15/Jun/2022

Super
De qualité et bien hermétique

28/Sep/2021

Prima product, helaas aan de prijs
Inmiddels 6 van deze potten besteld, 4 van 4 liter en 2 van 8. De afwerking is niet helemaal wat je voor deze prijs verwacht. Het is mooi dat zamnesia dit in de productomschrijving vermeld. Duurzaamheid heb ik mijn twijfels over want de sluitingen gaan nu al minder dan toen ze net nieuw waren. De reden dat dit product toch nog 3 sterren ontvangt is omdat ze schijnbaar het enige product zijn voor dit doel wat ook voldoet aan mijn wensen. Zou er een Chinese variant zijn zou ik deze zeker bestellen daar ik dan betaal voor de kwaliteit die ik krijg. Qua werking niets op het product aan te merken overigens.

24/Sep/2021

CVault
These are great expensive though.

08/Sep/2021

Good product
Handy and nice container that keeps herbs fresh

28/Aug/2021

Dikke bak :)
Mooiste container die je kan vinden voor het perfect bewaren van je toppen. Ook ga ik heel fijn op de sluitinkjes openen en dicht doen. Eigenlijk geen minpunten, kwaliteitsprodukt.

22/Jul/2021

Beste uitvinding ever!!!
Dit zijn voor mij de beste containers die ik ooit aangeschaft heb. Mijn herbs blijven fresh en smaakvol en dat is precies wat ik wil. Opslag in deze containers altijd combineren met de boveda packs, let wel goed op de levensduur van de humidity pack. Totaal geen minpunten te vinden ik ben fan for life!!!

29/Jun/2021

CVaults in combination with Boveda work wonders
CVaults and Bovedas are top. If in doubt, make the comparison yourself for two weeks, weight it and taste it. No doubt on my end it's the way to go. CVaults come in a variety of sizes to keep any of your stash away from room humidity and light. In combination with Boveda it works wonders. I have been keeping a kind of tomato for over a year now, and despite having used several Bovedas, the stash is dense, compact due to a long cure, but it's still tasty, smelly and gets your where you want to be.

You cannot post a review because you have not purchased this product
Zamnesia's Experience
Restrictions
Please note that if your country is not on our general shipping list, we're unable to ship any item on our website to it. For more information check out the list here: Ordering & Shipping
Video (1)
Video: How To Properly Store Your Weed

As a cannabis enthusiast, you know that nothing is worse than smoking old, dry, and brittle herb. Improperly stored weed loses flavour and potency, and will often make for an outright awful smoke over time. But how can you keep your weed fresh for a longer period? Find out about the best ways to store your stash!