Storage Container CVault
5

5

1

(

55

)
The CVault storage containers are made of food grade stainless steel and are equipped with a silicone seal and lid with latches for airtight and light-proof sealing. The Cvault is well suited for use as a curing jar, especially the larger 21-litre size.
In stock
You will be notified as soon as the product returns to stock
Product accessories: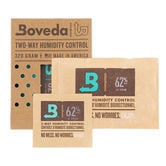 Boveda Humidipak 62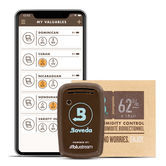 Boveda Butler Smart Sensor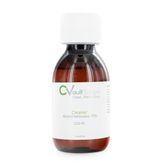 CVault Cleaner
More info
The Cvault is one of the ultimate ways to keep your cannabis fresh and potent for as long as possible. Its stainless steel construction, airtight lid and light proof design ensure that any degeneration is kept to an absolute minimum.
To top it all off, the CVault uses a two-way humidipak, both taking excess moisture out of the air and replacing it when it gets low. It allows the CVault to maintain a perfect 62% relative humidity within the container – the ideal humidity for storing most herbs, including marijuana.
This functionality also allows the CVault to act as a curing jar. The 21-litre option is especially suited to this, as it can store fairly large yields.
1-2 Humidipaks included with CVault (depending on CVault size).
For the best results, we suggest to use the Humidipak sizes listed below that corresponds to the Cvault.
Sizes and measurements
Personal Cvault
0.175L - Small - Diameter: 8cm, Height: 4cm - Includes 1x 8 gram humidipak 62%
0.5L - Medium - Diameter: 10cm, Height: 6.8cm - Includes 1x 8 gram humidipak 62%
0.95L - Large - Diameter: 12cm, Height: 8.5cm - Includes 2x 8 gram humidipak 62%
Commercial Cvault
2L - Diameter: 20cm, Height: 10cm - Includes 1 x 67 gram humidipak 62%
4L - Diameter: 23cm, Height: 14cm- Includes 1 x 67 gram humidipak 62%
8L - Diameter: 26cm, Height: 18cm - Includes 2 x 67 gram humidipak 62%
21L - Diameter: 33cm, Height: 26cm - Includes 1 x 320 gram humidipak 62%
More information related to this product:
Reviews (55)
23/Feb/2021

INNOVATIVO
Il migliore contenitore per la conservazione delle tue creazioni. Perfetta sigillatura, umidipak fa la differenza.

21/Feb/2021

Super Teil
Geniales Ding , luftdicht

06/Feb/2021

Lekker vers
Ben zeer tevreden met mijn container. Samen met de hygrozakjes blijft mijn wiet lekker vers en niet scherp

04/Feb/2021

Parfait
Sobre, solide et de très bonne qualité. Parfait en combinaison avec les packs boveda

09/Jan/2021

Cvault 21l
Super produit comparer à du tight pack vraiment rien a voir !cvault bravo

07/Jan/2021

Perfekt und gefällt
optisch ansprechend, guter Verschluss und ideal zur UV-geschützten Lagerung und Aushärtung. Mein Tipp: Vor der ersten Verwendung das Dichtungsgummi aus der Vorrichtung herausziehen, reinigen und anschließend im Deckel nur leicht anheften, damit es sich erst beim Schließen wieder in die Vorrichtung drückt.

05/Jan/2021

TOP
Super degelijk top kwaliteit een echte aanrader geloof me

22/Dec/2020

Super
vraiment super ! pour le moment seulement 1 conteneur de 1 litre et ça fonctionne bien j'avais de la weed un peu sèche et miracle elle reprend vie donc je compte en reprendre 1 plus gros JJ

22/Dec/2020

nickel
parfait

16/Dec/2020

Très classe
Parfaitement hermétique et de très bonne manufacture !

You cannot post a review because you have not purchased this product
Zamnesia's Experience

The CVault is a great solution for storing your personal stash of weed. It is lightproof, airtight, odour proof, and maintains perfect 62% level of humidity using a two-way humidity pack. These perfect conditions do not only maintain the quality of your marijuana for as long as possible but can also breathe a little bit of life into weed that has been allowed to dry out too much. It is also constructed from stainless steel, making it durable and easy to keep clean. The larger 2-litre size is ideal for storing the entire yield of a plant, and can even be used to aid in the curing process. All-in-all, an excellent investment for anyone who stores their weed for prolonged periods of time.  

You can read my in-depth review of the CVault on our blog here.


Pros:
 
 

Lightproof
 

Airtight
 

Odour Proof
 

Stainless steel construct – durable and easy to clean
 

Humidity control (maintains 62% RH when pack used)
 

Great for curing

Cons:

 

Putting the humidity pack in its lid slot can be fiddley


 
 
 
 
 
 
 

Written by: Josh
Writer, psychonaut and cannabis aficionado, Josh is Zamnesia's in-house expert. He spends his days nestled out in the countryside, delving into the hidden depths of all things psychoactive in nature.

 

 
 
 
 
Find out about our writers
 
Restrictions
Please note that if your country is not on our general shipping list, we're unable to ship any item on our website to it. For more information check out the list here: Ordering & Shipping
Video (1)
Video: How To Properly Store Your Weed

As a cannabis enthusiast, you know that nothing is worse than smoking old, dry, and brittle herb. Improperly stored weed loses flavour and potency, and will often make for an outright awful smoke over time. But how can you keep your weed fresh for a longer period? Find out about the best ways to store your stash!