As essential but oft-overlooked accessories, weed rolling trays provide a stable foundation to create all manner of joints, blunts, and spliffs. They prevent precious herb from going to waste, all while keeping your essentials in easy reach.
WHAT IS A ROLLING TRAY?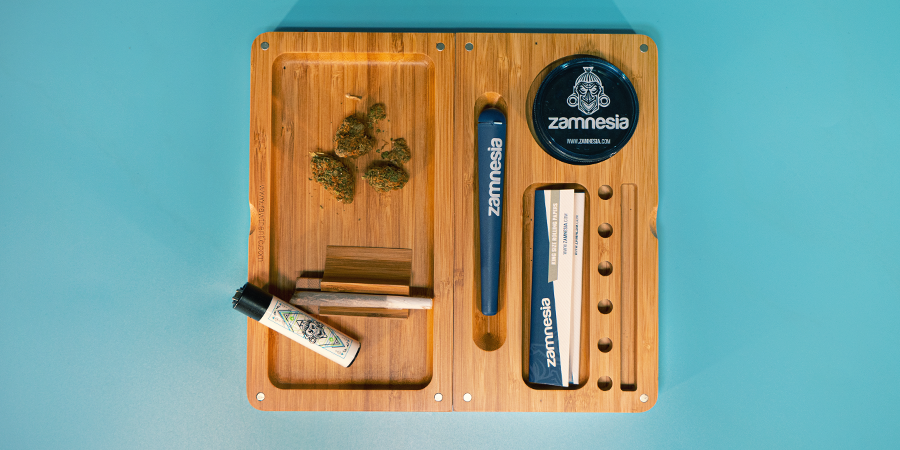 As the name implies, a rolling tray most often appears as a large flat surface with plenty of space to lay out the following:
Weed
And anything else you need for the perfect blaze!
But, you'll also find cannabis rolling trays with extra compartments and cool features. Every aspect is perfectly designed to complement your session, no matter how or where you like to smoke. With a selection for every occasion, at home or on the go, Zamnesia will take your rolling tray game to the next level.
WHAT ARE THE BENEFITS OF A ROLLING TRAY?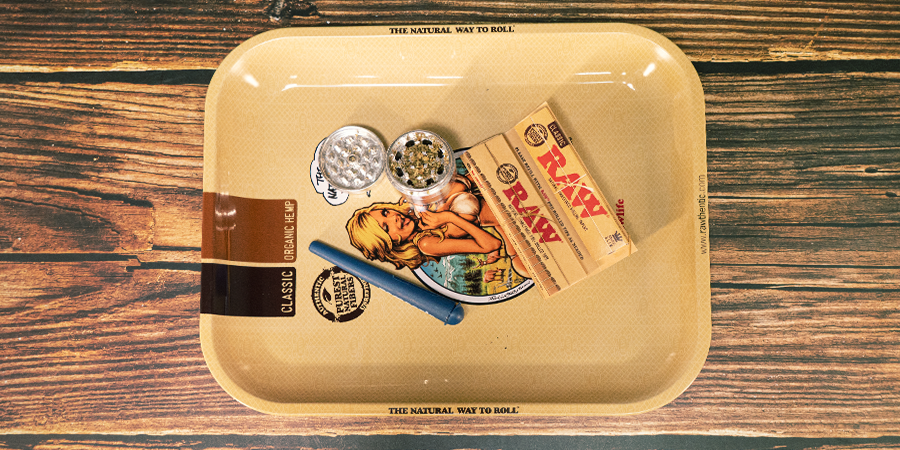 One does not simply buy any old rolling tray on a whim—first, you need to know what they offer. Although these accessories appear straightforward, understanding their nuances will pay dividends in the long-run.
First and foremost, virtually all trays use a lipped, rectangular design. So, even if you do accidentally move or tip the tray, the contents won't spill all over your lap. Every stoner can recall at least one time they've lost precious weed while trying to cradle everything in their lap. A rolling tray almost entirely remove the risk of such a disastrous event!
Another significant benefit of these accessories is their layout. Many include designated sections for papers, blunt wraps, etc. This not only keeps your stash organised, but it makes rolling an efficient and enjoyable affair. You'll easily get several joints wrapped in no time at all.
Last but by no means least, they look fantastic! Whether you go for a simple wooden design or something a little more flashy, nothing sets the mood like a dope-looking tray. Plus, if you aren't entirely confident with rolling, a rolling tray gives you that assurance to keep trying.
DIFFERENT TYPES OF ROLLING TRAYS
As we've alluded to, trays come in dozens of materials and sizes. No matter your style or needs, Zamnesia has a comprehensive selection that's guaranteed to catch your eye (and your buds!).
TRAYS MADE FROM DIFFERENT MATERIALS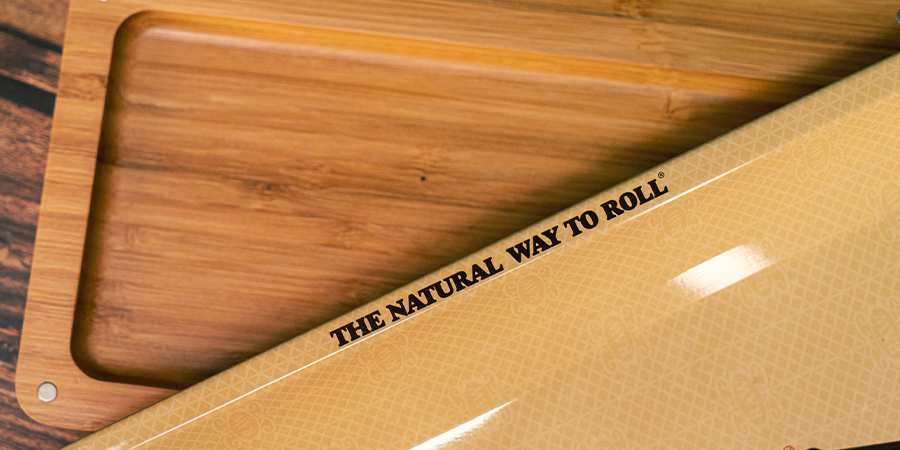 One of the main differences between these accessories the material used to make them. Not only can you get durable plastic trays, but handcrafted ones made from wood, bamboo, coconut, and more.
Each type comes with its own advantages and disadvantages:
Wooden options tend to be more durable than their plastic counterparts, but with a heftier price tag and weight.

Plastic options are lightweight and easily stashed in a bag if you need to roll on the move. They thrive on simplistic design, and you may want more functionality than plastic can offer.

The remaining material types offer a blend of pros and cons from both wood and plastic, alongside properties such as being eco-friendly, handcrafted, or particularly visually appealing.
Ultimately, the right type of rolling tray will come down to your budget and desired features.
PLASTIC AND METAL ROLLING TRAYS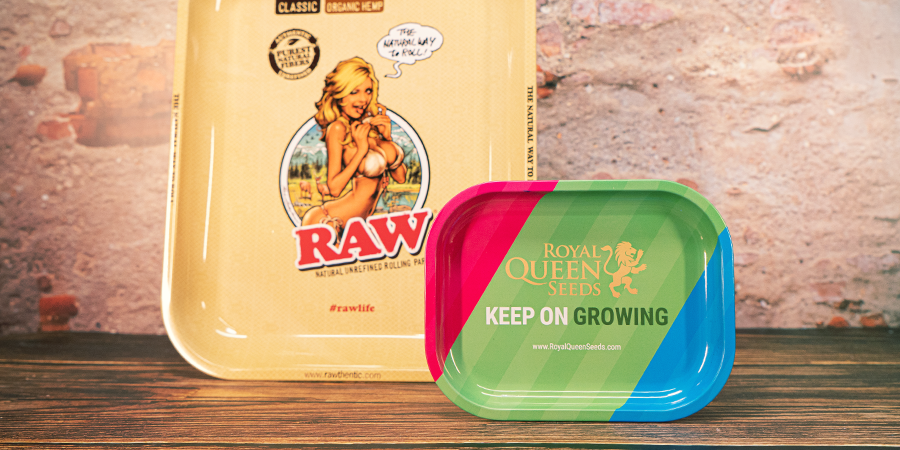 The mainstay of our rolling tray category, plastic is one of the most common and popular options. Sturdy, lightweight, and perfectly balanced (as all things should be), they make it so easy to roll, you'll wonder how you managed before. The second most popular material is metal, which is another of Zamnesia's best sellers.
There are many eye-catching designs to choose from, such as the RAW Rolling Tray, RAW Rolling Tray Girl, Royal Queen Seeds Rolling Tray, and RAW Rolling Tray BLACK. After all, what good is a rolling tray if it isn't aesthetically pleasing and functional?
GLOWING AND LIGHT-UP ROLLING TRAYS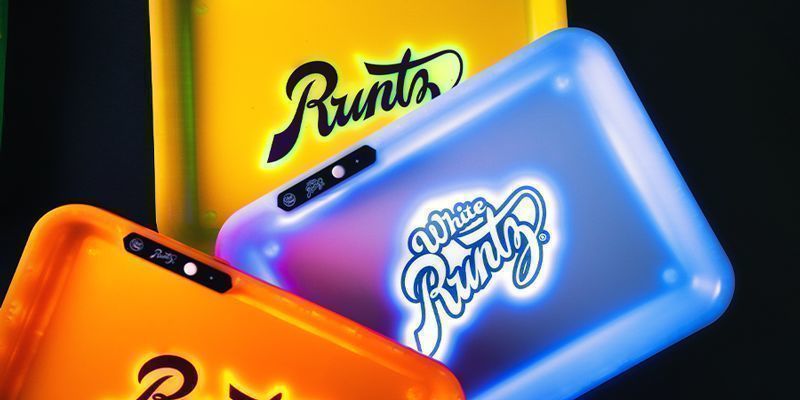 Find yourself jealous of that one friend who not only rolls the best blunts, but does it on an incredible-looking rolling tray too? Well, Zamnesia has your back with our glowing and light-up option. However, don't be fooled into thinking these products are all show and no substance.
The Glow Tray is a seamless collision of technology and classic design. Utilising a powerful series of LEDs, you'll be able to roll the fattest blunts, even in the dead of night. And, with rechargeable batteries, you can stay on the grind night after night without worry.
WOODEN ROLLING TRAYS AND BOXES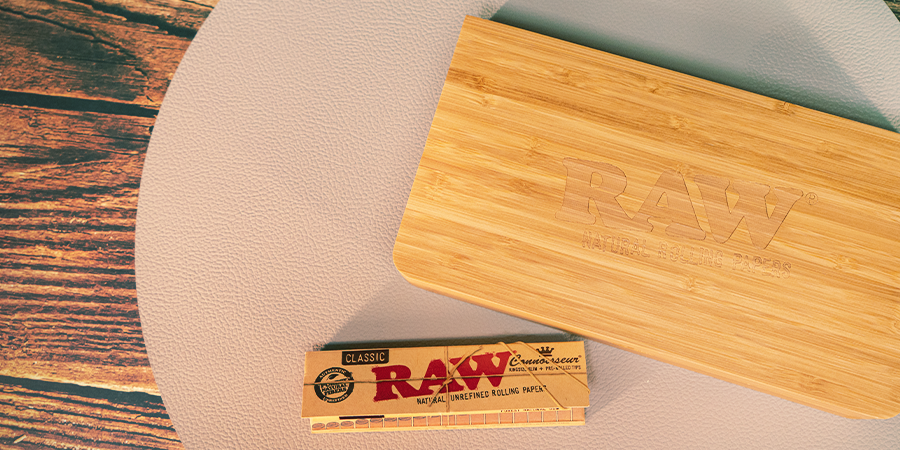 For the connoisseurs out there, you cannot beat a wooden rolling tray. Not only do they ooze sophistication, but they feel weighty in hand. The trade-off with wood is the price. But, for not much more than a plastic version, you get improved durability and other useful features, such as extra compartments.
The box-style is especially useful if you plan to travel around. While they are small enough to fit in a bag, they're plenty large enough for your grinder, papers, and buds. Then, when you get to your destination, you can unpack and get straight down to business. A versatile storage method, the RAW Wooden Box is the perfect container for use at home and on the go. On the other hand, the Roll Tray Wood is an ideal portable option. And don't forget the high-quality and cool designs of the RAW Bamboo Backflip Tray and the Roll Master Bamboo Rolling Tray.
ROLLING TRAYS IN DIFFERENT SIZES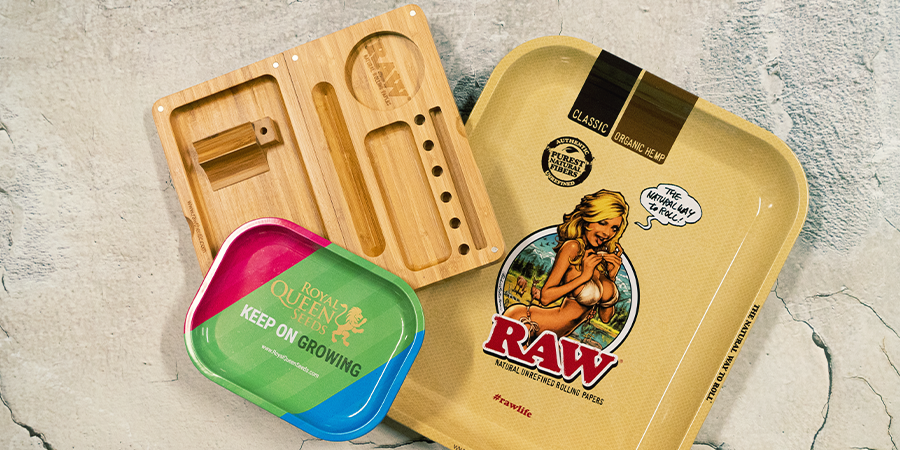 There is no universal size for a rolling tray, so it's good to buy one that meets all your needs. If you need plenty of space to practise, or you have a lot of weed to get through, then a larger rolling tray is perfect. However, if you plan to travel around, or you want a tray that's more discreet, smaller designs are ideal. Given the diversity of these accessories, you're guaranteed to find something that meets your requirements.
ROLLING TRAYS WITH SPECIAL FEATURES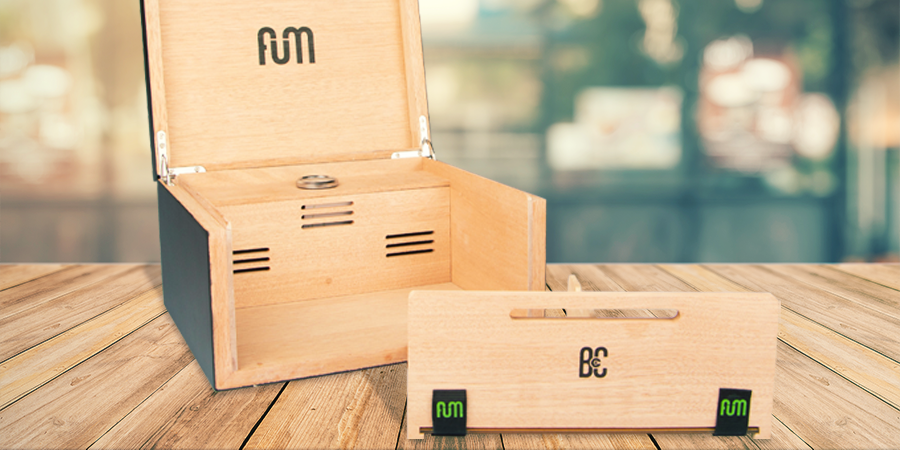 For the best in rolling tray functionality, several products go above and beyond just being a flat surface for rolling joints or spliffs. These models have storage compartments for all your smoking accessories: an incredibly handy feature for stoners who like to stay organised.
If you want to produce the finest joints this side of the cosmos, the Fum Box is a premium option that delivers something no other rolling tray can match—perfect humidity. To achieve the best possible flavour and high from your weed, it needs to have just the right level of moisture. The Fum Box is specially designed to keep buds in perfect condition; despite the high price tag, it guarantees your joints stay in tip-top shape.
Whether you want to keep things simple or take your rolling game to new heights, the comprehensive selection of rolling trays at Zamnesia has everything you need, with trays of all shapes, sizes, and materials. Browse our rolling tray collection today, and say goodbye to mess and disorganisation!
---