Bamboo Rolling Stash Tray (Zamnesia)
(

13

)
Wanna roll with class? Zamnesia's new Bamboo Rolling Tray / Stash Box boasts a sleek, modern design and all the features you need to roll comfortably and in style. With a magnetic lid and clean cutouts to hold your grinder, papers, and all other rolling accessories, our Bamboo Rolling Stash Tray is the one tray to truly rule them all.
This item is not available in your country
We are sorry, this product is currently not available for shipping to your country. Please check back for future availability.
More info
Zamnesia - Bamboo Rolling Stash Tray: The Ultimate Luxury in Rolling
Pop open the magnetic lid. Run your fingers across the soft grains of its wooden interior. Inhale, and let the smell of sweet bamboo mixed with the aromatics of your favourite strain let you know it's time. Time to roll up, kick back, and drift off.
At Zamnesia, we consider smoking to be one of life's biggest pleasures. And we intend to help you make every session unique, relaxing, and fully immersive. Our new Bamboo Rolling Stash Tray boasts a sleek, modern look designed to go perfectly with the design of your home. And like with any luxury object, its beauty is embedded into its simplicity and careful details; the smooth wooden edges, small branded logos, perfect wooden cutaways designed to hold your grinder, papers, filters, and more.
The lid of our Rolling Stash Tray sits perfectly in place thanks to its large, central magnet, allowing you to easily and discretely keep all your smoking accessories in one place. Both the lid and the base have small, foam corners to avoid them from scratching any household surfaces. And finally, the inside of the tray is loaded with carefully-made cutouts designed to house all your rolling gear.
Ready to roll in style? The Zamnesia Bamboo Rolling Stash Tray has you covered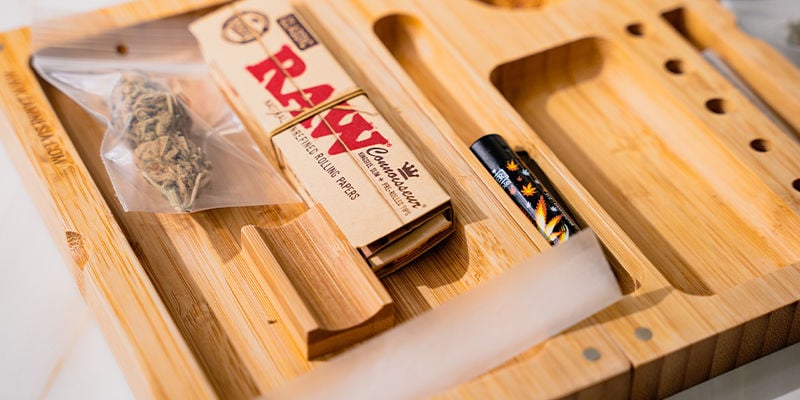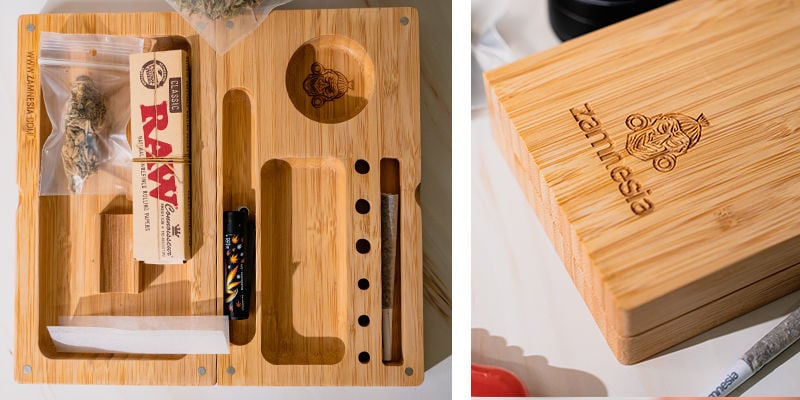 Bamboo Rolling Stash Tray (Zamnesia) data sheet

| | |
| --- | --- |
| Material | Bamboo |
| Size | Medium, Large |
| Type | Box, Accessories |
| Dimensions | Closed: 22x12x4cm Open: 22x24x2cm |
More information related to this product:
Reviews (13)
View all reviews

14/Feb/2023

Warum ist das RQS eingebrannt?
Bssl klein,dje Drehhilfe sollte man anmachen Für unterwegs im Rucksack sehr gut. Wirklich eher für unterwegs alles parat zu haben.

01/Feb/2023

classe !
boite en bois assez classe, aimantée de bout en bout (on peut la fermer comme une boite ou la déplier comme une tablette le tout sera aimanté à chaque fois). des petites cases biens pratiques même si certaines ne sont pas suffisamment grande (comme pour le grinder par exemple). mais vu le prix c'est très correct.

06/Oct/2022

Very cool
Box and rolling tray good quality. Perfect for roll in . I'm satisfied but the place is small for grinder

21/Jul/2022

Zit meer potentie in
Het logo zit aan de verkeerde kant, als ik hem dicht doe ligt alles ondersteboven. Ook mogen de magneten wat sterker. Verder is het zeker een mooie tray en doet het zijn ding. Ik heb gelukkig een kleine grinder die er perfect in past maar let op dat een grotere grinder niet zal passen.

30/Jun/2022

Schönes Produkt
Schön verarbeitet, hält und wackelt nicht. Meine Freunde und ich fragen uns aber aus Spaß welches Fach welche Funktion hat. Bei vielen wissen wir das bis heute nicht.

29/Jun/2022

Bambus-Drehunterlage
Sehr nice. Bin zufrieden. Wenn es diese in ne Nummer größer gäbe wäre cool.

23/Jun/2022

een iets om te verbeteren
fantastiche tray. stevige magneten, proper design, 1 iets wens ik aan te passen, het hinderde de mij zodanig dat ik het eraf heb gedremeld met een machientje. het Uitsteeksel op het onderste 'rol' gedeelde is te kort om een blaadje op te leggen , maar de plaats ernaast is ook te klein, ik heb heel veel manieren geprobeerd om het alsnog met dit verhoogje te rollen. het was te ambetant. ik heb het eraf gedremeld en met een mes het weer even gesneden. Ik raad aan dit weg te halen of te veranderen naar een optionele verhoog met magneten.

14/Jun/2022

Pratique
Il n'est déjà pas chère et je l'ai eu en réduction, pour le prix je ne m'attendais pas a ca , belle qualité , les aimants de fermeture du plateau sont puissants ca tient bien ! juste dommage que le compartiment a grinder soit si petit et si peu profond, impossible de fermer le plateau avec un grinder standard. Le grinder zamnesia lui-même est trop gros. sinon je suis satisfait :)

03/Jun/2022

Absoluut niet over design nagedacht
Ziet er leuk uit op eerste oog, Alle dimensies kloppen alleen niet, standaard grinder past er niet in. als je hem dicht doet ligt ales weer door elkaar dus opbergen doe je ook niet. Niet goed over nagedacht maar leuk idee. Ik zag precies dezelfde bij RQS alleen logo anders. Ik kan er helemaal niks mee en heb meer aan de metalen rolling tray klein van 3 eu. netjes opgelost wel met vendor dus voor hun 5 voor product 0, afgerond naar 2 sterren. had wel potentie leuk product te zijn, Olijf hout allicht en afsluiting zo dat niet alles door elkaar vliegt als je hem dicht doet.

You cannot post a review because you have not purchased this product
Restrictions
Please note that if your country is not on our general shipping list, we're unable to ship any item on our website to it. For more information check out the list here: Ordering & Shipping
Video (0)