Looking to discover the potential benefits that mushroom tinctures have to offer? Thinking of making a purchase, but a little unsure of where to start? You're certainly not alone; mushroom tinctures are fast becoming the most popular way to get a daily dose of a wide variety of fungi.
All come complete with a handy dropper that allows for easy and consistent dosing on the move. Take a look through our information guide for everything you need to know about mushroom tinctures. We'll answer any questions or concerns you may have, provide peace of mind, and help you make an informed purchase decision when you're ready.
What Is Mushroom Tincture?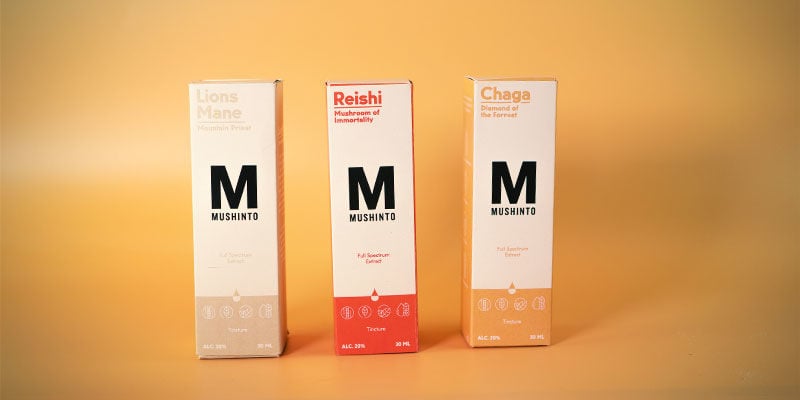 A tincture can be classified as an extract formed by dissolving a given material in an alcoholic spirit, such as ethanol. Popular tinctures include cannabis as well as other herbs and spices. In this case, it is the extracts of certain mushroom species that form the basis of tinctures.
The mushroom-infused ethanol is then decanted into smaller, dropper-style bottles for easy consumption on the go. Mushroom tinctures are not just created from one species of fungi; there are many different types available, each providing its own potential benefit.
What is mushroom tincture?
Mushroom tinctures are made from the extracts of edible mushroom species. These extracts are dissolved in ethanol.
Is Mushroom Extract The Same Thing As Mushroom Tincture?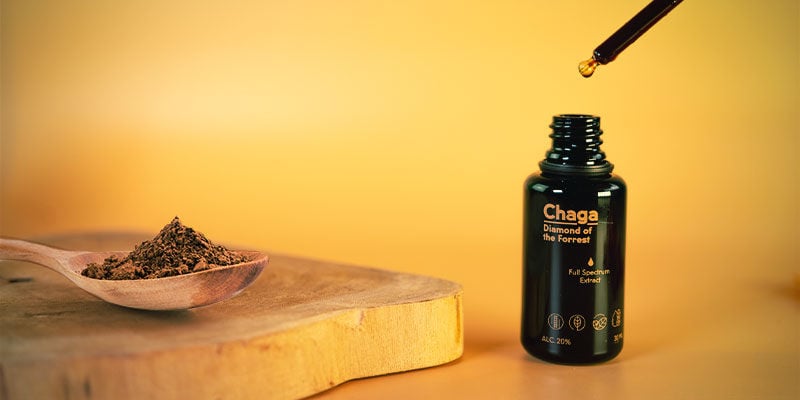 While all tinctures are extracts, not all extracts are tinctures. As such, there are some key differences between the two that should be highlighted. Mushroom extracts are usually purchased in a fine dehydrated powder, whereas tinctures come in liquid form and are instantly ready to use.
Some users prefer powdered mushroom extracts as they can be placed into homemade capsules, infused into tea, or sprinkled onto food or drink. Tinctures can also be used in numerous ways, which we'll delve into further below.
Both tinctures and extracts start out the same way. The chosen mushrooms are dried and then boiled in an alcohol and water solution. The resulting concentrated liquid is then either made into a tincture or a powdered extract.
However, it really comes down to personal preference as to which one is best for you. Arguably, mushroom tinctures are much easier to use while on the move, whereas a powdered extract may cause some issues in public or work settings. One thing is for sure, though; both offer the same potential benefits from the mushrooms used to create them, regardless of how they are consumed.
What is the difference between mushroom tincture and powder?
There are few differences between mushroom tinctures and powder in terms of effectiveness. It really boils down to personal preference.
What Is Mushroom Tincture Used For?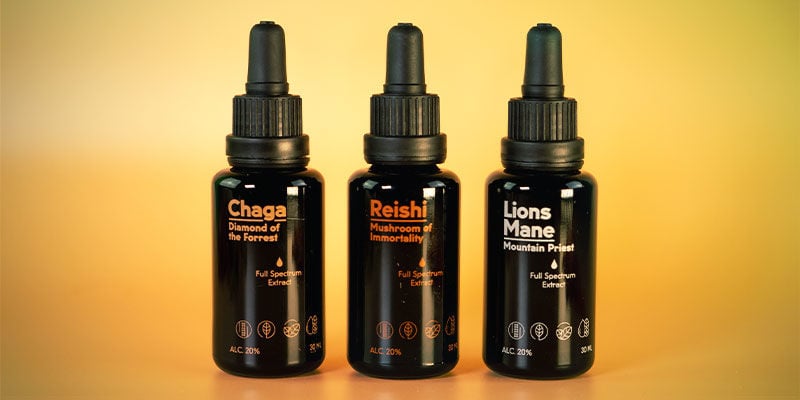 Mushrooms have long been harnessed for their natural nutrients, compounds, and effects. This is true of psilocybin-packed magic mushrooms and truffles used for hallucinogenic purposes, as well as other, non-psychedelic species.
Possible benefits attributed to mushroom tinctures include supporting the immune system, nervous system, and increasing energy and stamina. Of course, the effectiveness will differ greatly from user to user, as factors like dose and general tolerance play a big role in the effects each person experiences. Mushroom tinctures, specifically, are seen as a handy and efficient way to experience the potential health and wellness-benefitting properties of various mushrooms.
How To Take Mushroom Tincture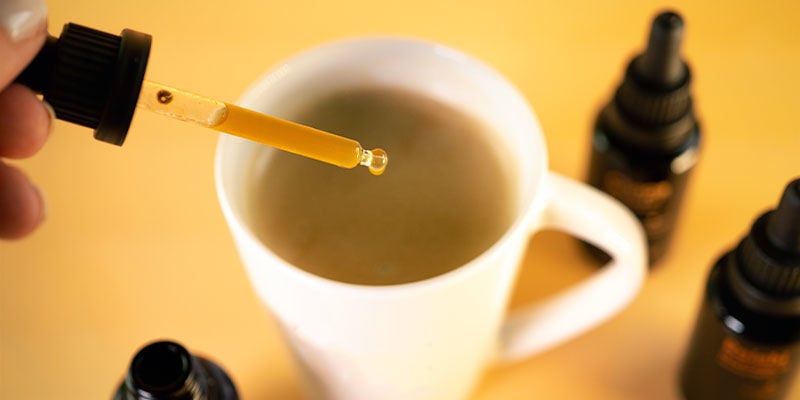 Due to their liquid form, mushroom tinctures are incredibly simple to administer. With the use of a dropper, users can ingest the liquid directly by placing it under the tongue. After holding it for around one minute, you can swallow the remaining liquid.
It is advised to take a full 1ml dropper a few times a day to exploit the full benefits. However, a droplet of tincture can also be added to drinks and food, such as coffee, smoothies, or salads. Some users even include their tinctures in recipes for baked goods and ice cream! The possibilities are truly endless with tinctures, and only limited by the user's imagination. These options are perfect for those not keen on the taste of their mushroom tincture, who want to disguise or enhance it.
How to use mushroom tincture?
Thanks to their liquid form, they can be applied directly under the tongue or added to drinks or food.
What Is The Recommended Mushroom Tincture Dosage?
While the size of mushroom tincture bottles differs from one to the next, the average dropper's capacity is 1ml (about 10 drops). The use of individual drops allows the user to control exactly how much they want to dose. As a rule of thumb, 1ml should be administered 1–3 times a day.
Can You Take Too Much Mushroom Tincture?
As mentioned, there is a recommended daily intake when it comes to mushroom tinctures, but what happens if you take too much? While each tincture variant harnesses the potential benefits of different mushroom species, some side effects can occur. The reishi mushroom, for example, can cause an upset stomach and issues such as dry mouth.
However, any side effects can usually be combatted by gradually introducing the mushroom tincture into your daily routine. As with any new supplement or vitamin, it is worth noting any sensations or side effects before committing to a full dosage.
How Long Do Mushroom Tincture Effects Last?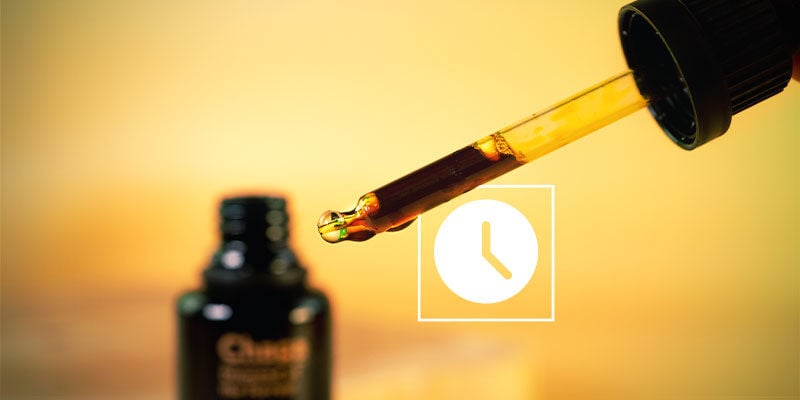 Each mushroom species has different potential benefits and effects, and these last different amounts of time. Tinctures made from Cordyceps mushrooms, for example, are often favoured for their energising effect. As such, many users tend to administer this tincture in the morning to start their day with a burst of energy. These effects are said to last a few hours. With the ability to administer a few times a day with a handy dropper, a pick-me-up is never far away. This is just one example, and we'll break down the specifics on other types of mushrooms below.
While there are many parts to a mushroom, it is the fruiting body that is harvested, dehydrated, and turned into tinctures and other extracts. The body contains everything from the cap to the stipe, providing a full spectrum of nutrients and beneficial properties from the chosen mushroom. The vegetative part located under the soil, known as mycelium, is not typically used in creating extracts.
How To Store Mushroom Tincture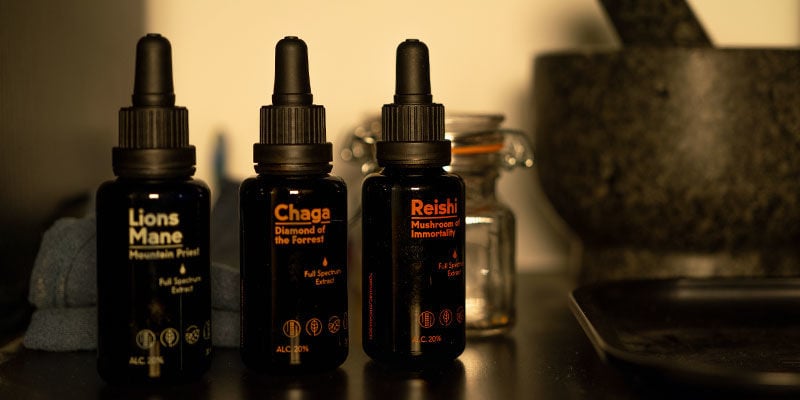 Storing your mushroom tinctures is a simple task. A cold, dark environment such as a food cupboard or pantry will keep your tinctures in perfect condition. Avoid exposing your tinctures to freezing cold conditions and high temperatures, as this can impact their effectiveness.
How Long Does A Mushroom Tincture Last?
When kept in the best possible conditions, your tinctures will last about a year. Whether opened or sealed, tinctures will last quite some time as long as storage guidelines are followed.
How long does mushroom tincture last?
When stored in a cool, dark environment such as a food cupboard or pantry, they have the potential to last around a year from purchase.
Effects Of Mushroom Tinctures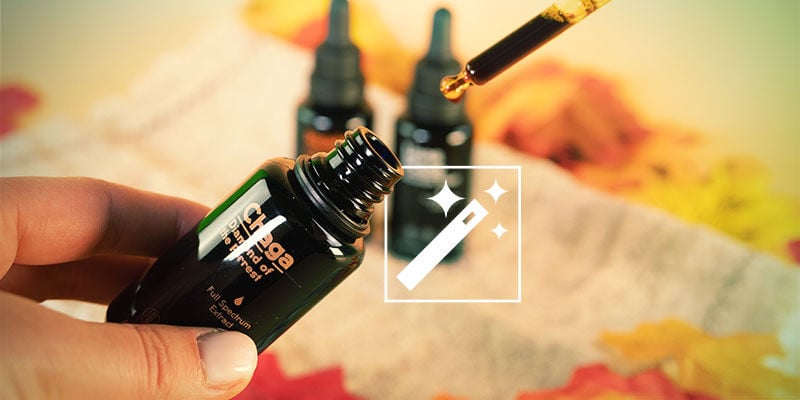 Mushroom tinctures are created from numerous different species, each of which has been harnessed for its own natural effects and benefits. While the experience may differ from person to person, with some feeling the effects more than others, there's no denying that tinctures and extracts can be used alongside daily supplements and vitamins to boost well-being.
What Are The Effects Of Mushroom Tinctures?
There are many potential effects of mushroom tinctures, with each species harnessed for a particular use. Mushrooms such as lion's mane are extracted for their potential to increase energy and contribute to heightened concentration. Other types of mushrooms, such as chaga and reishi mushroom, have long been used for their potential benefits to the immune system.
Do Mushroom Tinctures Have Side Effects?
As mentioned, there are some potential side effects associated with the use of mushroom tinctures. While they're generally not severe or dangerous, there is still the risk of some possible adverse outcomes. These include minor issues such as an upset stomach.
Many of these are associated with high doses, and can be avoided by reducing the amount or gradually introducing yourself to mushroom tinctures. Just be sure to listen to your body and make a note of how you are feeling before, during, and after dosing. This way, you can gauge if you're experiencing any side effects. It should be noted that these side effects are infrequent and unlikely to occur.
Can you get high from mushroom tincture?
Mushroom tinctures of this type do not have any psychoactive effects.
Is Mushroom Tincture Psychoactive?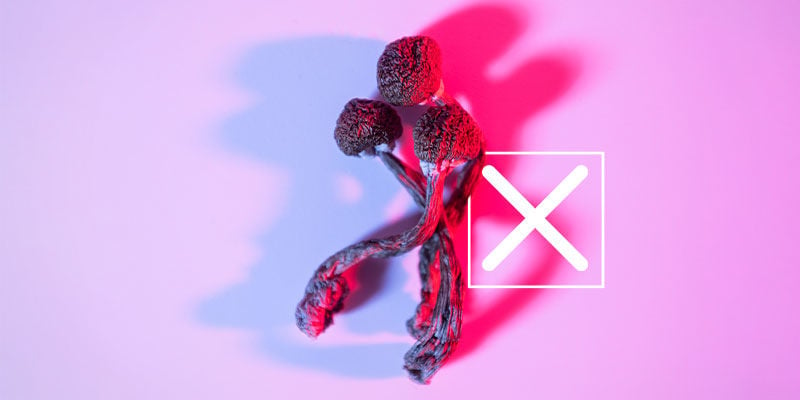 At first glance, it might be easy to mistake mushroom tinctures for magic mushroom tinctures. Well, this is simply not the case. Mushroom tinctures contain no psychoactive or hallucinogenic properties, meaning users will only get the potential benefits that tinctures bring, without the risk of tripping. This makes them ideal for use at any time of day, without the worry of psychedelic effects.
Is Mushroom Tincture Safe?
Absolutely. With all-natural and pure ingredients, mushroom tinctures are completely safe to administer. Through precise and industry-leading processes, the natural mushroom extracts are dissolved in an alcohol solution. This solution contains no additives or chemicals, and purely allows the mushroom extract to be fully absorbed into the tincture. This makes them easy to use as is, or to add to any food or drink.
Mushroom Tincture Production
With use dating back as far as 1000 AD, mushroom tinctures have been produced for a seriously long time. Although manufacturing methods have obviously changed in that time, the essence of creating tinctures, with minimal interference and a focus on a pure and natural approach, has remained at the forefront of production.
How Is Mushroom Tincture Made Commercially?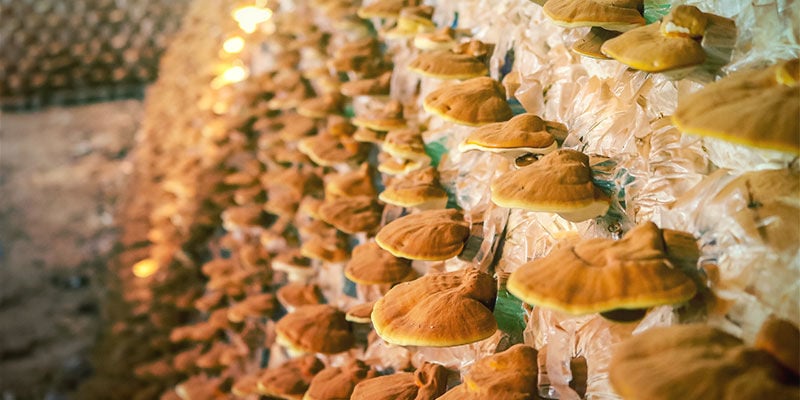 There are many different methods when it comes to commercial production of mushroom tinctures, with techniques to ensure that the first batch provides the same level of quality as the last. But, how are mushroom tinctures made commercially?
To begin with, many medicinal mushroom tincture companies will cultivate their own strains to allow for unrestricted collection and use of fungi species. Having a supply located in the same area reduces the time between harvesting and dehydrating, allowing for the freshest mushrooms to be used.
Once the chosen species of mushroom has been dehydrated, they are boiled in a tank containing hot filtered water and alcohol for roughly 1–3 hours. This cooking process is carried out several times to make sure all of the nutrients and properties have been removed from the mushrooms.
The resulting liquid can be used in two different ways; it can be further concentrated and dried into a powder, or it can be infused with other vitamins and decanted into bottles for use as a tincture.
What Are The Ingredients In Mushroom Tinctures?
As a rule of thumb, the ingredients used in the production of mushroom tinctures are purposefully limited. This is so the potency and effectiveness of the extract is not diluted by any other substances or additives. Mushroom tinctures commonly consist of a mushroom extract dissolved through a combination of water, alcohol, and an accompanying vitamin—usually one that can possibly benefit the effect of the chosen mushroom species.
How To Make Mushroom Tincture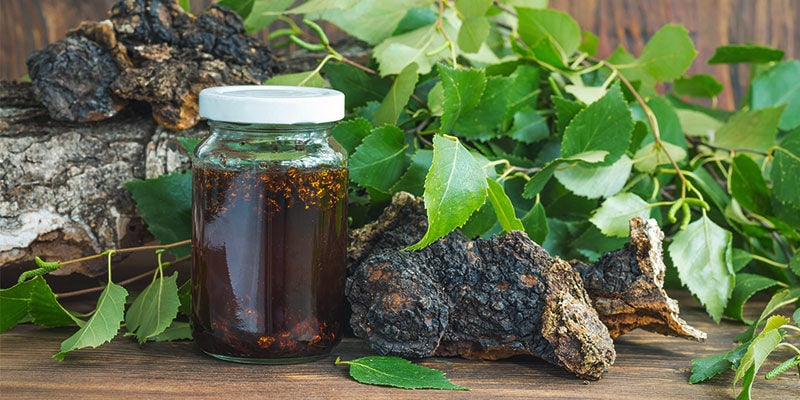 Much like other tinctures, with a little time and patience it is entirely possible to make a high-quality mushroom tincture from the comfort of your home—and you don't need heaps of industrial equipment to do so! Of course, you can forgo any effort and purchase ready-made tinctures, but if you're looking to make your own concoctions, possibly with more additives to suit your needs, it's absolutely possible to achieve.
After harvesting your chosen species of mushroom, wash and cut them into small pieces. Once cut, place in a dehydrator or on a screen where they can fully dry out. The next step is to choose how you will dissolve the mushrooms. Much like commercially produced tinctures, this can be achieved by using clear, high-proof alcohol such as ethanol.
Place your dried and cut mushrooms into a jar and cover with your chosen alcohol (between 70–95% will do the trick). Allow 2–6 weeks for the extraction process to be completed. Be sure to shake the jar once a day to ensure the alcohol is evenly distributed among the mushrooms, allowing for the best extraction.
After this period, the mixture will need to be decocted. This process involves simmering the mushroom concoction for anywhere between 30 minutes and 2 hours, allowing the liquid to reduce. Once reduced, the concoction can then be strained, pressed, and decanted into a bottle of your choosing. Much like other mushroom tinctures, homemade ones should be stored in a cool, dark environment for maximum effectiveness and longevity.
Which Mushrooms Are Commonly Used For Tinctures?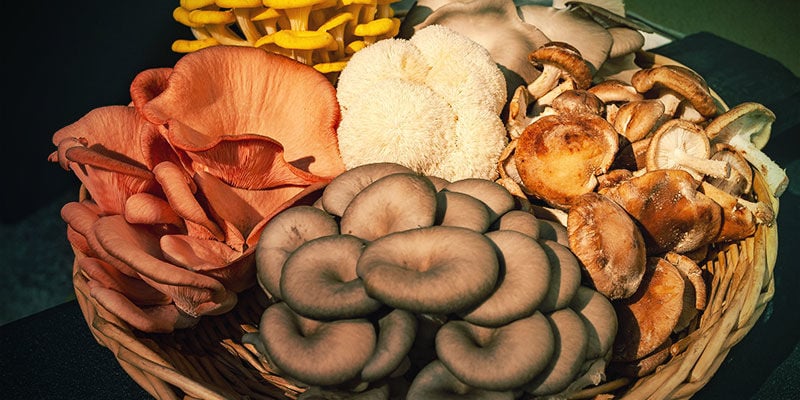 With over 38,000 species of mushrooms growing in the world today, the choices are extremely vast. Of course, not every species is suitable for human consumption, let alone for use in a tincture. So, which mushrooms are commonly used for tinctures?
Typically, the best mushrooms to use are adaptogenic species. While the research into this topic is in its infancy, some studies have shown adaptogenic mushrooms to offer potential wellness benefits.
What Are Adaptogens?
"Adaptogen" is a term used to describe a natural substance that has the potential to promote internal balance (homeostasis) or to support other physiological processes. Adaptogens have long been a part of Chinese holistic traditions, dating back thousands of years.
Possible benefits associated with adaptogenic mushrooms include increased energy, improved mood, and a supported immune system. While more formal analysis is needed, there are plenty of testimonials that hint at the effectiveness of adaptogens.
Which Mushrooms Are Adaptogenic?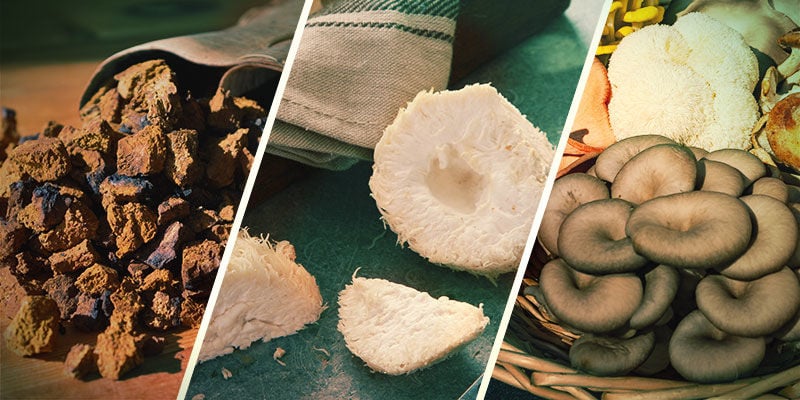 Many mushroom species are adaptogenic, with each one harnessed for its own unique benefits. While some are more popular than others, all have viable applications.
Chaga Mushroom
Believed to provide an energy boost, chaga is a hugely popular choice among mushroom tincture enthusiasts. Full of antioxidants, chaga mushroom tinctures are also favoured for their potential ability to support the immune system. Chaga mushroom has a slightly bitter taste, but it's ideal for mixing with food and drink to mask the unique flavour if needed.
Lion's Mane Mushroom
Named for its shape, lion's mane is an adaptogenic mushroom beloved for its potential to enhance energy, memory, and cognition. As such, many users of lion's mane mushroom tincture take their drops when looking to focus on work or their studies. Lion's mane traditionally has a sweet scent and a much more meaty flavour, which is very popular.
Reishi Mushroom
This species of mushroom has been used in China and Japan for over 4,000 years, and for some good reasons. Reishi mushroom is known for its potential to soothe the nerves and promote sleep readiness. Combined with a slightly bitter taste, a reishi mushroom tincture is ideal for adding a couple of droplets to a smoothie or tea.
Cordyceps Mushroom
Cordyceps are thin fungi that were once a popular means to promote stamina and energy in China. Indeed, they're still used for this purpose today. In tincture form, a quick hit of energy is not far away. Providing a mild flavour, Cordyceps tincture is easily administered under the tongue or added to food or drink.
Maitake Mushroom
Providing a rich and earthy flavour, maitake mushroom, also known as "hen of the wood(s)", is a great-tasting mushroom species, and makes for a tincture that is sure to complement any food or drink. Its adaptogenic properties are thought to aid the immune system and benefit blood sugar levels.
Shiitake Mushroom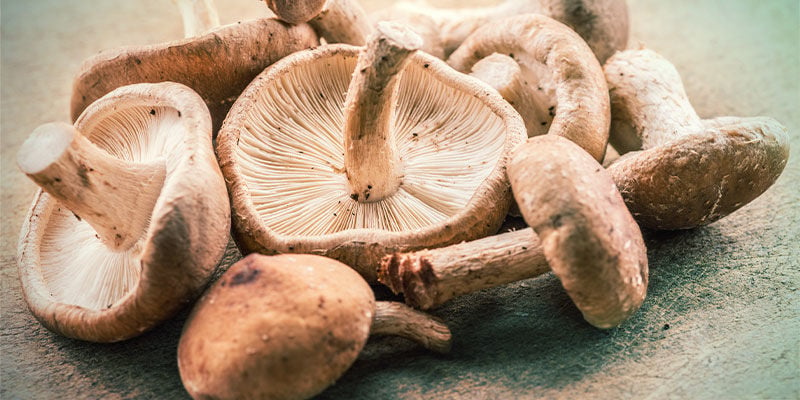 A mushroom synonymous with Asian cuisine, and seen as a delicacy among culinary connoisseurs, the shiitake mushroom is also used in more holistic settings. While the effectiveness of this mushroom is somewhat debated, shiitake is packed full of antioxidants, promotes healthy-looking skin, and may provide support to the immune system. With a rich and meaty flavour, this mushroom lends itself well to tinctures.
Turkey Tail Mushroom
Arguably the most researched mushroom, turkey tail has undergone extensive scientific inquiry in Asia to determine its potential in clinical settings. While no conclusive evidence has yet been uncovered, turkey tail has some adaptogenic properties that make it ideal for use in a tincture. Providing possible support to the immune system and protection of the liver, turkey tail is certainly a popular choice when making mushroom tincture at home. This species also has a bitter and earthy flavour that can easily be disguised by food or drink.
Where To Get Mushroom Tinctures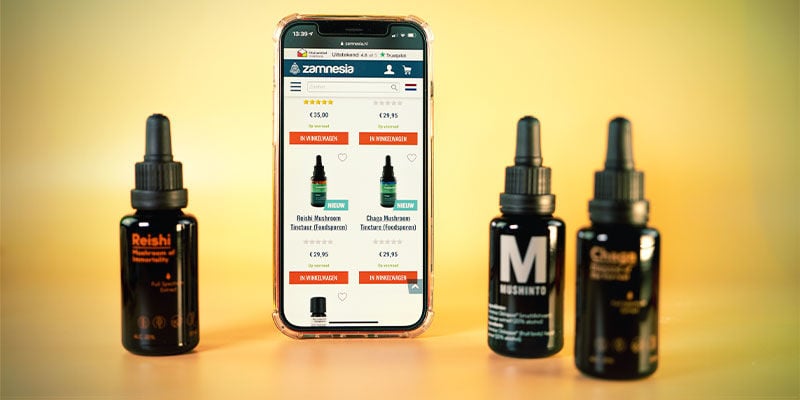 Thanks to their immense popularity, you don't have to look far to experience the potential benefits mushroom tinctures have to offer. Many health stores and pharmacies stock large quantities both online and in stores. Of course, you can also collect your own ingredients to produce quality tinctures from the comfort of your home.
However, for an extensive and varied range of ready-made mushroom tinctures, check out the selection available at Zamnesia. Not only can you read detailed product descriptions that will showcase everything the tinctures have to offer, but you can also check out real customer reviews to get first-hand information regarding their effectiveness.
Mushroom Tinctures: Questions & Answers
What is mushroom tincture?

Mushroom tinctures are made from the extracts of edible mushroom species. These extracts are dissolved in ethanol and decanted into smaller, dropper-style bottles to allow for easy consumption. Mushroom tinctures are sought after for their array of holistic benefits.

How to use mushroom tincture?

Mushroom tinctures are extremely versatile. Thanks to their liquid form, they can be applied directly under the tongue or added to drinks or food.

Can you get high from mushroom tincture?

Mushroom tinctures of this type do not have any psychoactive effects. As such, these tinctures can be taken at any time of day without concern of impairment or psychedelic effects.

How long does mushroom tincture last?

Mushroom tinctures have a pretty long shelf life. When stored in a cool, dark environment such as a food cupboard or pantry, they have the potential to last around a year from purchase.

What is the difference between mushroom tincture and powder?

There are few differences between mushroom tinctures and powder in terms of effectiveness. It really boils down to personal preference. Many find liquid tinctures more convenient and straightforward due to the lack of preparation necessary.