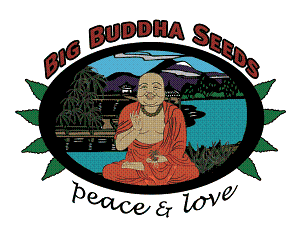 Considered by many to be one of the best breeders to come out of the UK, Big Buddha has built a reputation for producing the best Cheese strains money can buy. Yet despite this popularity and profound influence on the cannabis market, not too much is actually known about the masters behind the seeds. Here is what we do know:
Big Buddha Seeds is the brainchild of founder Milo Yung, who grew up in British suburbia appreciating the finer points of cannabis from a young age. However, it wasn't until he was 18 that this passion became fully ignited. With a cutting supplied by a friend, Milo attempted his first indoor grow, and it set in motion cannabis history. From this point, all free time was dedicated to honing skill and growing connoisseur level cannabis. Through work in the industry, and developing contacts, Milo eventually got his hands on an original Cheese clone, one of the most fiercely guarded and exclusive strains of the UK.
Having grown with the clone, and experiencing its quality himself, Milo knew exactly what he had to do – make it available for all the world to enjoy. Thus started Big Buddha Seeds.
Today, Big Buddha have refined and honed their original Cheese into one of the best varieties it is possible to get hold of, also using it to produce a number of top-shelf hybrids. The result is world recognition and many awards – making them well worth any grower's time.
Great examples of their work include Big Buddha Cheese, Blue Cheese, Buddha Tahoe, and Buddha Kush OG – all of which scream quality!
Packaging Big Buddha Seeds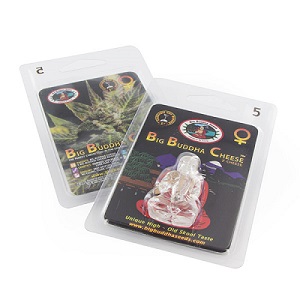 Big Buddha Seeds take packaging extremely serious. So much so that they have made a custom package producing machine in-house, and its ability to keep cannabis seeds safe is next to none.

Each set of seeds is housed in a shock, temperature, and moisture resistant Buddha, which in turn is carefully sealed in a blister pack along with a playing card that denotes the strain within. The Buddha itself has a resealable head, meaning seeds can be stored in the original packaging while not in use. However, as the Buddha is often transparent, be sure to store it in a dark place.

Big Buddha Seeds' cannabis seeds are available in quantities of 5, in feminized and automatic varieties.

Please note: It may be the case that you receive Big Buddha Seeds' older style of packaging, while stocks last.
Awards Big Buddha Seeds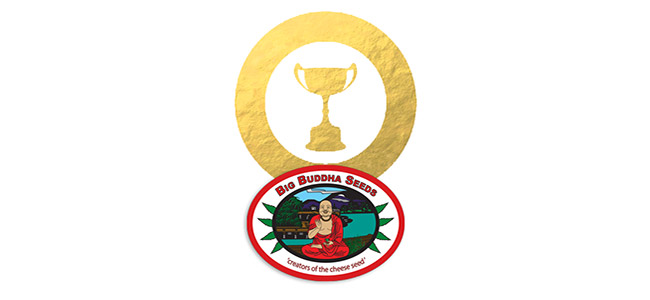 As one of the premier producers of Cheese cannabis seeds, it is no wonder to hear that Big Buddha Seeds have won multiple awards over the years. Here are some of their top strains, and the awards they have won.
---
Big Buddha Cheese


 
 

Awards:

• 2006 High Times Cannabis Cup, 1st place for Best Indica
• 2009 420 IC Growers Cup, 5th place for Best Indica
• 2011 Treating Yourself Expo, 2nd place for Best Indica

One of the most popular strains in the UK, Big Buddha Cheese has an unmistakably pungent taste and aroma that pay homage to its name. A crossing of the original and closely guarded Skunk #1 Cheese with an undisclosed Afghani, this indica dominant beauty grows strong, flowers in 7-9 weeks, produces big yields, and is able to relax the body and mind in its entirety, while uplifting mood.

 

 
---
Blue Cheese


 
 

Awards:

• 2006 High Times Cannabis Cup, 3rd place for Best Sativa


Blue Cheese combines the dank tones of Big Buddha Cheese with the delightful fruity twists of Blueberry. Both parents are renowned and award-winning in their own right, and their offspring is no different. The combination of these genetics results in a big, bushy beast that produces amble yields in 8-10 weeks. Her bud produces a classic Cheese flavour with a fruity twist, and she induces a functional and extremely euphoric high.

 

 
---
Buddha Tahoe


 
 

Awards:

• 2011 High Times Cannabis Cup, 3rd place for Best Overall Strain
• 2014 Spannabis Champions Cup, 2nd place for Best Indoor Hydro

One of the few 100% indicas still around, Buddha Tahoe is the child of Big Buddha Seeds' original Tahoe cut of OG Kush. These cannabis seeds are quite literally a bit of living history, and have been selectively bred over the years to exemplify the very best of this OG Kush. With a flowering time of 8-9 weeks, a tangy, lemony flavour, and a deeply relaxing high, there is a lot to love about Buddha Tahoe!

 

 
---
Blue Cheese Automatic


 
 

Awards:

• 2013 Spannabis Champions Cup, 2nd place for Indoor Hydro


As the name suggests, Blue Cheese Automatic has all the great qualities of the original Blue Cheese, but in an easy to manage, fast growing automatic variety. Able to go from seed to harvest in roughly 10 weeks, Blue Cheese Auto maintains the pungent yet slightly fruity flavour of its namesake, as well as the euphoric and uplifting high. As she is an automatic, she can also be grown multiple times throughout the year – which is sure to put a smile on many grower's faces.