Novi Plasma Lighter
(

32

)
The Novi Lighter is a stylish plasma lighter that operates completely electrical without the need for refills or lighter fluid. The Novi Lighter will work reliably even in wind and weather and you can easily recharge it via USB so that it will last you for many years!
This item is not available in your country
We are sorry, this product is currently not available for shipping to your country. Please check back for future availability.
More info
Novi Plasma Lighter: Stylish & Dependable
The Novi Lighter is possibly the coolest and most functional lighter that you can get. This stylish plasma lighter operates completely electrical which means it won't ever stop working or require a refill. The Novi Lighter works without any harmful chemicals or toxic gases and you can easily charge it via USB. You can depend on it in all circumstances and it won't let you down even in wind and weather like most other lighters.
The Novi plasma lighter produces an electric X with a temperature of almost 500°C for immediate ignition of any flammable material. It is easy to maintain and to clean. The lighter will serve you many years of reliable use so that you won't ever need to buy another lighter again!
Its design makes the Novi Lighter look as good as it performs.
Video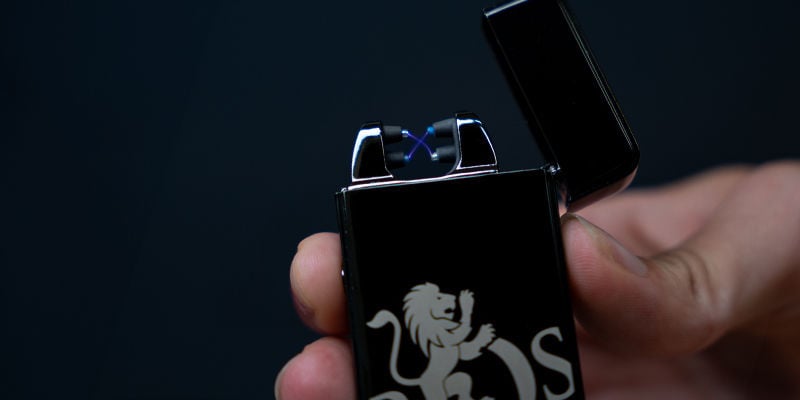 Novi Plasma Lighter data sheet

| | |
| --- | --- |
| Type | Plasma |
Reviews (32)
View all reviews

16/Sep/2023

Briquet plasma
Briquet de très bonne qualité avec un design moderne et stylé. Je suis ravi de mon achat. En ce qui concerne la batterie je le charge une fois tous les quatre jours et ça suffit grandement aucun problème avec

25/May/2023

Lighter
Very good product.

12/Apr/2022

Sehr elegant und edel
Habe es meiner Freundin zum Geburtstag geschenkt es funktioniert sehr gut ist sehr edel und sehr toll verarbeitet ich werde mir noch das mit dem zamnesia Motiv kaufen meine Freundin hat das mit Royal Queen seed ist doch witzig dann hat man das so als Partner Feuerzeug

12/Apr/2022

goed
goeie aantseker en ziet er goed uit, zeker een aanrader

05/May/2021

Super slechte aansteker
Dat ding is overpriced je kan ze via bol.com al voor 10€ krijgen (dezelfde kwaliteit)ik moet dat rot ding om de 3 uur opladen ik zou bij deze zeggen niet kopen zonde van je geld

07/Jan/2021

Great lighter
No more problems with wind, even in harsh conditions and outside activities like camping also excellent as a gift, this is the second lighter I purchase here.

27/Nov/2020

Que venga un huracán
Olvídate del gas esto es el futuro muy funcional. Mi problema es que pedí el de Royal y quería el de Zamnesia pero es la caña también detalles muy cuidados.

22/Nov/2020

Satisfait
Fonctionne bien, batterie convenable, apparence et emballage presque luxueux, très bon produit. À voir pour la durée de vie mais pour le moment aucun problème

13/Nov/2020

Vive Zamnesia
briquet design et pratique comme il se recharge par usb

24/Sep/2020

très bien
pas déçu comme d habitude

16/Sep/2020

Briquet du futur !
J'ai eu l'impression d'avoir un gadget venu tout droit du futur quand je l'ai allumé pour la première fois. J'aime le fait qu'il n'y ai pas de produits chimique, qu'il se recharge et de plus il est très luxueux. Par contre, pour allumer une douille, c'est carrément impossible, alors recours à la mèche en chanvre raw, qu'on peut allumer avec ce briquet, pas de problèmes !

08/Sep/2020

Th flame is a bit too small, but decent lighter!
it's a decent lighter and it's very easy to use! It does what it has to do. Though, The flame is a little small, what could be difficult with lighting bigger joints.

12/Aug/2020

Na 2 maal gebruiken al defect
Na 2 maal mn sigaretje aan te steken is mn aansteker al defect heb hem opgeladen tot het lichtje uit was zoals vermeld op de uitleg maar niks werkt... spijtig want het is echt een mooi ding!

21/Jul/2020

Laisse à désiré
Il marche très bien, il est jolie, et il se glisse partout. Par contre, il est tombé deux fois de 30 cm environ, et depuis il est impossible à recharger. Donc niveau résistance, c'est un échec ! Très mal partit pour durée de nombreuses années comme vous dites ...

17/Jul/2020

A great alternative to gas lighters
For those looking for a good money worth plasma lighter these Novi Plasma Lighters are defenetly worth the money. super easy to use, fast recharge. the only "bad thing" would be the size of the electric X which could be a bit bigger to ease up lighting up joints (specially the fat ones), it's also great to light up wicks and/or incense sticks.

08/Jul/2020

bien
je le trouve bien mais pour allumer des plus gros truc c'est un peux galère il faut le faire un plusieurs fois !!!!

28/Apr/2020

Trop beau
J'ai toujours aimé avoir un briquet qui se démarque! Quand j'ai pris celui-ci en main et allumé mon spliff j'étais conquis! J'adore sa finition, le simple contact en main dans sa poche vous donne envie de l'allumer,quand mon fils m'a vu allumé une cigarette,il à comparé l'arc électrique à la croix d'un trésor et en effet sous la croix se cache un trésor...pourvu que sa durée de vie sois bonne!

19/Mar/2020

Sooooooooooo cool!
Love it! Such a nice pieace!

30/Dec/2019

super lighter
erg eenvoudig in gebruik, nooit mee zonder gas, zelfs in sterke wind en of regen heb je zo je rokertje aan echt een topper

08/Nov/2019

No speed charger..
Bought this lighter and it is great but suddenly it didnt work.. Maybe I used too powerfull a charger?

07/Aug/2019

Beautiful
Always wanted a nice natural lighter. Didn't know this type of lighter existed until I knew this website. Looks really beautiful. It comes with a little brush to clean the sparks I guess and a nice little leather case to protect it not to get scratched. I would really recommend it.

25/Jul/2019

perfecte aansteker
geen probleem met sterke wind werkt perfect. nu ook een aangeschaft voor vriendin daar deze zeer gemakkelijk te gebruiken is door de drukknop.

29/Jan/2019

Excelente producto
La calidad salta a la vista. Buena presentación y materiales que auguran durabilidad.

18/May/2018

Bien
Très sympa d'allumer sa cigarette avec des arcs électriques violets, par contre l'espace est très réduit et perd en praticité.

31/Jan/2018

Great Thing!
fast full-recharge, but kinda difficult to light a fat roll (cigarette-size) because there isn't enough space between 'em.

04/Jan/2018

Bien mais bof pour les spliffs
Très bon briquet pour les cigarettes mais je ne le trouve pas du tout adapté pour allumer un spliff car l'espace entre les électrode est trop petit pour un cône.

20/Oct/2017

Coolest Lighter ever!
This lighter is so absolutely cool. I love it!!!

24/Mar/2017

Parfait
Excellent produit de bonne qualité et très efficace.

20/Jan/2017

Bien
Pratique, à la longue c'est très rentable, il suffit juste d'avoir le coup de main

You cannot post a review because you have not purchased this product
Restrictions
Please note that if your country is not on our general shipping list, we're unable to ship any item on our website to it. For more information check out the list here: Ordering & Shipping
Video (1)
Video: EPIC SMOKE SESSION | Zamnesia Grinder

We decided to have a Cannabis Smoke Session and we made it EPIC. We used our NEW Zamnesia Premium Grinder, Rolling Papers and Clipper. Together with some excellent Weed from some of the Best Amsterdam Coffeeshops we made the Perfect Joint and had an excellent Smoke Sesh!