Zamnesia Snapback Cap Black
4.5

5

1

(

17

)
Our classic snapback cap is back, this time in a slick black design. Featuring an adjustable plastic strap, a classic broad brim, and a lowkey black Zamnesia logo, this cap will turn the heads of those in the know, but will go unnoticed by those who aren't.
Product accessories: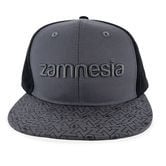 Zamnesia Snapback Cap Grey
Reviews (17)
10/Dec/2020

Casquette zamnesia
Bon tissu.elle est bien mais trop carré pour moi.le style 80.les fans de casquettes aimeront.dommage qu'il n'y a pas du style de coupe court marine

04/Dec/2020

Snapback
Sehr cool das cappy. Gut bestickt

14/Nov/2020

Magnifique casquette
Réglable, bon prix et de qualité ! Vive Zamnesia

05/Nov/2020

Ottima qualità solo un po' troppo largo
Cappello super bello.. L'unico difetto sta nel fatto che è troppo largo

10/Aug/2020

Quite good quality
I think it's a good quality cap, the colour is nice and the logo didn't go away washing it. The colour has survived a lot of sun and sweat

04/May/2020

Classe!
Envoie rapide et propre Casquette confortable et matière très agréable Merci zamnesia

01/May/2020

Top
Preisleistungsverhältnis ist Top, die snapback ist gut verarbeitet & das motiv ist simple, aber sehr sehr schön

28/Apr/2020

Trop stylé
Elle est belle et pas chère obligatoire à tout les collectionneurs de casquettes qui partage la passion du cannabis

30/Mar/2020

Geweldig
Ben trouwe klant geworden van Zamnesia. Wat een geweldige producten voor betaalbare prijzen. Deze pet is zalig en zeker voor deze prijs. Ik ga mijn huis niet uit zonder dat ding.

You can't post a review because you are not logged as a customer

Log in / sign up
Video (1)
Video: EPIC SMOKE SESSION | Zamnesia Grinder

We decided to have a Cannabis Smoke Session and we made it EPIC. We used our NEW Zamnesia Premium Grinder, Rolling Papers and Clipper. Together with some excellent Weed from some of the Best Amsterdam Coffeeshops we made the Perfect Joint and had an excellent Smoke Sesh!