Finding a scale that suits all of your needs for weighing weed can initially be a bit confusing. If you're thinking of picking up a scale but are a bit unsure of where to start or what's best for your needs, then this short guide is created with you in mind. We will detail the whats and the whys of owning and using a scale.
Why Use A Weed Scale?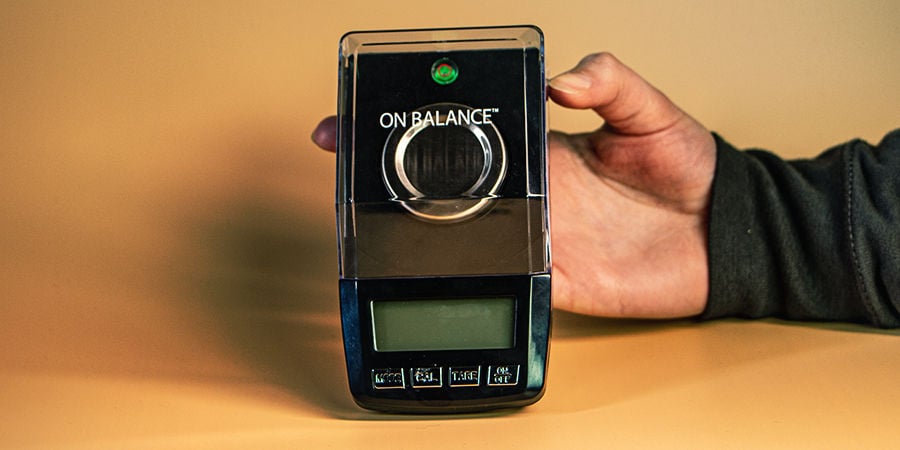 This may seem like the most obvious place to start, but why should you use a scale in the first place? Whether you're making edibles or managing doses of mushrooms or cannabis (which is relatively difficult to judge by eye), using a scale alleviates these issues by giving you a reliable and precise measurement of your chosen substance. By using a weed scale, shroom scale, or powder scale, you reduce the likelihood of including too much in your edibles or taking too many magic mushrooms, for example.
Which Weed Scale To Buy?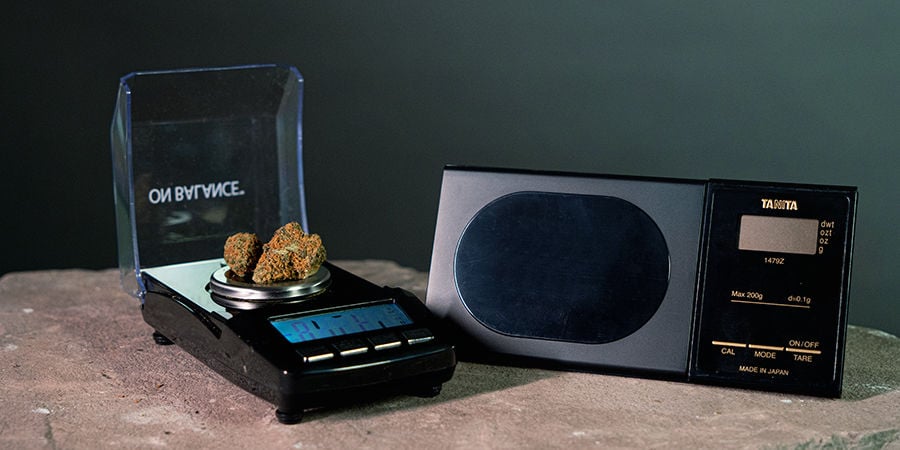 The right scale for you depends on your intended use and overall budget. It is important to have in mind precisely what your scale will be used for, as this will certainly dictate which models are most appropriate. You may find that you eventually own a couple of different weigh scales to suit your needs. It might seem like the obvious choice would be to cut corners and pick up the nearest kitchen scale you find in a store. The problem is, these are not the most appropriate to weigh out particularly large or small quantities.
Those aiming to measure out microdoses can purchase a stainless steel milligram scale for an extremely accurate measurement, even as small as .001g (1mg). It is certainly reassuring to own a digital scale with that type of pinpoint accuracy and easy LCD display readout. On the other hand, you may not be looking for that level of weighing detail. Instead, you can opt for a gram scale that allows you to weigh amounts of cannabis, etc. to the nearest gram.
Important Weed Scale Specs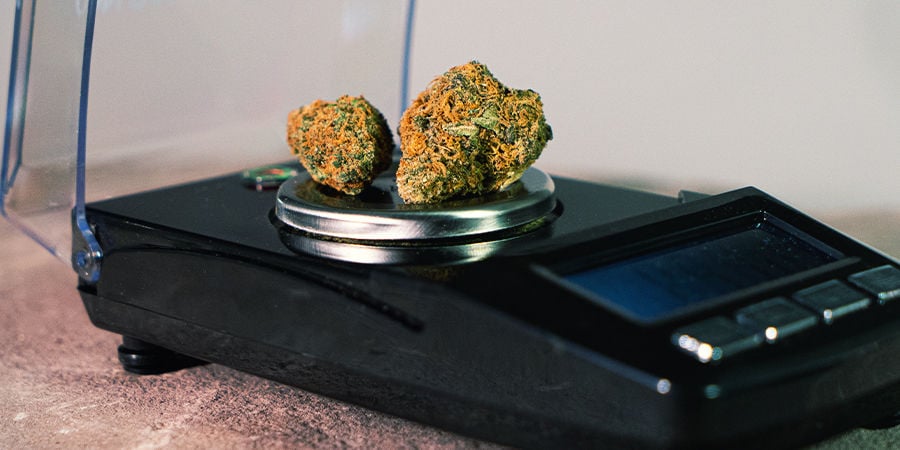 This is another significant aspect some users neglect. The specs of your scale will reflect your intended use. There are so many features to comprehend, and you can certainly get by with a scale that has little to no additional features. But, you may run the risk of getting an imperfect measurement. For example, many digital weed scales have a "hold" feature that allows you to keep the readout on screen for as long as you need. While it sounds like common sense, this is a feature that is noticeably absent from a surprising amount of options on the market.
Size will often play a significant role in your choice of scale. Two key areas to keep in mind are portability and functionality. A little further on, we will touch upon the differences between desktop and pocket scales. But if you often travel, a pocket-sized digital scale will undoubtedly be of interest to you, and may be a little easier on your budget too!
Regardless of your specific use case, you will want a scale that offers sufficient sturdiness. A sturdy scale allows you to make much more accurate measurements. Sturdiness is also a key feature for weigh scales used on the go. Being able to withstand a knock or two will save you from regular replacements should anything untoward happen on your travels. There is often an extended warranty offered on a scale, which could be a deal-breaker in whether or not you make that purchase.
Overload protection is another aspect that is often overlooked, but may be important for your needs. Overload protection ensures a longer life for your scale. Occasionally, there may be times when your scale comes under excess strain from measuring; this can affect the accuracy. Weed scales that feature overload protection will reset without any issues and will give you an accurate measurement time and time again.
A digital scale has additional specs not seen in more traditional analogue options, such as an easier-to-read display. Other features include auto shutoff, calibration settings that allow you to fine-tune to your specifications, and more. As you can see, there are many specs to consider when searching for the ideal scale.
The Difference Between Analogue And Digital Scales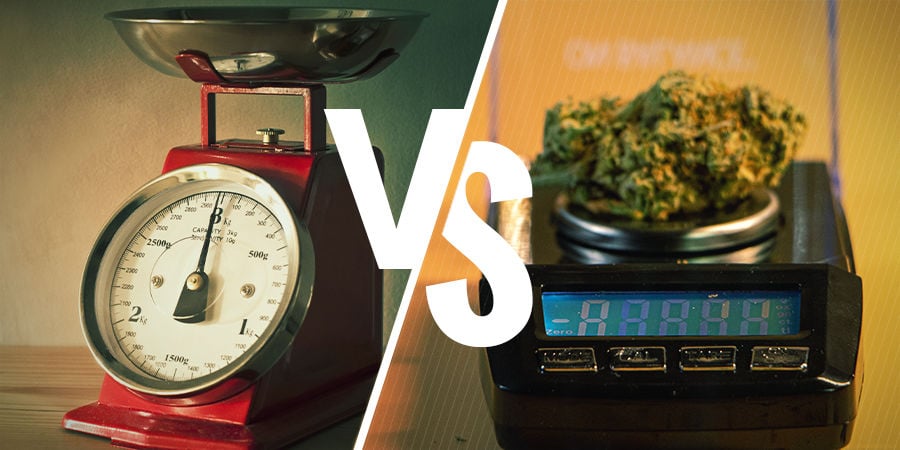 There are quite a few apparent differences between an analogue and a digital scale, the most obvious being their functionality. Analogue options rely on a spring weighing system and do not require any additional power or batteries. A digital scale, on the other hand, use sensors when weighing, offering a much more accurate and precise measurement. Digital scales require power to run and typically have a lot more features than their analogue counterparts.
The Difference Between Desktop And Pocket Scales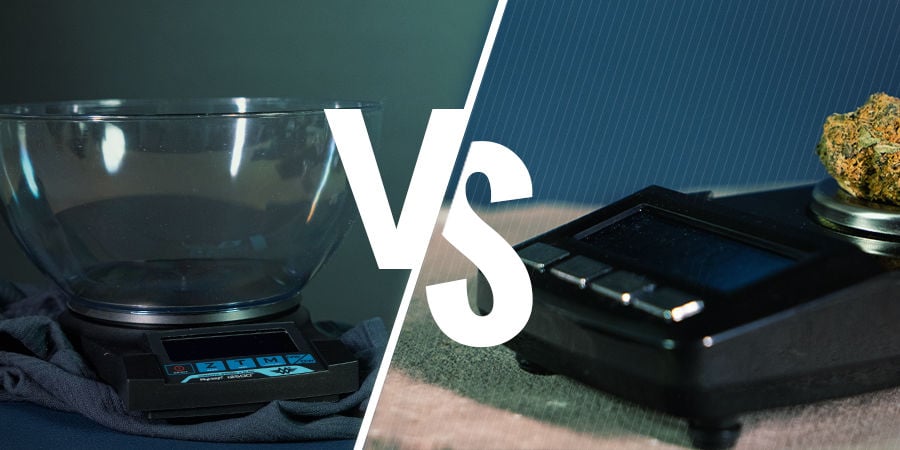 Much like the previous paragraphs have mentioned, choosing a scale comes down to preference and intended use. This will be the catalyst when deciding. The next area to consider is where you will be using your scale, ie. whether you require a desktop or pocket scale.
There are substantial arguments for and against purchasing either type of device. Pocket scales are compact and easy to travel with. They are often more affordable than desktop scales but provide an accurate measurement all the same. If you're planning on purchasing a pocket weed scale, it is important to note that while they have a small weigh surface, this is usually serviceable for the average user. Just pop in a battery or two, and you are good to go!
Desktop scales will give you a higher weight capacity as well as a larger weighing surface, but at the cost of portability and discretion. The more substantial surface area may also cause some inaccuracies in weighing. Desktop models tend to be a much more expensive option compared to portable pocket scales.
Scales For Sale At Zamnesia
Now that you have an idea of what purchasing a scale entails, all you need to do is make up your mind and take the plunge. Set yourself a modest budget, and you'll be surprised at the scales available. There are plenty to choose from at the Zamnesia Headshop. What are you waiting for?
---