Stashbox Tightvac
5

5

1

(

54

)
Hide your goodies from prying eyes and noses. The Tightvac gives plenty of storage room for herbs, tea, coffee or what ever smelly substances you might carry around or want to hide.
In stock
You will be notified as soon as the product returns to stock
Product accessories: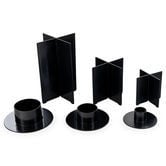 TightVac Divider
More info
Available in:
More information related to this product:
Reviews (54)
07/May/2022

MH
Produits de bonne qualité. sans odeurs.

18/Apr/2022

Top del top
Perfetto per conservare, consigliatissimo!

06/Apr/2022

A must have
If you smoke alot and you live with ppl who hate the smell , this is a must have

28/Mar/2022

Disappointing.
Disappointing quality. If I wouldn't have to pay half the price for return alone, I would send it back any second as the closing "mechanism" doesn't work.

25/Mar/2022

Top de chez top
Efficace, inodore, robuste et 3 tailles différentes, j'ajoute sachet pour humidité au top pour la conservation. Je recommande ce produit .

07/Feb/2022

Good
Very good container with zero odour. Easy to use and seems to be very robust.

17/Jan/2022

Parfait
Propre, fonctionne bien.

09/Jan/2022

Meine 3. Dose...
Die Dosen sind schön unauffällig, stabil, Lichtdicht und Geruch kommt überhaupt nicht durch! Meine Empfehlung!

01/Jan/2022

Opslagpot geurdicht
Makkelijke opslag pot om geur vrij wiet op te slaan.

19/Oct/2021

bonne boites
Bonne qualité. Pour stocker graines, etc....

You cannot post a review because you have not purchased this product
Restrictions
Please note that if your country is not on our general shipping list, we're unable to ship any item on our website to it. For more information check out the list here: Ordering & Shipping
Video (1)
Video: How To Properly Store Your Weed

As a cannabis enthusiast, you know that nothing is worse than smoking old, dry, and brittle herb. Improperly stored weed loses flavour and potency, and will often make for an outright awful smoke over time. But how can you keep your weed fresh for a longer period? Find out about the best ways to store your stash!