Blog

2 min
Strain Review: S.A.G.E. CBD From T.H. Seeds

2 min
S.A.G.E. CBD pairs healing power with mild recreational highs for a great general-purpose strain. Let's take a look at this new T.H. Seeds/CBD Crew collaboration to see if it's right for your garden.
When T.H. Seeds decided to add a CBD line to their collection, they turned to the experts at CBD Crew for help. Together, they crossed original S.A.G.E. with CBD Crew's Pure CBD to create S.A.G.E. CBD. This new high-CBD hybrid is a bit different from most cannabis seeds on the market today because it has an uncanny ability to deliver therapeutic benefits to the medical community while still satisfying the recreational smoker's need for a mild recreational high. In our book, any strain that does double duty is a win-win.
GROWING TRAITS
All in all, S.A.G.E. CBD stays very true to her S.A.G.E. mother in most ways, including how she grows. The only exception we found is that she's slightly more nutrient-sensitive, but that's true for most any strain that includes CBD Crew's genetics.
Overall, this was an easy plant to grow with fast, Indica-like growth to start followed by a dramatic pre-flower stretch. At this point, the Sativa genetics began to shine through with longer branches and thinner leaves. We let our young plants go a little longer than we should have and ran into some height problems before they stopped their growth spurt. If we ran S.A.G.E. CBD again, we wouldn't let them veg a day past the three-week mark.
Based on past experiences with original S.A.G.E., we expected large buds, but we were still surprised by how quickly S.A.G.E. CBD packed on the weight. It didn't take long to see the calyxes start to form, then plump up and begin to stack tightly together for beautifully solid colas.
Bud development stalled around the 6-week mark, but they took off again after a week of rest with visible swelling. If they didn't double in size during the last couple of weeks, they came very close. It's best to just be patient with this hybrid. We cut at just past nine weeks and ended up with slightly more than 350 g/m2 dried for our efforts.
If you prefer extracts to dried herb, you'll really like S.A.G.E. CBD. The flowers were coated in visible crystals and a look through the scope revealed a crazy number of mushroom-shaped trichs. In fact, we strongly recommend you wear gloves anytime you have to touch these buds; without them, it's like scraping super glue off your fingers. The only consolation was that she smells great.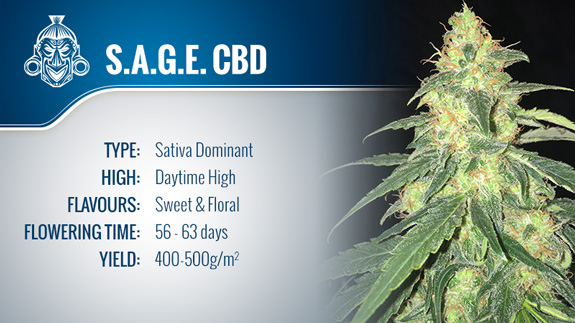 FLAVOUR
Like the growth pattern, S.A.G.E. CBD tastes and smells almost exactly like original S.A.G.E. The smoke is smooth and sweet with hints of hash, sandalwood and exotic spices. She smells much like she tastes, but the fragrance is just a touch sweeter with some added floral notes. Overall, she has a light, refreshing quality that's a pleasant change from heavier, more pungent strains.
THE HIGH
You ever have one of those days where you get up, you're in a great mood, yesterday's problems suddenly seem like they're nothing you can't handle, and even all those minor aches and pains are mysteriously gone - all seems right with the world, and you're ready to tackle anything that comes your way? That's what smoking S.A.G.E. CBD is like.
You'll still feel a mild head high similar to original S.A.G.E.'s legendary buzz, but it will be much milder and way calmer. Even if you don't need the medicinal benefits that come with this strain, it's a great recreational choice if Sativas normally give you the jitters, or you like a daytime smoke that won't interfere with your day.
CONCLUSION
Overall, we were very happy with S.A.G.E. CBD and plan to keep her around for those days when a milder smoke would be a smarter choice. She's a pleasure to grow and has a very pleasant taste and smell. If you're looking for a couch-locker or something that'll make you trip balls, we can't recommend this new therapeutic strain, but for everyone else, she's a safe bet.
Written by: Laura
Featuring as a regular guest writer, Laura lives in the wild heart of the American East Coast. Based at her family farm, she has developed a deep respect for cannabis, continuing to master and hone its cultivation.

Find out about our writers
---