CBD Vape Refill 2-Pack (Happease) 85%
Got a vape pen? Happease's CBD refill kits come in five different flavours, each formulated with unique terpenes to ensure the best vaping experience, every time.
In stock
You will be notified as soon as the product returns to stock
Product accessories: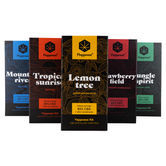 CBD Vape Starter Kit...
More info
Happease - CBD Vape Refill 2-Pack 85%: Define Your CBD Experience
The Happease CBD Refill Kit contains 2 flavoured 600mg CBD cartridges. Perfectly compatible with Happease's vape pen, enjoying a hit of CBD is as easy as loading your cartridge of choice and inhaling. Instantly, you'll enjoy thick clouds of vapor, delicious aromas and flavours, and the perfect hit of CBD. Choose from the following 5 Happease flavours:
Mountain River (OG Kush): Relaxing, with earthy, musky pine aromas
Jungle Spirit (Banana Kush): Subtle banana and fruit aromas with uplifting, energising effects
Strawberry Field (Strawberry Bubblegum): Fresh berry sweetness and a gentle euphoria
Lemon Tree (Super Lemon Haze): Uplifting, energetic, with spicy Lemon Haze aromas
Tropical Sunrise (Zkittlez): Sweet candy aromas and clear-headed effects
Each kit contains 2× 600mg CBD vape cartridges.
More information related to this product:
Reviews (0)
Nobody has posted a review yet

You cannot post a review because you have not purchased this product
Restrictions
Please note that if your country is not on our general shipping list, we're unable to ship any item on our website to it. For more information check out the list here: Ordering & Shipping
Video (0)