Blog

5 min
Top 10 Most Popular Strains By Zamnesia Seeds (2023)
5 min
At Zamnesia, we simply love cannabis. So, in this article, we're going to shine a light on our most popular strains to help you pick the best genetics for your indoor or outdoor garden.
Looking for new genetics to add to your grow room? In this article, we're taking an in-depth look at some of the most popular strains bred by the experts at Zamnesia Seeds. Whether you're after a high-yielding feminized strain or a fast-flowering auto, this list is guaranteed to have the perfect strain for you.
1. Do-Si-Dos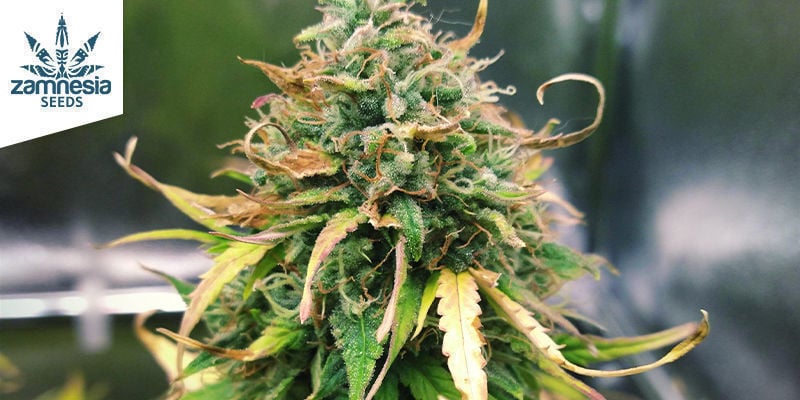 Do-Si-Dos is one of Zamnesia's standout automatic strains. A cross of Face Off OG, a 1990s OG Kush phenotype, and OG Kush Breath, a unique variety of Girl Scout Cookies, Do-Si-Dos packs some serious punch in a super easy auto seed. This strain germinates quickly, vegetates vigorously, and flowers in just a number of weeks, making it ideal for indoor and outdoor growers alike who want to harvest quality buds at lightning speed.
Do-Si-Dos grows well in a variety of setups and produces dense, indica buds with a nice layer of trichomes and a rich aroma that combines earthy, herbal aromas with hints of red fruit and berries, and sweet vanilla (reminiscent of a good Cookies strain). Its high is balanced, offering physical relaxation and an active, yet not overwhelming cerebral stimulus that's great for any time of the day.
2. Lava Cake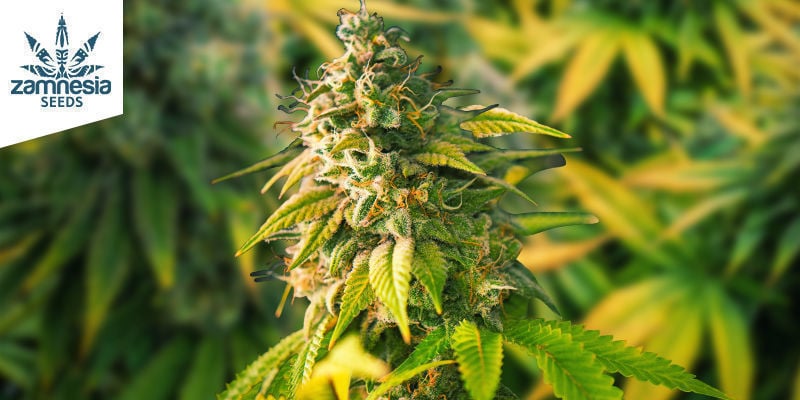 Lava Cake is one of Zamnesia's newest strains and is available both as a feminized and autoflowering seed. A 50/50 cross of Grape Pie and Thin Mint Cut (a peculiar GSC variety), Lava Cake stands out for its delicious, dessert-like aroma, excellent THC production, and great yield potential.
Lava Cake is also a breeze to grow, thanks to its manageable height, hardy nature, and great stress tolerance (meaning it responds well to LST and HST techniques). This strain is incredibly versatile and can grow well outdoors in the sun or indoors in tents/grow rooms. Lava Cake also boasts a fast flowering time of just 60–65 days, making it a fantastic strain for growers who want to avoid the long flowering times of some sativa strains.
3. Pink Rozay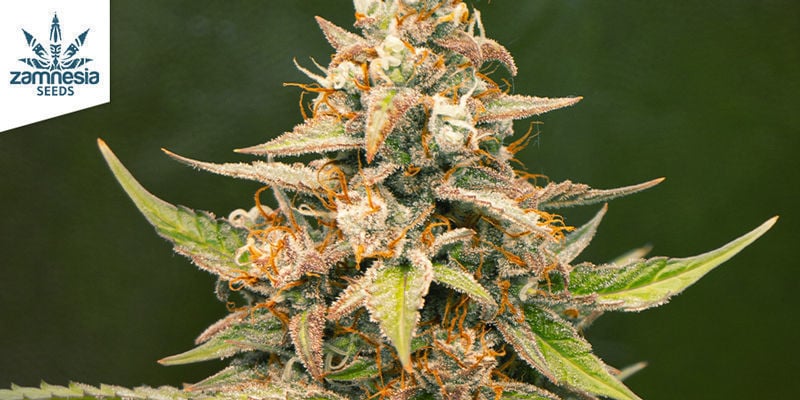 Pink Rozay is another of Zamnesia's latest creations. Combining genetics from Lemonchello and London Pound Cake (LPC), this strain offers top-shelf US genetics in easy-to-grow feminized and auto seeds.
Remaining true to its name in terms of aroma and effects, Pink Rozay boasts a fresh, crisp scent that combines floral and fruit notes with underlying hints of fermented yeast, just like you'd find in a freshly poured glass of rosé. Moreover, its effects resemble the buzz you get from a few too many wines, with several tokes leaving you feeling social, happy, and giggly.
In the grow room, both Pink Rozay and Pink Rozay Auto are true treasures. Thanks to their indica-dominant genetic profile, these plants grow to modest heights and flower quickly, meaning you'll be able to harvest your fresh, US-bred buds in no time.
4. Apple Fritter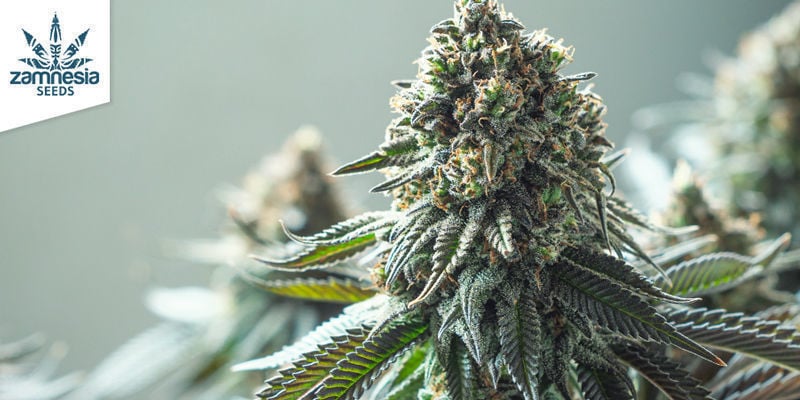 Apple Fritter is another of Zamnesia's top US strains. Packed with plenty of THC and a unique, sweet apple aroma, this strain (available as feminized and autoflowering seeds) makes a delicious addition to any cannabis garden.
Zamnesia's Apple Fritter is the result of crossing two US classics; Sour Apple and Animal Cookies. This indica-dominant strain grows well in various conditions and pumps out thick, resin-covered buds (up to 450g/m² indoors and 500gr/plant outdoors) in record time.
True to their name, Apple Fritter and Apple Fritter Auto boast a delicious aroma that combines the freshness of green apples with sweet, slightly spiced baked goods. Meanwhile, its effects are incredibly well-balanced, combining an immediate, uplifting headrush with a long-lasting, stoned feeling.
5. Runtz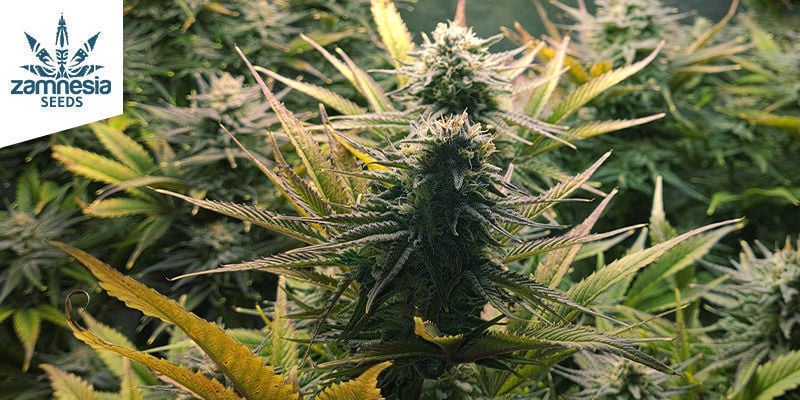 Runtz is loved and treasured in California and many other parts of the US. A unique cross of Zkittlez and Gelato, Runtz delivers a balanced high that's great for daytime or early morning use. Meanwhile, its aroma bears an uncanny resemblance to sugary sweet fruit candies such as Skittles or Nerds.
With up to 27% THC, Runtz is among the most potent strains in the Zamnesia catalogue. However, despite its potency, Runtz is perfect for when you need a boost in motivation or creativity with an underlying relaxed vibe.
When it's time to relax, Runtz is guaranteed to deliver an exceptional high—morning, noon, or night. Available, both as feminized and auto seeds, Zamnesia's Runtz makes a great addition to any cannabis garden.
Runtz (Zamnesia Seeds) feminized
Parents: Gelato x Zkittlez
Genetics: 50% Indica / 50% Sativa
Flowering Time: 8-9 weeks
THC: 27%
CBD: <1%
Flowering Type: Photoperiod
6. Wedding Cake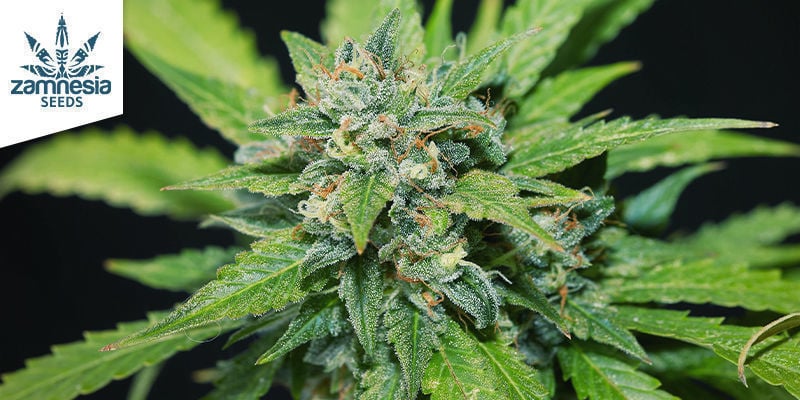 If you love your indicas, this strain is for you. Originally a cross between Triangle Kush and Animal Mints, Zamnesia's Weeding Cake (available as feminized and auto seeds) is a powerful, indica-dominant hybrid. And, as its name suggests, Wedding Cake has a deliciously sweet aroma that's reminiscent of fresh baked goods, combining sweet, woody tones with hints of blueberries and spice.
Wedding Cake is perfect whether you're a veteran grower looking for a strain that delivers big harvests or a rookie looking to grow a few plants as a hobby. Come harvest time it will reward you with big, dense buds, roughly 25% THC, and a rich blend of terpenes. Light her up, and Wedding Cake will deliver intense euphoria that gradually subsides into a calm, blissful state of relaxation.
7. Blueberry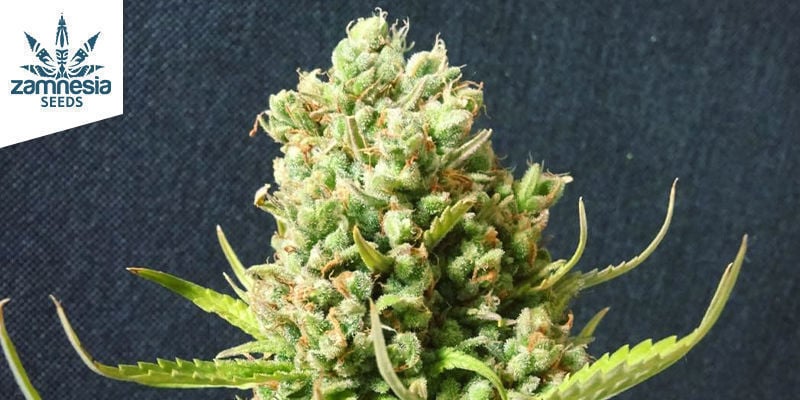 Few strains are as widely known as Blueberry. Initially bred by DJ Short in the 1970s, Blueberry has become a household name among cannabis connoisseurs—and for good reason. Its delicious berry aroma and thick buds were unprecedented when the strain was created, and remain unbeatable to this day.
Zamnesia offers its take on Blueberry both in feminized and auto varieties. If you're familiar with growing autos, Blueberry Auto allows you to enjoy the great flavours and potency of this classic strain in just 8–9 weeks from seed to harvest. Meanwhile, Zamnesia's feminized Blueberry gives you a bit more room to experiment with training methods and longer veg times. Whichever version of Blueberry you choose, you're guaranteed to be blown away by the flavour, aroma, and effects of this iconic strain.
8. Gorilla Glue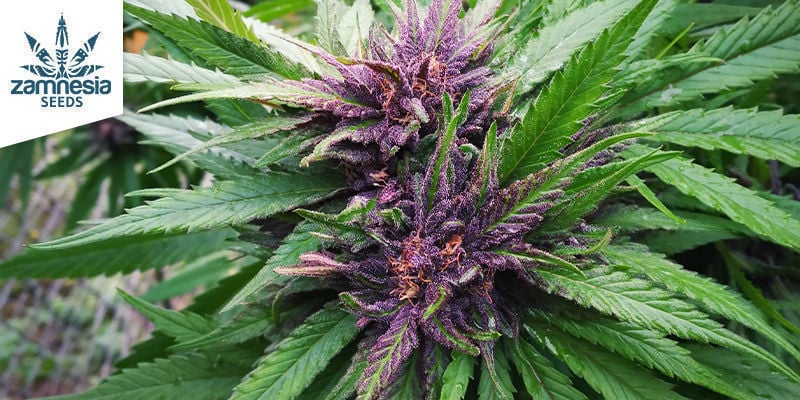 Gorilla Glue is an ultra-potent indica dominant hybrid, bred initially on the West Coast of the US. Now, thanks to the exceptional work of Zamnesia's breeders, you can grow Gorilla Glue at home, either from autoflowering or feminized seeds.
True to its name, Zamnesia's Gorilla Glue produces thick, sticky buds covered in trichomes. A cross between Chem's Sister and Chocolate Diesel, this strain boasts massive THC levels (roughly 24–26%). Thanks to its complex terpene profile, Gorilla Glue combines earthy, pine aromas with subtle sweet citrus undertones, and delivers a long-lasting, super relaxing stone that's perfect for unwinding after a long day. This is an extremely hardy and fast-growing strain that'll reward you with top-shelf buds in just a few short months.
9. Banana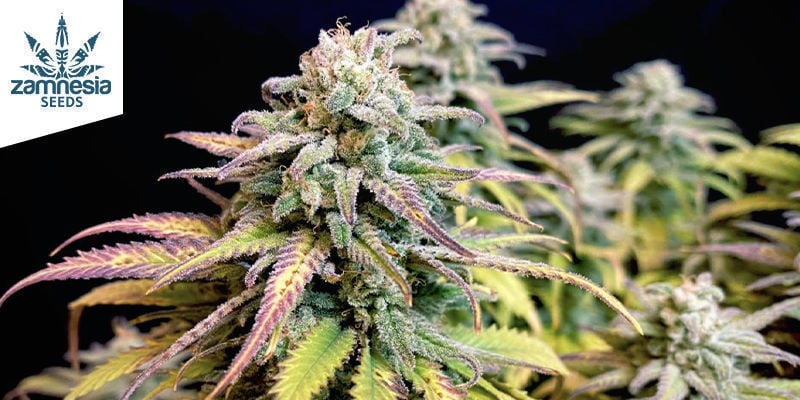 Also known as Banana OG, Zamnesia's Banana was born and bred in the Santa Cruz Mountains in California. The offspring of OG Kush, Banana boasts massive levels of THC (up to 30%), exceptional yields, and a delicious tropical fruit aroma that you'll be hard-pressed to find in other varieties.
As its name suggests, Banana has a rich tropical aroma reminiscent of, you guessed it, fresh bananas, laced with hints of mango, papaya, citrus, and even subtle pepper undertones. The effects of this strain start with a strong head rush that many find motivating and creatively stimulating. This strain is by far best enjoyed during the day or whenever you need an uplifting buzz.
Banana (Zamnesia Seeds) Feminized
Parents: OG Kush x Banana
Genetics: 40% Indica / 60% Sativa
Flowering Time: 9-10 weeks
THC: 28%
CBD: 0-1%
Flowering Type: Photoperiod
10. Frosted Guava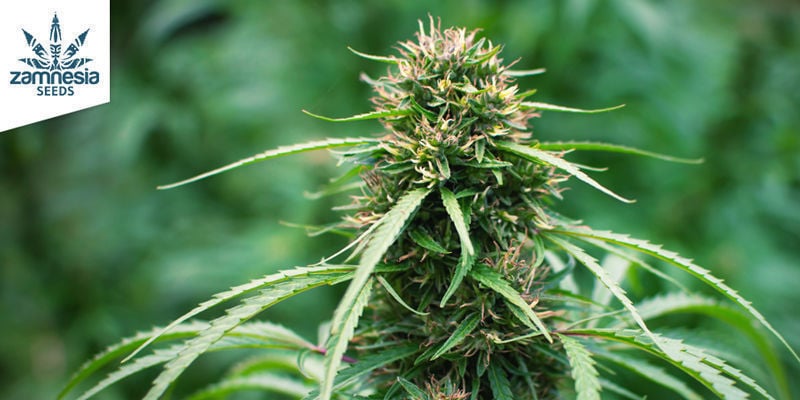 Frosted Guava is one of Zamnesia's latest creations, setting itself apart as one of the most exotic strains in our seed catalogue. A cross between Guava (a unique sativa-dominant hybrid bred by the notorious Cookies Fam) and Frosted Skywalker (loved for its potency and sweet grape aroma), Zamnesia's Frosted Guava and Frosted Guava Auto boast plenty of THC and a truly unique fragrance.
After proper drying and curing, Frosted Guava buds will boast a super sweet aroma that combines rich melon and guava overtones with hints of citrus and fuel. Light her up, and Frosted Guava will hit you hard with strong cerebral euphoria that'll quickly leave you feeling chilled and maybe even a little hungry.
Order your seeds and get growing today
At Zamnesia, we love cannabis just as much as you do. That's why our expert breeders are constantly hunting down new phenos and genetics to add to our ever-growing seed catalogue. Now that you're more familiar with some of our best selling seeds, make sure to place your order and get growing today!