Top 10 Strongest And Most Potent Cannabis Strains
8 min
We bring you the strongest, most potent, and highest-THC strains you can get your hands on in today's market. Are you ready for this list of uber-fire genetics? Let's find out!
With all the new and exciting strains that come out every year, it's worth making a list to highlight the very best of them. Otherwise, one could get lost browsing the hundreds, if not thousands, of strains out there. Although potency is by no means the sole indicator of a quality strain, high-THC cultivars do represent the upper-echelon of cannabis breeding.
But what constitutes a strain as being "high-THC"? What is the threshold here? Well, today's top-shelf weed strains can feature THC percentages between 25–30%+. Generally, the standard for a high-THC strain is approximately 20% nowadays. Strains with more than 25% THC can be considered ultra-potent.
THC is capable of exerting a slightly different effect on each individual. When the levels are boosted above 20%, it can augment these effects much further.
Jump directly to the Top 10 Strongest Cannabis Strains
THE EFFECTS OF THC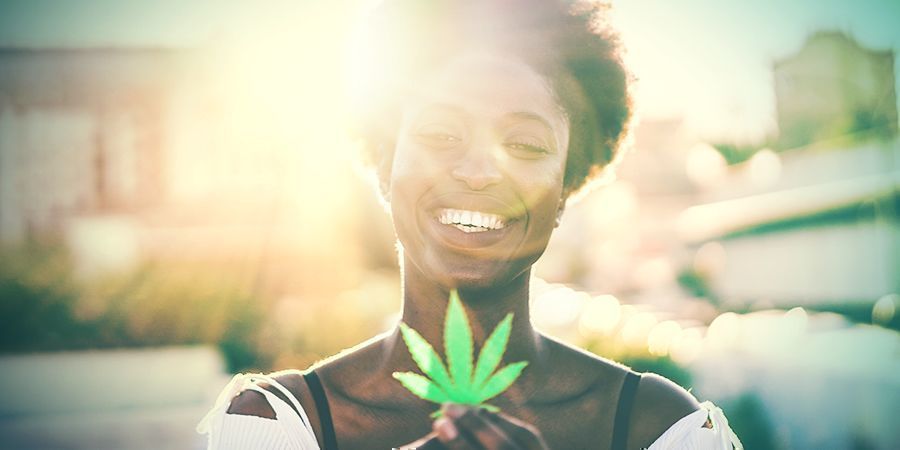 There are many satisfying effects associated with the consumption of high-THC weed, and there can be some not-so-enjoyable side effects too. For beginners, it is recommended to start with strains that have THC percentages of 15% or lower. From there, you can work your way up.
The most common effect of THC is euphoria. That's the typical "high" everyone associates with smoking marijuana. Weed is a great mood-lifter that induces feelings of bliss while allowing you to stay in control, unlike other drugs. It can support you in times of tension and put life's worries on the back burner for a little while. THC can also lead to an altered perception of time—so 15 minutes can seem like 30 minutes.
One of THC's most noteworthy attributes is its ability to induce relaxation—especially at higher doses—and thus, its ability to promote a natural night's sleep. On the downside, THC can cause acute short-term memory loss, something typically associated with the stoner stereotype. Thankfully, this is only true for the amount of time you are high.
Something that most beginner smokers experience with high-THC strains is paranoia or worry. But these emotions are also temporary, and set and setting play arguably as big of a role in your cannabis experience as THC content. Being in a comfortable setting with people you trust can help mitigate negative feelings. For best results, always start with small doses of low-THC strains, if possible. If available, opt for a strain with some CBD, too.
Everybody gets red, bloodshot eyes, especially in the beginning. That's why sunglasses are a stoner's best friend. You can also expect cotton mouth, a short-term phenomenon where your mouth doesn't produce enough saliva. To remedy this, keep some hydrating liquids nearby.
It should not go unmentioned that these side effects are not perceived as negative by all stoners. And they don't necessarily have to occur. It really depends on you and your surroundings, as well as the quality and profile of the weed being smoked. For most smokers, the positive effects far outweigh the negatives.
TOP 10 STRONGEST AND MOST POTENT CANNABIS STRAINS
So, now that you're familiar with the nature of THC, here are the top 10 high-THC strains! Experienced stoners will find themselves whisked away on a fun adventure, while beginner smokers should tread with caution!
1. BRUCE BANNER #3 (GROWER'S CHOICE): 27% THC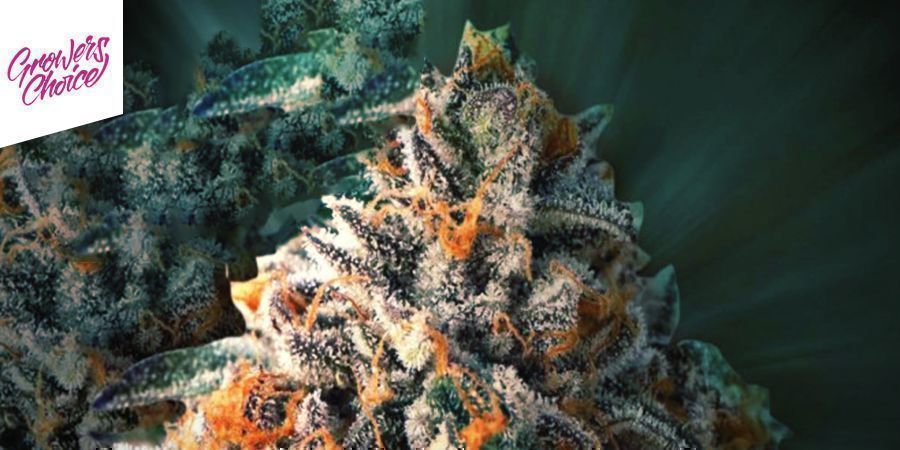 Bruce Banner #3 by Grower's Choice is probably one of the most powerful strains on Earth right now. This cross of OG Kush and Strawberry Diesel will hit up to 27% THC in some phenos. She is so potent that even seasoned smokers can be overwhelmed by her strength.
Take it slow with this one! This strain is incredibly powerful, and the effect is ultra fast-hitting. Most of you know already that Bruce Banner is the alter ego of the Incredible Hulk, but can you keep up with this force? Only the most experienced will not be smashed into the ground by this smoke.
But jokes aside, despite its power, the effect is nicely balanced, with happy euphoria and awesome relaxation soothing the consumer. This way, you can either get creative or chill and relax with Bruce Banner #3. The taste and aroma are rich and flavoursome as well. Expect earthy Kush notes combined with diesel and sweet berry tones from Strawberry Diesel. This is the top choice for all cannabis connoisseurs out there!
2. ROYAL GORILLA (ROYAL QUEEN SEEDS): 27% THC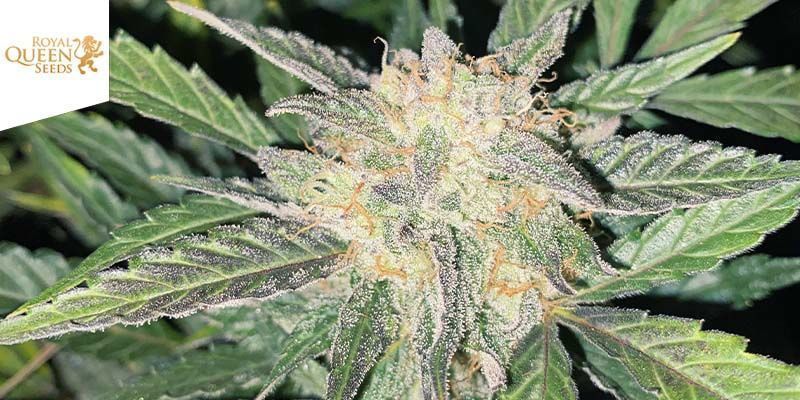 This is another uber-potent strain! Royal Gorilla by Royal Queen Seeds also reaches 27% in THC. This will give you a spectacular high that will make you feel strong like King Kong. Like Bruce Banner #3, Royal Gorilla's lineage derives from the USA. Now, Royal Queen Seeds has made this special treat available for all you growers in Europe.
Royal Gorilla is derived from Sour Dubb, Chem's Sis, and Chocolate Diesel genetics. Her flavour consists of earthy, piney, lemony, and sweet tones. Thanks to such a complex and pleasant terpene profile, Royal Gorilla is known to satisfy the taste buds of all manner of smokers.
The effect of Royal Gorilla is perfect for chilling out and relieving tension, but these relaxed sensations are balanced with an uplifting and happy high. Royal Gorilla is an outstanding strain that gets you super baked while keeping you coherent with euphoria!
3. BANANA (ZAMNESIA SEEDS): 23–30% THC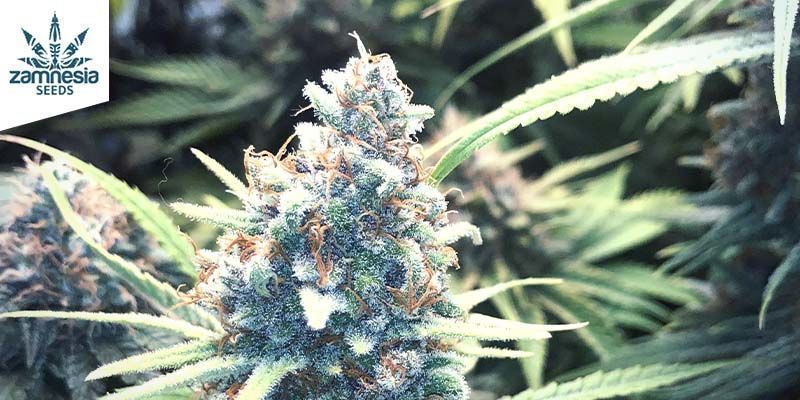 Banana by Zamnesia Seeds brings something different to the table. Banana flavours aren't something you see in strains all the time, but this lady gives you sweet and mouth-watering banana flavour all the way. There is also some lemon and pepper detectable in the aromatic mix. This cross of OG Kush and Banana is another strain that originated in the US (yes, they've got the heat over there!). The remarkable lady features THC values reaching a mind-blowing 30%!
So don't get fooled by her sweet side; she can be really overwhelming if you aren't careful. But the flavour, though! It is so multi-layered, combining the unmistakable sweetness of banana with citrus notes and hints of spice. Your taste buds will have a hard time coping with this sweet and fruity tropical explosion—but in a good way.
Smoking or vaping Banana is an unbelievably pleasant and unforgettable experience. The effect starts with a sativa head rush that gets you motivated and inspired. This then gets balanced out by her indica side, which introduces wonderful relaxation into the mix. With such a well-rounded effect, this phenomenal hybrid is suitable for all kinds of smoking scenarios.
4. CRITICAL KUSH (BARNEY'S FARM): 25% THC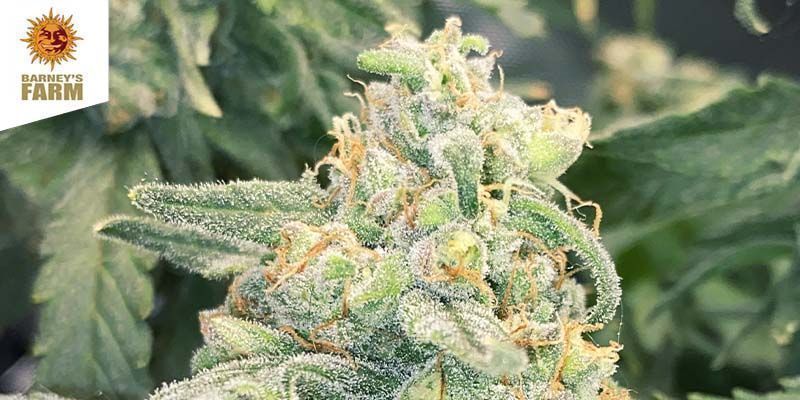 If you are seeking a knockout hit, then you will find it in Critical Kush. This award-winning 100% indica strain is a potent cross between Critical Mass and OG Kush, making it not for the faint of heart! This strain was bred for power: powerful growth, powerful flavours, and, of course, powerful highs!
When you set a light to this strain, expect pleasant earthy and herbal aromas that mingle to satisfy the senses. Critical Kush has a complex but easy-going citrus and pine taste that will tingle your taste buds and keep you coming back for more.
Critical Kush more than delivers with a massive and ultimately relaxing high, ideal for an evening smoking session. With a THC level of 25%, you will be flying high during the beginning of the session, but still tethered to reality. This is a great all-purpose strain you need to check out as soon as you can. You certainly won't regret it!
5. GORILLA GLUE #4 (BSB GENETICS): 26–31% THC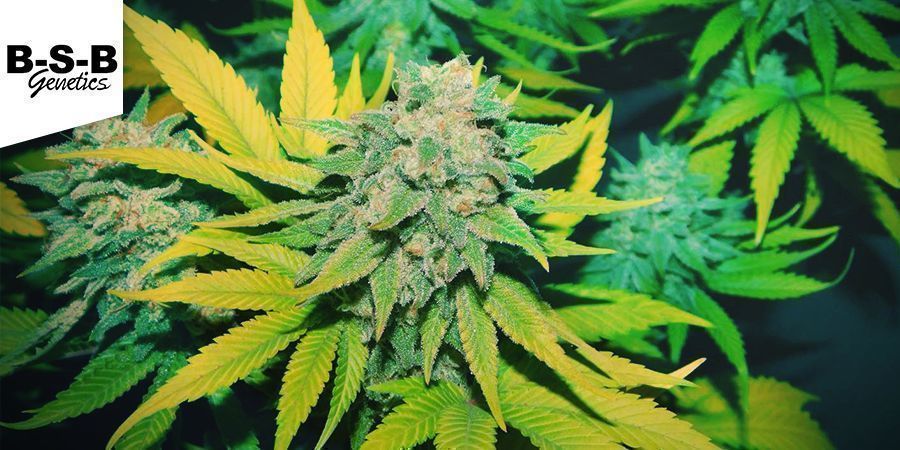 You know there is something very special and unique about a specific cross when it appears more than once on a list like this. Here, you have another Gorilla version, this time from BSB Genetics. And boy, she really is the queen of this ranking with a THC content peaking at an exceptional 31%. Yes, you read that right. Top breeders nowadays are able to do that.
This weed will get you super couch-locked as well, so turn on a long movie, preferably with some nice visuals, or play your favourite video game. Gorilla Glue #4 is just perfect for that kind of activity. Or, is it even an activity when your brain is active but your body is a pool of jelly? We'll let you decide. Maybe this powerful indica puts you straight to sleep anyway.
The high is super intense and strong, and one thing is for sure: Gorilla Glue #4 will glue a smile on your face. The good thing is, you will only need a few tokes to get super baked from these sticky, resinous buds. This fabulous strain has got it all, so you should definitely check this modern legend out. But first, get ready for her effect—this is no beginner stuff!
6. RUNTZ (ZAMNESIA SEEDS): 27% THC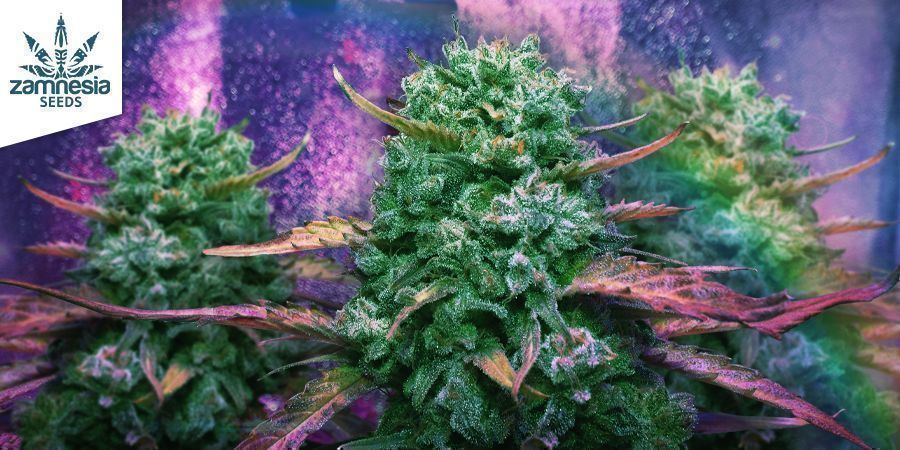 Another super strain that was originally a California special, Runtz is now readily available to all those who want to sample her delights. Derived from two heavy hitters, Gelato and Zkittlez, you know this strain doesn't take any prisoners. As a balanced 50% sativa, 50% indica hybrid, you get the best of both worlds.
Runtz showcases delightful sweet flavours and aromas. Just one whiff of this strain is like smelling a bag of pick 'n' mix, with all the sugary candy fragrances that smell good enough to eat. The taste follows through with those same sweet characteristics, offering fruitiness, sweetness, and hints of citrus. Your taste buds will thank you!
Although there is plenty to say about the flavour of Runtz, we've barely scratched the surface of the type of high she offers. Powered by a whopping 27% THC, Runtz delivers a euphoric, powerful, and uplifting high suitable for any time of day. Given her balanced indica/sativa profile, you can enjoy Runtz morning, noon, and night!
7. GORILLA GLUE AUTO (FASTBUDS): 24% THC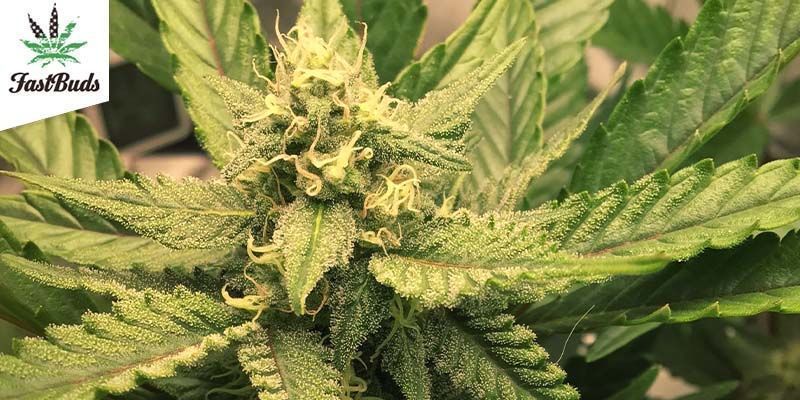 Yet another Gorilla to feature on our list (see a pattern emerging here?), this one is arguably even more impressive in terms of potency than the others, despite containing "only" 24% THC. Why is this? Well, this strain is autoflowering, meaning it flowers automatically and races to harvest in the same amount of time it takes photoperiod plants just to flower. Up until recently, autoflowers featured meagre THC levels. Not the case anymore! This hybrid has plenty to offer, and a powerful high is no exception.
Enthusiasts of fresh pine and earthy aromas should seriously consider picking up Gorilla Glue Auto, as they are to be found in abundance with this strain. No sweet shop aromas or flavours with this one. While there are some subtle fruity hints, you can expect a flavour dominated by diesel and earth.
When it comes down to the high itself, the biggest clue is in the name; Gorilla Glue Auto aims for a deep, couch-locking high that can only be appreciated first-hand. Can't find a strain capable of truly relaxing you from head to toe? Give Gorilla Glue Auto a try and report back to us.
8. BRUCE BANNER 3 (ORIGINAL SENSIBLE SEEDS): 30% THC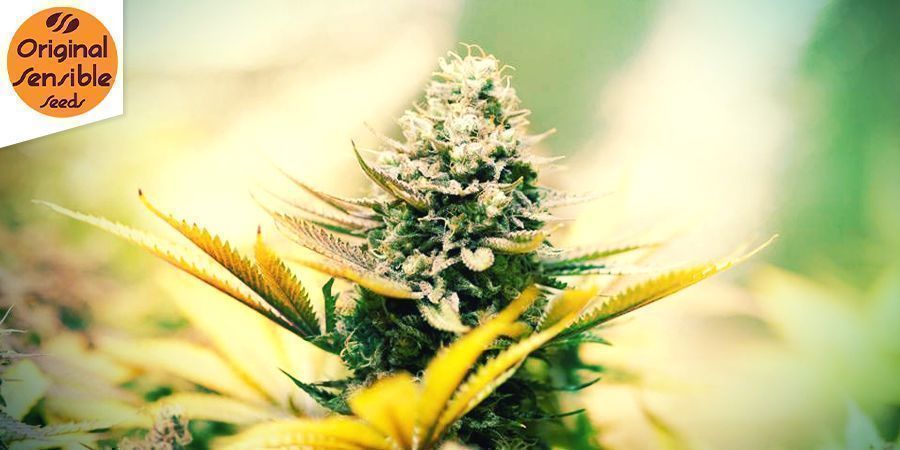 Not only does the esteemed Gorilla make more than one appearance on our list, but Bruce Banner 3 has another trick up its sleeve with a variant by Original Sensible Seeds. How does she stack up? Bruce Banner 3 is a super green sativa-dominant machine (65% sativa, 35% indica) derived from parent plants Ghost OG and Strawberry Diesel. Offering a massive 30% THC, this strain is among the most potent in the world.
Much like the previous Bruce Banner mentioned, this strain provides a similar but familiar sweet and earthy flavour with hints of diesel, making it ideal for a smooth smoke or vape. Each full-bodied toke pleases the taste buds, making it difficult to put this heavy-hitter down.
Prepare yourself for an instant and heavy hit of euphoria from this knockout strain. Bruce Banner 3 certainly does not hold back when it comes to her potent but relaxing high. Still, she spares you the excessive couch-lock you might expect from a strain of her potency—so there is no chance of you turning into a raging green monster while enjoying this strain.
9. L.A. AMNESIA (PARADISE SEEDS): 20–24% THC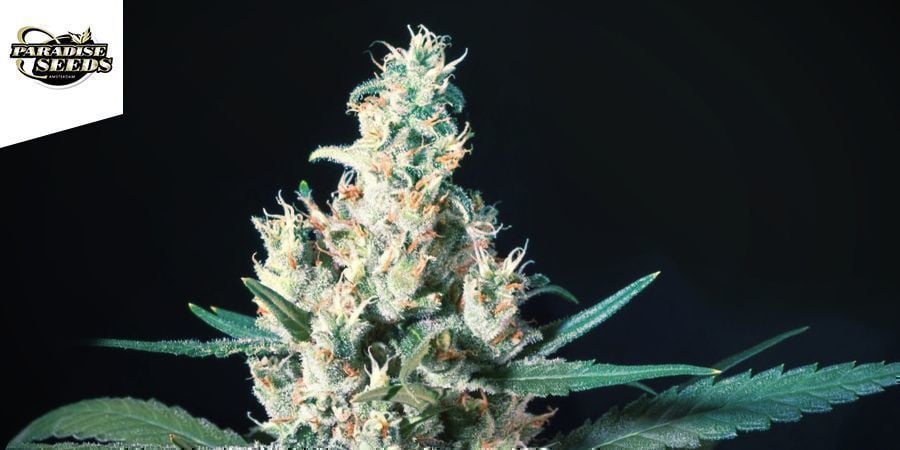 Next up on our list is L.A. Amnesia. This is one serious strain with an impressive parentage that combines both Amnesia Haze and Kush. Expect big sativa-dominant buds teeming with 24% THC. Brought to life by Paradise Seeds in collaboration with world-renowned stoner Tommy Chong's company, Chong's Choice, L.A. Amnesia delivers that easy-going Californian Kush vibe.
L.A. Amnesia has a lot to say aroma and taste wise, being rich in citrus and fruity flavours that satisfy both the nose and the tongue. A few hits of this strain, and you'll be basking in sweet, sunny California vibes—no matter where in the world you are.
Expect no less from L.A. Amnesia's high. She instantly gives rise to that laid-back West Coast attitude, with long-lasting waves of euphoria that will have you chilling in happiness for hours. Take this strain to the beach, or enjoy it in your living room to keep the good vibrations going.
10. GIRL SCOUT COOKIES (ZAMNESIA SEEDS): 23% THC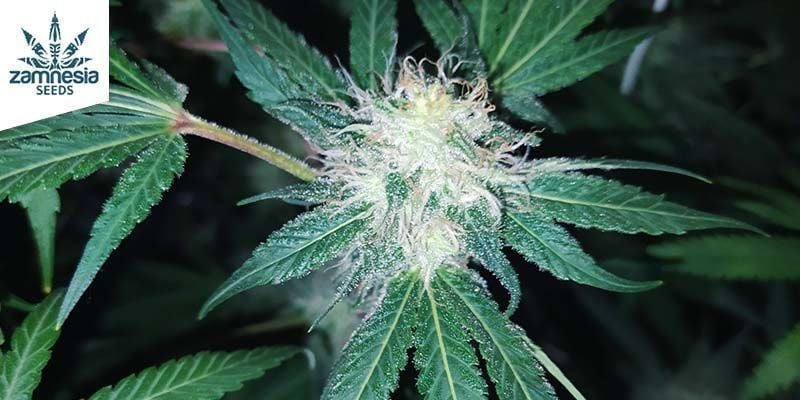 To round off our list, we have Girl Scout Cookies. Definitely not for kids, this indica-dominant strain (80% indica, 20% sativa) is derived from Durban Poison and OG Kush, so you know you're in good hands! Created by the good folks at Zamnesia Seeds, and with roots on the US West Coast, Girl Scout Cookies offers an enticing 23% THC content that is sure to put a smile on your face.
This strain provides some familiar sweet and earthy tones in both its flavour and aroma. But as the name suggests, expect some cookie flavours to shine through too. For a truly moreish taste, look no further than Girl Scout Cookies.
If you're seeking a euphoric, uplifting, and overall happy high, this is one strain that will never let you down. Although it may be a little too much for those new to cannabis, treated with a little respect, you'll soon see why this is such a popular strain. Start with a few tokes and work your way up to experience the full Cookies effect.