How To Use A Pollen Press To Make Hashish Coins

2 min
There are several ways to make hashish from pollen. In this blog, we show you a convenient and easy method - using a pollen press. Don't panic, it is safe and simple!
PRESS YOUR POLLEN TO HASHISH PELLETS WITH A POLLEN PRESS
When you use a grinder, you probably have one with a screen on the bottom to collect those precious trichomes. If you have collected a decent amount of them, you may wonder what to do with it all. First of all, the collected trichomes are called "pollen" or "kief" and can be smoked as is, or processed further into hashish pellets. The only other way to get your hands on a good amount of kief is to grow your own cannabis and shake the trichomes from the trim or buds, or to know a grower that is willing to give you pollen.
There are several ways to make hashish from your pollen, and today we are looking at the most easy method - using a pollen press. You only need pollen, a pollen press, and a few hours - that's all! A pollen press is usually a small device that is made out of a high-grade material. It can make pressing little cake pellets out of your pollen pretty easy. Most of the time, it consists of a t-handle, two end caps, and the insert.
But why press your pollen into hashish pellets? This is done to preserve its potency so that you can store it for more than a few months. Also, it is more manageable this way. It takes up less space and your precious trichomes won't get blown away.
STEPS TO PRESS HASHISH WITH A POLLEN PRESS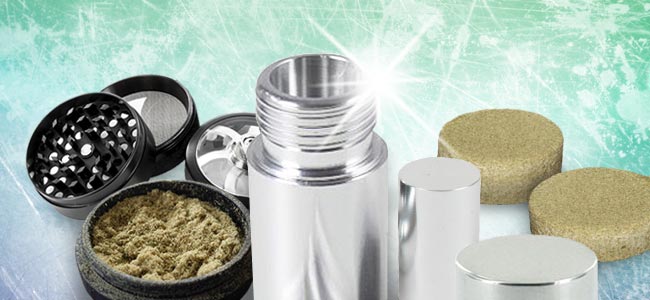 It's the most convenient way to make hashish, so here are your easy-to-follow instructions on how to use a pollen press.
1. First, you must gather your trichomes. Do this by removing the bottom piece of your grinder and collecting all the pollen you have in there. Be sure that the trichomes are dry, so that your hash doesn't mould and get ruined.
2. Assemble your pollen press and remove one end cap and one pin. Stand the pollen press upright so that the open end faces towards you.
3. Now, put your pollen in the pollen press. When all your pollen has been transferred into the pollen press, you can insert the pin.
4. Next, screw the end caps on as tight as you can by using hand pressure. Note that tools like wrenches can damage your pollen press, so only use your hands, but apply maximum pressure. Let the pollen remain in the press for at least 8 hours. For best results, re-tighten the end caps every hour or so.
5. After the waiting is done, you can unscrew the caps and remove the pins. The hash will usually stick to the pins, so remove it carefully. Your pellet will have the diameter of a penny. The thickness depends on how much material you used. The colour of the hash pellet will be a dark yellow to light brown. If your pollen press has plastic pins, the hash will not stick as much as it does on metal pins. Now, you can either store the pellet, make some more, or smoke it.
SOME IDEAS FOR YOUR FIRST POLLEN PRESS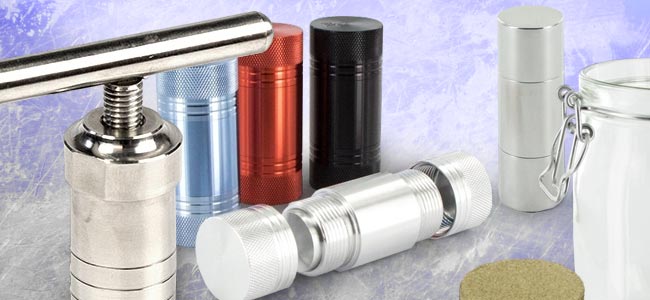 There you have it! It's as simple as that. Like most cannabis products, you should store your pellets in an airtight container in a cool and dark place away from sunlight.
If you don't own a pollen press already, we want to give you three recommendations that will do the job just fine.
The Super Pollen Press is a well-built and durable press that is for those who intend to press a lot of pellets. This press is CNC machined from aircraft-grade aluminum for extra precision and longevity. The design is rather simple, yet effective so you can press your pollen with ease.
Another example is the Black Leaf Pollen Press Medium. It doesn't feature the t-handle, but is also made from strong aluminum. It comes in four different colours. While the Super Pollen Press is more of a deluxe version for pressing pollen, the Black Leaf Pollen Press Medium will do the job for the average pollen presser just perfectly.
The last one is more an option for pollen pressing on the fly because it is really small and fits into most pockets. Surprise your friends with the Pocket Pollen Press and make your own hash with style on the go. This press is sturdy but light and made from aircraft-grade aluminum. It features a non-sticky, high tenacity, food-grade thermoplastic, making for an easier removal of your pellets.
VIDEO: How To Use A Pollen Press To Make Hashish Coins
Written by: Zamnesia
Zamnesia has spent years honing its products, ranges, and knowledge of all things psychedelic. Driven by the spirit of Zammi, Zamnesia strives to bring you accurate, factual, and informative content.

Find out about our writers
---