Blog

8 min
Top 25 Fruity Cannabis Strains [2022]
8 min
There's no denying the appeal of a fruit-flavoured strain. Whether you're looking to smoke, vaporize, or turn your stash into delicious edibles or concentrates, the fruity taste and aroma will always shine through. Here we give you a rundown of the top 25 fruity strains available right now—all guaranteed to leave your mouth watering!
It's certainly no secret that, as cannabis enthusiasts and avid growers, we're simply spoilt for choice when it comes to selecting seeds. While the earthier flavours and aromas of cannabis are nothing to baulk at, more people are turning to fruity and sweet cultivars to really enhance the smoking, vaping, or dabbing experience. Below, we'll review the top 25 fruity strains you need to try out!
What makes a fruity cannabis strain?
Have you ever wondered what gives cannabis its fruity aroma and taste? Well, it's chiefly due to terpenes—organic compounds that play a defensive role in the plant, among others, and just so happen to impart a wide variety of distinctive aromas and flavours.
But when it comes to the tangy, citrusy, zesty flavours associated with fruity strains, certain terpenes play a leading role. For example, limonene imparts an unmistakable orangey aroma, while myrcene offers up a more mild and sweet aroma. However, it's not the presence of these terpenes in isolation that gives strains a fruity flavour, but their unique combination. In other words, it's a finely tuned phytochemical balancing act that gives rise to the fruity and tropical flavours many users crave.
The difference between fruity and sweet strains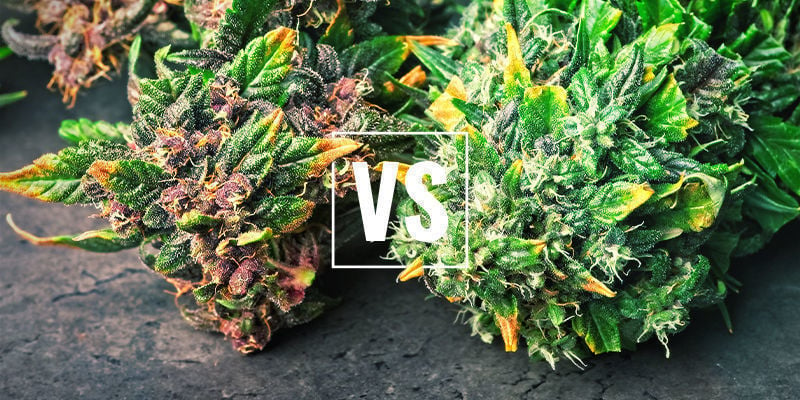 When we talk about fruity strains, we're focusing on those with evident notes of berries, forest fruit, grapes, tropical citrus, and the like. This is in contrast to dedicated sweet strains, which lead with notes of honey, sugar, and baked goods. With this in mind, some fruity strains can indeed be sweet, while others may lean more toward the sour, tangy side.
In terms of appearance, some sources claim that sweet strains can be distinguished from fruitier ones by their more resinous look—but this is no exact science. For our purposes, we'd say flavour is where the differences are most tangibly perceived.
The top 25 fruity cannabis strains
Now that we've shed a little light on the nature of fruity weed, it's time to explore our massive list of 25 cultivars you need to check out if you're into big, fruity flavours (and exquisite effects!).
1. Grandaddy Black (Original Sensible)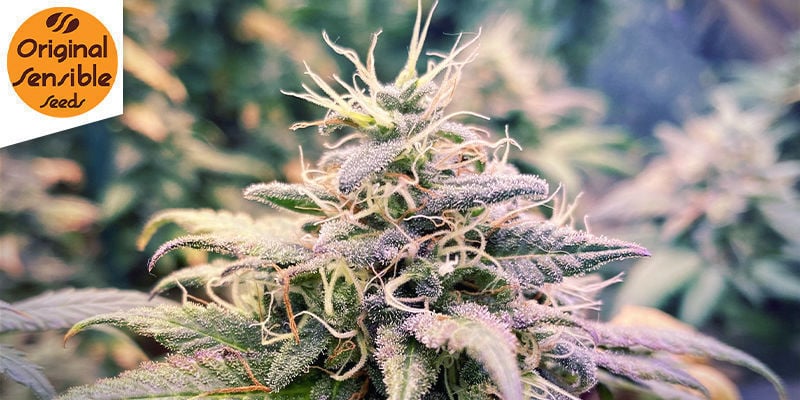 Grandaddy Black from Original Sensible Seeds is a 95% indica hybrid resulting from pairing Grandaddy Purple and Black Domina. Not only is she beautiful to look at, but she also provides a great euphoric high that settles into a full-body stone—thanks to her 23% THC content and an array of finely tuned terpenes. However, she also showcases a rich, fruity flavour bolstered by sweet and earthy notes, making for a complex but highly enjoyable smoke experience.
2. Gorilla Zkittlez (Barney's Farm)
Gorilla Zkittlez not only evokes fruitiness, but also leans a little to the sweet side, exhibiting a candy-sweet flavour that's simply mouth-watering. Regarding her effects, Gorilla Zkittlez provides a potent and relaxing high courtesy of 24% THC. Not only a triumph in flavour and effects, Gorilla Zkittlez also dazzles in the grow-op. Available in both photoperiod and autoflowering feminized versions, each provides a reliable growing experience.
3. Tangerine Dream (Barney's Farm)
Those looking for a citrus strain teeming with both flavour and potency are in luck. Tangerine Dream from Barney's Farm is an award-winning 25% THC powerhouse. Boasting strong aromas worthy of her namesake, Tangerine Dream is a hugely enjoyable strain from seed to harvest and well beyond. Available in both feminized and autoflowering versions, growers of all experience levels can try their hand at living the "dream".
4. Lemon Power Haze (Zamnesia Seeds)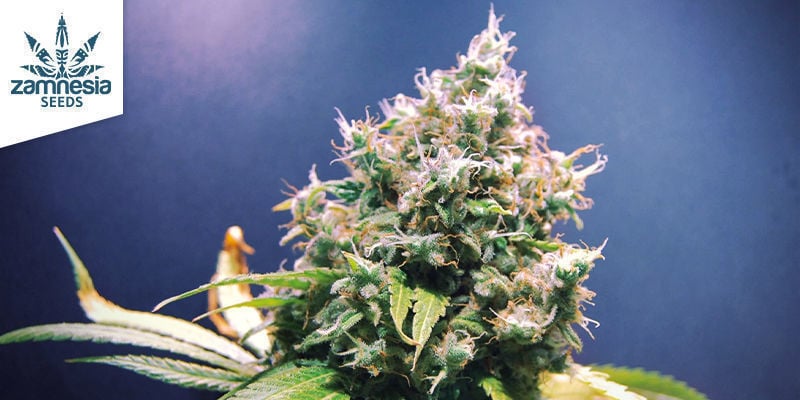 No prizes for guessing the flavour profile of this strain. A cross between Lemon Skunk and Amnesia Haze, Lemon Power Haze takes the finest points of her heritage to offer an intense taste of citrus, whether smoked or vaped. She's perfect for both solo sessions and social smokes, rewarding users with an uplifting and euphoric effect. After just 8–9 weeks of flowering, she'll easily yield up to 450g/m² of buds.
5. Fruit Spirit (Royal Queen Seeds)
Delivering a huge dose of berry sweetness, Fruit Spirit has the sweet-toothed stoner in mind. A cross of Blueberry and White Widow, she produces a cerebral high that is uplifting and motivating. Fruit Spirit's buds have a refreshingly sweet blueberry aroma and taste that will wash over you like an intoxicating wave. This strain can be cultivated both indoors and outdoors with relative ease, and demands very little in the way of maintenance and upkeep.
6. Buddha Haze (Big Buddha Seeds)
This scrumptious sativa-dominant strain is bound to put a smile on your face. A finely tuned mashup of Amnesia, G13, Super Silver Haze, and Manga Rosa S1, this terpene-rich cultivar was designed to delight the masses. Bearing a highly pungent aroma, notes of mango and Haze segue beautifully into her flavour, with a sweet, fruity taste rounding out the experience and making for an exceptionally moreish smoke. Her fast-acting euphoric effect is the icing on the cake!
Buddha Haze (Big Buddha Seeds) feminized
Parents: Amnesia, G-13, Super Silver Haze x Manga Rosa S1
Genetics: 10% Indica / 90% Sativa
Flowering Time: 9-10 weeks
THC: Unknown
CBD: Unknown
Flowering Type: Photoperiod
7. Purple Urkle (Pyramid Seeds)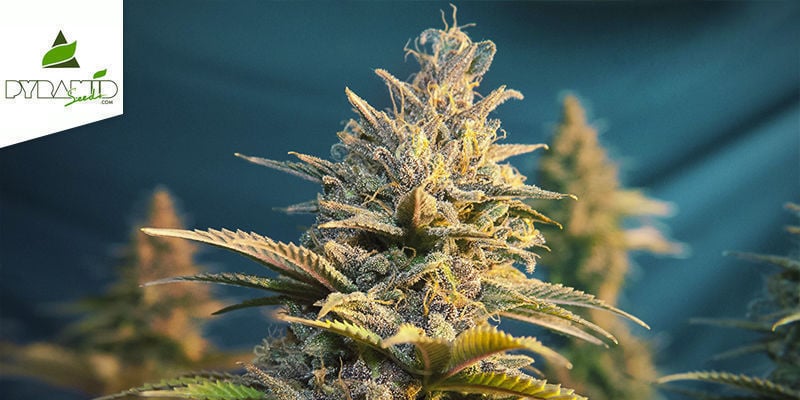 Adding vibrant colours to your grow room, as well as skunky grape aromas, Purple Urkle is the perfect cannabis companion. This multi-award-winning strain takes 8–9 weeks of bloom to deliver buds bearing 20% THC and an array of dank and fruity terps. Dealing out an equally matched mind/body high, Purple Urkle is an ideal strain for unwinding with after a long day at work.
8. Watermelon Candy (Zamnesia Seeds)
Available in both photoperiod and autoflowering feminized variants, Watermelon Candy promises tropical, sugary-sweet hits. In addition to conjuring sweet citrus notes, this cultivar also exhibits great potency. With a balanced high indicative of her diverse terpene profile, users can expect an uplifting cerebral surge alongside some welcome physical relaxation. Flowering over a short period and delivering respectable yields, she's a fruity treat not to be missed.
9. Critical Jack Herer (Delicious Seeds)
This compact Cannabis Cup winner can't help but delight. Critical Jack Herer is a direct descendent of Critical Mass and the legendary Jack Herer, and showcases the greatest parts of her heritage with ease. This plant doesn't overstay her welcome in the grow room, but still manages to provide good yields in the region of 500g/m². Once dried and cured, her buds offer up a fruity, smoky flavour profile with hints of pine, followed by a balanced high. Also available as an autoflower!
10. Pineapple Kush (Royal Queen Seeds)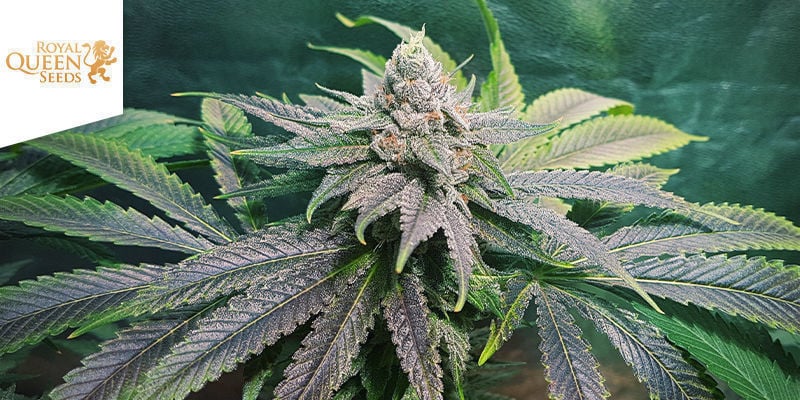 Pineapple Kush exhibits extraordinary flavours and aromas that lean heavily on its tropical fruit namesake. This winning combination of Pineapple and OG Kush also boasts a pleasant cerebral high that's ideal for users that want to unwind without getting glued to the couch. As a primarily indica-dominant plant, she remains pretty low to the ground and is easy to take care of. Plus, she takes just 8–9 weeks of flowering to deliver up to 550g/m² of tropical bud indoors.
11. Moby Dick (Silent Seeds)
Moby Dick is a famous cross between White Widow and Haze. Offering gargantuan yields, especially outside, she also harnesses a potent THC level of around 22%. The flavour she provides is a pleasant cocktail of citrus, pine, and incense, which makes her somewhat complex but always enjoyable. In terms of the high, Moby Dick offers a deep and long-lasting effect that will soothe and relax the muscles and the mind.
12. Sugar Black Rose (Delicious Seeds)
This award-winning strain is the result of crossing Critical Mass with Black Domina, and makes for a stimulating smoke that will relax even the most seasoned of stoner. Available as both an autoflower and photoperiod feminized strain, Sugar Black Rose has a high resistance to mould and pests, making her the perfect seed for newcomers and the experienced alike. With a sweet and fruity flavour profile evoking oranges and other citrus fruits, Sugar Black Rose also boasts moments of Skunk and fresh flowers.
13. Strawberry Cough (Dutch Passion)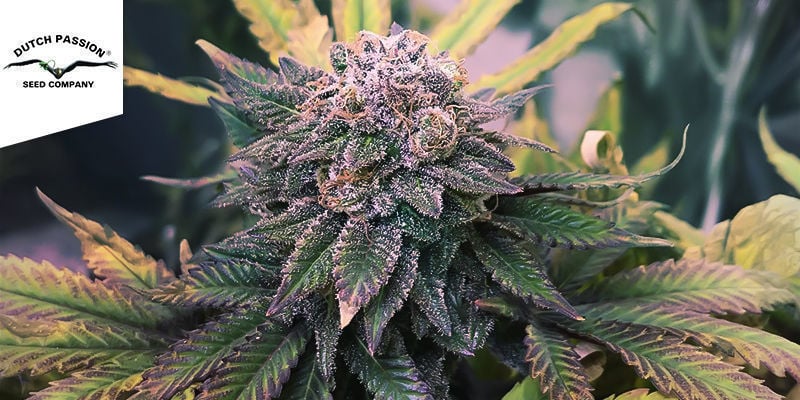 Like a scoop of your favourite gelato, Strawberry Cough showcases a pleasing fruity aroma that clues you into her flavour. Taking around 9–10 weeks to flower, you won't have to wait long to sample her delights. Not exceptionally rich in THC, teetering at around 12%, Strawberry Cough offers a low-key yet enjoyable smoke that will chill out anyone that tries it. Thanks to a great selection of terpenes and cannabinoids, she'll relax and open the mind with ease.
14. Melon Gum (Dr. Underground)
Great productivity is just one strength of this fruit-flavoured powerhouse. The culmination of crossing Lavender with Bubblegum, users can expect a unique, sweet flavour; from sour lemons to ripe raspberries, this is a true fruit salad of a strain. She also impresses in the grow room, where she is available as both a photoperiod and autoflowering feminized seed. Whichever one you decide upon, one thing's guaranteed—high yields.
15. Blueberry (Zamnesia Seeds)
A true classic, Blueberry is the lovechild of Purple Thai and Thai. You'll soon be met with a hefty yield once you let Blueberry loose in your grow room. The same goes for her autoflowering counterpart, Blueberry Automatic. With a THC level of 18%, Blueberry aims to chill with her moderate potency. However, the magic is really in her aroma. Users can anticipate aromatic berries and forest fruit fumes that are the perfect introduction to her "copycat" blueberry flavour.
16. Bubblegum (Zamnesia Seeds)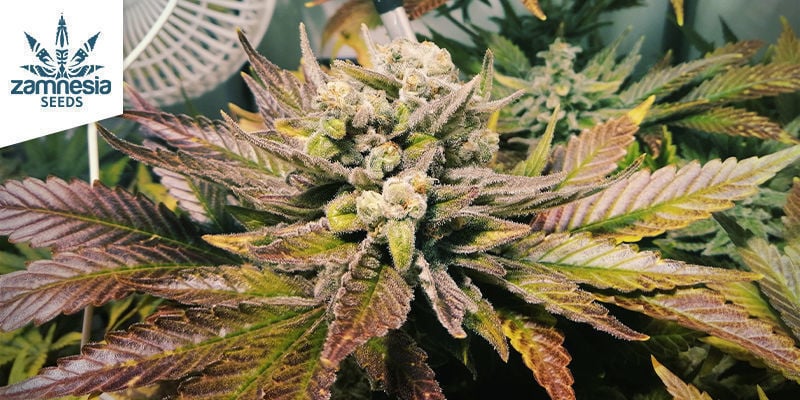 Another candy-sweet fruity treat, Bubblegum is good enough to eat. In fact, many turn her into delicious edibles thanks to her outstanding fruitiness. With a solid THC level of 19%, she stones both the body and mind, making for a happy, pleasant high overall. In the grow room, Bubblegum grows short and fast. Taking just 8–9 weeks to flower, she'll reward attentive growers with up to 500g/m² of delicious buds indoors.
17. Somango (Soma Seeds)
Our list wouldn't be complete without Somango making an appearance. So what's so good about Somango? We're so glad you asked; the result of combining Super Skunk, Big Skunk Korean, and Jack Herer, Somango is a colourful plant accentuated with purple and orange hues alongside green. Not only that; she'll wow you with 20% THC and sweet, fruity flavours that will have you drooling long before you load up your bowl. So kick back with Somango and enjoy her peaceful tropical vibes.
18. Sherbet Queen (Royal Queen Seeds)
Sherbet Queen is another imaginative creation from the good folks at Royal Queen Seeds. Fuelled by 24% THC, this strain washes away any tension, allowing you to experience her stimulating and energetic effects in full form. Of course, we'd be remiss if we didn't mention her flavours. She's sweet, decadent, and reminiscent of fruity candy—how's that for dessert? Also, growers have the option to choose between photoperiod and autoflowering seeds.
19. Serious Happiness (Serious Seeds)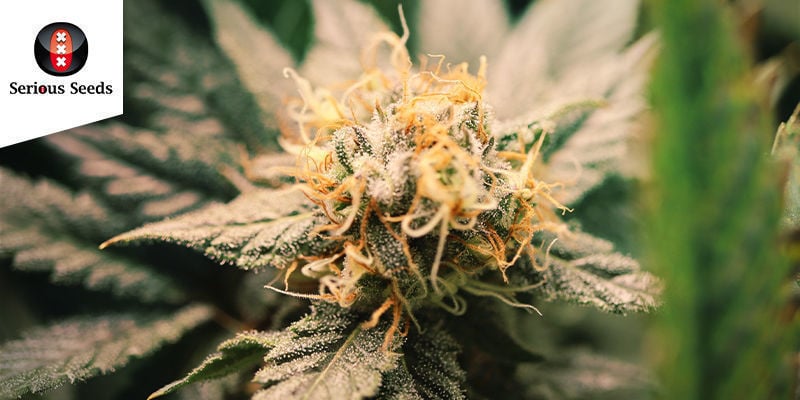 What do you get when you cross uplifting effects with sweet, fruity flavours and a honey aftertaste? Well, you get Serious Happiness, of course! The result of pairing AK-47 with Warlock, she is the perfect hybrid to keep close by. With a significant THC content, the strain offers a long-lasting mind and body buzz that you won't want to shake in a hurry.
20. Banana (Zamnesia Seeds)
Banana is a West Coast classic that brings sweet, tropical flavours in abundance, but not without a hint of pepper. Moreish and multi-layered to perfection, Banana is also exceptionally potent, boasting up to 28% THC. Taking flavour and effects to the extreme, a couple of hits is all it takes to find out what she's all about—euphoric, creative, and relaxing, all in equal measure. Not only that; she delivers huge yields of up to 950g/plant outdoors.
21. Pineapple Express (G13 Labs)
Where would our list be without the inclusion of Pineapple Express? With parents in the form of Big Bud and Hawaiian Skunk, you know you're in good hands. Boasting fruity fragrances from the moment she begins to flower, Pineapple Express immediately takes you to a tropical paradise, and that's before you've even tried her properly! These fruity aromas are cut with a little citrus and sweetness to give her some depth. Perfect for any time of day, her uplifting high will keep smokers focused yet relaxed.
22. Auto Blackberry Kush (Dutch Passion)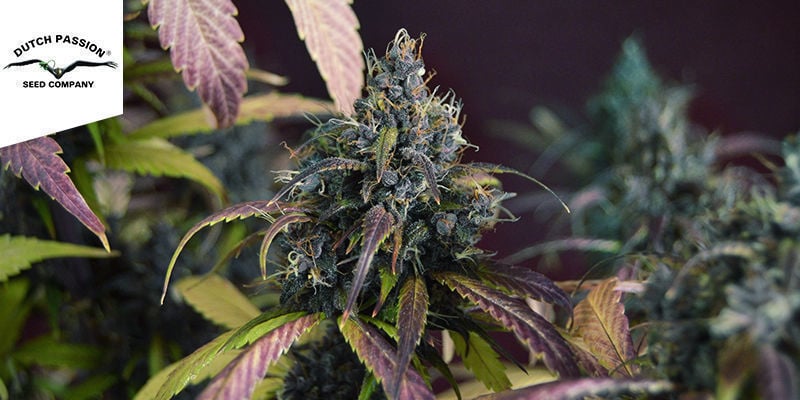 A true beauty, Auto Blackberry Kush is a masterclass in autoflowering excellence. Effortless to grow, she takes just 10–11 weeks from seed to deliver dense, purple-tinged buds reeking of sweet berry notes combined with a little Kush for good measure. A couple of tokes is all it takes to unleash her soothing and relaxing effect. As a Highlife Cup-winning cultivar, don't sit this one out.
23. Strawberry Blue (World of Seeds)
Another berry-focused specimen, Strawberry Blue is perfect for smokers with a sweet tooth. The result of crossing Strawberry and New Blue Line, she has plenty to offer. Taking on a berry aroma very quickly into her flowering phase, this only intensifies once dried and cured. Tasting like a strawberry flavoured boiled candy, this strain will certainly appease those looking for a sweet cannabis treat. And with 23% THC, she'll satisfy potency hounds too.
24. CBD Cherry Kush (Sumo Seeds)
As a 1:1 THC:CBD strain, CBD Cherry Kush is unique on our list. An indica-dominant cross of Tsunami Kush and Cherry Kush, she exhibits rich cherry aromas rare among cannabis strains. While mild in the THC department, this sweet strain offers a peaceful, lucid effect that works as the perfect pick-me-up. Although she takes longer to bloom than most, this strain is well worth the wait.
25. Cream Mandarine - F1 Fast Version (Sweet Seeds)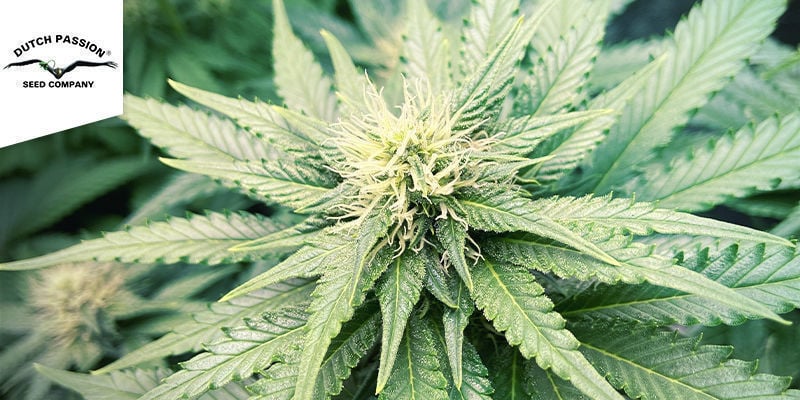 Cream Mandarine emanates a shockingly sweet and citrusy flavour that will have mouths salivating long before she's ready. Speaking of which, this lightning-quick F1 fast version takes just 7–8 weeks to bloom, while still offering up to 600g/m² of great-tasting buds. With an admirable 20% THC, she offers strong, relaxing sensations after just a couple of pulls, and is the perfect smoke to close out the day.
Get your pick of the finest fruits now
As you can see, there is plenty of variety when it comes to fruity marijuana strains. Regardless of whether you've wandered into this field of cannabis connoisseurship before, you have all manner of fruity strains to choose from, running the gamut from indica to sativa and stoning to uplifting. All that's left to do is experiment!