Blog

9 min
Top 10 Cannabis Seed Variety Packs
9 min
If you've been stuck in a rut with your growing operation, or are simply looking to branch out and try new strains, you're in just the right place. We give you a rundown of the top 10 cannabis seed variety packs that will reinvigorate (or ignite) your passion for growing from home. Whether new or experienced, we've got you covered.
Variety is the spice of life, and what better way to mix things up than with a selection of cannabis seeds? The beauty of a variety pack is that you're exposed to strains you might not instinctively choose outright, resulting in a nice surprise for any growing enthusiast. So whether you're a die-hard autoflower cultivator or in the market for a selection of legendary strains, check out the top 10 cannabis seed variety packs that are available to purchase right now.
10 best cannabis seed variety packs
The following consists of both photoperiod and autoflowering feminized strain varieties, as well as THC and CBD-rich strains, so there's genuinely a seed for all. Regardless of which variety pack takes your eye, they all have one thing in common; great genetics and a great growing experience for the expert and beginner alike. If you've ever been on the fence about growing a certain strain, these packs are the perfect jumping-off point. Which one(s) will you choose?
Feminized Mix (Royal Queen Seeds)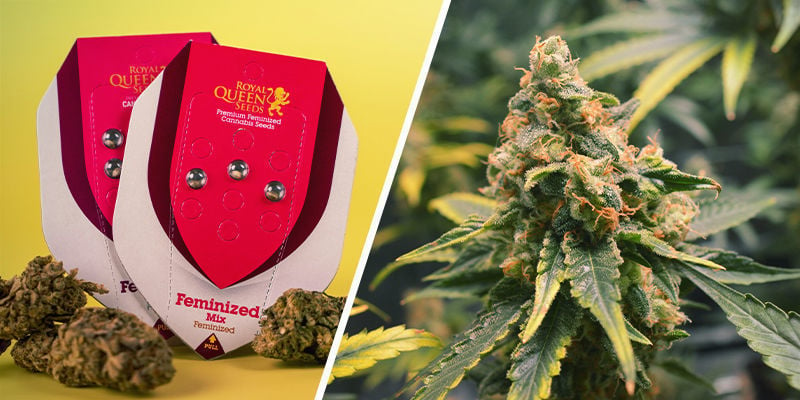 Kicking off our list is the Feminized Mix from Royal Queen Seeds. This pack features a selection of some of the finest strains the seed bank has to offer. Available in two different variants, the three-pack contains Critical, ICE, and Bubble Gum XL, while the five-pack contains the aforementioned strains with the addition of Fruit Spirit and White Widow. Whether inside or out, these seeds are set to perform.
All photoperiod feminized strains, the three-pack begins with Critical. Taking just 7–9 weeks to flower, growers are in for a treat, as this easy-to-handle cultivar can produce up to 600g/m² of buds teeming with 18% THC. Known for its insane resin production, ICE provides a frosty appearance, great flavours, and powerful effects, all wrapped up in a plant that rarely exceeds 100cm in height. Rounding off this pack is Bubble Gum XL. Although small in stature, this strain is perfect for the discreet, sweet-toothed stoner. With 19% THC in tow, this is one for smoking, vaping, or making delicious edibles.
If the five-pack is taking your fancy, Fruit Spirit and White Widow provide the most refined flavours, aromas, and long-lasting effects you could ask for. If that wasn't enough, both are effortless to care for in the grow room. As with most photoperiod strains, just a little TLC is needed, and they'll deliver potent buds in abundance.
ACE Mix (ACE Seeds)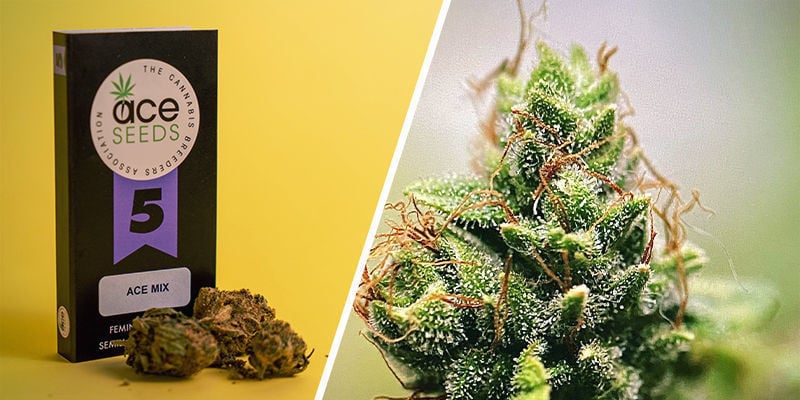 Available in a pack of five, let ACE Seeds take you on a trip all over the world with the ACE Mix. Boasting a fine selection of sativa and indica hybrids, this pack consists of some of the best strains from places such as Afghanistan, Thailand, China, and even Guatemala. The result is a variety of seeds that are unique and not something you see every day. Trust us when we say you won't want to miss out on what ACE Seeds has to offer.
Those that opt for the ACE Mix will find receptive, resilient, and fruitful strains that represent their places of origin with pride. As photoperiod feminized strains, they are adaptable and can be easily cultivated both indoors and out, giving growers plenty of options. Thanks to their great genetics, seeds from the ACE Mix are also good candidates for LST and other training methods. So rest assured you're getting the finest seeds possible!
Assorted Auto (Buddha Seeds)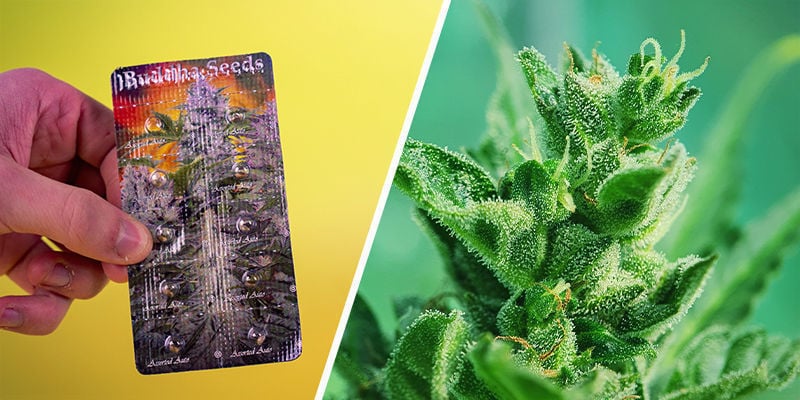 Buddha Seeds presents a variety pack featuring a range of autoflowering beauties that are perfect for veteran growing enthusiasts and newcomers alike. This selection of four of the best autoflowers Buddha Seeds has to offer consists of White Dwarf, Red Dwarf, Deimos, and Syrup, meaning growers have plenty of diversity when it comes to the flavour and effects on offer.
The result of crossing two strong indica parents with a little ruderalis, White Dwarf provides good potency and incredible flavours, all stemming from one easy-to-cultivate plant. Red Dwarf follows a similar pattern, showcasing strong aromatic buds that take just 8 weeks from seed to harvest. Deimos has strong roots in Northern Lights, and is a reliable and robust strain in the garden or grow room. Rounding off the four is Syrup. As you might expect from a name like this, she boasts sweet flavours, and is ready in just 60 days. All strains included in this variety pack are fast to flower, easy to care for, and deliver bountiful yields.
However, as a special bonus with this variety pack, in addition to the four aforementioned strains, Buddha Seeds will throw in six random mystery seeds.
Autoflowering Mix (Royal Queen Seeds)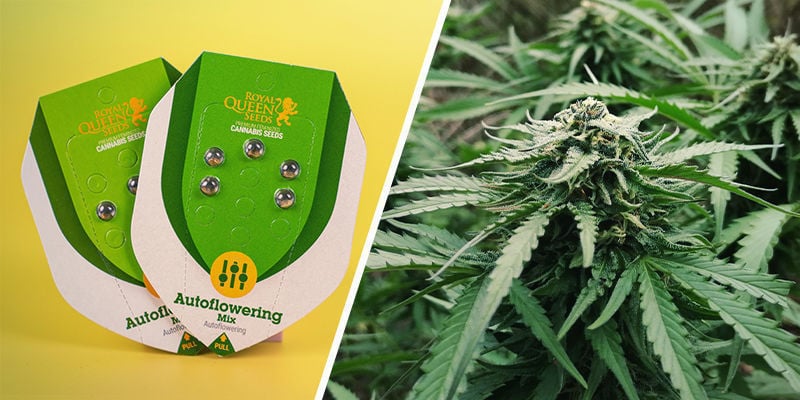 Next up on our list is another special variety pack from Royal Queen Seeds. Consisting of some of the finest ruderalis-based strains available, the Autoflowering Mix is the best way to bring low maintenance but high performing cannabis to your home. Suited for all manner of configurations and ability levels, this mix is available in two variants. The three-pack contains Royal Kush Automatic, Diesel Automatic, and Quick One, whereas the five-pack adds Royal Jack Automatic and Royal Bluematic into the fold.
Royal Kush Automatic starts the show by providing large yields in just 8–9 weeks from germination. Reaching heights of up to 150cm, she's ideal for tucking away in a small grow tent. Diesel Automatic is the lovechild of crossing Lowryder #2 with Diesel, showcasing moderate yields of tight buds teeming with 15% THC and a clear-headed high. Quick One is exactly that; fast to flower, she provides an effortless, physically relaxing stone and can be grown in practically any setting.
In the five-pack, you'll receive Royal Jack Automatic and Royal Bluematic. A tip of the cannabis cap to the iconic sativa-dominant hybrid Jack Herer, Royal Jack Automatic sets the mood with a smoky, spicy flavour that will leave users invigorated and uplifted. Rounding off the pack is Royal Bluematic, which provides bursts of blueberry flavours and aromas that are bound to put a smile on your face. Taking a little longer to mature, around 12 weeks from germination, the wait is well worth it—trust us.
Auto Mix (Philosopher Seeds)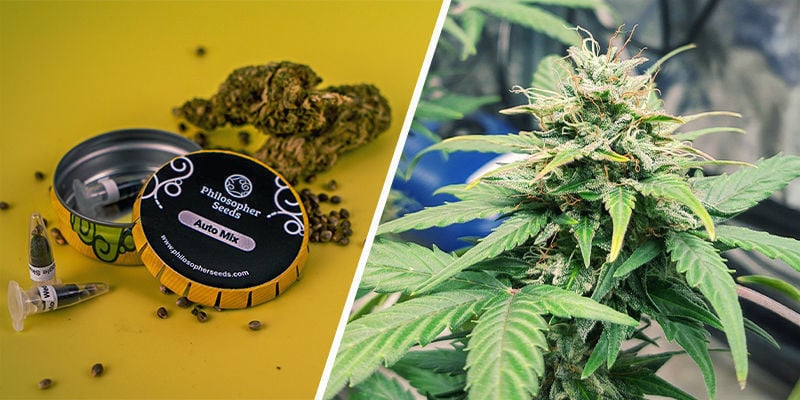 This six-seed variety pack from Philosopher Seeds consists of 2x Wedding Cake Auto, 2x Cheesy Auto, and 2x Fraggle Skunk Auto—meaning growers get two chances to raise each strain successfully.
Wedding Cake Auto is an indica-dominant beauty resulting from pairing Animal Mints with Triangle Kush and a bit of ruderalis. This fast-acting cultivar takes just 8 weeks from seed to harvest and delivers up to 600g/m² in ideal conditions indoors.
Next up is Cheesy Auto. As the name suggests, this aromatic strain is the end product of crossing UK Exodus Cheese with Lowryder. Taking anywhere between 65 and 85 days from germination to harvest, Cheesy Auto reaches about a metre in height but is effortless to care for.
Closing out the Auto Mix is Fraggle Skunk Auto. Leaning on her heritage of Super Skunk and Lowryder, she provides enormous yields of up to 600g/m² just 70–90 days after germination. The perfect social strain, Fraggle Skunk Auto has a sweet, fruity flavour and aroma that showcases euphoric and uplifting sensations.
CBD Mix (Royal Queen Seeds)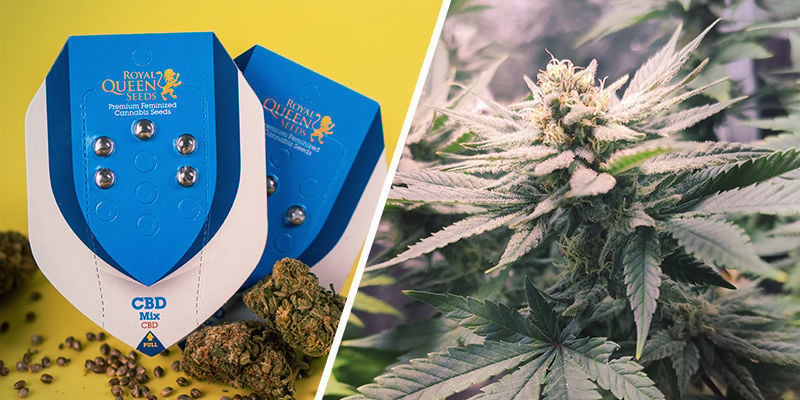 For those looking to take their foot off the THC gas, or simply those who want to get some more CBD into their lives, this is the pack for you. The CBD Mix, courtesy of Royal Queen Seeds, is the perfect way to sample some of the finest cannabidiol-laden strains on the market. In true Royal Queen Seeds fashion, the pack is available in both three and five-seed varieties.
In the three-pack, the show starts with Royal Highness. This sativa-dominant masterpiece showcases 12% CBD and 14% THC, giving users the best of both worlds. Taking 9–10 weeks to flower, she yields up to 600g/m². Next up is Dance World, a sativa-dominant, 1:1 CBD:THC plant with a short flowering time of 8–9 weeks. Last in the pack is Medical Mass. Those looking for soothing sensations will want to take notice of this one; she offers 10% THC and 11% CBD, making for a smoke (or vape) that will settle even the most stoic of stoner.
The five-pack contains the previously detailed strains in addition to Royal Medic and Painkiller XL. As the name suggests, Royal Medic (10% THC and 12% CBD) is highly favoured amongst the medicinal cannabis community. A combo of Critical and Juanita la Lagrimosa, Royal Medic takes 9–10 weeks of flowering to deliver up to 650g/m² of precious buds. Painkiller XL is another soothing wonder strain with a 1:1 THC:CBD ratio. Although she's short in stature, this cultivar offers up to 550g/m² after 8–9 weeks of bloom.
VIP Auto Mix (VIP Seeds)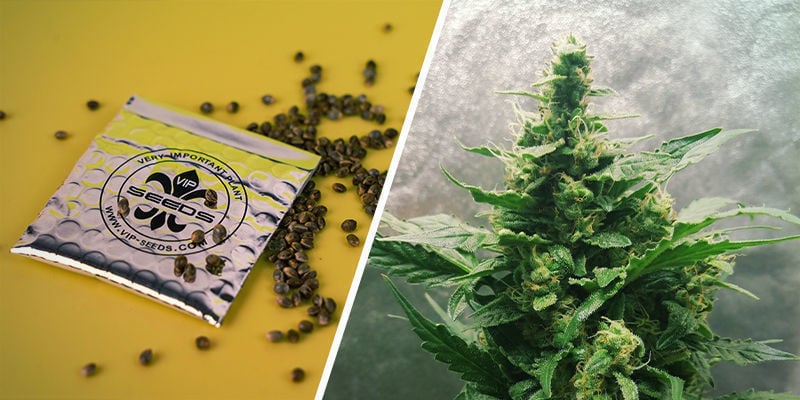 A guest list consisting of the who's who of autoflowering strains, the team at VIP Seeds have outdone themselves with the VIP Auto Mix. This pack contains some extraordinary autoflowering strains that will add more than a little variation to your growing setup. This is a true game of cannabis roulette, as VIP Seeds compiles their packs from their most popular and award-winning autoflowers in their stock. However, you can rest assured that you're getting only the highest-quality genetics, and an easygoing growing experience to go with it.
With that in mind, you can anticipate fast-flowering plants that are suitable for both indoor and outdoor settings. As with all autoflowers, a little due diligence and maintenance are required throughout the growing cycle. When grown in the best possible conditions, you can expect to see hearty yields in the region of 500g/m² after a total grow cycle of around 65–75 days. Give these seeds the VIP treatment, and you'll be rewarded with some great buds that, once dried and cured, are ideal for smoking, vaping, or creating edibles and concentrates.
25th Anniversary Box Set Special (T.H. Seeds)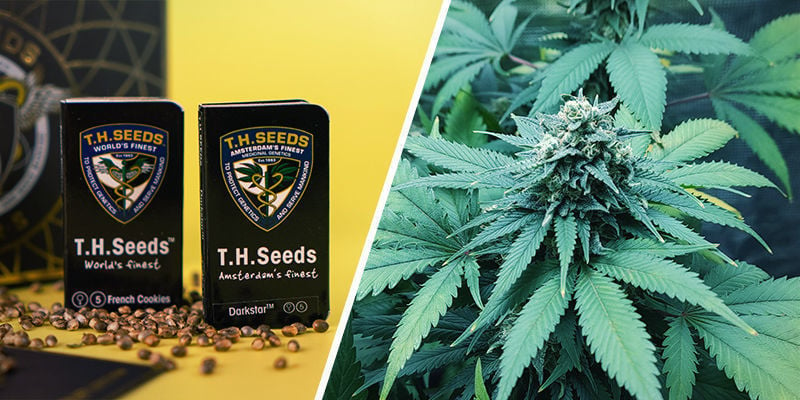 It's no small feat for a seed bank to be in business for over 25 years. Simply put, competition is fierce. However, as a true mainstay on the cannabis scene, T.H. Seeds shows no signs of waning. And what better way to celebrate than with a 25th Anniversary Box Set Special?
Containing a whopping 30 seeds, this variety pack is for the true cannabis connoisseur. Consisting of six different varieties, you get five seeds of each strain—certainly enough to keep any budding grower busy for a long time to come.
Starting the fun is Bubblegum. This classic strain is teeming with great flavours, and was T.H. Seeds' first release into the cannabis scene back in 1993. Taking 9 weeks to flower, she delivers a bounty of up to 500g/m² of sweet, uplifting bud. Next up is French Cookies, an eye-catching cultivar that provides sweet nugs in 9–10 weeks. Underdawg Kush is the result of crossing OG Kush and Sour Diesel. A true cannabis icon in so many ways, it has a short flowering time of 8–9 weeks and showcases intense diesel flavours and high levels of THC.
Then there's Darkstar Kush, which boasts some skunky notes accented with moments of pine. With a flowering time of 9 weeks, you won't be waiting long to try this one. The goods keep on coming with Macaron. Channelling the flavours and aromas of the sweet treat after which it's named, this indica-dominant cultivar has a powerful uplifting effect. Last in the pack is LA S.A.G.E. This award-winning strain is a sativa-dominant showcase of everything you want from a cannabis cultivar. High yields, high potency, and great effects await growers.
As you can see, this is a variety pack that really delivers. Not only does it contain plenty of seeds to get to grips with, but buyers are also treated to a certificate of authenticity, description card, and a 25th-anniversary sticker as well. All are included in the box.
CBD Indica Mix (CBD Crew)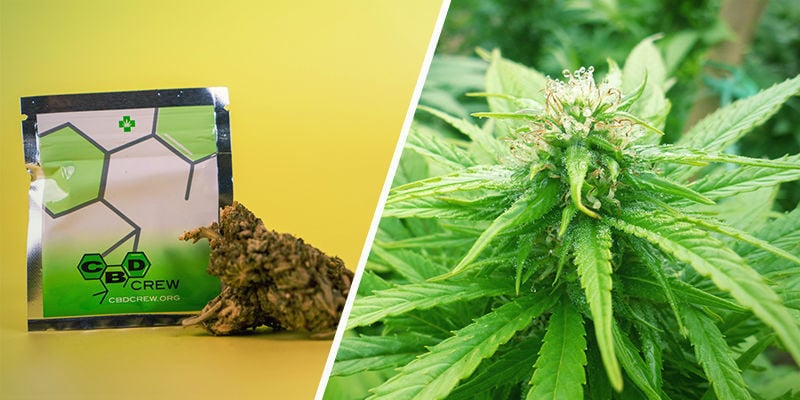 From the CBD Crew comes a selection of 1:1 THC:CBD seeds that are bound to put a smile on your face. Offering the best of both worlds, this variety pack is for those seeking a little more CBD in their lives. As we know, THC provides potent and noticeable effects, whereas CBD works a little more "behind the scenes", offering up a host of potential benefits.
As an indica-dominant selection of seeds, this variety pack is perfect for those working with smaller, more confined spaces, both indoors and outdoors. Thanks to their shorter stature, they are easier to manage and don't require round-the-clock maintenance. Just a little check-in now and again, and a healthy watering and nutrient schedule, is all it takes to get the best out of the CBD Indica Mix. After a brief flowering time, you'll be rewarded with great flavours, aromas, and soothing effects courtesy of two equally impressive cannabinoids and a host of terpenes.
Collection Pack Indica Champions (Paradise Seeds)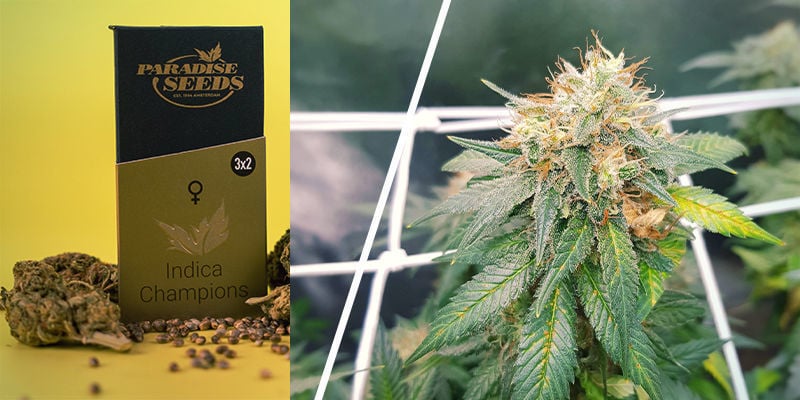 Last on our list is a three-pack of multi-award-winning seeds that really showcase what Paradise Seeds has to offer. Consisting of Sensi Star, White Berry, and Ice Cream, these indica-dominant photoperiod feminized strains are perfect for any home growing setup.
First introduced back in 1995, Sensi Star is a legendary strain that is considered to be one of the most potent indicas around. With a huge 24% THC to her name, the effects are powerful and long-lasting. But don't just take our word for it; this strain has scooped up plenty of awards since its inception, and continues to do so. Taking 8–9 weeks to flower, Sensi Star delivers yields in the region of 400g/m².
White Berry is next up, and this is a robust, resilient, and receptive strain to cultivate. Perfect for ScrOG and a variety of other LST methods, this is one for tried and true cannabis growers and absolute beginners. With a short flowering stage lasting 7–8 weeks, growers are treated to up to 450g/m² of resinous buds. Boasting sweet berry flavours and 22% THC, she offers a great time, whether smoked or vaped.
Rounding off the pack is Ice Cream. As the name suggests, this is one for the stoner with a sweet tooth, and another award-winning strain that is bound to impress. After 8–9 weeks of flowering, her resin-covered buds will be ripe for the picking.
Advantages of cannabis seed variety packs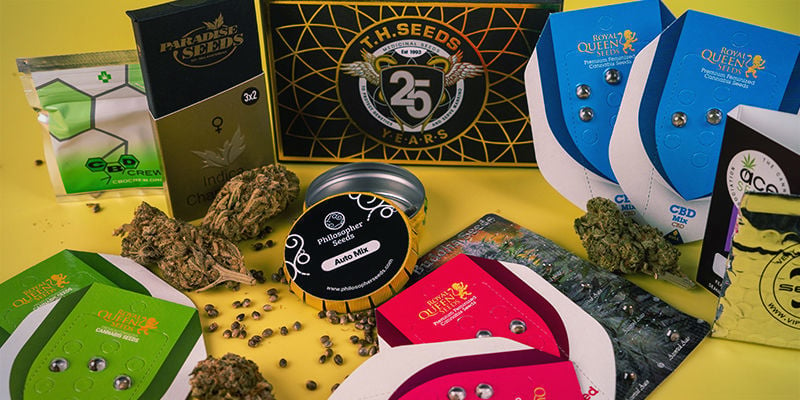 With plenty of options available, variety packs are a great way to sample cannabis seeds that might not be on your radar. Sometimes it's the strains we least expect that deliver the most impressive or unique results. Variety packs gift growers with ideas and inspiration, and allow them to sample numerous strains without paying for multiple packs of specific strains. And with so many different variety packs available, you can sample a truly vast range of genetics without shelling out more than you can afford.
These mixed packs are also good for beginners to cannabis growing, as not everyone is familiar with the vast array of strains circulating the market. Starting with one or more of the packs above, new growers can discover the cultivars that best suit their growing situation and smoking preferences. The same is true for medical cannabis users looking to determine the best strain for their unique scenario; variety packs give you multiple options to try.
With that said, all that's left to do is get out there and try these packs for yourself! At least one strain is bound to catch you by surprise—it's just a matter of which!