Blog

4 min
Dutch Passion: Seedbank Of The Month July 2017

4 min
Every month we dedicate a blog to one extraordinary cannabis seedbank. Some will be famous marijuana breeders and cannabis blue bloods. Others will be bold newcomers that seek to claim the throne for themselves. Competition is fierce! Time to meet the Lords of Cannabis!
For this second instalment of Seedbank of the Month, as the mercury rises in hot July, we put the focus on passionate Dutch cannabis breeders. A seedbank that you can count on. A seed catalogue appealing to both medicinal and recreational marijuana users. All of the above are only part of what makes this month's pick special.
To make the cut for Seedbank of the Month, it's not just about breeding fire genetics. Nor stacking up cannabis cup awards. The best cannabis seedbanks make a contribution that is beneficial to the global cannabis community. Let's cast our sinsemilla spotlight on the seedbank that introduced feminized seeds to home growers.
IT'S ABOUT TIME YOU EXPERIENCED DUTCH PASSION
This year, Dutch Passion celebrates its 30th birthday. Back in 1987, Henk Van Dalen was a stoner with a dream. His vision is and was to help home growers achieve cannabis self-sufficiency with top-shelf cannabis seeds. During the 1990's, Dutch Passion introduced reliable feminized cannabis seeds. This was a game changer for home growers everywhere. Growing all female plants is the only way to achieve maximum yields of the finest quality marijuana. Dutch Passion's mission is to make that happen.
In 2011, Henk Van Dalen became the first recipient of the High Times Dutch Masters Award in honour of his contribution to cannabis culture. Many of the old-school original Dutch Passion strains have been favourites amongst home growers for decades. Contemporary additions include next-generation autoflowering varieties and CBD-rich medicinal strains.
Dutch Passion rose to the top with its breakaway feminization processes and championship-quality strains. By continually developing new cannabis varieties and consistently providing first-class feminized seeds, Dutch Passion plans to stay on top. Here are 5 of the finest Dutch Passion cannabis strains worth getting hot and bothered about.
MASTER KUSH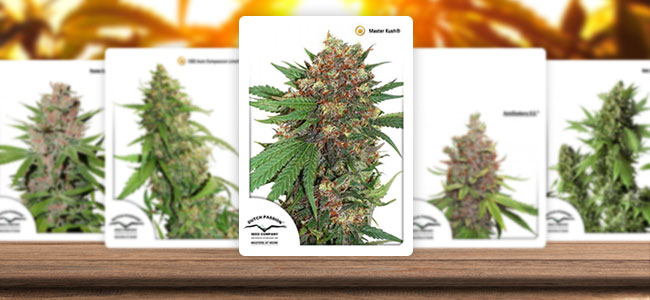 What comes to mind when you think about top-shelf Kush? Most likely a dreamy high with a powerful physical effect, pungent aromas and chunky, resinous buds. Master Kush is the embodiment of the finest Kush. This strain is an old school Dutch Passion blend of pure Skunk and landrace Hindu Kush. Considered by celebrities and stoners everywhere as premium indica stash.
Master Kush is the most beloved Kush by growers because of her easy cropping nature, both indoors and outdoors. Plants are very uniform reaching about 100cm in height, exuding vintage Kush traits and flowering is 8-9 weeks. Short, stocky and very branchy, this Kush is perfect for SOG and ScrOG cultivation indoors. Outdoors in hot, dry weather, Master Kush can climb to 200cm tall with branches that require support in late bloom.
This marijuana is a real treat for all cannabis connoisseurs. Best enjoyed in the evening, Master Kush induces a pleasant stress relieving high with a calming and relaxing body stone. The smoke is rich, earthy and skunky, but still goes down smooth. Master Kush started a habit of scooping up trophies in 1992 and 1993 with back-to-back Cannabis Cup wins. Most recently winning the 1st prize Kush and the overall 1st prize at the 2017 High Life Cup in Amsterdam, Master Kush is a cannabis iconoclast.
AUTO GLUEBERRY OG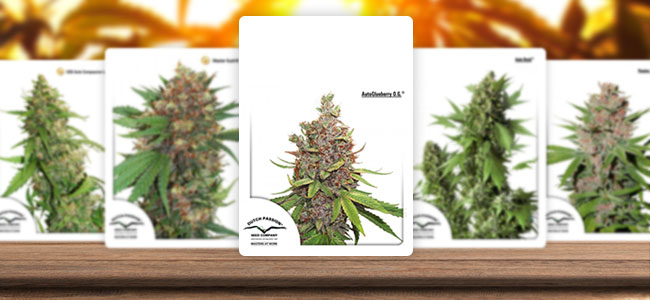 Fusing three of the most sought after marijuana varieties from Amsterdam to Anchorage into one fast and furious autoflowering cannabis strain is Dutch Passion's gift to growers of all levels. Auto Glueberry OG is a rare combination of Gorilla Glue, OG Kush and Auto Blueberry. No other autoflowering variety on the market can boast such a pedigree lineage.
Auto Glueberry OG is a sativa-dominant autoflowering strain that can rival most photoperiod strains. This extraordinary autoflower will often grower taller than 100cm and branch well too, allowing for higher yields than the average autoflower. Moreover, Auto Glueberry OG is ideally suited to the SOG method for a maximum yield under a continuous 18/6 light schedule.
Expect to grow from seed to stash in about 11 weeks. The high from this strain is a pleasant and long lasting cerebral buzz. A complex mix of berries and diesel aromas combine with a sweet and sour flavour to keep you coming back for more of the Auto Glueberry OG.
CBD AUTO COMPASSION LIME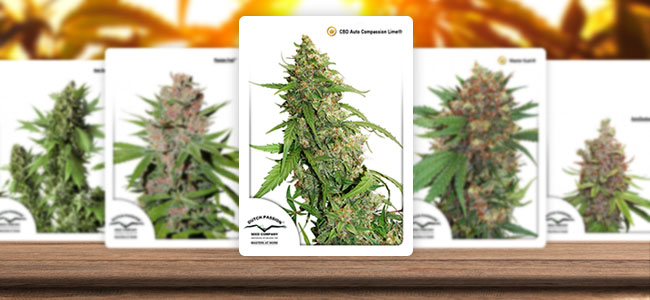 For the medicinal marijuana grower that wants to stay self-sufficient and enjoy the best-tasting medicine possible, we present CBD Auto Compassion Lime. By crossing the high CBD photoperiod CBD Compassion with the flavoursome Daiquiri Lime, Dutch Passion has created a next-gen autoflowering medical cannabis strain.
CBD Auto Compassion Lime is 21st-century whole plant medicine. CBD:THC is almost 1:1, making for a strong body effect without the intense psychoactive high. You can expect around 8-9% THC and 9-10% CBD levels from these ripe and zesty lime buds in 10-11 weeks post-germination.
PASSION FRUIT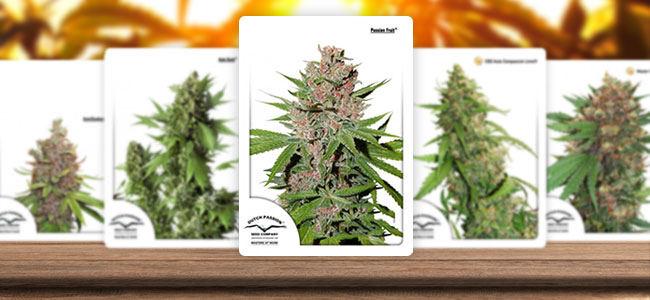 Fruity and deliciously potent cannabis strains need not be high-maintenance grow-op projects. Passion Fruit is perhaps the tastiest indica-sativa hybrid that Dutch Passion has developed to date. That's a bold statement. But with a gourmet lineage of Sweet Pink Grapefruit and Orange Bud, it's no surprise she's bursting with flavour.
Passion Fruit is a vigorous, fast-flowering hybrid that requires minimal attention and fertiliser. Indoors, 8 weeks of standard 12/12 is what leads to harvest time. Outdoors in Southern Europe, Passion Fruit can deliver impressive yields well ahead of Croptober. Expect 20%+ THC and a balanced head-body high from these citrus-sweet nugs. Make sure to dry and cure buds slowly to unlock maximum aroma and her signature juicy fruit flavour.
AUTO DUCK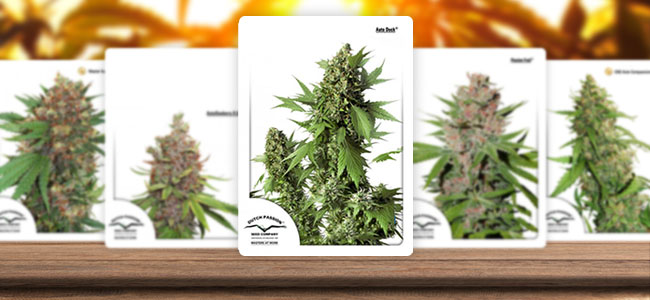 Discretion and cannabis cultivation go hand in hand. Stealthy cannabis strains are hugely advantageous to the ordinary decent home grower. Outdoors, it is especially important to attract as little unwelcome attention to a cannabis crop as possible. Speed is another key grow factor. Nobody wants to wait for a stash. A short lifecycle also facilitates more harvests per year.
We always prefer to go out on a high. So, our final pick is the pocket rocket cannabis that does her best not to stand out from the crowd. In fact, she may resemble just another weed in the garden; this squat and potent autoflower displays decoy deformed leaves and has just a 75 day life cycle. Auto Duck is a hybrid of Frisian Duck and Auto White Widow, inheriting the best from both parents. Keep a low profile and stay high with the Auto Duck.
WIN FREE GOODIES WITH EVERY NEW "SEEDBANK OF THE MONTH"!
Former Seedbanks Of The Month, like the one you are reading about now, deserve eternal attention from us here at Zamnesia! Read about past and present honorees, and continue to visit our blog for the honorees of the future. Each new month highlights yet another stellar seedbank, kicking off a new round of awesome promotions and surprise giftings pertaining to that specific brand. So go ahead: once you are done here, visit this month's new Seedbank Of The Month, and take advantage of goodie giveaways!
 
 
 
 
 
 
 

Written by: Top-Shelf Grower
Veteran cannabis cultivator originally from Dublin, Ireland and currently on the loose in southern Spain. 100% committed to Top-Shelf reporting until captured or killed.

 

 
 
 
 
Find out about our writers
 


---