Blog

6 min
New Dutch Passion Strains and Impressive New Packaging

6 min
The famous Dutch Passion seed company have just released a whole bunch of some of their most popular strains, all are now available in feminized strains for all types and levels of grower and cannabis connoisseur to enjoy! Plus all their seeds are now neatly packaged in a re-usable metal tin for optimal protection and safety of seeds!
New Dutch Passion Strains
The renewned Dutch Passion Strains are bursting into the scene with a bunch of new strains this year. Some of them are developed from their previous lines, all are now available pre-feminized for all growers and cannabis connoisseurs to enjoy!
Famed for blessing the grower market with wildly popular and stealthy outdoor strains such as Frisian Duck and Auto Duck which was originally considered a genetic mutation because of their quiet smell and misshapen leaves. They were kept and developed over a period of years for the same reason. Frisian duck is a strain well suited for climates in the northern US and Europe. With its lush purple buds, It tends to grow in the shape of a Christmas tree and produces great yields.
AUTO DUCK FEMINIZED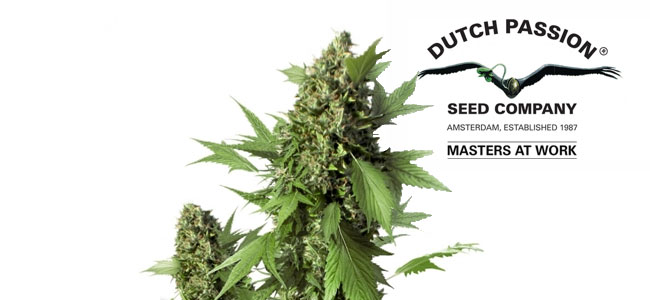 A very special new variety, Auto Duck is popular for not looking like cannabis at all because of her bungled leaf structure that grows in the shape of a duck's foot. She offers a set of even and sturdy side branches from tail to crown. The open branches tend to become packed with bud, making her ideal for mould resistance. Auto Duck never grows much taller than 70cm and is a great outdoor plant with yields of up to 70 grammes per plant. Auto duck is ideal for the urban environment, smaller gardens or balconies, as well as stealth growing.
A cross between the wildly popular Frisian Duck and Auto White Widow, Auto Duck is a powerful strain with long-lasting effects, now available feminized. She grows easily in most conditions, has a maximum lifecycle of about 90 days when grown outdoors, but she can work even quicker indoors. A great autoflowering choice for beginner growers or anyone looking for results while keeping their efforts a hidden secret!
PASSION FRUIT FEMINIZED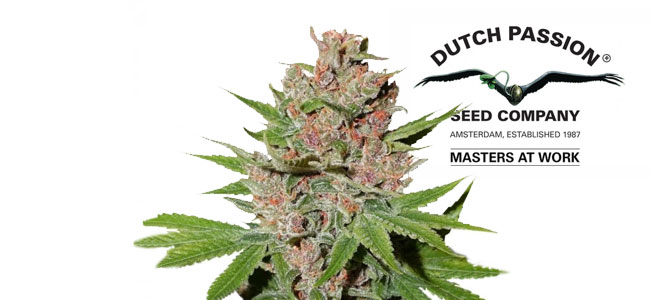 Passion Fruit by Dutch Passion comes as close to a smokeable fruit as it gets. She is possibly the fruitiest strain that you can get your hands on today. Her awesome aroma and spectacular potency make her a strain that you will fall in love with.
She was developed by the breeders at Dutch Passion from a mind-blowing clone of a certain select Sweet Pink Grapefruit mother. Dutch passion went a step further with this strain and added the power and genetics of an Original Orange Bud, which not only amped up the fruity flavour but also boosted the yields of this plant up a level. Not only that but she's now also available as feminized seeds!
She is a great indoor and outdoor plant, as well as a good greenhouse grower. She is known to flourish just about anywhere. With a short and sweet flowering time of just 8 weeks, she is not a demanding plant and can offer some fine bud, delicious for even the most experienced connoisseurs. Yet she provides top notch bud for all levels of grower.
For outstanding outdoor results, a sunny climate like Southern Europe is optimal. Some of her plants have measured a mind-bending 20% of THC. The high is not only fantastically fruity and flavourful but also provides a long lasting and powerful high. One of the fruitiest you can find! With her spectacular potency and great yields, this is a first-grade feminized hybrid that should be on the list for any cannabis connoisseur!
CBD AUTO COMPASSION LIME FEMINIZED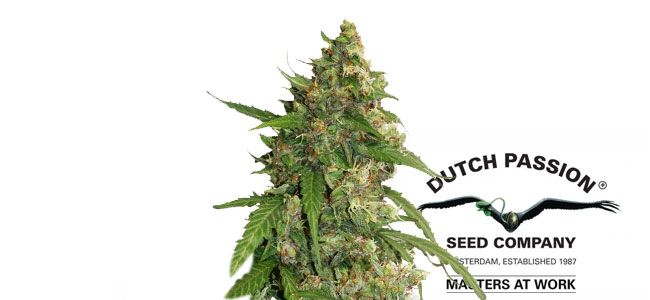 A powerful medicine with an awesome taste. Dutch passion had one goal in mind when they developed this strain: to develop a plant which is not only rich in medicinal CBD but is also easy to grow, tastes amazing and has a nicely balanced effect. We are certain they've more than succeeded with this one.
A highly respectable autoflower that is a delight for medicinal cannabis users. CBD Auto Compassion Lime Feminized is from the original Dutch Passion CBD Compassion, crossed with their Californian Orange as well as a USA Sour Diesel Hybrid. A very well balanced plant with a THC content of around 8-9% and CBD 9-10%.
As a feminized autoflower, she is tremendously simple to grow, even for the most inexperienced gardener. Meaning that you don't need to be a technical genius in the field of growing in order to benefit from some premium grade medicine. With about 20 hours of light per day, she'll deliver in a very short period of just 10-11 weeks from seed to harvest.
With her low psycho-activity, CBD Auto Compassion Lime offers a powerful yet very balanced medicinal effect - with beautiful tangy flavour and a zesty citrus lime aroma, she is proof that a CBD strain can taste amazing. Ideal for pain relief, stress, medicinal needs or for something to smoke that can keep you focused during the day. This flavourful plant is the ideal strain if you're looking for medicinal potential.
CBD AUTO WHITE WIDOW FEMINIZED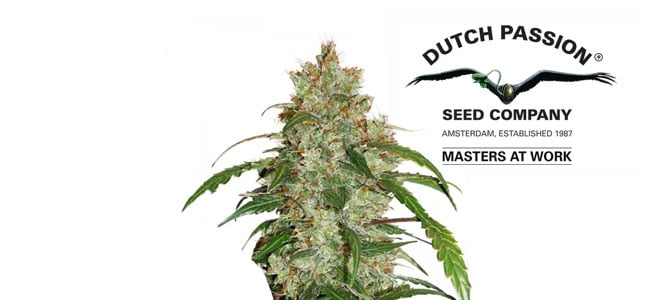 Looking for a well-balanced CBD rich strain that's easy to grow? Look no further! Dutch Passion offers their own superb feminized CBD Auto White Widow. Taken from the original Dutch Passion Auto White Widow and their CBD Sweet and Sour Widow. She provides not only a great flavour, but a very nicely balanced medicinal power of 9-10% of THC and CBD.
An auto flowering Indica-dominant strain! What more could you ask for? Well, you can look forward to a totally stress-free harvest with this one. Just premium medicine in a short 9-10 weeks seeds to harvest. No need to worry about light cycles: indoors or outdoors, she will grow basically anywhere. Absolutely ideal for medicinal users with not so much patience when it comes to growing, but who require some first class medicinal bud. She produces yields well above the norm and the bud has the same beautiful aroma and flavour of her parents. Fruity, sweet and fresh with a hint of pine. This is an exceptionally enjoyable and strong, yet balanced plant.
CBD Auto White Widow feminized is ideal for any medicinal users who require help with relief of pain, stress and any of the other many ailments that CBD can help with. Another truly first class strain from Dutch Passion: easy to grow, great tasting, powerful medicine! Definitely worth a go!
AUTO CINDERELLA JACK FEMINIZED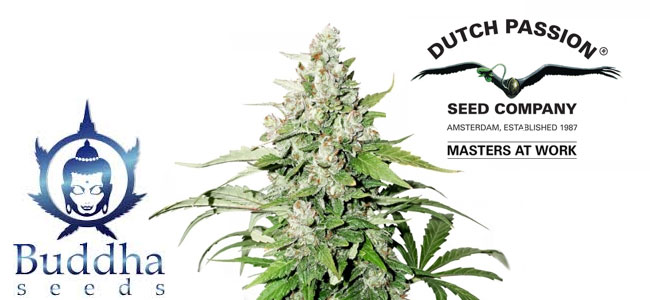 Maximum THC, Maximum Potency. Cinderella Jack - now feminized is really one of the most potent autoflowering feminized strains you can find. In order to develop they strain, they partnered with the extensively experience Buddha Seeds from Spain. Two companies with extensive experience in developing the finest, exciting and original autoflowers.
With genetics selected specifically based on THC levels. The teams carefully selected a Jack Herer and Cinderella 99, with the added autoflower power of a Magnum, which adds an extra kick with some fantastic yields. The result is an incredibly potent auto flower measured at an average of 20% THC. It really is one of the most potent autos available today.
A feminized autoflowering strain, she will offer you a potent smoking experience without any hassle, no worries guaranteed! She won't require any light cycles, just plant the seed and watch her grow. In 10-11 weeks you will have some seriously hefty and potent yields, even if you're a first-time grower.
Thanks to her potent Sativa/Indica parents, she offers a rather nicely balanced, powerful but long-lasting high with just the right levels of relaxing and calming, without blowing your socks off. Good enough for her brilliant THC content, add in how easy she is to grow, you've got a first-class autoflower right there! Delectable for any enthusiast.
AUTO GLUEBERRY OG FEMINIZED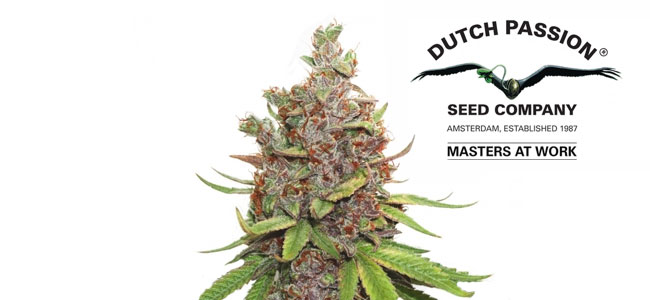 Like her bigger photoperiod sister, Glueberry OG Auto is a cross between Gorilla Glue and an OG which was crossed with an Auto Blueberry for autoflowering versions. The result: a spectacular and convenient autoflower that is super easy for everyone and anyone to grow. With the splendid taste quality of her parents, the now feminized version of the Auto Glueberry OG is highly popular because of her hard-hitting Sativa-dominant power.
A wonderful hybrid, Auto Glueberry OG feminized very well suited for SOG or ScrOG style growing for maxing out on the already more than respectable yields. All she needs are the basic nutrients, light and water and she'll be ready for harvest in around 11 weeks from seed to harvest. This really is a potent sativa-hybrid suitable for all kinds of experienced growers.
With her fusion of Asian and American flavour, Auto Glueberry OG produces Diesel fumes perfectly complimented with the fruity sweet scent of Blueberry. A genius combination of powerful taste and superb growing convenience!
GLUEBERRY OG FEMINIZED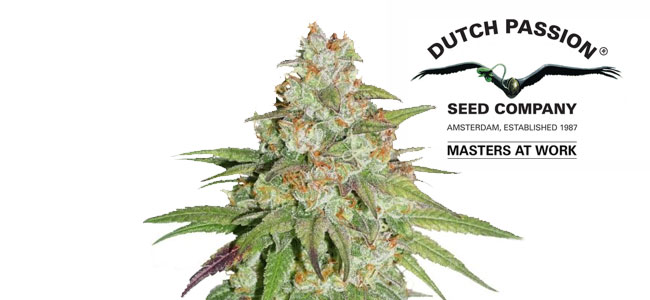 A spectacular new hybrid combining some of the best genetics the world has to offer. A smoking experience that connoisseurs will absolutely admire for her potent high and amazing combination of flavours.
The original Glueberry has always been hugely popular since it combines the supreme USA genetics of OG, with the awesome flavour of Blueberry. The strain offers high yielding results with an outstanding taste and powerful effect. The originally Glueberry was a cross between a Chem's Sister with Sour Dubb and Chocolate Diesel, some of the finest genetics the USA has to offer. With the addition of OG qualities and the unique flavour of Blueberry, you have yourself a true favourite for a vast amount of cannabis enthusiasts.
A great indoor and outdoor plant, she doesn't require too much attention due to her very stable genetics. She can grow up to 1.5-2 meters in optimal conditions and has a flowering time of just 8 weeks.
Glueberry OG feminized spectacular combination of multi-layered flavours of some of the finest genetics around, from the USA to Asia. This is a truly spectacular hybrid by Dutch Passion, with a well-balanced high. This is the perfect smoke for connoisseurs who appreciate eclectic, multi-layered flavours that don't stop giving.
EXTRA NEWS FROM DUTCH PASSION: NEW PACKAGING
Dutch Passion has now made a huge leap in quality improvement for their customers, with a new metal packaging designed to prevent crushed seeds and improve the overall safety of them during transport and storage.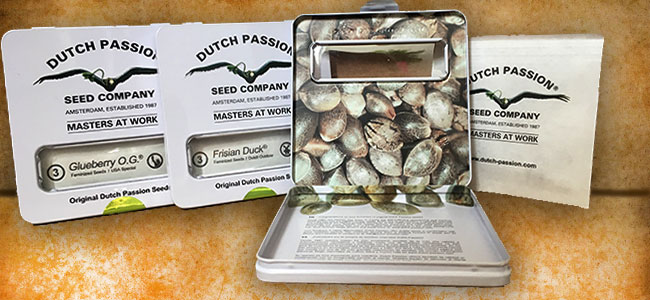 A truly stunning compliment to maintain the superior quality of Dutch Passion seeds straight to your door. Complete with four-colour printing, the new metal seed tins are designed to be very slim and strong. Coming in at 7mm thick, they won't take up much space. They measure 90mm x 87mm and a weight of 43g.
Provided with the tin is also a tear-proof plasticised paper seed pack that you will require scissors to open. The polymer inner seed packet provides the best protection against external moisture, while retaining the optimised moisture levels set by Dutch Passion when the seeds were packed.
You will now be able to purchase all your Dutch Passion seeds in this wonderful packaging. The tins have a hinged lid and a transparent window, with Dutch Passion name stamped physically into the lid and a metallic seal, this makes it quite unique and distinctive, so they are almost impossible to counterfeit.
The tins can be reused after to store your joints, extracts, hash, weed, rolling papers etcetera. They also make ideal humidity barriers and are a good option for medium-term storage of your seeds. A truly ideal solution which retains the sentimental and collectable value of previous Dutch Passion packaging.
 
 
 
 
 
 
 

Written by: Guest Writer
Occasionally we have guest writers contribute to our blog here at Zamnesia. They come from a wide range of backgrounds and experiences, making their knowledge invaluable.

 

 
 
 
 
Find out about our writers
 
---