Blog

3 min
Tobacco Causes Stroke, Not Cannabis

3 min
A Swedish study of military conscripts has found conclusive evidence - again - that smoking tobacco leads to increased risk of strokes. That said, it was also inconclusive about the long term risks of marijuana use. It is just the latest in a long line of studies to conclude essentially the same thing.
It is not news that smoking cigarettes at a young age causes increased health risks that include strokes. According to the author of a new study of nearly 50,000 Swedish military conscripts Dr. Anna-Karin Danielsson, "Extensive tobacco smokers (defined by the study as those who smoked more than 20 cigarettes a day) in late adolescence had a fivefold increased risk of stroke before age 45, when compared to non-smokers and more than double the risk of stroke (up through) age 60."
More than 90% of heightened stroke risk is related to smoking tobacco, alcohol consumption and other modifiable risk factors.
What is interesting, and the evidence continues to mount including in this new Swedish study published in the Journal of the American Heart Association, is that smoking marijuana in young adulthood does not seem to carry the same risk.
After taking other risk factors into account, the researchers found that using marijuana more than 50 times was not associated with increased risk of stroke by the age of 45.
"The almost doubled risk of ischemic stroke following heavy cannabis use that was observed in our study disappeared when we controlled for tobacco smoking," Danielsson said.
That said, since all the pot smokers were also likely to be tobacco smokers, the study could not rule out other possible associations between cannabis and stroke.
NO CAUSAL LINK YET FOUND
The study is the latest in a long line of academic investigations to date that have failed to find any direct causal link between smoking pot and strokes. A report published in 2015 in the American Heart Association's Stroke magazine also stopped short of claiming proof of the same – even though they claim that in their case report they found that 52 of the 64 study participants suffered a stroke or mini-stroke within 24 hours of use.
As of yet, there has yet to be a single randomized clinical trial with half of the participants using marijuana and the other abstaining in any country. That said, with legalization becoming reality in more states, Canada, Australia, and Germany this year, it is likely that this kind of study is in the offing, funded by marijuana taxes.
OTHER HEALTH EFFECTS OF CANNABIS
Researchers have found that heavy and or long-term cannabis smoking can cause symptoms of chronic bronchitis. It can also alter brain development in teenagers, leading to significant declines in intelligence measures as adults - at least according to a 2014 article published in the New England Journal of Medicine.
Other research has also found association between cannabis use and heart-related complications such as heart attacks and peripheral artery disease. The preliminary results of research by the AHA late last year which collected data from 2003 – 2011 on people hospitalized with stress cardiomyopathy (also known as "broken heart syndrome") also found that of the 210 patients who reported using marijuana before experiencing symptoms tended to be young men without any other known risk factors. Further, these sufferers were also slightly more likely to go into cardiac arrest and or require an implanted defillabrator to prevent future cardiac events.
As a result of this, the study has suggested that weed alone could cause an increase of stress-related heart conditions – and users were nearly twice as likely to develop the condition than non-users.
"The effects of marijuana, especially on the cardiovascular system, are not well known yet. With its increasing availability and legalization in some states, people need to know that marijuana may be harmful to the heart and blood vessels in some people," said study author Dr. Amitoj Singh.
That said, Singh also noted that this study can only point to the possible link between marijuana and a broken heart – and the findings have yet to be published in a peer-reviewed journal.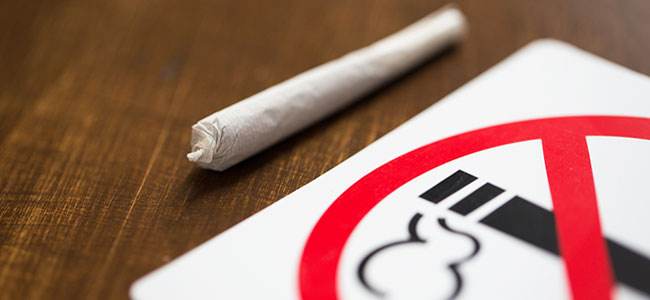 THE CANNABIS PARADOX
That said, despite these largely negative studies, others have shown that while cannabis smoke may be harmful, its active components (both THC and CBD) may actually slow down the progression of atherosclerosis – or the hardening and narrowing of the arteries.
Cannabinoid receptors have been found throughout the cardiovascular system, leading experts to believe that the endocannabinoid system may also play a major role in the regulation of heart function and circulation. Cannabinoids are also known to be regulators of the immune system as an anti-inflammatory. As inflammation is a large part of atherosclerosis, researchers have concluded that marijuana use – particularly if consumed in another way, could, in fact, counter the progression of this condition.
Inflammation is also part of the damage done when blood returns to areas where tissues have been deprived of oxygen due to a stroke or brain trauma, and cannabinoids have been found to aid patients in recovering from these conditions as well.
As of now, as a result, the negative health impacts of cannabis use, including on heart health, remains inconclusive.
RISING NUMBER OF USERS
While the focus on the negative long-term health effects of cannabis use is not new, including on the heart and lungs, the fact of the matter is that more people are using weed as legalization takes hold in the U.S. and elsewhere. That said, without exception, the number of teens who are using the drug has either held steady or dropped slightly. Legalization tends to create more adult users rather than underage ones, and so far, these numbers have also held steady, despite an increasing number of places where cannabis is sold legally.
There is also this fact. As legalization continues to progress, people who use marijuana – either for pleasure or for medical purposes – are able to choose from a wide range of products that contain cannabis that do not need to be smoked. Edibles, in fact, currently represent about half of all marijuana sales in many U.S. states where marijuana is legal for some purpose.
What is really at question, as many in the advocacy community in particular suspect, is that ingestion methods of marijuana may be more responsible for any negative health impacts than cannabinoids themselves.
Written by: Marguerite Arnold
With years of writing experience under her belt, Marguerite dedicates her time to exploring the cannabis industry and the developments of the legalisation movement.

Find out about our writers
---