The Five Best Vaporizers For Hashish
Published :
Categories : Blog • Smoking & Consuming Cannabis • Top lists

Vaporizers have taken the world by storm. Now, there are more models available than ever before. Gone are the days of vapes that can only use bud. These are Zamnesia's top 5 vaporizers for consuming hash the smoke-free way!
There are plenty of ways to enjoy hash. In case you've never heard of it, hashish is the result of collecting and compressing the most potent resin glands that come from the cannabis plant. For the health-conscious consumer, throwing it into a pipe and firing away might not be ideal.
That's all the more reason to try vaporizing instead. Unlike smoking, vaporizing is far less harsh on the lungs. Rather than burning the chosen form of cannabis all the way through, it uses just the right amount of heat to release the active compounds. At the same time, it eliminates the production of toxins, which when inhaled, can cause significant damage to the respiratory system.
SELECTING THE PROPER VAPORIZER FOR HASHISH
There are a vast number of vaporizers out there that are fit for bud. But since hashish is far denser than flower and other forms of cannabis, choosing the right device can be a bit more challenging. Typically, the temperature for vaporization needs to be between 210-240°C. So the more control you have over the heat, the better.
Something else to look out for when shopping for a vape is whether or not it comes with a screen in the herb chamber or bowl. When applying heat to hashish, it will cause the product to melt. By choosing a device with a screen that's not made for liquids and concentrates, the melted hash will have the freedom to enter the heating chamber. And it could also cross paths with the instrument's electrical parts.
If you're considering investing in a vaporizer to consume hashish the smoke-free way, we here at Zamnesia have come up with a list of five high-performing devices that are suitable for the job. Not only are they all portable, but they're also super simple to operate. And they each come with their own unique features.
1. BOUNDLESS CFX VAPORIZER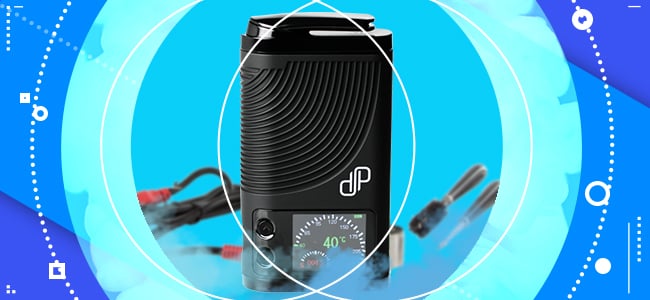 If you want a device that's stylish and offers a variety of fancy features at an affordable cost, look no further than the Boundless CFX Vaporizer. What stands out the most about this vape is its sweet 1.7" OLED display, which not only tells you how much battery life you have, but also the current temperature setting. And it displays the session's timer in seconds.
The Boundless CFX comes with five pre-set temperature settings. However, you have the freedom to set it anywhere between 38°C and 220°C. Even at the highest setting, the device will heat up almost instantly. And once it's ready to go, you'll be notified with a unique vibrating alarm.
As for the vaping experience, you can expect one like no other. Unlike most vaporizers, the Boundless CFX provides a cool and comfortable vape. Thanks to its isolated air path, no temperature setting will ever be too hot or too harsh. And the flavour of your hashish will always be smooth and delicious. Between the reasonable price tag and its outstanding performance, you can't go wrong with the Boundless CFX.
2. ARIZER SOLO 2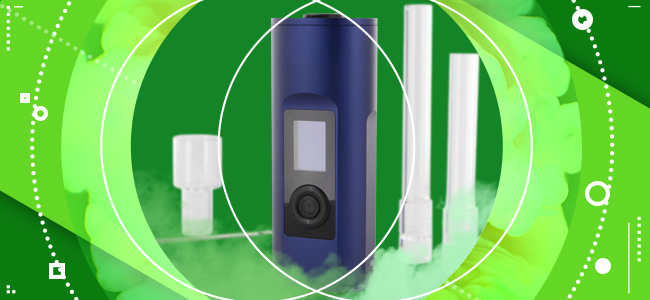 The Arizer Solo 2 is quite the convenient vape. In addition to being compact, this device has a simple interface that makes it extremely easy-to-use. To power up the Arizer Solo 2, you simply press on the large menu button located to the side. And to control the settings, a couple of clicks up and down is all it takes to get your device ready-to-use just how you want it.
Like the Solo, the Arizer Solo 2 features a borosilicate vapor path that offers impressive vapor production and smooth, crisp hits. The difference between this particular model and the previous one is all its new improvements, one of them being a more powerful battery.
In just 30 seconds, the device can heat up to the desired temperature. That's nearly three times faster than the old model! It's also worth mentioning that on a full charge, the Arizer Solo 2 will last up to three hours. And it only takes is 90 minutes to re-charge once it dies.
The Solo 2 also provides a precise temperature control option, allowing you to change the temperature in increments of 1 to 10 degrees. You can set it as low as 50°C, or as high as 220°C, which is perfect for vaping hashish. The Solo 2 may be small, but don't let it fool you; this vape and its remarkable performance outshine models that are twice its size.
3. CRAFTY
It doesn't get much smaller and more compact than the Crafty. Weighing in at only 135g, the Crafty is excellent for vaping on-the-go as it can slide in and out of your pocket with ease. Although it's smaller than a lot of vaporizers on the market, it sure does hold a plenty of power. You wouldn't know just by looking at it, though.
With the press of a button, you can power up the Crafty and begin vaping in a matter of seconds. You can also control temperature the same way. The factory temperature setting is 180°C, but if you double-click the button, it will jump to 195°C. And once the device reaches the selected temperature, it will notify you with a brief double vibration.
The Crafty also automatically shuts off when you go one minute without using it. This feature can help save the battery life for when you're ready to start vaping again. When the device shuts off, you'll notice a short vibration. To reset the automatic switch-off option back to one minute during operation, give the on/off button a little push, and you'll be good to go.
Using the liquid pad, the Crafty can undoubtedly be used for vaping hash. If you want to override its factory temperature settings, then you can do so by downloading the Crafty App. But since it's only available for certain smartphones, you should check out this list to see if yours supports it before you get too excited.
4. PAX 3 VAPORIZER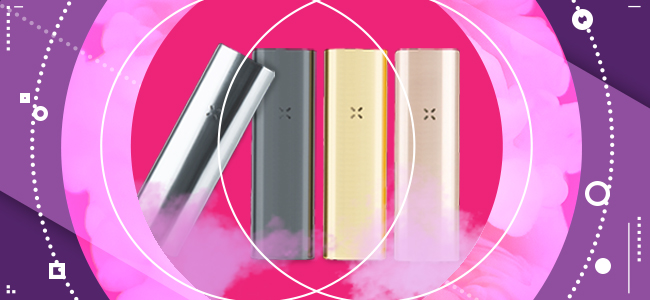 Both sleek and beautifully designed, the Pax 3 isn't just for herbs, but also for concentrates and resins. In like manner of other Pax models, the Pax 3 is small and sweet, making it convenient to puff on while you're out and about.
Controlling the Pax 3 is a breeze. And there are plenty of ways to customise your vape experience using only a single button. While several improvements come with this vaporizer, it does still include the same built-in accelerometer as previous models. It also boasts unique features such as gesture controls, fun games, and various colourful light modes to make the device really stand out.
Besides all the entertainment the Pax 3 provides, it also offers double the heating power compared to the Pax 2. In fact, it can heat up in just 15 seconds! Oh, and it includes three different-sized ovens, too, which you can switch up every now and again depending on the length of your session.
With its haptic feedback system, the Pax 3 will physically tell you when your device has heated up, and when it goes into standby mode as well. That makes this vaporizer especially useful when you're on-the-go or just want a safer vaping experience. Plus, there's a downloadable app available so that the Pax 3 can communicate with your iPhone or Android.
Using this cool feature, you can set your vape's temperature, change the LED colour theme, lock it, and so much more. If you want a fancy-schmancy tool for vaporizing your hashish, it gets no better than the Pax 3.
5. MIGHTY
Thanks to its highly noticeable LED display and the plus/minus buttons, it doesn't take a genius to operate the Mighty. So if you're new to vaping hashish, this device is just what you need.
To point out something interesting about this vape, the Mighty heats up in two distinct ways. The heated air provides consistent heat during evaporation. At the same time, the radiation heat makes it so that you instantly breathe in the vapor when you take your very first hit.
To turn on the Mighty, all you need to do is hold the orange button for roughly a second. And by pressing the buttons to the left and the right, you can quickly and conveniently set your temperature between 40-210°C.
With its automatic shut-off option that occurs after two minutes, the Mighty will conserve its battery life until you wish to continue your session. That way, none of it is wasted, and you won't have to charge it every single time you decide to put it down.
And since the Mighty operates using two high-performance lithium-ion batteries, you can vape for hours upon hours before you need to even think about plugging it in for juice. If it does need to charge, you can still get your sesh on without having to take a break with the help of its power adapter.
While the Mighty's size isn't as compact as the other vaporizers on the list, it's still small enough to slip into most pockets. Not to mention, its liquid pad and simple operation make it so even rookies who've never picked up a vaporizer before can enjoy the experience of vaping hashish with no problems whatsoever.
Written by: Brittney
A firm believer that cannabis can be a benefit to society, Brittney has enjoyed its subtleties for a long time. This love is reflected in her writing, which aims to inform, educate, and bring people together over a love of cannabis.

Find out about our writers