Blog

6 min
The Best Christmas Gifts Of 2022
6 min
Choosing Christmas gifts can be difficult, especially if you have a lot of people to shop for. Well, we seek to make your life easier in all sorts of ways at Zamnesia, and now we've made a Christmas list for you too. Take a look!
Here's a list of gift recommendations exclusively from Zammi to you this Christmas. From bongs to books to socks, there's everything a stoner could want. Whether you want to treat yourself or someone close to you, you'll be able to find something (or several things) on this list that suits your fancy.
Zamnesia Fat Boy Glass Bong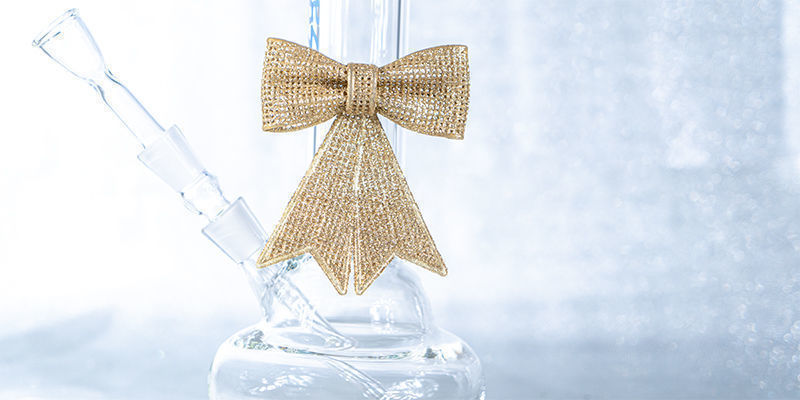 We'll kick off with Zamnesia's very own Fat Boy Glass Bong. This shisha-style beauty is made specifically for Zamnesia by EHLE, who, if you haven't heard, is one of the biggest names in the world of top-quality glass bongs.
It is 34cm tall, made from 5mm-thick scientific borosilicate glass, and has a 14.5mm ground joint. Thanks to its sizeable nature, it's perfect for taking huge hits to get you ready for Christmas dinner.
This piece is simplicity done perfectly. Rather than fitting as many features in as possible, EHLE has instead opted to make it as functional and reliable as possible, and the results are fantastic!
Zamnesia Sole Mate Socks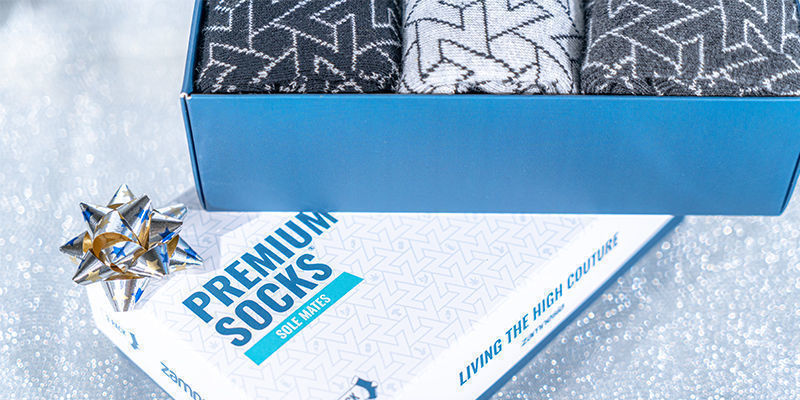 In case you fancy something a little cosier, why not try Zamnesia's Sole Mate Socks? From our new collection of Zamnesia merch, these socks make the perfect stocking filler.
Coming in black and yellow, grey and blue, and black and blue, they're not too garish, but they are certainly eye-catching. The main body of the sock features a Zamnesia "Z" pattern, with our logo on the sole.
The Psilocybin Mushroom Bible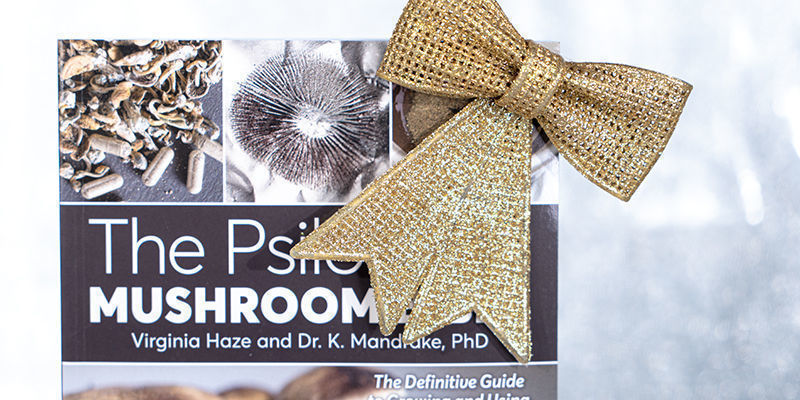 If you know a budding mushroom fanatic, or just fancy treating yourself, there is no better gift than the Psilocybin Mushroom Bible.
This might not be the religious Book of Books taught in Sunday school, but it's the only book you'll ever need when it comes to mushrooms. With this "bible", you will be able to teach someone how to be high for a lifetime (though we suggest exercising a little more restraint than that).
This book covers everything from the anatomy of Psilocybe mushrooms through to cultivation techniques and even how best to take them. A true font of knowledge penned by expert mycologist Dr Mandrake, it contains everything you need to know.
Zamnesia Embossed Hoodie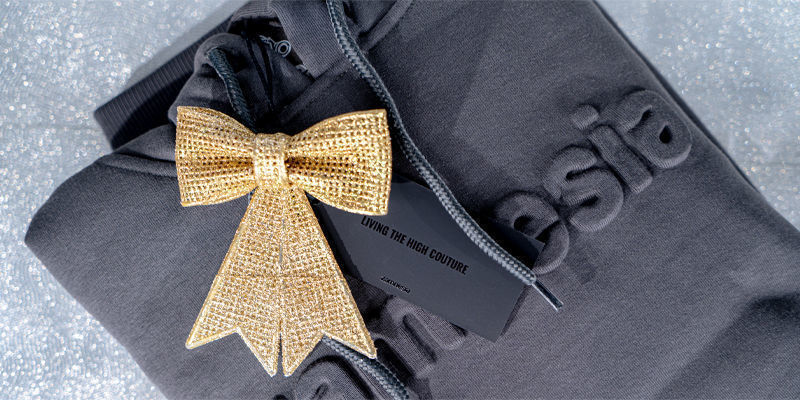 The Zamnesia Embossed Hoodie is both tasteful and warm. Made from 65% cotton, it feels great, looks great, and has enough simplicity to be timeless, making it a gift to last for years to come.
With the Zamnesia logo embossed boldly across the front, there will be no doubt as to whose garms you're sporting. For those in the know, they'll love it. For those who don't know, they'll be none the wiser about the narcotic nature of your hoodie.
Boardthing Hexagonal Recycled Skateboard Grinder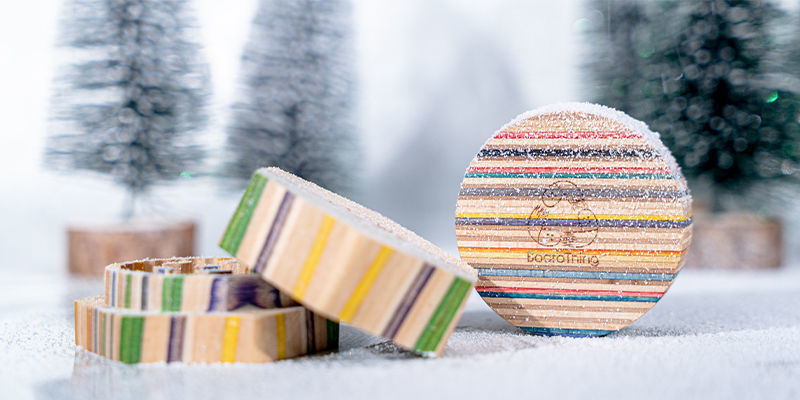 Every smoker needs a trusty grinder. But don't just get your smoking buddy another one of those generic plastic grinders found at any headshop—think of how many joints you've shared! This recycled hexagonal grinder by Boardthing will make any cannabiseur's eyes light up when they unwrap it and take it for a spin on Christmas morning.
Boardthing is a unique brand dedicated to reducing waste by recycling old skateboards, which are made from prime maple wood and typically have a very short lifespan, especially if they're used regularly. Thanks to Boardthing's efforts, millions of used decks get turned into grinders, rings, and other accessories, rather than ending up on waste tips.
This grinder features a sleek striped design, an ergonomic shape, a strong central magnet, and metal-reinforced wooden teeth to cut through even the densest, stickiest nugs. It's the perfect gift for any eco-conscious cannabis lover.
DaVinci IQC Vaporizer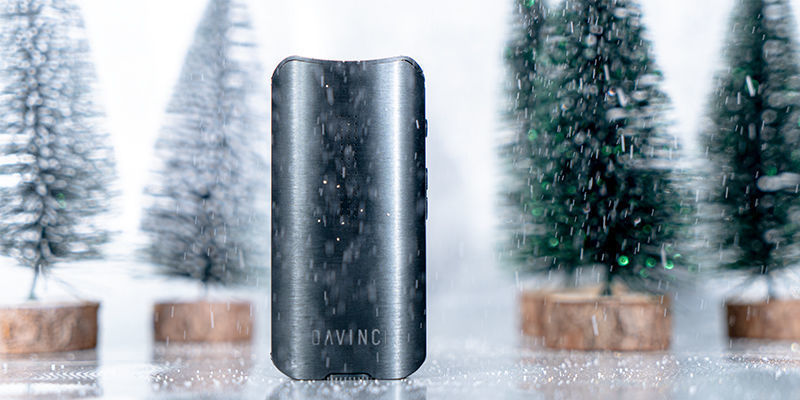 Whether you're looking for gift ideas for a special friend or yourself, make sure to take note of the DaVinci IQC vape. Inspired by the original DaVinci IQ, the IQC is a portable vaporizer loaded with features and compatible with both dried herbs and concentrates. It boasts a quick heat-up time, a long battery life, and extremely accurate temperature control for the best vaping experience.
At the heart of the DaVinci IQC is a glass-lined alumina ceramic oven powered by conduction heating with ± one-degree temperature accuracy. Once it's drawn out of the oven, vapor flows through the DaVinci IQC's sealed zirconia/glass airpath for clean draws with maximum flavour. Dried herbs can be loaded directly into the IQC's chamber, while vaping concentrates is as simple as loading your favourite extract into a dosage pod first.
If you've been shopping around for portable vapes, the quality build, many features, and dual function of the DaVinci IQC should put it high up on your list this Christmas.
24K Golden Cone
This one is a bit more of a stocking filler, and sits somewhere between indulgent novelty and practical smoking item. It is a 24K gold cone.
Truly. If you want to treat a friend to a properly outrageous smoke, get them this for Christmas. If you're feeling super generous, maybe even pack it for them first. Then, huddle up beneath the tree and watch as the light bounces off the beautifully reflective surface of this golden cone, and take toke after rich toke.
Jorf Glass Shisha by Champ Al Malik
Shisha pipes make a great gift for cannabis lovers and smokers alike. And if you're thinking of giving away a shisha this Christmas, the Jorf Glass Shisha by Champ Al Malik is an excellent choice. Founded and based in Casablanca, Morocco, Champ Al Malik is renowned for the quality of its pipes and accessories, which come in all shapes, sizes, and colours.
The Jorf stands 57cm tall and features a vial-shaped, clear glass chamber and a sleek, slim, all-black pillar and ashtray. Thanks to its large, spherical base, the Jorf stands securely on any surface, while its large, pure ceramic bowl offers great heat retention and high conduction for big, flavourful hits. Plus, like all Champ Al Malik shisha pipes, the Jorf comes complete with:
Ceramic bowl
Tray
Smoking hose and mouthpiece
Metal charcoal tongs
Marley Natural Bubbler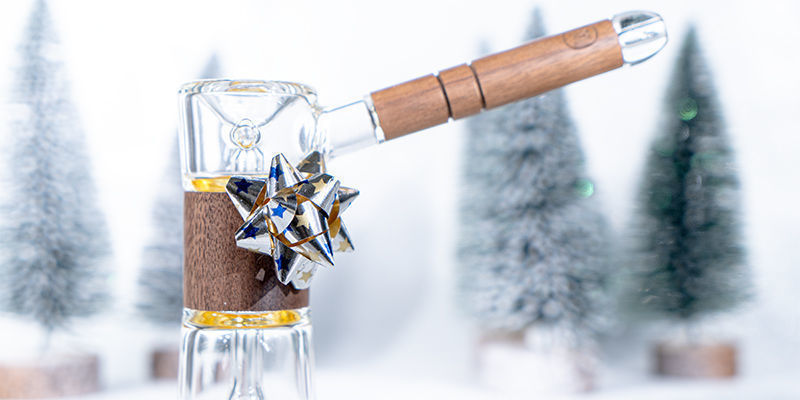 This hybrid wet/dry bubbler from Marley Natural bridges the gap between bong and pipe, and looks sexier than both. Made from borosilicate glass and smooth walnut, it is an incredibly attractive piece that would look at home on your mantelpiece.
Measuring 14.6 × 14.6 × 4.45cm, it's small enough to tuck away, but big enough to actually be functional. As mentioned, it's designed to be used both with and without water—it's down to your preference. This versatility means that instead of needing a bong and a pipe, you can condense them into a single, highly ornate, and functional object.
Zamnesia Premium Grinder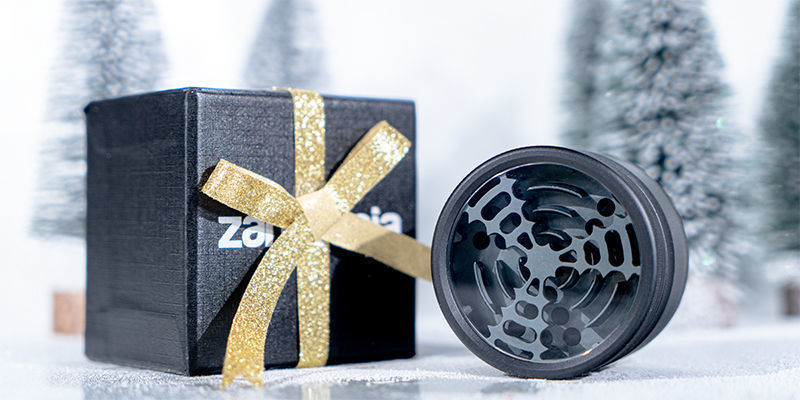 In terms of functionality, this grinder is hard to beat. Even better, it's Zamnesia's very own! But what makes it so good? It has a unique "windmill" design that employs blades rather than the classic teeth you'll find in most grinders. Our blades effortlessly glide against one another, and through your herb, cutting it into tiny pieces.
Once it's cut small enough, it passes through a series of holes and into a collection chamber, where it sits atop a mesh screen. From there, any loose trichomes fall through into the crystal catcher, building up over time to give you a nice big helping of kief.
Robust and simple, this attractive grinder not only functions near-perfectly, but looks cool as hell. What are you waiting for?
"24K Gold" Grinder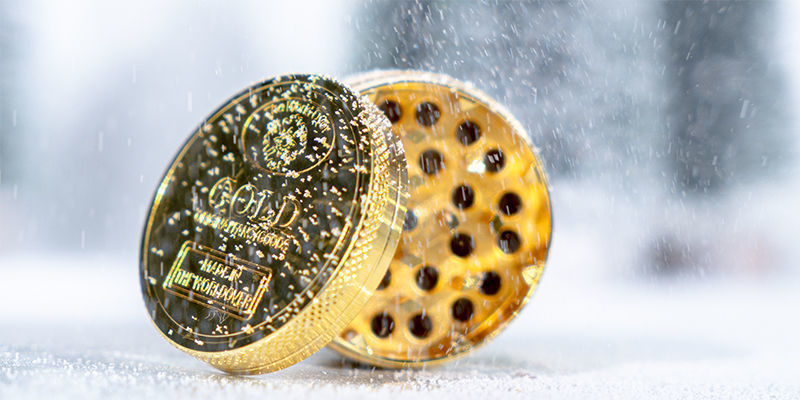 Not one for the subtleties in life? No worries. Why not try this "24K gold" grinder instead, and blind your friends with your bling?
With a grinding chamber, collection chamber, and kief catcher, it doesn't lack on functionality either. Although, if you opt for this choice, beware that you might find it difficult to be inconspicuous with your rolling if you're out and about. But maybe you don't want to be inconspicuous.
To put your mind at rest, it's not made from real gold, and so you needn't worry about carrying treasure with you wherever you go. Though others might not know that (and why let them in on the secret?).
Zamnesia Rolling Tray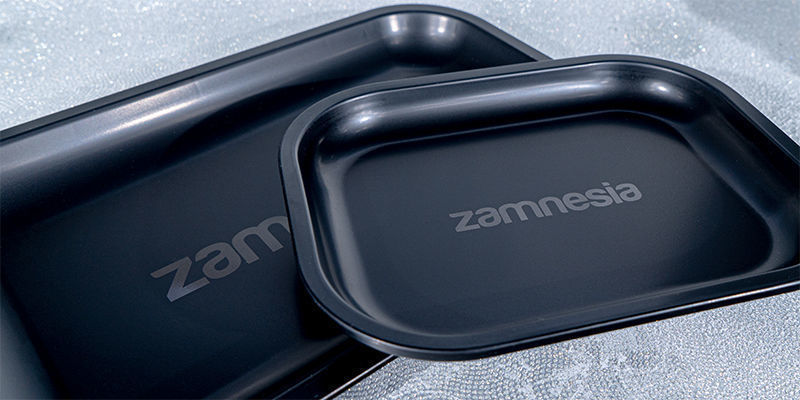 Matte black and simple, the Zamnesia Rolling Tray looks cool without you even noticing it's there. Just to lighten the mood a little, it features the message: "If you can read this. It's too late — your shit is already on the floor", on the reverse.
Measuring 18 × 14cm for the smaller size and 27.5 × 17.5cm for the large, it's up to you how much room this thing takes up. Made from aluminium, it's easy to clean and smooth enough to scrape up every last little crumb of ground herb.
Make your rolling life simple with a Zamnesia Rolling Tray.
iGrowCan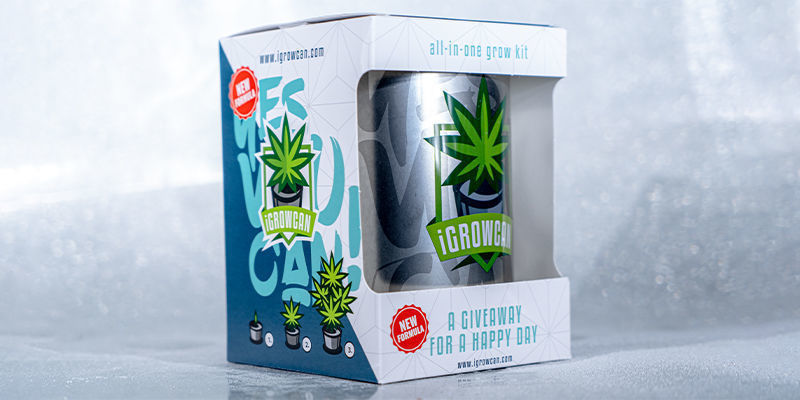 The iGrowCan contains everything you need for your very first attempt at cultivating cannabis. Making growing simple and easy, it's a great way to find out if it's for you.
In the kit, you will find:
1 germination plug
1.7l coco compost mix (when expanded)
High-quality organic nutrients (10g BioGrow & BioBloom)
Instruction manual
This is about as simple as growing weed indoors can get, and you'll be shocked at how good the results can be. Containing autoflowering seeds, the strains in this kit will grow resiliently and quickly, and won't require a lighting change to trigger flowering. In fact, you don't necessarily need lights at all. Put them on a windowsill or balcony in spring and summer, and they'll mostly take care of themselves.
Zamnesia Gift Card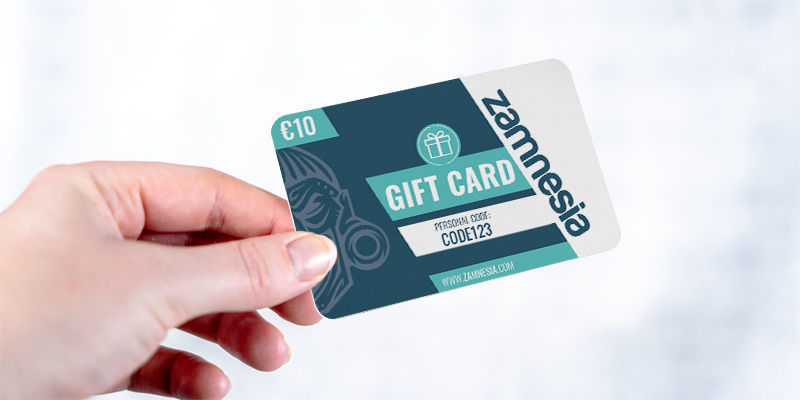 Unsure of what to get someone, but sure they love all things Zamnesia? Then why not opt for a gift card so they can choose which of our incredible products they'd most like to treat themselves to. Coming in at 10, 25, 50, or 100 euros, these gift cards can be given as a little gift or as something quite generous. Whichever suits you, we've got you covered!
Merry Christmas From Zammi and the Zamnesia Team
Whether you're shopping for gifts for yourself or your family and friends, we guarantee that you'll find what you're looking for at Zamnesia. Take note of the 2022 Xmas gift ideas we've listed above, but don't forget to browse our individual shops to find hundreds of other great products, from simple stocking fillers to more exclusive offerings.
Happy Christmas from Zammi and the entire Zamnesia team!