Top 10 Weed Grinders

6 min
Grinders have revolutionised cannabis preparation. No more resin-dulled scissors and black fingertips. No more waiting for that mix to be fine-tuned. Load, then twist, and perfectly fluffy buds are ready in seconds. Zamnesia presents our top 10 grinders.
A cannabis grinder is an easy-to-use utensil that makes the preparation of marijuana quick, clean, and effective. Dried cannabis flowers need to be broken down before they can be smoked. Your preferred consumption method may be a joint, blunt, bong, or vaporizer.
Whatever the case is, your weed nuggets will perform better when they have been pared down into smaller pieces, increasing the surface area. Not only do grinders make the process easier, they also ensure that you aren't letting any bud go to waste.
Other methods of preparation can be sticky and messy, especially considering the high calibre of resinous strains available in the modern marketplace. Sticky fingers make packing a bong or vaporizer a drama. Rolling papers and blunt blanks can become a frustrating nightmare.
There are numerous types of grinders. Some are as simple as a grating card, which is just like a miniature cheese grater, but for weed. Other basic models are single chamber affairs where the buds are ground up, then tapped out into a bowl, etc. Other versions become increasingly elaborate with up to four chambers! These varieties catch the well-ground nugs and kief in separate chambers. This way, the kief can be collected and stored for later compressing into hash or making into concentrates.
Zamnesia's top ten cannabis grinders
The dedicated team at Zamnesia have processed and smoked a lot of top-shelf weed in the name of research. They have rolled many joints and packed bongs late into the night, just to bring you this list of Zamnesia's top 10 cannabis grinders.
VIDEO: TOP 10 WEED GRINDERS
#1 RQS POLLINATOR - POPULAR TOP SELLER
This unique grinder/pollinator made exclusively for Royal Queen Seeds features a hand crank rather than the standard shuttle motion for grinding. The internal screens sort your cannabis into fine, ready-to-use particles.
The milling chamber gives a perfectly fluffy texture for spliff rolling or cone packing. Vaporizers love the even texture, which makes heating more efficient. More efficient vaping guarantees that nothing is left behind in the heating chamber.
The bottommost kief chamber collects the superfine particles, resin dust, and loose glands. Take the trichome challenge and see how big a ball of hash you can make in twelve months, or just add the collected kief to your mix.
This grinder has been specially designed for cannabis and leaves your weed ideally prepared. The RQS mill outperforms other mill-type grinders like coffee grinders or food processors, which undesirably pulverise your weed. Poorly-prepared marijuana can affect the final quality of your stash.
Available in black with a white RQS logo and lettering, this excellent grinder is a cylinder of marijuana efficiency. It has a diameter of 62mm and is 62mm high, perfect for tabletops, concerts, and camping.
#2 EHLE XXL GRINDER - BUILT TO LAST
This is a phat (and large!) wide-bore grinder/pollinator that is perfect for large appetites and will prepare a lot of herb in one go. This tough unit from EHLE is as robust as their series of famous bongs. Made from highest quality CNC aluminium, this heavy duty grinder has no trouble gnawing through any herb.
The EHLE XXL is a four-tiered grinder that makes sure you catch every precious chunk of herb and resin. Each section easily separates when needed. The bonus pollen scraper ensures you get every last bit of resin from the bottom reservoir. During downtime, two magnets keep the XXL tightly sealed so strong aromas are kept under control and your herb is safe and sound.
The EHLE XXL has a 75mm diameter, making it one of the largest grinders on the market. If you like preparing a whole evening session of weed in one fell swoop, then the XXL is for you. This heavy-duty anodised black beauty has the EHLE logo etched on the top and a practical cutout to hold a rolling paper packet.
#3 ZAMNESIA SPECIAL EDITION METAL GRINDER - APPROVED BY YOURS TRULEY
Created exclusively for Zamnesia, this grinder is milled from the highest-quality aluminium. Cool to the touch, this sleek unit has an ease of motion customised for cannabis. Razor sharp teeth make quick work of resinous chunks, reducing buds to the perfect size with a twist of the wrist. However you enjoy your cannabis, it always performs best when broken up evenly. The slick action of this little beauty gets the job done in no time at all.
Internal magnets keep the two halves firmly attached, minimising pocket rattles and skunky smells. The lid is artistically embossed with the iconic tribal Zamnesia logo. It also has a grooved edge for a no-slip grip. At 38mm diameter and 20mm deep, this is the perfect grinder for the marijuana funster on the move.
#4 WOODEN GRINDER XL - CLASSIC AND AUTHENTIC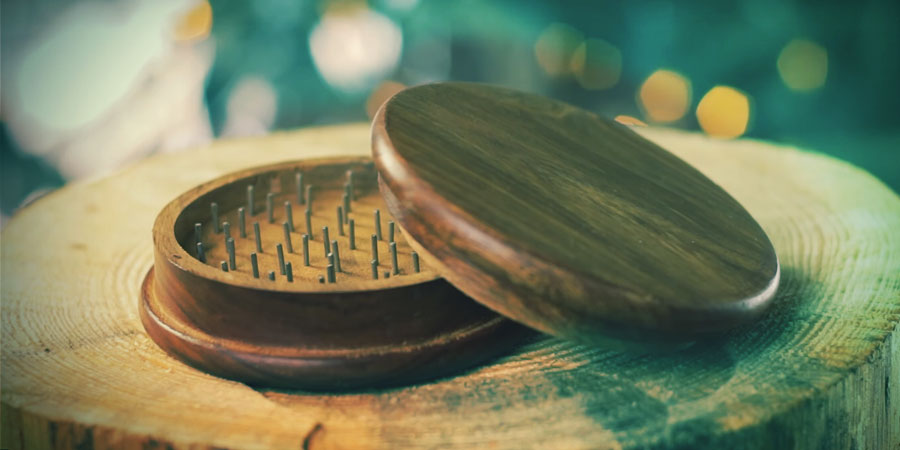 Handmade by Indian craftsmen from sustainable sources of timber, this extra-large grinder feels and looks great. This is easily one of the biggest grinders on the market, ideal for placing on the coffee table as a centrepiece. A perfectly functional objet d'art.
The extra-large chamber and tough brass chopping pins let you prepare a complete evening's worth of cannabis in one go. This grinder will rip through a couple of grams at a time. Twist a night's worth of spliffs or prepare multiple bongs for a hotbox session. This grinder shows even the hardest nuggets who's boss.
#5 BLACK LEAF THC GRINDER - GERMAN QUALITY
Editor's note: The Zamnesia video presenting our "Top 10 Weed Grinders" highlights a different grinder by the Black Leaf company as our #5 pick. You can find more info on this awesome product here.
This exactly-machined aluminium grinder/pollinator by Black Leaf has a slick, friction-free movement that makes grinding a breeze. A high-tolerance fit, knurled lid, and nylon friction ring are the secret weapons to this grinder's ease of motion. The anodized finish is corrosion-proof and the THC graphic on the lid means there can be no mistaking exactly what this unit is for.
Super sharp, diamond-shaped teeth rip through the crustiest buds without any resistance at all. Rendering crystalline flowers into plush, ready-to-use weed, you will empty the lower chamber to reveal a collection of kief. Why wait? Simply add it back into the green to give your next joint full flavour and max potency.
When not in use, the magnetized lid keeps this four stack arrangement held crisply closed. This unit is pocket-friendly, 50mm in diameter and 40mm high, with enough durability to become a family heirloom. Green means go with this handy and efficient grinder.
#6 SLX GRINDER - HANDY NON-STICK INNER SURFACES
High tech materials make the SLX 2.0 a distinctive grinder. The four aluminium chambers are made from the same 7075 T6 material used in the aerospace industry. This super strong aluminium is indestructible. Unless you are planning on re-entering the atmosphere without a heat shield, this grinder will take any kind of punishment.
You will never have to scrape at sticky resins or use isopropyl alcohol. The FDA-approved, high tech bonded, non-stick ceramic finish will never need cleaning. The teeth remain sharp, un-dulled by resin buildup.
The same attention to quality can be seen in the precise steel mesh filters that separate the green from the crystals. The filters are not threaded and clip in and out easily. Two niobium magnets hold the quartet stack tightly and quietly sealed. No rattles can be heard and no fragrance can escape.
There are two sizes to choose from and a range of colours. The large size is 62mm in diameter and has 55 diamond-cut teeth. The smaller version has a 50.8mm diameter and 27 teeth.
#7 24K GOLD METAL GRINDER - SHOW SOME BLING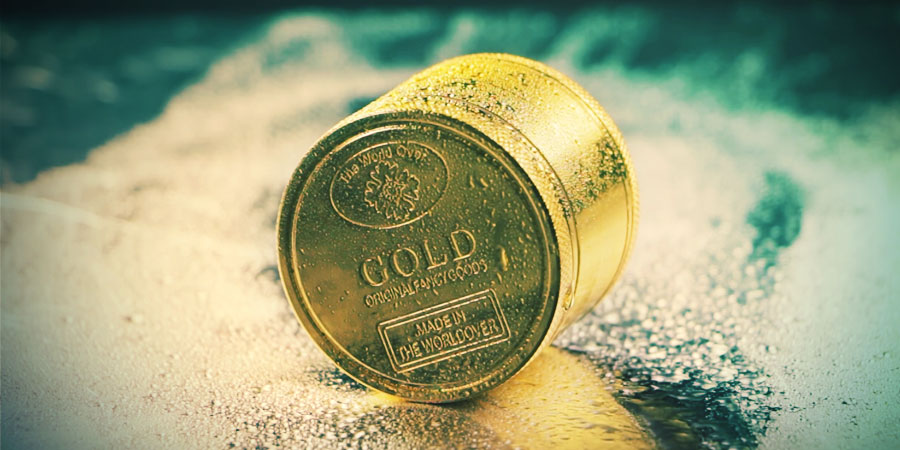 There's nothing wrong with a bit of bling when you want to get your grind on. Styled like a solid gold ingot, this shiny, 24K-looking grinder delivers solid gold performance. It will prepare your weed just right, catching all that delicious kief while looking good in the process.
The keen edges of the diamond-shaped teeth render cured cannabis buds into a primo texture. A few effortless twists of the smooth-action lid and you are ready to go. This 3-level grinder has a fine screen for filtering out and catching all the trichomes. Homemade hash has never been so easy!
#8 THE SOLINDER - GREAT AESTHETICS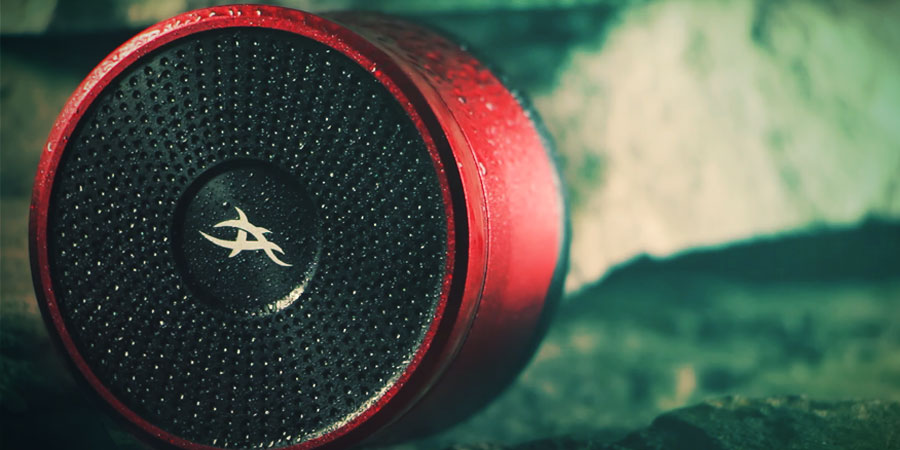 The Solinder grinder/pollinator by After Grow is a four-chambered aluminium grinder that looks and feels like 100% quality. A unique and patented wave pattern to the grinding teeth provides an effortless grind, even with the most resin-hardened nugs. The precise, CNC aluminium components never seize up and will remain corrosion-free for a lifetime of painless grinding.
The central chamber catches your perfectly prepared buds without a resin blackened finger in sight. The bottom chamber catches all the trichome and fractured resin goodness. Use the included scraper to collect the kief whenever you're ready. Perhaps add it atop a bowl or bong once the chamber is mostly filled.
This grinder has a diameter of 62mm and is 48mm high. The magnetic lid neatly and tightly holds the components together, preventing pocket rattles and that distinct cannabis aroma from escaping. The Solinder comes in five anodized colours, black, green, red, blue, and orange. The internal surfaces are shiny for easy cleaning and it ways a mere 155g.
#9 SOAPSTONE GRINDER - FOR THE NATURE LOVER
With flecks of colour and a beautiful marbled effect, each soapstone grinder is a unique piece. Buffed to a high polish, the smooth soapstone quickly warms to body temperature and has a curiously organic feel. Beautiful and functional is where it's at with this carved stone grinder.
The high polish and nylon seal ensures a smooth and easy motion. The tough metal pins ideally prepare your buds for use. At 45mm diameter and 25mm deep, it fits perfectly in the hand, always ready for use at home or anywhere you feel the urge.
#10 DEATH STAR GRINDER - WEAPON OF BUD-MASS DESTRUCTION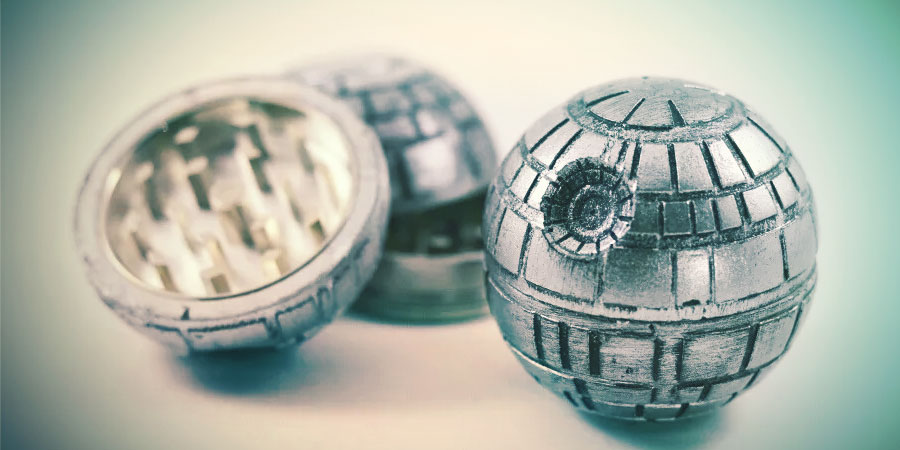 You won't need to use much force to appreciate the dark side of grinding. Modelled after the Death Star, this grinder fits comfortably in your hands, making herb preparation easier than ever. Inside, the latest in cannabis grinding technology gets the job done right.
Sharp teeth and a generous chamber reduce cured flowers to the ideal consistency. This grinder will do to buds what the real Death Star did to Alderaan. It is a 60 x 50mm ellipsoid of good-looking, novel functionality.
GRINDERS RULE!
Gone are the days of resin-dulled scissors and black fingertips that stick to everything. Cannabis preparation is now drama-free compared to old-school methods thanks to the grinder. A simple back and forth flick of the wrist renders your marijuana perfectly fluffy and ready to go every time.
Written by: Grant Robinson
Artist and Writer, Grant Robinson is a pro gardener with a big love for the outdoors. When not growing, he tends to be working on art, enjoying nature with his dog, or even making his own clothes!

Find out about our writers
---