Top 10 Weed Grinders

5 min
Grinders have revolutionised cannabis preparation. No more resin-dulled scissors and black fingertips. No more waiting for that mix to be fine-tuned. Load, then twist, and perfectly fluffy buds are ready in seconds. Zamnesia presents our top 10 grinders.
A cannabis grinder is an easy-to-use utensil that makes the preparation of marijuana quick, clean, and effective. Dried cannabis flowers need to be broken down before they can be smoked. Your preferred consumption method may be a joint, blunt, bong, or vaporizer.
Whatever the case is, your weed nuggets will perform better when they have been pared down into smaller pieces, increasing the surface area. Not only do grinders make the process easier, they also ensure that you aren't letting any bud go to waste.
Other methods of preparation can be sticky and messy, especially considering the high calibre of resinous strains available in the modern marketplace. Sticky fingers make packing a bong or vaporizer a drama. Rolling papers and blunt blanks can become a frustrating nightmare.
There are numerous types of grinders. Some are as simple as a grating card, which is just like a miniature cheese grater, but for weed. Other basic models are single chamber affairs where the buds are ground up, then tapped out into a bowl, etc. Other versions become increasingly elaborate with up to four chambers! These varieties catch the well-ground nugs and kief in separate chambers. This way, the kief can be collected and stored for later compressing into hash or making into concentrates.
Zamnesia's top ten cannabis grinders
The dedicated team at Zamnesia have processed and smoked a lot of top-shelf weed in the name of research. They have rolled many joints and packed bongs late into the night, just to bring you this list of Zamnesia's top 10 cannabis grinders.
1. OTTO GRINDER SMART CONE FILLER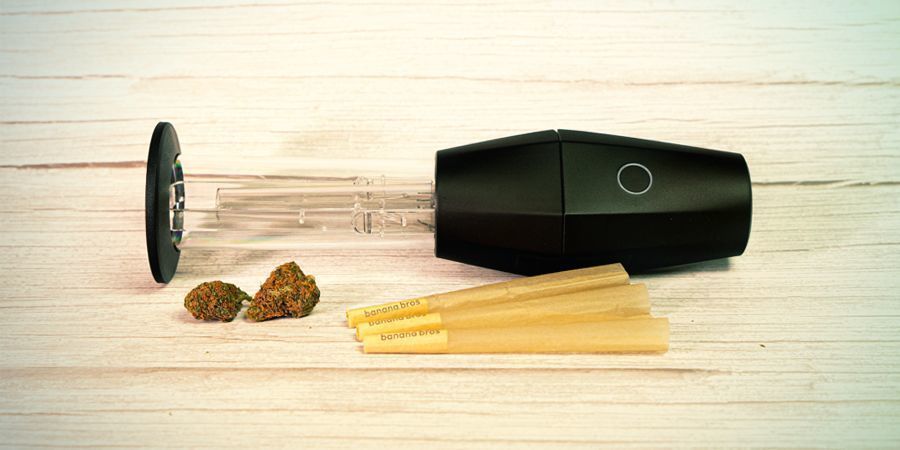 While there are many grinders on the market, there is no doubt that the OTTO Grinder is one of the most innovative available. Not only will this grinder render your herb into finely ground particles, but it even allows you to load it directly into a pre-rolled cone of your choice. At first glance, you may mistake this grinder for some kind of space-age kitchen tool! But like most cannabis accessories, functionality, practicality, and innovation are at the forefront of the OTTO Grinder's design.
Using the OTTO Grinder is easy: Start by placing your weed into the milling chamber. This one comes complete with its own on-board AI, integrated seamlessly alongside state-of-the-art grinding plates. This combination works to grind your herb to the perfect consistency. Your weed is then ready to be loaded into your cone. This is done by placing the cone under the tube and allowing the freshly ground herb to fill to your chosen level. Sounds simple, right? It is! Save time and effort with the OTTO Grinder.
2. CONCAVE GRINDER
The Concave Grinder from Black Leaf is a functional four-piece device. The designers have successfully integrated several useful features that make preparing cannabis flowers easier than ever. The top piece features a concave surface that acts as a handy mixing bowl and you can use it to combine your weed with other smokable herbs.
The first chamber houses razor-sharp metal teeth that grind your material with ease. The diamond-cut teeth shred flowers within a few turns and send the milled herb through the holes and into the chamber below. The second chamber consists of a mesh bottom that captures ground herb while allowing trichomes to pass through into the capture tray below. Things can get super sticky in the bottom chamber—use the scraper tool provided when it's time to fire up your kief stash.
3. ZAMNESIA PREMIUM GRINDER
The Zamnesia Premium Grinder offers something different. The aesthetics of this piece will set it apart from other grinders in your collection. Upon first glance, you'll notice dark colours, Zamnesia logo, and the transparent lid. The latter is a unique and functional feature. You don't have to guess when you've fully processed your buds—see for yourself.
The grinder also boasts a unique interior. The top chamber features sharp metal blades that effortlessly grind buds into a powder. The ground herb passes through to the chamber below, whereas any loose pollen will continue into the collection chamber. Overall, the Zamnesia Premium Grinder is a sturdy metal piece with a quirky design. It'll last a long time and spice up your collection.
4. WOODEN GRINDER XL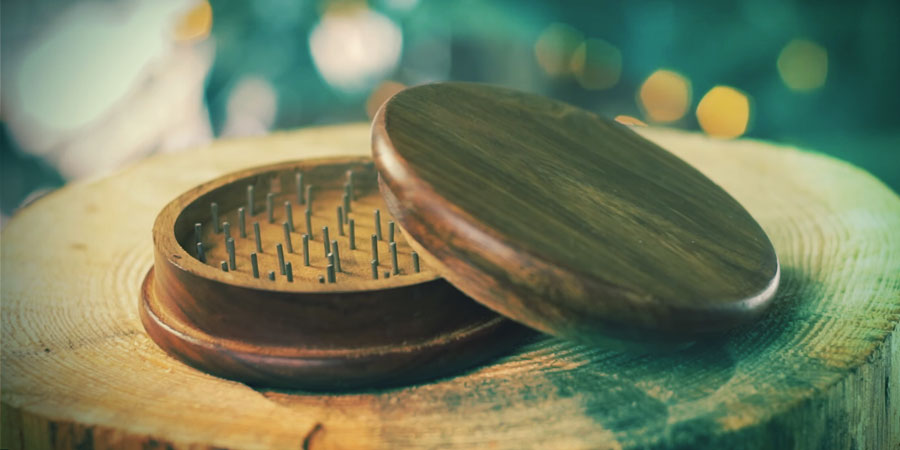 Handmade by Indian craftsmen from sustainable sources of timber, this extra-large grinder feels and looks great. This is easily one of the biggest grinders on the market, ideal for placing on the coffee table as a centrepiece. A perfectly functional objet d'art.
The extra-large chamber and tough brass chopping pins let you prepare a complete evening's worth of cannabis in one go. This grinder will rip through a couple of grams at a time. Twist a night's worth of spliffs or prepare multiple bongs for a hotbox session. This grinder shows even the hardest nuggets who's boss.
5. METAL GRINDER BLACK LEAF STACKED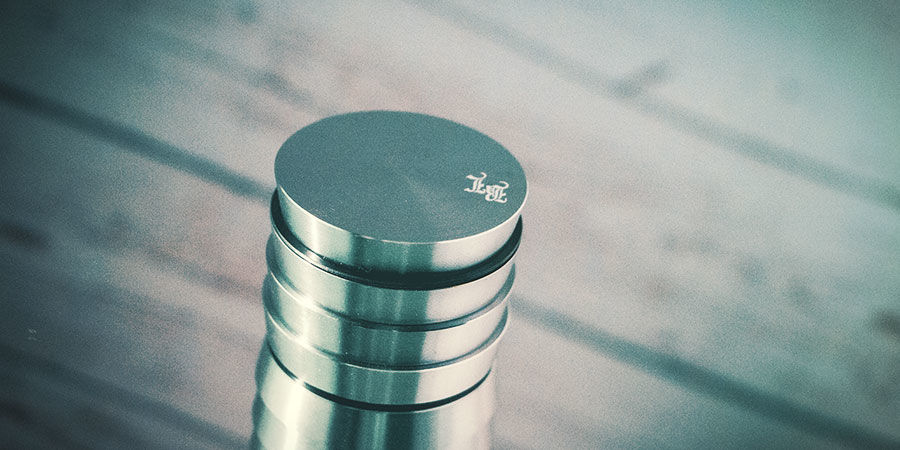 No, your eyes are not deceiving you. Look past the abstract aesthetics—this is a fully functioning grinder. This stacked metal grinder from Black Leaf looks like nothing else on the market. Each segment features a broad top and tapers down into the section below.
Somewhat surprisingly, this four-piece aluminium grinder is easy to use and sits comfortably in the hand. The top segment harbours sharp metal teeth, the engraved Black Leaf Logo, and a nylon friction ring that makes milling herb effortless. Below this sit the capture chamber and the pollen tray.
The piece comes with a handy scraping tool to help you remove the sticky kief from the bottom chamber. This gorgeous metal grinder will serve an ornamental role when you're not using it.
6. SLX 2.5 NON-STICK GRINDER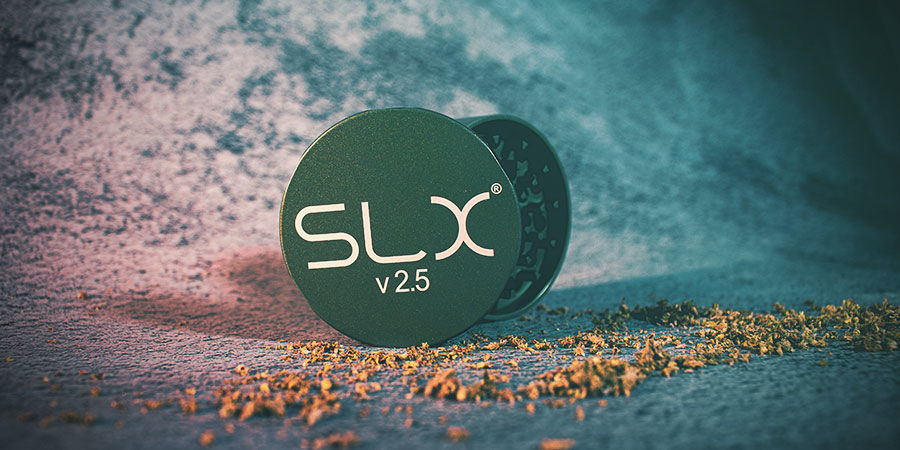 The SLX 2.5 Non-Stick Grinder can handle the dankest of buds. This grinder is more of a weapon, not just a simple milling tool. It's crafted from aerospace-grade 7075 T6 aluminium and will survive just about any knocks, drops, and bumps you expose it to. What's more, it'll shred any flowers to a fine powder.
You can place the stickiest, most resinous flowers in this grinder and they'll emerge truly transformed. This is because the SLX 2.5 features a proprietary Non-Stick Ceramic Coating (which is 100% non-toxic), both inside and outside. Not only will it make easy work of gooey flowers, but will also save you time as no cleaning is required.
The four-piece grinder includes a top section loaded with sharp, precision-cut teeth and a magnet to prevent spillages. The remaining parts are: the middle section, the collection chamber, and the pollen tray.
7. 24K GOLD METAL GRINDER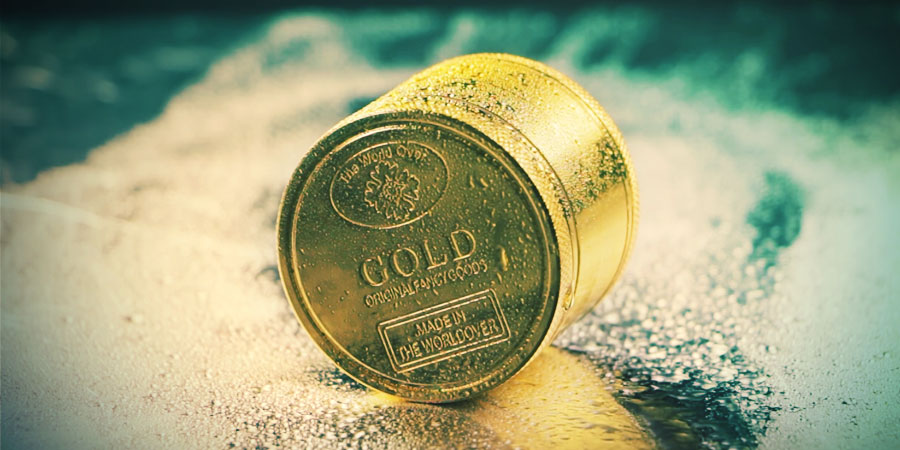 There's nothing wrong with a bit of bling when you want to get your grind on. Styled like a solid gold ingot, this shiny, 24K-looking grinder delivers solid gold performance. It will prepare your weed just right, catching all that delicious kief while looking good in the process.
The keen edges of the diamond-shaped teeth render cured cannabis buds into a primo texture. A few effortless twists of the smooth-action lid and you are ready to go. This 3-level grinder has a fine screen for filtering out and catching all the trichomes. Homemade hash has never been so easy!
8. METAL GRINDER SOLINDER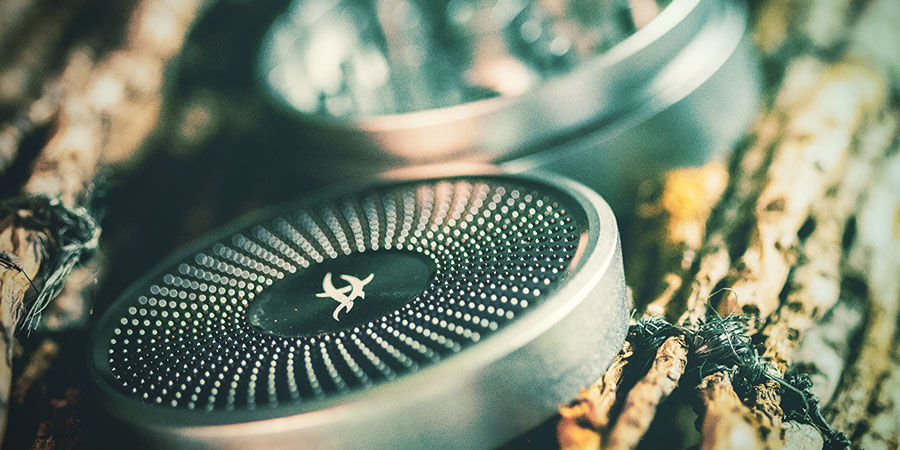 The Solinder grinder/pollinator by After Grow is a four-chambered aluminium grinder that looks and feels like 100% quality. A unique and patented wave pattern to the grinding teeth provides an effortless grind, even with the most resin-hardened nugs. The precise, CNC aluminium components never seize up and will remain corrosion-free for a lifetime of painless grinding.
The central chamber catches your perfectly prepared buds without a resin blackened finger in sight. The bottom chamber catches all the trichome and fractured resin goodness. Use the included scraper to collect the kief whenever you're ready. Perhaps add it atop a bowl or bong once the chamber is mostly filled.
This grinder has a diameter of 62mm and is 48mm high. The magnetic lid neatly and tightly holds the components together, preventing pocket rattles and that distinct cannabis aroma from escaping. The Solinder comes in five anodized colours, black, green, red, blue, and orange. The internal surfaces are shiny for easy cleaning and it ways a mere 155g.
9. Aerospaced Metal Grinder Groove Medium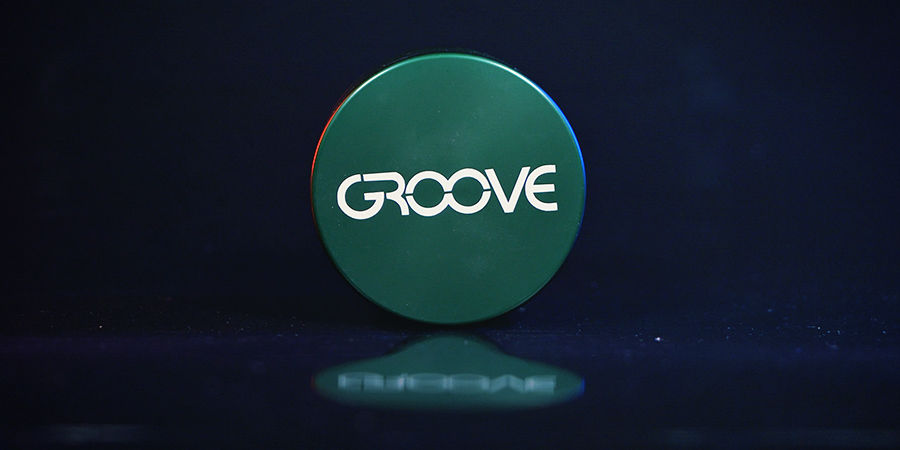 While many grinders on our list feature the regular teeth style of grinding, the Groove Metal Grinder offers a slightly different approach. By replacing the teeth with a set of fine, razor-sharp blades, the result is finely ground herb time after time. The blades slice through the most stubborn of nugs with ease, which means you don't need to break up your bud before placing it in this marvel of a grinder.
Using the grinder is as simple as loading your herb into the chamber and rotating it. Because of its three-tiered system, all the fallen crystals will collect in the kief tray for later use, while all the bud will be captured in the main chamber. No waste with the Groove Metal Grinder by Aerospaced. One try, and you'll wonder why you didn't make the switch to blade-style grinders sooner.
10. Royal Queen Seeds Kube Krush Grinder

The Kube Krush Grinder offers a unique approach to the task of grinding. Comfortable to hold with its ergonomic square design, it gives you all the grip you need when rotating. This grinder features the classic teeth design, offering smooth functionality that will make short work of your buds. You can expect fine grains of weed ready to vape or smoke to perfection.
The Kube Krush Grinder is stylish and available in a variety of colours to suit anyone's style. Small enough to fit in the palm of your hand, this grinder is sturdy and can survive travel with ease. Stand out from the crowd with the Kube Krush.
GRINDERS RULE!
Gone are the days of resin-dulled scissors and black fingertips that stick to everything. Cannabis preparation is now drama-free compared to old-school methods thanks to the grinder. A simple back and forth flick of the wrist renders your marijuana perfectly fluffy and ready to go every time.
Written by: Zamnesia
Zamnesia has spent years honing its products, ranges, and knowledge of all things psychedelic. Driven by the spirit of Zammi, Zamnesia strives to bring you accurate, factual, and informative content.

Find out about our writers
---