Blog


3 min
How To Throw A Cannabis-Themed Christmas Party

3 min
Have yourself a fantastic holiday season with these cannabis-themed party ideas. All of your friends and family will agree that your marijuana shindig is a hit!
Any party can be livened up when there is a theme involved. Do the same to make Christmas extra special. Celebrate the spirit of giving and goodwill towards others by having a cannabis-themed party. Now that marijuana is becoming more mainstream, it is easier than ever to show some love for the ganja. In this guide, we'll give you all the inspiration you need to throw the perfect stoner celebration.
DECORATIONS
What kind of party would it be without decorations?
Candles: Having candles lit around the house spruces up the holiday cheer. There are a number of candle options that reflect cannabis culture. For example, if having a holiday dinner party, put a pot leaf into a floating votive just to add a subtle touch of colour. Or, purchase 420-scented candles, even though the place will already have a skunky aroma.
Lighting: It wouldn't be Christmas time without Christmas lights. Now, you can purchase pot leaf string lights. These can be added to trees, or on balconies and walls.
Classics: Toke up the classic Christmas decorations. Create pot leaf ornaments using either clay or paint on a glass bulb. Make a wreath in a classic circular shape using blunt wrappers, or design a pot-leaf-shaped wreath out of pine trimmings. There are now even pot leaf tree skirts and wrapping paper for sale. For the final touch, if there is a cannabis plant growing in the house, use it as the Christmas tree.
WEAR IT WITH PRIDE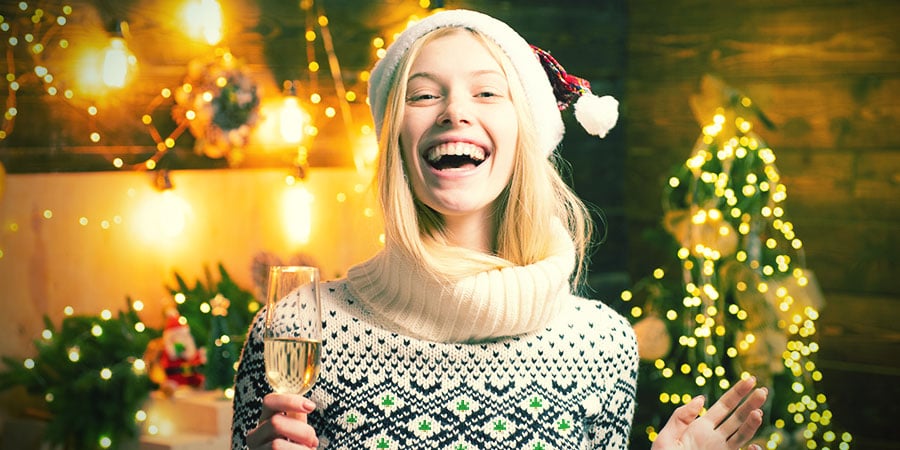 Some families have ugly sweater parties, but what about showing off Christmas cheer with pot-inspired clothing? There are a plethora of cannabis Christmas sweaters with snowflakes, reindeer, and bongs. There are a number of small details that can be incorporated into your look if clunky clothing is not a part of the theme. Accessories like jewellery, socks, and ties are the perfect trimmings for a hemptastic holiday.
HOLIDAY FLICKS
There's no Christmas without Christmas movies. Hanging with friends in a social situation where blunts can be passed and laughs can be had makes for a perfect holiday party. So why not watch some classic Christmas films to help set the mood? Movies like Gremlins, Bad Santa, and Scrooged really set the party stage with stoners in mind. Remember what the holidays are all about by spending time with friends and some good ol' love-inspiring ganja.
STONER STOCKING STUFFERS
Appreciating loved ones and celebrating the holidays with them is the true joy of the season. One way to show some love to your stoner friends is to buy them pot-inspired trinkets. There are a number of winning options, such as their favourite rolling papers, an exceptional plasma lighter, or a cute pipe, grinder, or vaporizer. Share the holidays with the people you love most and light one up to make it the best Christmas celebration for everyone.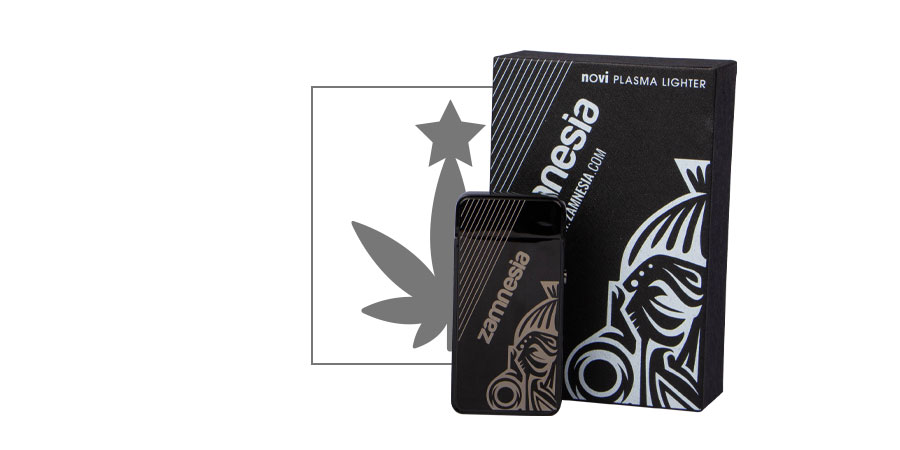 view plasma lighter
MARIJUANA MUSIC
When planning the perfect party, it's nice to set the mood with music. There are a number of weed-themed playlists and albums created by pot smoking celebrities; one of which is the "Weed Songs Christmas Special" on TheWeedSongs YouTube channel. Or, go old-school with Willie Nelson's "The Classic Christmas Album." There are also some lesser-known nugs of Christmas cheer with "Weed Wish You a Marijuana Christmas" by Cheeba Kong.
CANNA-CHRISTMAS FOODS
Food and drink can make or break a good party. For a cannabis-themed gathering, the food is where the party can shine. Toking and munchies have gone together throughout history. The biggest choice is whether to infuse or not.
One can make red velvet cupcakes with pot leaf designs adorning the tops. If going the infused route, please be careful to dose lightly so all party guests can eat a fair share and still enjoy the evening. Shoot for 0.3-0.5g of cannabis oil per dose, so each portion should fall near 0.1g. One can mix weed oil with any classic dish like bruschetta, lasagna, or even cinnamon rolls.
MERRY VAPIN' CHRISTMAS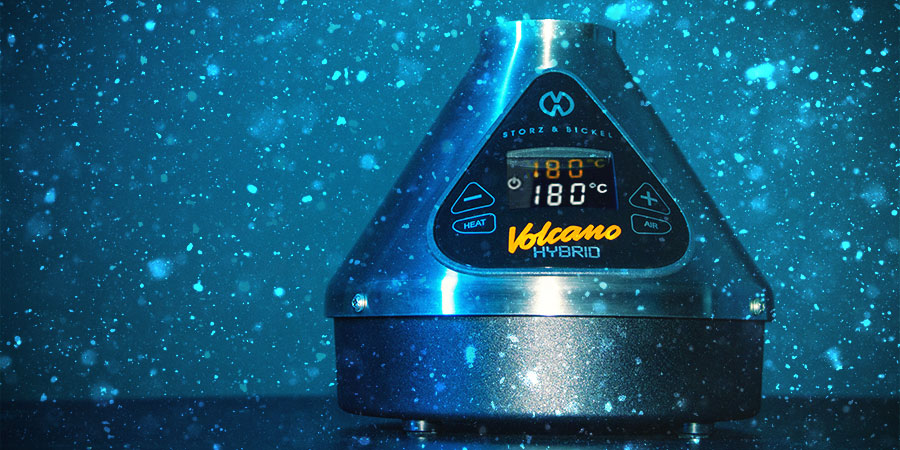 Some say gathering around a fire brings holiday cheer during the cold winter months. But why not put the lighter away and pull out the vape. Bring your best of kin together by consuming cannabis with party-sized instruments like The Volcano Hybrid. Not only is vaporizing a healthier way to inhale marijuana, it also allows for a party-sized amount of weed (2-2.5 grams) in the chamber. For those looking to go the extra mile, The Volcano sells its 3-metre balloon hose as an extra part.
CHRISTMASSY CANNABIS STRAINS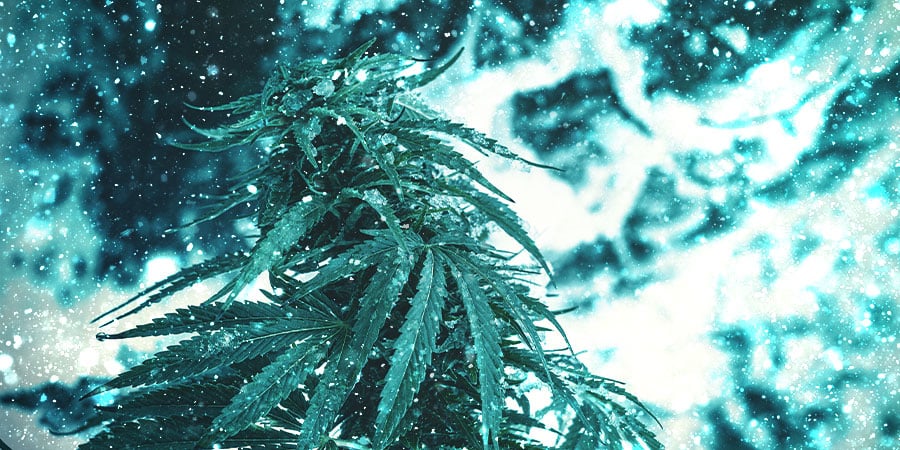 Be the best host in town by honing in on every detail. Why not have Christmas-themed cannabis at the sesh? It will have everyone giggling with each hit. This is creative thinking at its finest and makes the perfect pairing for a pot party. Here are some cleverly named strains to consume:
Snow Bud: Developed in the cool atmosphere of the Swiss Alps, Snow Bud makes people shiver with excitement. This 60/40 sativa-dominant hybrid makes the smoker feel happy and active with little to no anxiety. A perfect social strain for any party. Choose Snow Bud to keep the holiday cheer alive and relieve any latent holiday stress.
Santa Sativa: This name explains it all. A cross between Haze #1 and (Skunk x Northern Lights), this 70% sativa-dominant hybrid will be the tastiest punch at the party. Known for having strong cerebral and euphoric properties, this strain will keep the sesh going late into the evening. The aroma fills the room with lemon, cedar, incense, and pine. It makes gatherings feel like a winter wonderland.
Bubba's Gift: Probably the best present of the holiday season, Bubba's Gift is a cross between pre-'98 Bubba Kush and God's Gift. This strain is an indica lover's delight. Smelling of fruit and spice, this strain will have partygoers mellow out before wrapping up the evening. Curl up with a blanket and some hot chocolate because Bubba's Gift will leave everyone feeling warm and fuzzy.
The holidays should be spent with loved ones, be it family or friends. Having a cannabis-themed party is an excellent way to elevate your Christmas festivities a little higher with the people you enjoy most.
Written by: Zamnesia
Zamnesia has spent years honing its products, ranges, and knowledge of all things psychedelic. Driven by the spirit of Zammi, Zamnesia strives to bring you accurate, factual, and informative content.

Find out about our writers
---