Herbs Of The Gods: Stimulating, Relaxing, And Psychoactive Herbs And Seeds

4 min
Herbs Of The Gods offers a unique and diverse blend of herbs from across the globe. With so many great products to select from, especially as a first-time buyer, we highlight our top 5 picks from their catalogue.
Highlighting significant players in the smart, vape, and cannabis industries is a responsibility Zamnesia does not take lightly. Aimed at bringing you the stars of their sector, we relish the opportunity to shine a light on companies that are innovating and improving their field. With many leading enterprises to explore, in this edition we decided to feature the aptly named Herbs Of The Gods. If the name doesn't already indicate the quality of their products, our top picks of their product range will.
The best of the best
Offering their products in a large selection of shops across Europe, Herbs Of The Gods (HotG) have been collecting herbs since 1999. Nearly twenty years later and the company is still going strong, a sign of the determination and drive behind their top-quality products. Their range is ever growing as the team seeks out the best possible herbs in the following five categories: Energy, Love, Relax, Psychedelic, and Dream.
What do they offer?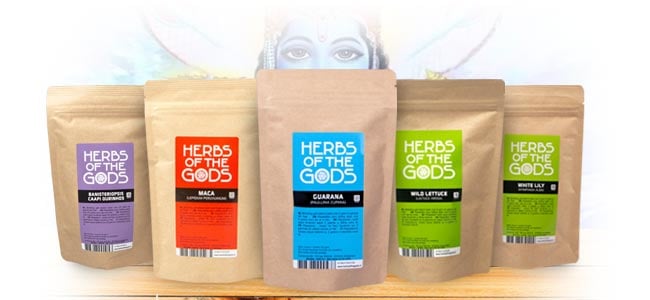 Many cultures have deeply-rooted beliefs built on the strength, skill, and prowess of the gods. Endless stories come from man's desire to harness this power, often in the form of an elixir or herb. As the name would suggest, HotG's selection of herbs is aimed at doing just that—providing you with just a taste of god-like power. Each herb is selected based on their specific attributes, offering a natural herbal boost or remedy.
Each of the 5 categories features top-of-the-line herbs corresponding to the theme. Guarana, a natural invigorator, headlines the Energy category, while the Dream selection features Calea zacatechichi - used to induce lucid dreams. Each group comes colour-coded, enabling users to quickly identify the traits they desire.
Furthermore, each category is not just available in herb form; extracts up to 25 times stronger are also available for many of the herbs offered - perfect for those already well-versed in the realm of the gods. For users that require a steady stream of godly herbs, seeds can be purchased to grow each herb in your garden. Virtually every need is catered to with HotG's impressive lineup.
Our favourite picks
Such a wide array of products can make it difficult to know where to start. While every product in their range has been carefully selected, the following 5 suggestions are a good place to start for those looking to taste the power of the gods.
Damiana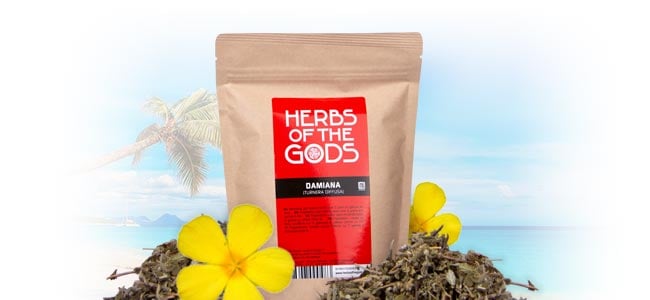 Powered by love, Damiana is the first in our product spotlight. Damiana, or Turnera diffusa, originally hails from areas such as United States, South America, and the Caribbean. Growing up to 2 metres tall, Damiana is easily identified. A solitary yellow flower stands atop this famous aphrodisiac. Believed to have been first used by ancient Mexican tribes, it promoted passion during religious ceremonies. So powerful was the effect, that the indigenous Guaycura banned Damiana's use. Fast forward to the 1960s, where it was used during the hippie movement for its libido-boosting outcome.
To save you from trekking through South American landscapes, HotG has procured the best Damiana available. Providing a natural, relaxing high to begin with, users report an improvement in sexual arousal lasting up to two hours after initial consumption. The source of this sexual energy is said to come from an increase in blood flow to the genital areas. Even better, it can be useful for both men and women. Available in herb form, Damiana can be mixed with tea. For thrill seekers, Damiana is also available in extract form, proving to be up to ten times as potent as the herb variety. You can thank us and HotG later.
Mimosa hostilis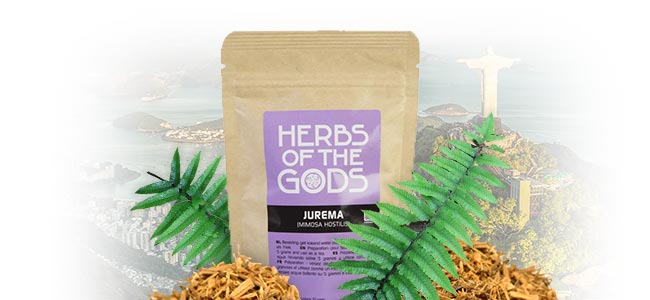 Linked to cosmic forces, shaman are said to use Mimosa hostilis as a means of traversing the universe. Native to Brazil, Mimosa hostilis is a tree whose root bark is now available through HotG. Mimosa hostilis contains the visionary tryptamine, the same compound produced in mammals, albeit in trace amounts. Consumed in larger doses, tryptamine induces psychedelic-like properties, similar to magic mushrooms or LSD. Mimosa hostilis is significantly more mild, inducing a trip more manageable than the one experienced by ingesting psilocybin.
For the best spiritual enlightenment, users are recommended to prepare Mimosa hostilis with Peganum harmala; together these two ancient herbs work to bring about periods of profound clarity. There is only an herb variety on offer, but this is for a good reason. In high doses, users have reported having their senses transported to another dimension, connecting with all living beings. Mimosa hostilis may sound intimidating, however, in small doses, those looking to purge their mind of mental and physical blocks will be pleasantly surprised.
Catmint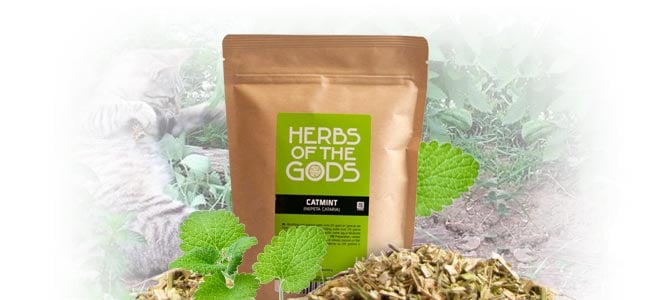 Famous for inducing a euphoric effects on cats, Catnip is the most common form of the Catmint plant. The internet is full of cats going wild for this natural herb, whether that be rolling over, purring, or being playful. But what use does Catnip do for humans, you might ask? Consumed as a tea/tonic, Catmint provides a general feeling of relaxation. When making Catmint tea, a simple guideline is 25 grams per 1 litre of water. Left it steep for 15 minutes, and feel free to add sugar or honey to sweeten the taste. Catmint has also been praised for its support in easing muscle cramps, something beneficial for both humans and cats.
Catmint is the first of our favourite picks that is available in seed form as well as a readily ingestible herb. Incredibly easy-to-grow, Catmint plants make a great addition to an already flourishing herb garden. Users are advised to proceed with caution; grown outdoors, you could become the resident cat keeper on your street!
Skullcap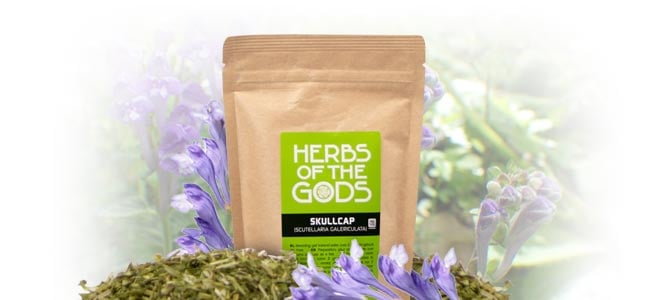 The first of our final two picks in the Relax category. Stresses of modern day life show no signs of waning. For that reason, more and more users are turning to an herbal remedy to help alleviate pressure and anxiety. Skullcap offers some respite from the never-ending onslaught of smartphones, social media, and work-related stress. Whatever the reason you wish to unwind, HotG will have a suitable product to match your needs.
Users may be sceptical about the nickname "mad weed", but this stems from the herb being used in 19th century medicine to treat patients with schizophrenia and other mental illnesses. Since then, studies have shown it does exhibit anxiolytic activity, meaning it inhibits anxiety. Again, Skullcap can be incorporated into a tea, making it a simple yet practical addition to your daily routine.
Many individuals also use Skullcap to help treat insomnia, a condition that can disrupt sleeping patterns and leave sufferers feeling lethargic or generally irritable. A Skullcap tea before bed could be the ideal remedy to help alleviate these symptoms.
Blue Lotus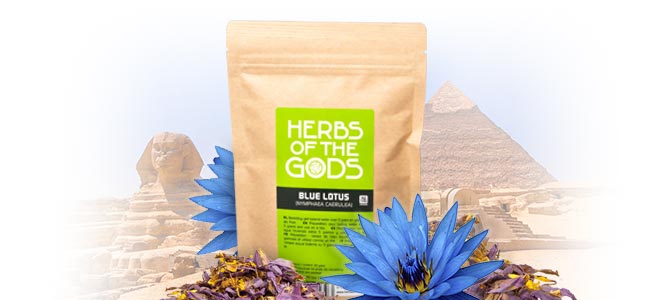 Many consider Blue Lotus an alternative to cannabis, particularly in parts of the world where cannabis is still an illicit drug. However, Blue Lotus is legal to purchase in most locations, and grows naturally on the shores of lakes and rivers. Also referred to as Egyptian Lotus, it can be smoked when dried or added to drinks to bring about feelings of euphoria. Although adding to tea is the most common method for enjoying the majority of the herbs offered by HotG, Blue Lotus can also be enjoyed in alcoholic drinks. Traditionally, it was added to wine and left to soak for several hours before drinking.
Available in herb, resin, and extract form—the latter two offer increased potency by as much as twenty times. It has been reported that higher doses can bring about mild hallucinations. No matter your reason for trying Blue Lotus, you will not be disappointed. Those living in an area where weed is illegal can enjoy blissful euphoria without fear of criminal repercussions.
Written by: Luke
Luke is a part-time writer and full-time visionary. An anonymous psychonaut blending into society with his suit and tie, he works to bring evidence-based rationality to the masses.

Find out about our writers
---