CRAFTY+ Review: Dry Herb Vaporizer By Storz & Bickel
4 min
In 2019, Storz & Bickel launched the CRAFTY+, a new and improved version of the original CRAFTY dry herb vaporizer. Does the CRAFTY+ follow in the footsteps of the legendary original? Find out in our CRAFTY+ review!
The CRAFTY+ is the long-awaited upgrade of the popular CRAFTY vaporizer by Storz & Bickel. Considered one of the best dry herb vapes on the market, it's no surprise that expectations were high for the newest version. On paper, the CRAFTY+ sure seems impressive: it promises improved performance, better battery life, and a handful of other enhancements. Let's take a closer look at the CRAFTY+ so you can see how it performs, and whether it's right for you!
UNBOXING THE CRAFTY+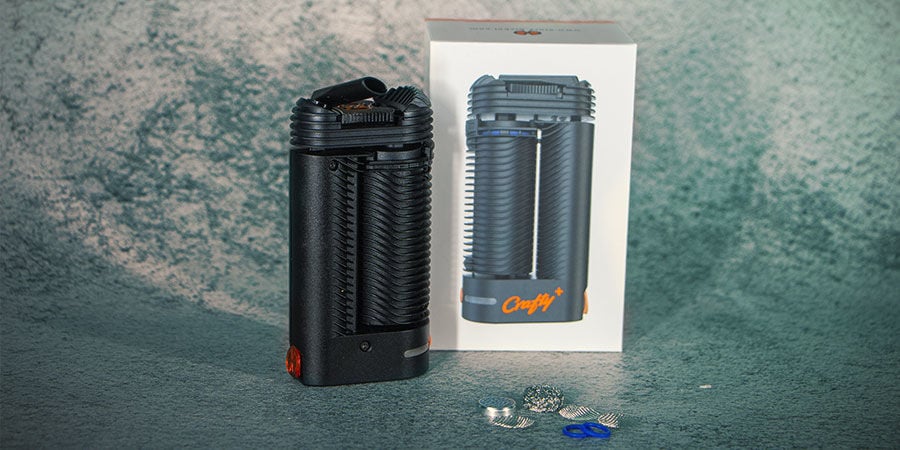 This is the second vaporizer Storz & Bickel launched in 2019, the other being the new Volcano Hybrid desktop vaporizer. But unlike the Volcano Hybrid, which underwent some big changes, the CRAFTY+ is still close to the original. Of course, this isn't a bad thing, as the CRAFTY is already a great vape.
The first thing you'll notice after opening the box is that the body has been given an ergonomic and visual redesign—but nothing major, really. For example, it now has an updated stir stick that's translucent with a logo, and hides the micro-USB port.
A bit of a let-down is that Storz & Bickel now includes fewer accessories. With the CRAFTY+, you'll receive a micro-USB charger, spare screens and o-rings, a dosing capsule, concentrate pads, instructions, and a quick-start guide. However, you won't find a wall plug any longer (S&B probably thought everyone uses a USB port for charging anyway), and they also removed the grinder, the brush, and the loading tool that came with the previous one. Personally, we really liked the brushes included with their vapes, and we wish they kept them. Then again, the entire box is now smaller and comes with less packaging for less waste.
HOW THE CRAFTY+ WORKS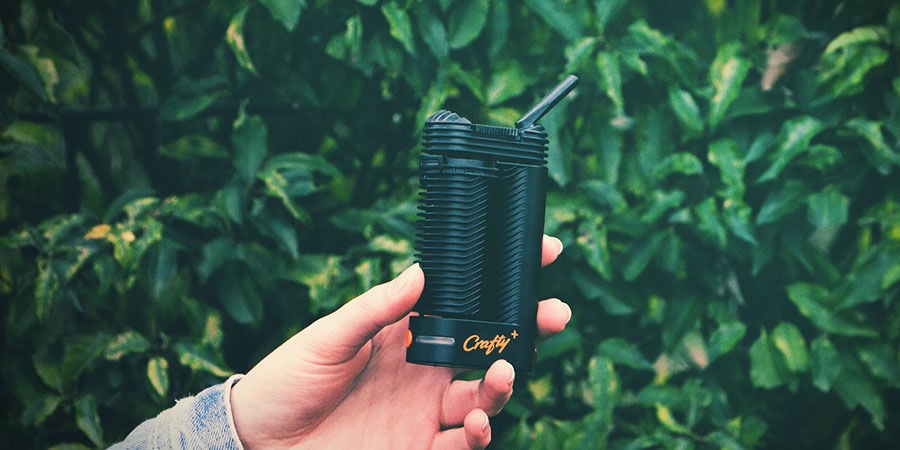 The new CRAFTY+ works just like the "old" CRAFTY, and again, we don't think of this as a negative per se. Things have been kept simple with one large button to turn the device on/off and to adjust the temperature. Among the new features, however, is the option to choose from three temperature settings (two of which you can program in the app and store locally, between the temperatures of 40–210°C). Moreover, there is now an option to quickly reach maximum temperature when you press the button three times. Neat!
We find that the two programmable temperature settings, along with the option to quickly jump to the highest temp, are more than satisfying, as most people likely won't fiddle too much with temperature anyway once they dial in their preferred settings.
On the other hand, we wouldn't have minded if there was an option to set a different maximum temperature. Other recently released vapes offer this feature, which can be beneficial, say, if you're vaping extracts.
EASE OF USE
For Storz & Bickel, it has always been important that their vapes are easy to use. From single-button operation that comes in handy when you're vaping on the go to easy dosing capsules, the CRAFTY+ couldn't be more straightforward.
Since the CRAFTY+ is so easy to use, you don't need to spend too much time worrying about the best packing techniques or how you're supposed to take draws. The CRAFTY+ will always perform to the best of its ability without any fiddling or other shenanigans. Why is this important? Well, for one thing, not everyone knows how to use a vape properly. Your shared vaping sessions won't turn into "how do you use this thing?" teaching lessons like so often happens with other vapes.
Cleaning the CRAFTY+ is also simple and straightforward. Maybe not quite as easy as actually using it, but a cotton swab and some alcohol will easily remove buildup and crud from the chamber. For a more thorough cleaning, like if you want to clean the entire cooling unit, you can just soak it (not the entire device) in a glass of alcohol for a few minutes.
HOW THE CRAFTY+ PERFORMS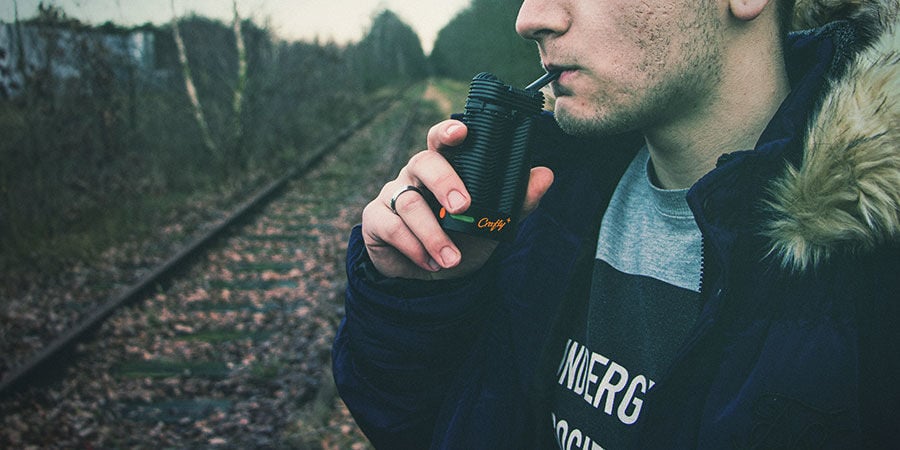 The CRAFTY already impressed users with excellent vapor quality and consistently flavourful hits— but the CRAFTY+ manages to go even beyond that! When you're using it, you can definitely feel an improvement, especially when taking heavy hits. The mix of conduction and convection heating delivers powerful clouds with very good flavour. The vapor is also pleasantly smooth thanks to the device's cooling system. So, if top performance is what you're looking for, the CRAFTY+ sure won't disappoint.
BATTERY LIFE
The improved battery life is a major selling point of the CRAFTY+. Believe it or not, Storz & Bickel managed to nearly double the battery life compared to the original. This is great, as it means you can get anywhere from 5–9 sessions off a single charge, compared to just 4 or 5 with the original! As if that's not significant enough, it now also takes less time to charge, regaining full power in just 90 minutes.
What is not so great is that the CRAFTY+ doesn't have a removable battery. But given that they improved the internal one, this isn't as much of a disadvantage.
PORTABILITY & DISCRETION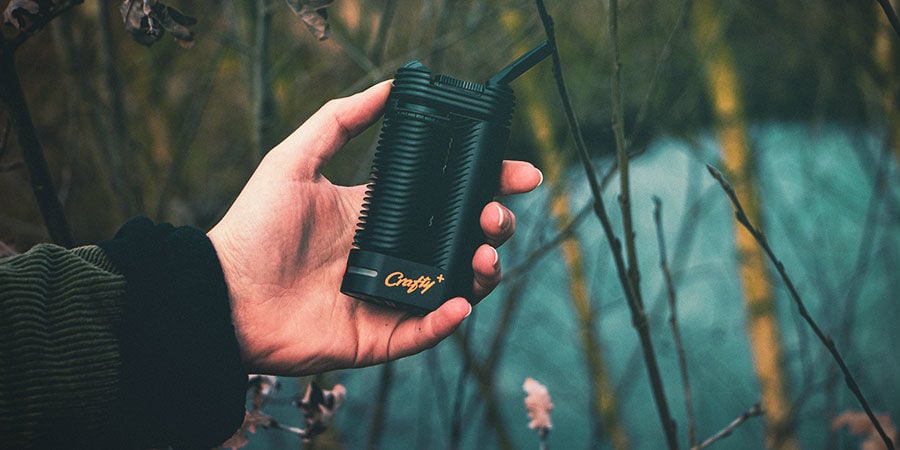 The new and more powerful battery in the CRAFTY+ makes the biggest difference among those who travel with their vape. You won't need an extra power bank, and most of the time you won't even need to charge it before you leave for the day. Yet, none of the device's great features, like its practical and portable size and weight, have been compromised. You won't have trouble fitting it in your pocket or bag with ease. A huge plus for the mobile vaper is that S&B never skimps when it comes to quality. The CRAFTY+ is quite rugged for a portable vape. It has a durable body that can handle one or two collisions. Perfect so you can take your CRAFTY+ on outdoor adventures and use it without worry.
The capsule system S&B uses is also excellent for travelling, as it allows you to carry a handful of doses with you. So, instead of reloading your chamber tediously, just pop in a new capsule and you're good to go! This adds to the CRAFTY+'s excellent portability rating. In fact, if you're vaping on the go often, the CRAFTY+ may just be one of the best vapes you can get!
The CRAFTY+ may not be particularly designed with stealth in mind, but it's still passable if discretion is a concern for you. The compact size of the unit, along with the black colour, gives it the appearance of an average e-cigarette—so nothing that would raise suspicion these days. The heat-up time of about a minute could be a bit faster, though, as this would allow for some quicker stealth draws. Still, all things considered, we think the CRAFTY+'s portability is excellent.
BOTTOM LINE: SHOULD YOU GET THE CRAFTY+?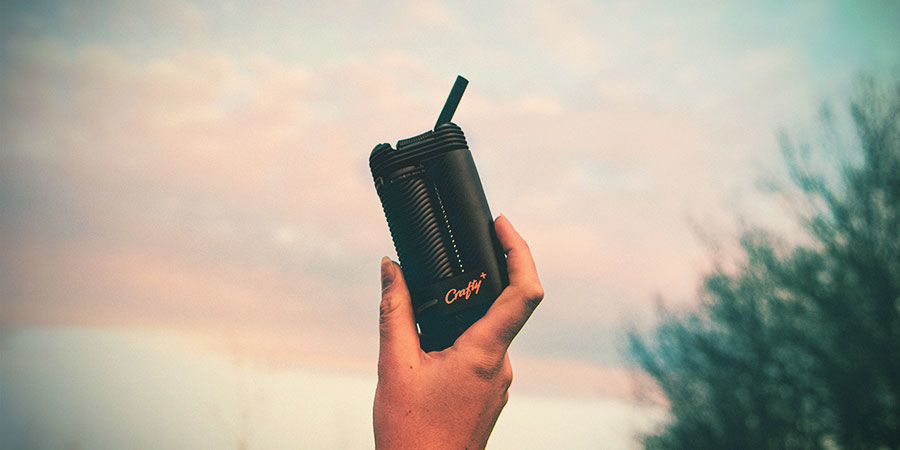 The CRAFTY+ isn't a huge update compared to the original, but it features some significant improvements nevertheless. The much longer battery life and better performance definitely make it one of the top portable vapes, right in the spirit of its legendary predecessor.
On the other hand, we won't deny that we would have welcomed some other improvements as well, like more flexibility with temperature control, maybe with an option for setting higher temperatures. But even if the CRAFTY+ isn't a major overhaul, we can wholeheartedly recommend it given that the original was already excellent in many ways. S&B did the right thing not to unnecessarily change things around, or even worse, introduce gimmicky features with no real use. In conclusion, if you're looking for a solid portable dry herb vaporizer, you definitely can't go wrong with the CRAFTY+!