Blog
3 min
German Government Votes To Legalise Medical Cannabis
3 min
Germany has made a monumental decision regarding medical cannabis, and it is going to make access for those who really need it as easy as can be - making Germany one of the most progressive countries out there when it comes to cannabis.
Not to be upstaged by presidential transitions in the United States, the German government released their own earthshattering news on January 19. And while it may be less impactful overall than the ascension of Donald Trump to the White House, legalisation advocates globally might choose to disagree. The particulars of the events themselves? The German parliament decided to legalise the medical consumption of cannabis and further, to cover it under health insurance.
While this development has been in the works for about a year, nobody was entirely sure when the government would formally vote to approve the same – and further, whether, in fact, the government would allow its coverage under health insurance.
That has now been formalised and in such a way to actually put Germany in the most progressive camp – of any country – when it comes to the legalisation of cannabis. What this means, in other words, is that the Germans are moving forward, faster than any other country, to formally recognise the medical efficacy of cannabis and further, fully integrate it into the comprehensive health system here from the beginning of formal "legalisation."
HOW WILL GERMANY BE DIFFERENT?

While it is possible to buy medical marijuana in other countries with a prescription (in places that include many U.S. states, Israel and in Canada) the German approach is not only the most comprehensive, but also means that German patients will be able to access some of the most inexpensive medical cannabis in the world and via the regular medical system. The fact that the drug is being rescheduled, at the federal level, means that by definition, it is moved out of the "illegal" substance regime.
In the United States, for example, in direct comparison, not only are patients forced still, for the most part, to pay for their legal drugs with cash only, but ganja is a far way from being covered under any health insurance plan since the drug remains a Schedule I substance.
In Canada, the system is beginning to change (medical use became legal last year on a federal level), but health insurers are only slowly now beginning to consider coverage (although that too is expected to change, pushed by the German situation as well as federal efforts in Canada to legalise recreational use).
Israel has allowed certain kinds of pain clinics to dispense the drug, but like Canada, has moved to consider wider dispensation by general doctors and through regular pharmacies. The German model appears to adopt this idea and incorporate it immediately, from the time the federal government legalises medical use.
WHAT ARE THE IMPLICATIONS OF MEDICAL LEGALIZATION HERE?

The first is that every doctor will be able to prescribe the drug and every pharmacy will be able to fill prescriptions. The special permitting process that has been the bane of patients attempting to get prescriptions up until now, will be scrapped.
The second is that the high cost of cannabis will be normalised – so that patients will either pay nothing or at most 10 euros a month for their prescriptions. The difference between that and the current status quo – which is about 1,500 euros per month - is obviously going to make a huge difference for sick patients who often cannot hold jobs because of their disabilities.
The initial barrier in Germany is going to be finding doctors willing to begin prescribing the drug. That said, for all the conservatism of the medical industry, there is a widespread understanding here that cannabis can be useful medically, and with the right oversight, can make a huge difference for the chronically ill, particularly those whose conditions are not effectively treated by more conventional medications.
For now, the vast bulk of cannabis will be supplied by one Canadian exporter – Canopy Canada via its German arm – MedCann GmbH – which obtained the licenses to import and distribute nationally last summer. By 2018, however, once the German cannabis agency is established, the German government will begin to grow its own domestic supplies.
What this development also means, of course, is that recreational reform will also get the shot in the arm that legalisation advocates have also been pushing for, for well over a decade.
Berlin looks poised to make the first move on this front – as it is both a major German city and technically a "state". It is expected that the first recreational trial will also move forward this year. However, other German cities, tired of the perennial open air drug markets that are a fact of life here, particularly around the local "Hauptbahnhof" (main city train station) are watching what happens in Berlin and widely expected to create some kind of highly restricted if not very limited "recreational experiments" of their own – if only to stymie the black market.
THE GERMANS COULD CHANGE THE GLOBAL LEGALIZATION DISCUSSION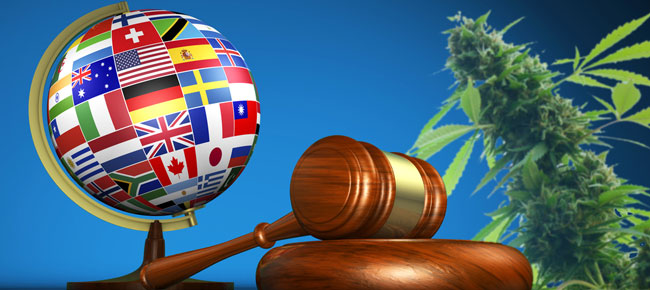 Up until now, Israel led the way on the formal, scientific study of cannabinoids in medicine. This is likely to be challenged by Germany in the near future as a result of January's earthshattering news. The impact of cannabinoids not only on treating the sick, but also on its ability to lower the overall cost of care is likely to be a major investigative and scientific undertaking here, particularly given how large the potential patient population is in Germany (at least a million people).
Further, it is very likely that other countries, starting with the United States, will be watching what happens here very closely as federal agencies try to decide when and how to re or deschedule cannabis.
What German patients will not face, however, as a result of the decision of the German parliament, is a situation that Americans face today – even after three years of state "experimental" legalisation. Nobody will be fired for "illegal drug use" if they obtain the medication from a doctor. Patients can obtain their medications from their local apothekes or the largest chain drug stores. And even better, their insurance – no matter whether they have public or private coverage, will help them afford the same.
All of that, in and of itself, is a major victory for all those who care about cannabis reform.
Written by: Marguerite Arnold
With years of writing experience under her belt, Marguerite dedicates her time to exploring the cannabis industry and the developments of the legalisation movement.

Find out about our writers