Top 5 Cannabis Strains For Having Sex

Last edited :
Published :
Categories : Blog • Cannabis • Top lists

Intensifying sexual experiences has been on our agenda since the beginning. Check out these top 5 strains for outlandish erotic endeavors.
ZAMNESIA COMES THROUGH WITH THE 5 BEST STRAINS SUITED FOR SEXY TIME
Getting down with dank experiences has been on ganja enthusiasts' agenda for centuries. Getting intimate with one's beloved partner or having hot sex while under the influence of ganja not only feels great, it inspires the involved counterparts to elevate their sexual consciousness to the next level. Cuddling, caressing, touching and coming feels outlandishly cool under the influence of Mary Jane. We decided it's about time to present the best strains for having sex. Let's explore the most mouth-watering strains on the market.
CHOCO CANDY BY ZAMBEZA SEEDS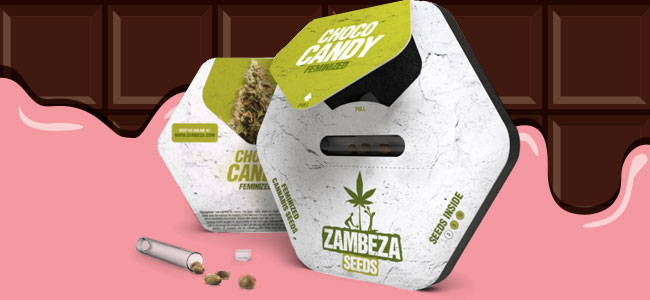 The most classic dessert for an intimate dinner is undisputably a creamy, dark chocolate cake with delicious strawberry glazing. Mouthwatering right? Well, the dessert doesn't end there. Toke some Choco Candy with your sexy partner and release your sobriety-restricted inhibitions in the sack. The sativa dominance ensures a longer-lasting experience for both counterparts, mixed with energetic and erotic sensations. Choco Candy has been intensifying the sexual bond between ganja aficionados since her creation. Now you know which herb to bring on your next date.
CHEMDAWG BY HUMBOLDT SEEDS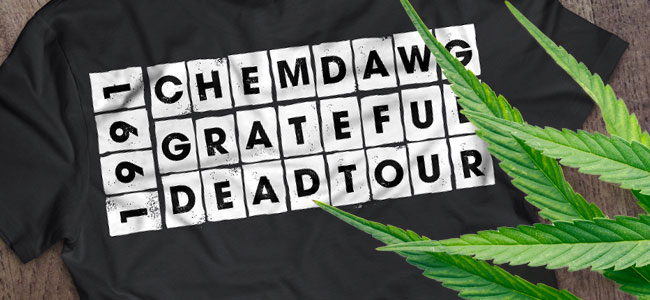 The story of the intensely arousing Chemdawg begins with the Grateful Dead Tour in 91'. The rock 'n' roll vibes are inherent in the trichomes of this spectacular dank. If one wishes to indulge in intense, knocking-boots sex and otherworldly threesomes, Chemdawg is the strain of choice. This delicious sativa seductress emanates diesel scents and aromas, refilling the horny consumer with fuel for the profound activities ahead. Smoke up, power up and get down - Chemdawggy style.
BLUE CHEESE BY BARNEY'S FARM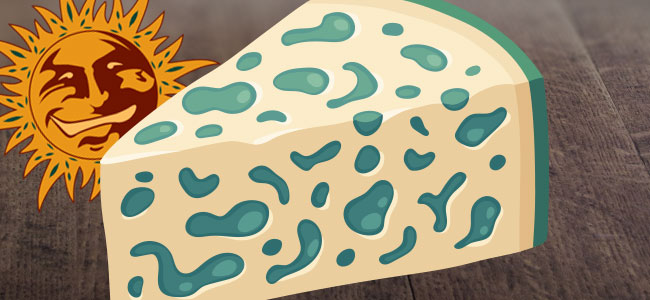 This 100% indica is perfect for sensual and deeply-connected sexual endeavors. Here's the recipe for a perfect Blue Cheese experience: choose a romantic flick with your partner, Netflix and chill, toke a bowl of Blue Cheese and exhale the smoke into your counterpart's lungs in a seductive manner. Once the sensual bond has been established, Netflix should be ignored. Suddenly, the couch becomes the love nest for a long time thanks to Blue Cheese's couch-locking effects. It's recommended not to smoke too much, otherwise the deep sexual experience will turn into a deep dreaming experience.
SEXBUD BY FEMALE SEEDS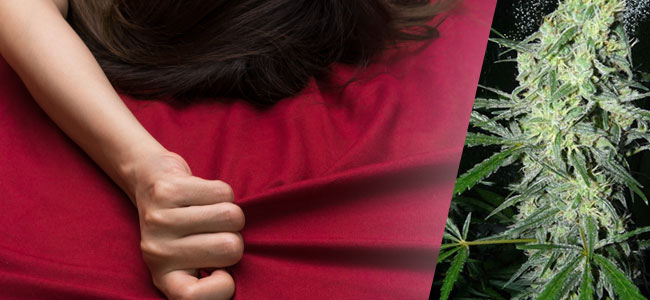 The name says it all. SexBud is ready to fill your consciousness with uplifting sativa arousal and sensual feels. This cultivar is a true aphrodisiac, perfect for hot adventures. SexBud is more tantric in nature; the sex will deeply intertwine souls and genitals with mighty vibes. Therefore, one should read up on ancient tantric texts and get inspired for the mind-expanding experiences ahead. Eat a lot of healthy foods before the 2-hour spiritual session and don't forget to bring your SexBud with you.
SKYWALKER BY DUTCH PASSION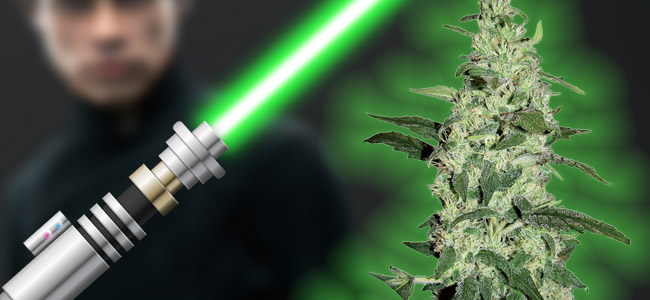 May the sex-force be with you, my horny ganjaman. If Skywalker is intended for sexual endeavors, brace yourself - outlandish eroticism awaits. Upon toking this indica-dominant strain, the induced sensations lean more to the meditative, relaxing side. After toking Skywalker, one should meditate and find the dank force lurking in one's essence. Of course, this should be done with one's sex partner. After the dank force has been encountered by both parties, the universe of sexual desires is unleashed. The experience will culminate in an intense earth-shaking climax, just like the finale of a perfectly orchestrated symphony.
CONCLUSION: GANJA-INFUSED SEX SHOULD BE ON YOUR MENU
Whether you're into deep, spiritual connections or adventurous rendezvous scenarios, there's a strain for all y'all. Explore your inner desires with the aforementioned titillating cultivars and discover what the universe has planned for you. Orgasming under the influence of high-class cannabinoids can be so intense, it breaks the human language barrier and can't be expressed through words. Get together with your partner, toke that toke and get physical.
Written by: Zamnesia
Occasionally we have persons contribute to our blog here at Zamnesia. They come from a wide range of backgrounds and experiences, making their knowledge invaluable.

Find out about our writers
Related Products