Top 10 Strongest And Most Potent Cannabis Strains
Published :
November 7th, 2016
Categories :
Blog
•
Cannabis
•
Strain Reviews
•
Top lists
Last edited :
April 5th, 2018

From long-lasting uplifting effects to tremendous stress-relief, some strains get the job done better than others. Here are the top 10 strongest strains of 2016.
You've got your good weed, and then you've got your superb pot. Though some people are satisfied with any strain, some of us want nothing less than the best in regards to potency. From long-lasting uplifting effects to tremendous stress relief, some strains get the job done better than others. Here are the top 10 strongest strains of 2016.
AMNESIA HAZE
| | | |
| --- | --- | --- |
| Amnesia Haze by Royal Queen Seeds is the perfect strain to wake up with in the morning. Not only does it provide an intense high, but it also creates a somewhat psychedelic experience. In fact, some say that the high is so good that it will be one you won't forget. Moreover, this Cannabis Cup winning sativa is quite popular and has been for some time, in Amsterdam coffeeshops. With its genetics tracing back to South Asian and Jamaican landrace strains, Amnesia Haze is also a bestseller in seedbanks. |   |   |
With bursting flavors of citrus, lemon, and earthy flavors, Amnesia Haze has a delightful taste indeed. In like manner, the aroma it puts off is rather pleasant. Furthermore, this sativa is guaranteed to put a smile on your face. From euphoric to relaxing effects, Amnesia Haze provides the best of both worlds. Likewise, the strain will uplift you and give you bursts of energy. And for the patients that suffer from depression or high amounts of stress, take a few hits of this and you'll be golden. Also, if you have a constant battle with fatigue, insomnia, or pain, Amnesia Haze can supply the relief you need. Sound like a winner? In just 84 flowering days, you can have your very own.
LIBERTY HAZE
The 2011 High Times Cannabis Cup winner Liberty Haze is popular for many reasons. From its fast flowering time to its unique taste, this hybrid is as close to being the perfect strain as it gets. Indeed, this Barney's Farm creation is a combination of G13 and Chemdawg breed, which is why it flowers so quickly. In fact, in just 8 to 9 weeks, you will have yourself a bushy plant of medium height. Moreover, its buds are quite attractive with their bright green, crystally, red-haired appearance. However, it's the potency and lime taste that makes the people want more. With a THC content of 25%, the cerebral and heady effects are what helped this strain gain its popularity.
| | | |
| --- | --- | --- |
|   |   | Not only can this strain put you in a good mood, but it can also provide relief for many disorders and problems. Being that Liberty Haze gives you a head high, it's perfect for those with depression and anxiety. Moreover, it provides an appetite to those that lack one. Moreover, it can relieve stress, inflammation, and pain. With a combination of yummy pine, lime, and earthy flavors, Liberty Haze sort of tastes like a lime-aid. Above all, if you're looking for happy, uplifting, relaxing, euphoric, and energetic effects, this hybrid is the strain you. |
CRITICAL KUSH
Critical Kush is another Barney's Farm creation that combines two famously-known strains: Critical Mass and OG Kush. Equally important, the indica provides earthy and spicy aromas that'll put your mind and body at ease. Not only is its THC content amazingly high, it includes a moderate dose of CBD. Thus, making Critical Kush the perfect nighttime medication. From pain to insomnia, this potent strain will put your right to sleep.

Aside from relieving insomnia and pain, Critical Kush also reduces stress and muscle spasms. Likewise, it can knock out those killer headaches you may experience from time to time. In addition to its medical benefits, she provides blissful and relaxing effects.

 

 
Not to mention euphoric and sleepy effects as well. However, the one downfall of this strain is dry mouth. Nevertheless, that's easily treatable with a cup of water or your beverage of choice. For growers looking to cultivate Critical Kush, the indoor flowering time is 50 to 60 days.
L.A. ULTRA
L.A. Ultra by Resin Seeds is a potent indica whose genetics are kept secret. Thought to be the cross of KM Ultra and possibly LA confidential, it's near pure indica hybrid. The trippy and mesmerizing high it provides will boost your creativity, but only if you can control yourself.
Spicy and fruity in fragrance, the buds grow with rather large calyxes that are practically soaking in resin.

The medical benefits of L.A. Ultra range from relieving depression, insomnia, and headaches. Likewise, the indica part helps with pain and lack of appetite. In regards to effects, this strain will without a doubt make you smile. In fact, it will even assist you in focus and uplift you. In like manner, its euphoric sensations and tingliness will give you the ultimate body buzz. With its sweet and tropical flavors, you'll want to light it up and let your stress fade away. Equally important, the average flowering time is 53 days.

 
SUGAR BLACK ROSE
Bred by Delicious Seeds, Sugar Black Rose is a cross of Critical Mass and Black Domina. Furthermore, this indica-dominant hybrid has a rather sweet taste with its floral and fruity flavors. However, the aroma is a bit musky, and even mimics exotic hash found overseas. Not only does it have high medicinal value, but it also contains significant amounts of THC. Not to mention, it will give you the best body buzz ever.
| | | |
| --- | --- | --- |
| |   | From ultimate relaxation to happy vibes, Sugar Black Rose's effects are on point. Moreover, it can help you rest, uplift you, and send you into a pleasant state of euphoria. In like manner, it can relieve quite a bit of medical issues. As a matter of fact, this indica is a major nausea reliever. Likewise, it eases pain, stress, depression, and inflammation. Indeed, this is a high-quality strain that is worth growing, which takes about 53 flowering days. Ultimately, Sugar Black Rose will comfort you on even the toughest of days. |
ZENSATION
Zensation by Ministry of Cannabis is one of the strongest strains around. Though the strain is a newer breed among super potent indicas, it just so happens to include a touch of sativa. In fact, it has so much THC that the contents are close to a quarter of the white flower's weight. To specify, it has a whopping 20-24% THC content. With this in mind, this inbred is significantly powerful and will provide an experience like no other.

In regards to its medical benefits, Zensation is best known to provide pain relief, thus making it an ideal choice for patients that may suffer with it chronically.

 

 
Not only does it provide long-lasting relief, but it also makes you happy and relaxed. If you're looking to grow this high-quality strain, it takes approximately 8 to 9 weeks to flower. However, the plant is known to be large and produces up to 450g of high-quality buds, so you'll want to grow outdoors.
HAZE BERRY
Haze Berry is an 80% sativa hybrid and a cross of Super Silver Haze and the famous DJ Short Blueberry. With sweet berry and indica-like flavors, the strain got its popularity from its sativa effects. Being that its parents are highly potent, their child often tests at over 20% THC. Not to mention, few cultivars also include high amounts of CBD. Not only does it provide above-average yields, but the flowering time is also short and takes 9 to 10 weeks. With this in mind, it's the perfect strain for sativa connoisseurs.

If you're looking for a creativity boost and euphoric sensations, you'll want to give Haze Berry a try.

 
Equally important, the strain will relax you and make you feel better overall. Likewise, it will provide you with energy to help you make it through the day. And if you have a long day of work ahead, Haze Berry will help you focus. In general, you'll feel like an entirely different person, but in a right way. With this in mind, depression stands no chance against this strain, nor does stress. And for our lady readers, this sativa hybrid just so happens to relieve cramps as well. Moreover, it helps battle fatigue and lack of appetite. Again, the flowering time only takes 65 days, so why not grow your own?
TUTANKHAMON
Tutankhamon, also known as King Tut, is a Pyramid Seeds masterpiece that will make you a social butterfly. Like its parent AK-47, this sativa-dominant strain has a sour and skunky aroma. Being that it has the typical effects of a sativa, it will stimulate creativity and give you a helping hand at social gatherings.
 

Equally important, Tutankhamon has a reputation for having high levels of THC. Not to mention flavors of fresh fruit flowers. Indeed, this bud is a beauty.

Aside from helping your chit-chat game, this strain will give you a boost of energy and lift you up. Likewise, it can help your medical issues as well. From depression to fatigue, and pain to stress, all can be put at ease. As a matter of fact, this strain has been known to help with seizures as well. If you want a high that you can feel in your eyes, you'll want to give this strain a grow. And speaking of growing, the flowering time takes roughly 60 days.
THC BOMB
THC Bomb by Bomb Seeds is indeed the bomb when it comes to strains. Likewise, this hybrid has very high THC levels of up to 20%. Though this bomb won't knock you down completely, it will still give you an insane high. However, thanks to its well-rounded hybrid mix, the high isn't anything too crazy, rather just really good. Equally important, the hybrid is versatile and can grow both indoors and outdoors. The plants are short. However, they mature in 7 to 9 weeks. As a result, large yields. Not to mention, the flowers are large and covered with bright orange hairs.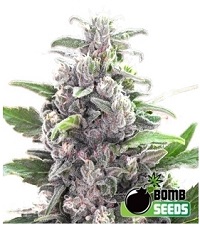 In regards to effects, THC Bomb provides the ultimate relaxation. In like manner, it will keep you happy and uplifted. Also, it releases euphoric effects that will blow your mind (not literally). However, this strain does cause dry mouth. As mentioned above, water or your beverage of choice can help that. Likewise to its incredible effects, its medical benefits are just as real. Not only can it help with depression, but also stress and insomnia. By the same token, it will relieve pain and give you an appetite. With this in mind, you'll want to light up this dominant strain and enjoy its citrusy and piney flavors.
TANGIE GHOST TRAIN
Tangie Ghost Train from Little Chief Collabs is a sativa-dominant hybrid. Being a cross between Tangie and Ghost Train Haze #1, this creation was born to be strong. Equally important, it flowers fast and has intense tangerine aromas and flavors. Not to mention, its buds provide a great euphoric sensation when you smoke them. With this is mind, Tangie Ghost Train is the perfect strain for sativa lovers.

With a flowering time of under 9 to 10 weeks, you can grow a quite sizeable harvest. Not to mention, the plants are tall and quite vigorous. Likewise, its buds are huge, compact, and covered with fiery orange pistils and sparkly resin. In fact, they are so huge that the branches may even need assistance in supporting them all. However, a bamboo stick or something similar will help. Ultimately, this strain is high in THC, and it won't take much to achieve the buzz you desire.
 
 
 
 
 
 
 

Written by: Guest Writer
Occasionally we have guest writers contribute to our blog here at Zamnesia. They come from a wide range of backgrounds and experiences, making their knowledge invaluable.

 

 
 
 
 
Find out about our writers