Blog

3 min
Lava Cake: Cannabis Strain Review & Information
3 min
A taste sensation, Lava Cake comes from a lineage of delicious plants. With all the fruity terpenes you could want, friendly growing characteristics, and a huge amount of THC, this strain is one worth growing again and again!
Lava Cake is an indica-dominant powerhouse from Zamnesia's very own breeders. Boasting a ton of THC and sweet, fruity flavours, it doesn't let its impressive parents down. The progeny of Thin Mint and Grape Pie, it was always going to be good—but nobody thought it would be this good.
Easy to grow, but offering incredible rewards, Lava Cake is a great place to start for the novice cultivator, and an easy ride for the experienced one. And if you want things to be easier still, Lava Cake is also available as an autoflowering seed!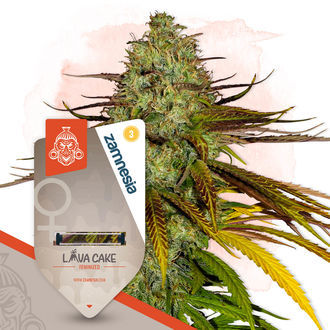 View
Lava Cake (Zamnesia Seeds) feminized
Parents: Girl Scout Cookies (Thin Mint Cut) X Grape Pie
Genetics: 70% Indica / 30% Sativa
Flowering Time: 8-9 weeks
THC: 23%
CBD: Low
Flowering Type: Photoperiod
Characteristics of Lava Cake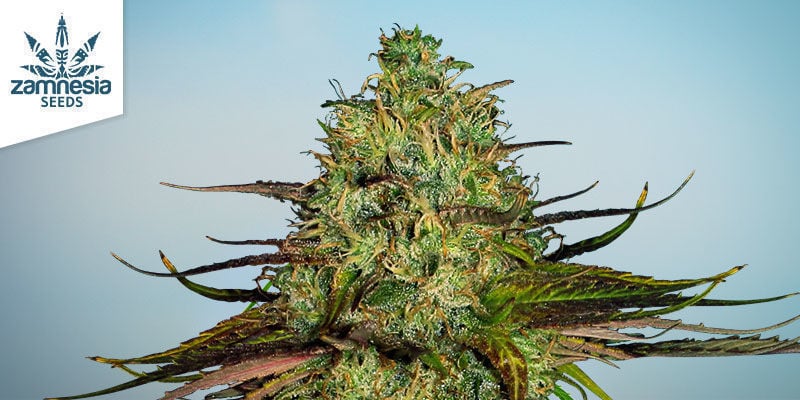 Lava Cake is, like many modern strains, a hybrid. However, it leans toward indica with most of its characteristics. Potent and sweet, it's the perfect smoke for evenings and lazy days. But don't be fooled by its chill facade! With 23% THC, it's capable of getting anyone extremely stoned.
| | |
| --- | --- |
| Genetics | Indica-dominant hybrid |
| Parents | Thin Mint (GSC phenotype) x Grape Pie |
| THC | 23% |
| Flavours | Sweet confections, berries, grapes |
| Effects | Strong, relaxing, heavy |
The parents of Lava Cake are popular in their own right, and bring power and sensational flavours to the party. Thin Mint is a phenotype of the wildly popular Girl Scout Cookies, renowned for its incredible effects and rich dessert flavours. Grape Pie, as the name suggests, comes with fruity notes and even a little spice just to keep things interesting!
How to grow Lava Cake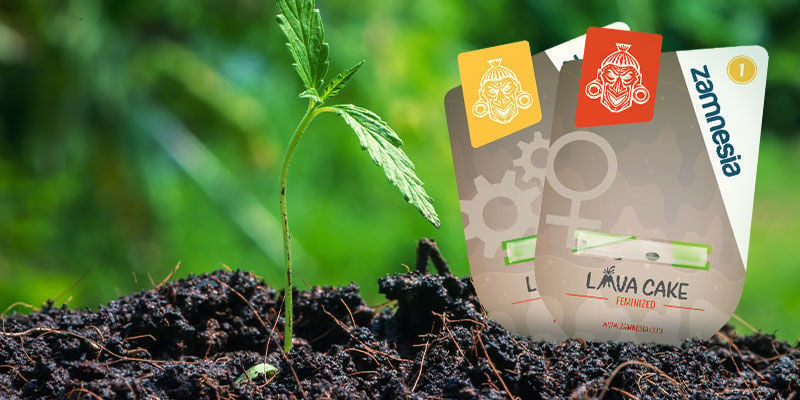 Lava Cake is a resilient strain that is forgiving enough to be a great choice for beginners. That being said, the results are so good that even seasoned growers will get a lot from cultivating it. If exposed to cooler temperatures, it can even show off some beautiful purple hues as harvest time approaches.
| | |
| --- | --- |
| Grow Difficulty | Beginner |
| Best suitable to grow | Indoor / Outdoor / Greenhouse |
| Variety | Feminized (auto available) |
| Flowering Time | 60–65 days (8–9 weeks) |
| Yield Indoor | 450–500g/m² |
| Yield Outdoor | 550g/plant |
If growing indoors, employing some training methods will allow you to get the very most out of Lava Cake. Techniques such as SOG or ScrOG can bag you up to 450–500g/m² of this delicious berry-flavoured bud. If you prefer to grow your weed outdoors, and trust in the power of the sun, then a massive 550g/plant can be hauled in come harvest time.
Exhibiting its indica tendencies, it's got a fairly short flowering stage. A mere 60–65 days is all you have to wait for Lava Cake's flowers to blossom and reach maturity.
An easy ride: Lava Cake Automatic
If you want all this, but with less hassle and in less time, then Lava Cake Automatic can deliver! Pushing the limits of modern breeding, this autoflowering version doesn't even drop in potency, retaining a massive 23% THC!
What's more, if you're growing indoors, the yields stay roughly the same too. You can eke up to 500g/m² from Lava Cake Automatic, which is a big haul for an autoflowering strain. Plus, it's small, topping out at as little as 60cm, making it perfect for cramped cupboards and stealth grows.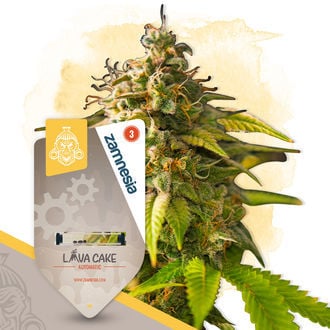 View
Lava Cake: flavour & effects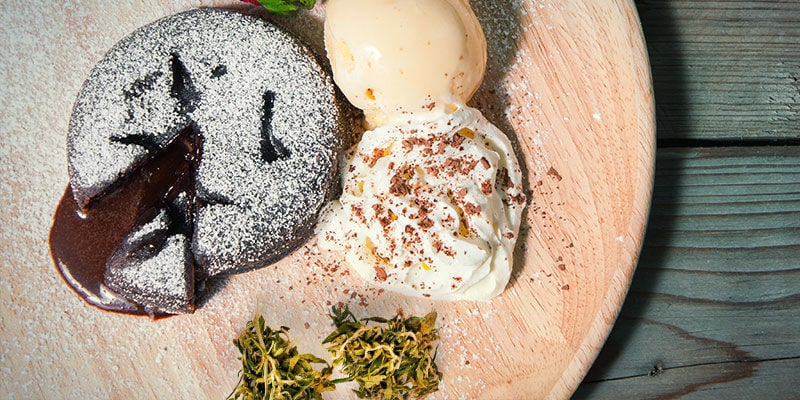 For lovers of fruity terpene profiles, Lava Cake is going to be a true joy. Thanks to its generous parents, it displays a range of sweet and enticing tastes and aromas that are both moreish and a little refreshing. Underpinning it all are sweet flavours of baked goods, like the scent from a patisserie. And on top of this are sharper notes of grapes and berries that will get your tongue tingling, and really bring Lava Cake to life.
While there is balance to the high, it certainly leans toward a heavy stone. Highly relaxing and likely to have you couch-locked, it's probably a smoke that's best saved for evenings, or days when you have very little to do other than indulge and enjoy yourself. If a day of indulgence is what you're after, though, then Lava Cake is truly decadent!
Lava Cake: a triumph of breeding
The genetics of Thin Mint and Grape Pie complement one another extraordinarily well, coming together to produce a strain that's both modern and exciting, but also familiar enough in its effects to provide us with some comfort.
Easy to grow and offering rewarding yields, it can find a place in almost every cannabis grow, no matter the skill of the cultivator. For beginners, it offers a satisfying place to start and good results. For experienced growers, it provides an opportunity to play around and really hone your skills.
But where it really shines is in the flavour department. Sweet, fruity, and exciting, Lava Cake is a taste sensation that demonstrates exactly what creative breeding can achieve!