Blog

3 min
Apple Fritter: Cannabis Strain Review & Information
3 min
Apple Fritter is an indica-dominant strain that provides sweet flavours and aromas worthy of her namesake. However, the real magic happens in the growing room and the subsequent effects of her buds. Boasting 25% THC and a high that showcase all the nuances of her cannabinoids and terpenes, this is a strain that you should not miss out on.
Apple fritters aren't just a sweet fried treat. No, it's also the name of a hugely impressive strain and addition to the Zamnesia lineup. It should most definitely be on the radar of any self-respecting cannabis aficionado. We'll break down everything you need to know about this potent powerhouse—with plenty of things to love about Apple Fritter.
Characteristics of Apple Fritter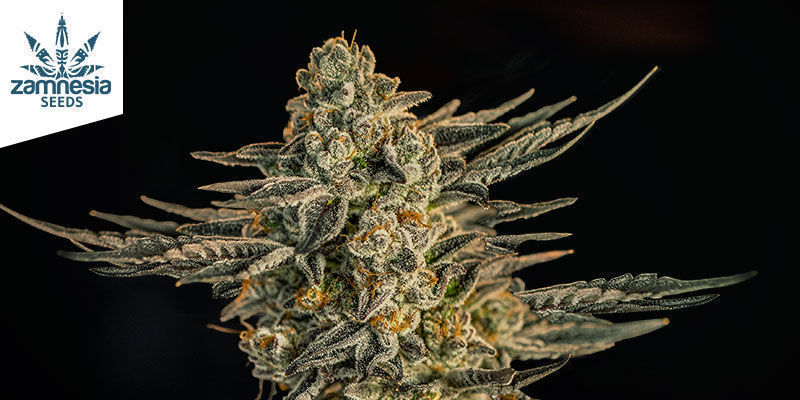 Apple Fritter takes the finer points of her heritage to offer up some truly unique genetics. She is a high-quality cultivar resulting from crossing the genetics of two American heavy-weight strains.
| | |
| --- | --- |
| Genetics | Indica-dominant |
| Parents | Sour Apple x Animal Cookies |
| THC | 25% |
| CBD | Low |
| Flavours | Sweet, Apple, Earthy, Sour |
| Effects | Energetic, Focus, Relaxing |
Apple Fritter takes from her parent strains to offer moreish, mouth-watering flavours and an array of effects that are bound to impress even the most stoic of stoners—more on this later.
With an average THC content of 25%, this is one potent indica-dominant strain. Whether smoked, vaped or made into concentrates or edibles, Apple Fritter can effortlessly deliver her attributes in many different ways, depending on your preference.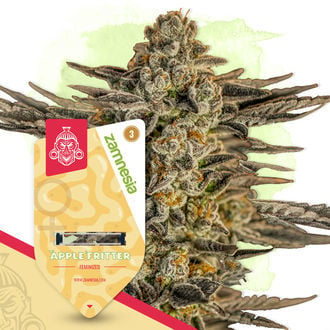 View
How to grow Apple Fritter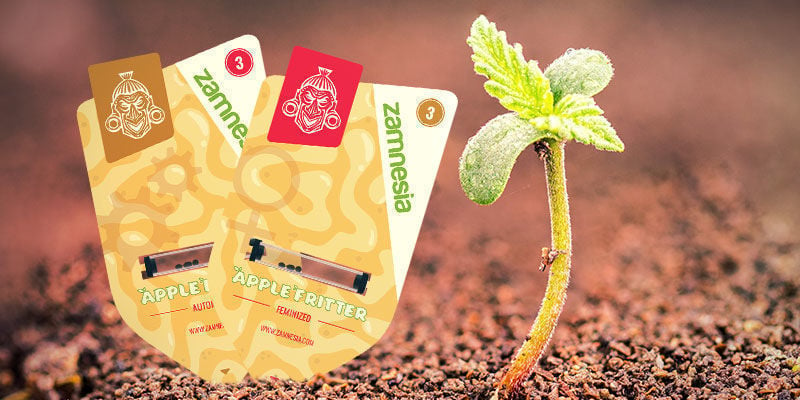 Growing Apple Fritter is not only a straightforward experience but also a rewarding one too. Newcomers and those with vast growing expertise will find this to be a cooperative and receptive photoperiod feminized cultivar to handle. She's wholly adaptable and resilient, able to be grown in both indoor and outdoor environments with great ease.
| | |
| --- | --- |
| Grow Difficulty | Beginner / Intermediate |
| Best Suited to Grow | Indoor / Outdoor |
| Climate | Warm And Sunny |
| Variety | Feminized |
| Height Indoor | Medium |
| Height Outdoor | Medium |
| Flowering Time | 60-65 Days |
| Harvest Period (Outdoor) | October |
| Yield Indoor | 450g/m² |
| Yield Outdoor | 450-500g/plant |
Apple Fritter makes for the ideal jumping-off point for those looking to increase their growing knowledge. So if you've been playing it "safe" with strain selection, this effortless feminized strain could very well be the one for you. Not just focusing on beginner growers, Apple Fritter is perfect for those looking to implement some more experimental cultivation techniques. This plant lends itself well to LST and other training methods.
Indoors, she takes around 60-65 days to fully flower once flowering begins and will deliver a bounty of buds in the region of 450g/m² when grown in the best possible conditions. Just be sure to provide regular maintenance and upkeep throughout her growing cycle, and you simply can't go wrong.
Outside growing projects tell a similar story. Apple Fritter will thrive in warm and sunny environments, but with a little TLC, she can also perform in those cooler climates. Ready to harvest in October after some careful planning, she'll reward patient growers with plenty of potent buds.
Apple Fritter Automatic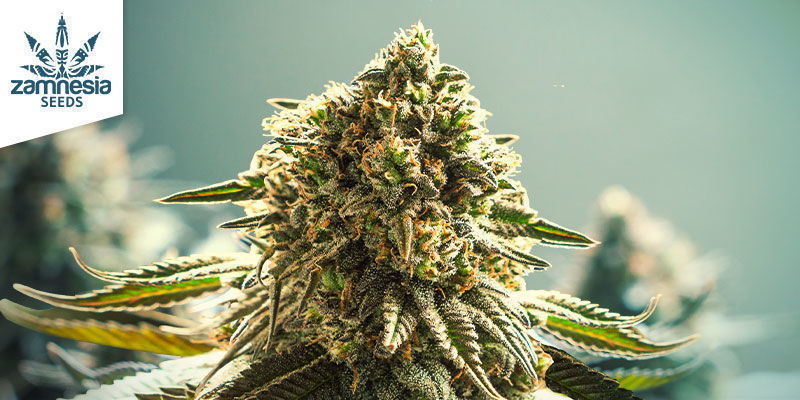 For those who prefer an auto grow, you'll be pleased to learn that Apple Fritter has an autoflowering variant. Apple Fritter Automatic has the same great genetics as its photoperiod feminized counterpart but with a bit of ruderalis woven in for the autoflower magic. The result, however, is very much the same; fantastic tasting and potent buds that will be ready before you know it, thanks to a short growing cycle.
This robust and receptive plant reaches heights of around 100cm, making her ideal for smaller growing areas indoors and outside. Perfect for those looking for a discreet growing project. Taking just 10-11 weeks from seed to harvest, all that's required is a little maintenance along the way, and you'll be rewarded with 400-450g/m² of precious, potent buds in an ideal setup.
Otherwise, you can expect the same indica-dominant characteristics, flavour profile and effects as her photoperiod counterpart.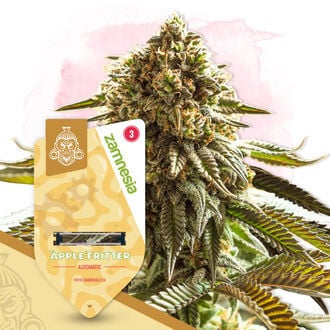 View
Flavours and effects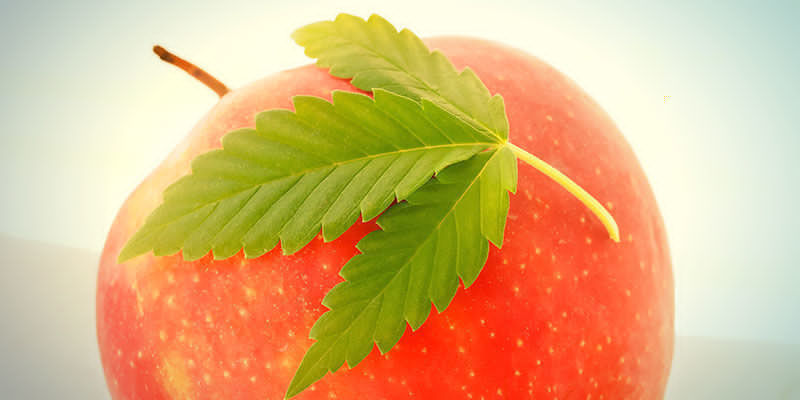 Apple Fritter's rich, complex, and tasty flavour profile make her ideal for a smoke or vape at any time of the day. As mentioned, she has a sweet apple flavour that is perfect for her namesake. Users will also be treated to more earthy and sour notes culminating in a tasty cannabis experience. Many users actually look to make edibles and concentrates from Apple Fritter as she has such an awesome flavour.
As we know, a flavour profile will only get you so far in the cannabis game; effects are paramount to round off the whole experience. Fortunately, we're happy to report that Apple Fritter delivers potency in spades. With 25% THC to her name, she'll provide strong and euphoric effects courtesy of a quick and immediate head rush. Once this has settled, a wash of chill physical sensations will relax anyone lucky enough to try Apple Fritter. While she has plenty of THC to her name, this can be a double-edged sword as she might be a little overpowering for beginners or those with low tolerance.
Conclusion: Acquire some Apple Fritter now
As you can probably tell by now, we've got plenty of great things to say about Apple Fritter. Not only is her flavour profile simply incredible, but she'll also easily wow cannabis enthusiasts with a solid and soothing high. The best part of Apple Fritter is that you get two choices to sample her buds. The feminized seeds provide a great option for those looking in enhance their growing knowledge, but the autoflower variant offers the same amazing flavours and high wrapped up in a pint-sized plant. Regardless of your experience, if Apple Fritter is not in your grow room, it's time to change that.