Blog

4 min
Top 10 Cannabis Documentaries
4 min
We all love a good TV series to binge-watch, but did you know there are some amazing cannabis documentaries available right now? We've compiled a list of the top 10 weed documentaries that we know you'll love. Plus, we even recommend a few strains to help you get just a little more immersed.
Thanks to streaming services like Netflix and YouTube, interest in professional and amateur documentaries has arguably never been higher. Out of every topic they cover, though, few are more popular than cannabis.
Want to learn how to make delicious edibles, or figure out how to help your homegrown plants flourish? Just want to watch some thrilling crime stories played out? We can bet you'll be able to find a weed documentary to suit your fancy.
In this article, we take a look at our 10 favourite cannabis documentaries. After that we will check out some strains that may complement your viewing experience. But let's get into the countdown now.
TOP 10 CANNABIS DOCUMENTARIES
Without making you wait any longer, let's get right into our list of the top 10 cannabis documentaries. Some light, others much more serious and in-depth, there's certain to be a good flick for each of you out there.
1. HOW WEED WON THE WEST
Set in recession-era California circa 2009, How Weed Won the West details a cannabis industry thriving in a near-bankrupt state. Back then, the medical cannabis industry was widely supported by Californians, and even by the US president at the time, Barack Obama. This documentary, however, shows that even with this support, navigating the industry is nothing if not tough.
How Weed Won the West pulls no punches. We see police raids on medical marijuana dispensaries like Organica, which are terrorised in spite of providing a medical service. The seedy underside of law enforcement is exposed, and the industry pushes back against a seemingly hopeless situation.
2. SUPER HIGH ME
This, of course, is influenced by Morgan Spurlock's 2004 fast-food exposé Super Size Me. Super High Me, in turn, follows comedian and renowned stoner Doug Benson as he tests his weed consumption endurance. For his study, he smokes cannabis for 30 days straight to see the impact on his mental and physical well-being.
Along the way, we see Doug undergo numerous IQ tests, psychic evaluations, and medical examinations, with some shocking and unexpected results. There's lighthearted fun, but it's not all for the faint of heart. Expect big laughs and thought-provoking revelations.
3. THE CULTURE HIGH
The Culture High looks at the modern-day stigma and issues surrounding cannabis use and the industry itself. Through various interviews, the film breaks down stereotypes, scaremongering terms, "The War on Drugs", and government prohibitions surrounding cannabis.
Through these discussions, it reveals the truth behind the motives of those looking to stop the use of cannabis. Featuring some high-profile interviewees, this is one of the better documentaries to sink your teeth into.
4. WEED THE PEOPLE
Weed the People, a hard-hitting piece featuring first-hand stories of families saved by medical cannabis, is a must-watch. It shows, in intimate detail, how medical marijuana has been used to help treat symptoms of patients with various illnesses.
The documentary also looks at the research behind cannabis as medicine, and how it's still lacking in certain areas. This, as it tells us, is due to research being overlooked and downplayed by old politicians and laws. It also delves into human rights issues surrounding patient treatment, showing just how far families will go for a cure.
5. THE LEGEND OF 420
This is a documentary that explores the controversies surrounding recreational cannabis use. The Legend of 420 shows weed's evolution as it's labeled dangerous by US law and demonised as a gateway drug. Watch how these out of touch views and opinions are debunked!
Also watch, though, how some politicians turn back the clock by introducing stricter rules and harsher consequences for cannabis users. Through this exploration, The Legend of 420 offers a fascinating insight into the two opposing sides of cannabis use.
6. WEEDIQUETTE
Spanning three seasons, Weediquette is a documentary series hosted by "The Kid" Krishna Andavolu, and produced by Vice. Each episode offers a different insight and unique take on the legalization of cannabis. Bringing science, economics, and culture to the forefront, there is certainly something for every cannabis enthusiast here.
Episodes look at cannabis use and culture in street gangs, potential treatments for autism, and even stories of smuggling cannabis into cities. Insightful and always entertaining, Weediquette is a series you can put some serious time into.
7. MURDER MOUNTAIN
Murder Mountain is a Netflix-exclusive six-part documentary that follows a "get rich quick" local cannabis industry in the mountain ranges of Humboldt County. A must-watch for viewers seeking a blend of cannabis industry knowledge and true crime.
Murder Mountain takes a dark turn very quickly, showing how the inhabitants of these mountains have their own rules and laws. In short, it is definitely not the hippie commune that those travelling there might imagine it to be. Expect a mysterious and intriguing story that will have you gripped from start to finish.
8. COOKING ON HIGH
Now for something a little tastier. Cooking on High is different from the usual cooking show format we've seen a hundred times before. How is it different? Well, in each episode, two chefs are pitted against each other to create dishes that must include cannabis. They are then tested by a panel of celebrity judges.
OK… so it's the classic format (besides the weed). That being said, it is highly entertaining, and the ingenuity of some of the recipes will have you in disbelief. It will make you look at edibles in a different way, and may just spark that inner chef in you.
9. GRASS IS GREENER
Taking a social and cultural perspective, Grass Is Greener showcases the influence weed has had on music, art, and creativity. In turn, it showcases the government backlash weed faced in the "War on Drugs". Through this discussion, it also details the racially motivated injustices fueled by the association between cannabis and people of colour.
Directed and narrated by rapper and cannabis enthusiast Fab 5 Freddy, with interviews of other hip hop figures, Grass is Greener dissects the pressing issues that have held down, and still hold down, those fighting for legalization.
10. THE SCIENTIST
Rounding off our list, we have The Scientist, which we already covered previously in our blog. This is a gripping medical documentary telling the story of Dr Raphael Mechoulam, a pioneer in the study of cannabinoids. The Scientist details Mechoulam's rise from humble beginnings to becoming the first person to identify the chemical structures of CBD and THC.
These discoveries, of course, would eventually lead to us discovering the endocannabinoid system, which affects nearly the entire human body. Dr Mechoulam consistently and emphatically proved fundamental truths about cannabis use that few, if any, dared to research before him.
WHAT IS YOUR FAVOURITE CANNABIS DOCUMENTARY?
So, there you have it! Did your favourite make the list? If not, feel free to comment your personal favourite below, and tell us why you recommend it. As you can see, there are many cannabis documentaries available with different tones and content. The one thing that brings them together, though, is that they're binge-worthy. So pick your favourite, grab a joint or bong, and get stuck into a documentary or two today!
PAIRING WEED WITH DOCUMENTARIES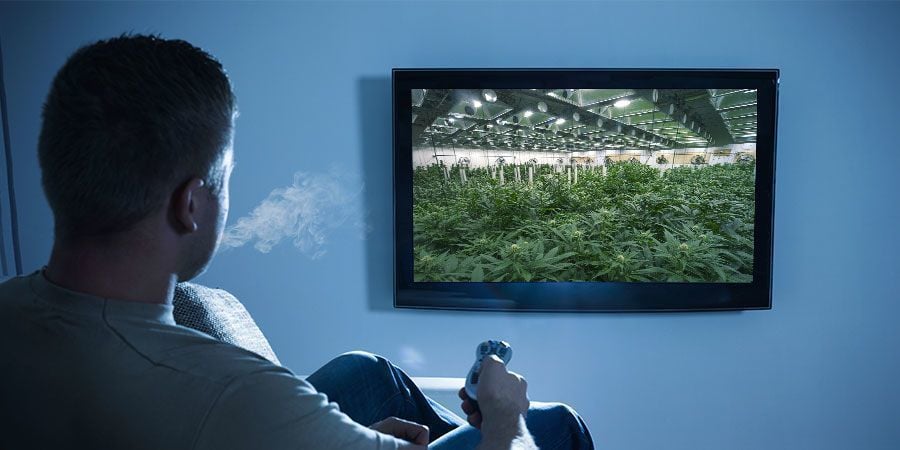 Like a burger and fries, weed and documentaries are an unbeatable combo. To set the mood for your viewing binge, pick a strain that helps you lie back and get immersed. Now, you may have your own preference, and that is absolutely fine. We're only scratching the surface of what's available, but we think these strains are worth your consideration.
OG Kush
Now this strain was bound to feature, and for good reason! OG Kush is a hugely popular strain of cannabis, and an undisputed California classic. Thanks to a smooth, enjoyable taste, along with a potent and relaxing high, this is the perfect TV-watching strain.
Durban Poison
With its uniquely sweet liquorice flavour, it is easy to see why this sativa-dominant plant is so popular. Although modest in THC content (averaging 8–9%), Durban Poison produces a positive, energetic, and lasting high that keeps stoners coming back.
AK-47
What better way to complement those true crime documentaries than the inclusion of AK-47? This strain carries just as much firepower as the weapon it's named after. It packs a strong, motivating, and hard-hitting high with a fresh citrus flavour. Just like these documentaries, you definitely shouldn't miss out on it.