Blog

4 min
The Stoned Ape Theory Of Human Evolution
4 min
As modern science unfurls some of the mysteries surrounding the effects of magic mushrooms on the brain, we return to an older theory. Put forth by Terence McKenna in the 90s, the stoned ape theory posits that magic mushrooms played a vital role in humans' cognitive development. Here we investigate the hypothesis and see what science can offer it.
For those of us who love psilocybin mushrooms, it's beautiful to think that they may have played a key role in human evolution. And that idea is not as unlikely as you may think. For those familiar with Terence McKenna and his "stoned ape theory", this information may not be new. But, for those unfamiliar, a wonderful, compelling hypothesis is about to unfurl.
What's best is that, unlike many hypotheses, the stoned ape theory can weather the criticism against it, adapt without fundamentally changing, and fit neatly into existing hypotheses without either coming off any worse, or contradicting one another.
What Is the Stoned Ape Theory?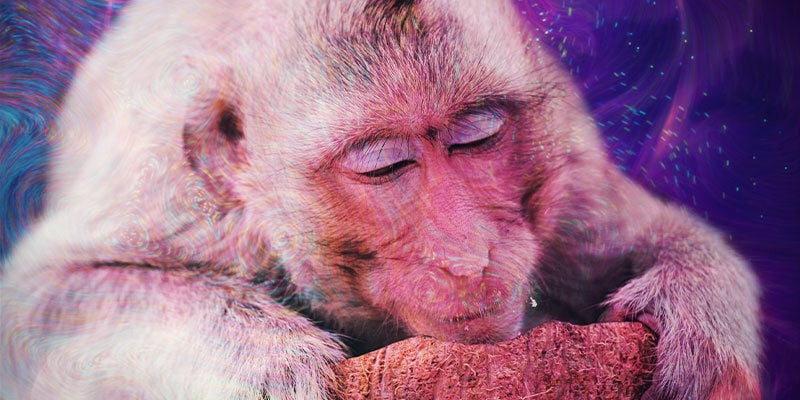 The stoned ape theory (or, more appropriately, the stoned ape hypothesis) posits that the rapid and drastic expansion of human consciousness—between 2 million and 300 thousand years ago—was directly influenced and propelled by the consumption of mushrooms belonging to the Psilocybe genus.
It suggests that as the forests of Africa receded, and savannas encroached, apes left the trees and entered the grasslands. This is the accepted theory regarding how apes became bipedal. As these early hominids took to the grasslands, they would have followed and hunted prey. Large herds of prey leave large amounts of dung. The species Psilocybe cubensis found in Africa, among other psilocybin-bearing fungi, thrive in dung.
It is therefore almost impossible that early hominids would not have come across these mushrooms. It is also unlikely that they would not have eaten them.
The stoned ape hypothesis suggests that by ingesting these mushrooms, cognition, empathy, and language rocketed upwards—ultimately catalysing a greatly accelerated cognitive-evolutionary process.
Who Is Terence Mckenna?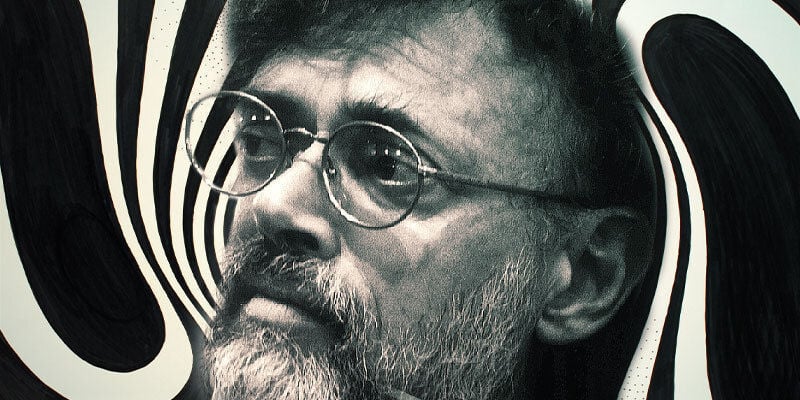 Terence Mckenna was a philosopher, academic, and psychonaut. Famous through the latter half of the 20th century for being a proponent of psychedelics, he had both his fans and his enemies. Controversial and (by some standards) radical, he often found himself at odds with mainstream society.
However, as an ethnopharmacologist—one who studies the drug use of different cultures—his ideas were far from modern or new. Studying many forms of shamanism and traditional drug use, the ideas he brought forward were grounded in ancient human history.
This is where the stoned ape theory came from. Posited in his book, Food for the Gods, McKenna laid down his hypothesis in great detail. He wrote it near the end of his life; a life that was dedicated to meaningful research into psychedelics and human consciousness.
What Do Magic Mushrooms Have To Do With the Stoned Ape Theory?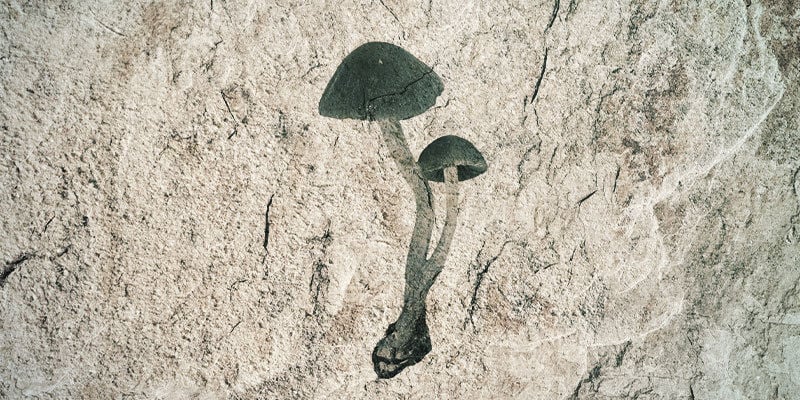 Magic mushrooms are at the heart of the stoned ape theory. Fairly new evidence shows that fungus is the first recorded multi-cellular organism on the planet. Fungus found in lava-flows dates back over 2.4 billion years. The first single-celled organism is 2.8 billion years old. We, Homo sapiens, first appeared as Homo erectus around 650 million years ago, so fungi predates us by around 2 billion years.
But, why are mushrooms thought to have had such a powerful impact on our consciousness? Initially, the hypothesis was grounded in the qualitative experiences provided by magic mushroom trips. They cause huge amounts of "new" data to enter the brain, increase empathy, and allow one to view the world in a different way. Basically, they drastically change conscious experience. This much is known to anyone who has tried them.
And modern scientific research backs this up. As technology increases and the barriers surrounding psychedelics are broken down, more research is being done into the powers of our ancient ancestors. The results are astonishing.
Psychedelics, it has been found, may quite literally elevate consciousness. So, armed with this knowledge, it seems easier to believe that they could have had an evolutionary impact. That's not all; psilocybin is claimed to increase both neuroplasticity and neurogenesis. In doing so, it allows the brain to build new pathways and destroy old ones.
The implications of this are big. Following this theory, by quite literally allowing the brain to build new pathways, psilocybin could have advanced the speed of development exceptionally. What's more, it would've given those who took magic mushrooms an edge. By being able to learn faster and think more abstractly, they would've been more likely to succeed.
Why Is the Stoned Ape Theory Controversial?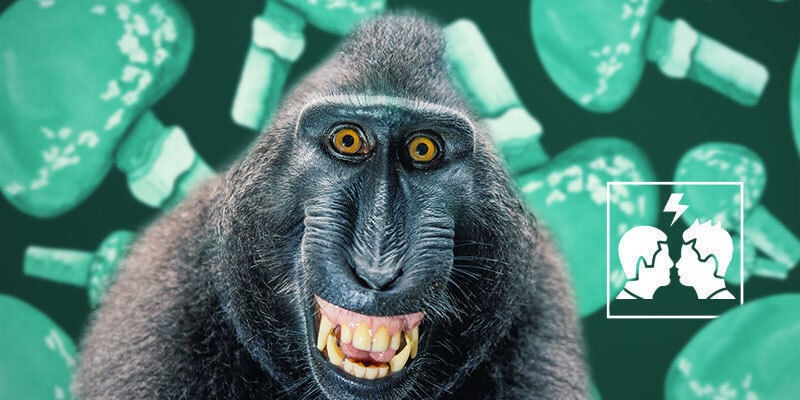 It is a theory not without its flaws. The major flaw is this: it is naively simple. From what we know, evolution is a complex process that often involves many competing factors. Suggesting a single event was the cause of one of the biggest evolutionary events—human consciousness—seems like an oversimplification at best.
There are many equally compelling hypotheses that account for the emergence of our developed consciousnesses. They are often distinct, but essentially they all come down to cooperation. True cooperation—and it may be that only humans demonstrate this—has given us a serious edge over other species.
Though many animals, and perhaps plants (via fungi), do communicate with one another, the depths of human empathy are very deep. We exhibit a theory of mind that most other living things seem not to. In essence, this means we can inhabit the conscious experience of other things, and thereby cooperate.
Most theories suggest we developed such powerful consciousness because the increased cooperative capacities we gained from it were beneficial. These theories also neatly include our advanced language abilities. Cooperation and language go hand in hand; one is not possible without the other.
But here's the thing; the stoned ape theory fits beautifully into these broader hypotheses. Empathy, language, the idea of sharing conscious experiences; mushrooms encourage all of these things. So, while it may be an oversimplification to think that mushrooms were the sole cause of these changes, it seems perfectly reasonable to assume that they enhanced and accelerated changes that were already happening.
Modern Findings on Magic Mushrooms' Effects on the Brain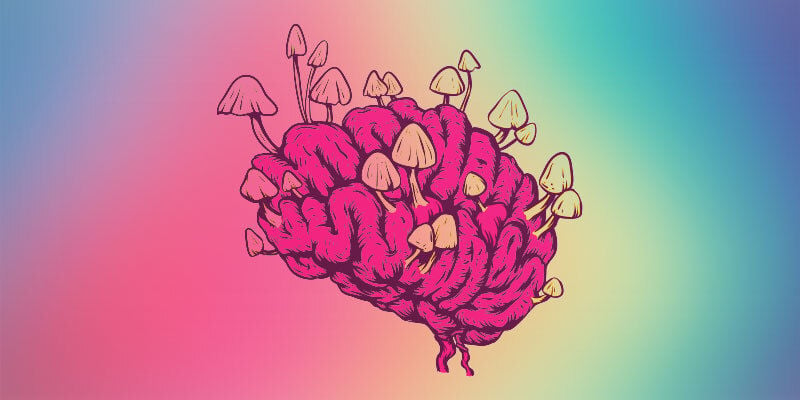 Psilocybin, and other psychedelics such as DMT, create a serotonin feedback loop in the brain. Unlike drugs such as MDMA, which greatly increases the brain's receptivity to serotonin, psychedelics sort of do both; they increase both release and receptivity. This is a very simplified version of what's actually happening, but this destabilisation process allows the brain to build new pathways.
Psychedelics also affect the claustrum, or default mode network (DMN). What is the claustrum? Nobody knows for sure, but it's a thin web of neurons found centred in the cortex, yet extends to all parts of the brain. The leading hypothesis regarding its function is that it manages which of the brain's many stimuli the "conscious" mind focuses on.
Psychedelics reduce activity in this part of the brain, and increase activity everywhere else. It is thought that this is why the ego seems to dissolve and we become closer with each of our senses, memories, and emotions during a trip. The consciousness connects directly with them, rather than being filtered through the claustrum.
The Stoned Ape Theory Might Explain Our Evolution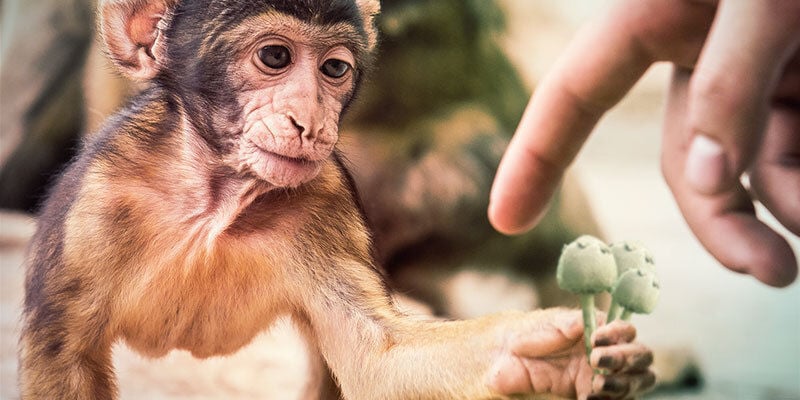 All-in-all, the stoned ape theory is highly compelling. At the time of its conception, it was met with scepticism by most of society. But since then, attitudes have changed. And, as so often happens, ideas once thought ludicrous have turned out to be pretty close to the mark. That's not to say it has been proven right, and it is unlikely that it will be. We know our ancestors ate mushrooms, but we cannot know what changes they made to the brain. However, we can speculate.
Though its original form may be an overstatement—as it seems unlikely that psychedelics alone brought us to where we are today—the most compelling part of the hypothesis is how it can be enjoined with other theories, without really changing. The fundamental idea—that we began consuming these fungi and they catalysed fundamental changes in our cognition and consciousness—survives intact when brought up against other competing theories. In fact, they may not be in competition at all.