Blog
2 min
The Leaf: A Fully Automated Cannabis Grow Box
2 min
Ever wanted to grow weed at home, but been put off by its intimidating nature? Leaf, a fully automated grow box aims to change that.
You might remember a while back we wrote about the Niwa - a futuristic and automated grow box that has the potential to revolutionise the way we grow cannabis indoors. The problem with Niwa was that it is made for general plant cultivation, meaning it would likely have to be adapted to cater for the specific needs of a cannabis plant. However, if Corsica Innovations have anything to do with it, this should no longer be a worry. Not resting on their laurels, this forward thinking company based in Colorado has taken the concept of an automated system and tailored it specifically for growing cannabis. What is this next step in the home grown revolution? They call it Leaf.
LEAF: THE FUTURE OF THE CANNABIS GROW TENT?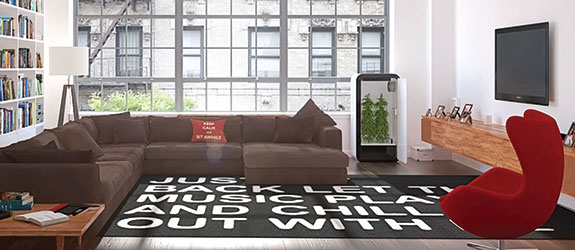 According to Corsica Innovations, Leaf will be the ultimate "Plug N' Plant™" solution to growing two cannabis plants in your home. No prior knowledge is needed, as the system automatically adjusts itself depending on the feedback it gets from its many sensors to ensure optimal growth. All you need to do is set it up, add the seed, and you will have a harvest of "at least 4 ounces of dry, cured bud every 3 months from your Leaf system with just 20 minutes of work per week".
It is a big claim, and likely to be of great interest to many enthusiast, especially those who do not have the knowledge or time to grow their own weed, but want to stop their reliance on the black market.
To make things even better, this entirely automated system gives you continual feedback through your wifi to your smartphone – allowing for real time monitoring.
From what we can tell, pretty much everything is handled by the Leaf system. Even odour control and noise levels are monitored and taken care of.
THE POTENTIAL DOWN SIDE: FULL AUTOMATION ISN'T CHEAP!
The only downside that we can currently see to the Leaf is that it is going to be fairly expensive. It is estimated that the leaf will cost $1299. This is quite a large outlay, but for hands off full automation in a complete package, maybe it is worth it? Buying all of the equipment you currently need to grow indoors can cost a similar amount, especially if you are going for top of the market, fancy brands. But at the same time, setting yourself up with the bare basics can be quite cheap as well. It is all going to depend on what you want out of a grow.
Then there is also the point that we can't actually get our hands on one of these and test it ourselves yet. Corsica Innovations are currently looking for testers, but only in Colorado. Until the Leaf is mass produced and reviewed, we can't say how accurate its claims of easy, no-knowledge automation are, and whether it gets the results Corsica Innovations seem to think it can. This isn't to say it won't, and we sincerely hope it does – the potential here is staggering, just think of the future innovation it could lead to, and the accessibility it could offer to people who want to grow medical cannabis for themselves, but don't really have the knowledge. It could make sure that everyone knows where their weed comes from, and that it is grown safely. Let's hope it becomes everything it wants to be!