Blog


2 min
Strain Review: Moby Dick

2 min
Moby Dick is Dinafem's trademark strain and a force to be reckoned with. This strain has got it all: superb production, devastating potency and unique aroma.
Much like the mythical beast that inspired Hermann Melville's novel, the Moby Dick cannabis strain is both awe inspiring and powerful. Originally conceived by the coming together of an unknown Haze and the illustrious White Widow, the resulting Moby Dick has quickly made a name for itself as top-shelf, potent and genetically superior strain.
Moby Dick was bred to contain a very high amount of THC (21%) mixed with moderate amounts of CBD and TCHV. What this has resulted in is a strain that both boosted psychoactive effects as well as inducing a decent amount of pain suppression. Quite understandably, this raw force has quickly been appreciated by users everywhere, instantly becoming a favorite.
We have found Moby Dick to devour nutrients like few other strains. She is a sativa dominant hybrid that grows to gargantuan sizes, imposing herself in the grow room whilst producing epic yields. Of course, epic yields come at a price – Moby Dick requires a lot of light, care and carefully balanced nutrition to really thrive; but if you have the room, patience and expertise, you will be rewarded tenfold for your effort. In an indoor setting, Moby Dick will usually grow to around 1.4 meters, take 9-10 weeks to flower and produce yields of 500+ grams/m2.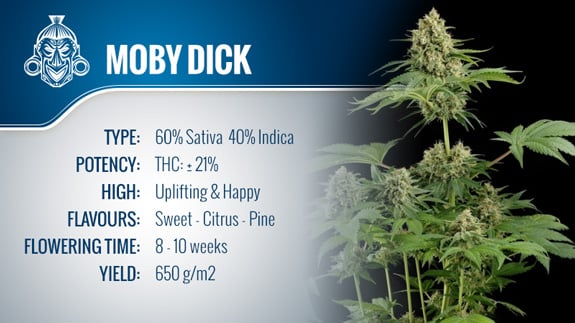 Moby Dick will really thrive under an experienced hand, but this is not to say novices cannot get results either. Although you may not get the same results as an advanced grower, Moby Dick offers a good learning curve for those looking to cut their teeth on a strain with a lot of upward potential – with better results each time you try.
If you are fortunate enough to live in a warmer area of the world, Moby Dick can really be pushed to the limits. Outdoors, in optimal conditions, she can grow up to 3m in height and will be ready for harvest towards the end of October, producing up to 1500 grams of top-shelf bud per plant!
It is not just the potency of Moby Dick that has led to its popularity. When smoked it produces a very distinct blend of citrus and earthy flavours. The high itself, as mentioned, is very strong. It is like an unstoppable force that affects both body and mind equally. This makes it a great end of day smoke, when you want to relax after a hard day's work; or an excellent choice for those lazy weekends when you just want to kick back and chill out.
On the whole, Moby Dick is well deserving of its place of esteem within the cannabis community. If you have not tried this behemoth, then we wholeheartedly recommend you do. Although quite demanding in the grow room, the reward you get for your effort makes it worth every second you spent labouring over her, especially for the personal, hobby and connoisseur grower – just make sure you have the room to accommodate her!
Available from:

---