Blog


1 min
Strain Review: Chemdawg

1 min
A living legend, Chemdawg has made a name for itself that won't quickly die out. The combination of superior strength, taste and the intense high make it a force to be reckoned with.
Chemdawg is a prominent strain on today's market, and is frequently used as a base for many of the hybrids we are now seeing released. For all its fame, the origins of Chemdawg are actually shrouded in a great deal of mystery, with no one actually knowing its precise lineage. It is rumoured that Chemdawg is the combination of OG Kush and Sour Diesel – two very big names that have made Chemdawg very popular amongst connoisseurs. But despite this, it is still just hear-say and very educated guesses. It is likely the true origins of this powerhouse will forever remain a mystery.
When it comes to its actual smoking potential, Chemdawg scores top marks. It has a strong diesel flavour, supplemented by earthy and piney undertones. It produces a very strong and uplifting cerebral high that can quickly become overwhelming. If you ever plan to smoke this, make sure you have no immediate plans, your mind can get knocked so far out of your body that it leaves you pretty much locked down. Inexperienced smokers should exercise a great deal of caution and take things slow – there is no need to go jumping in the deep end.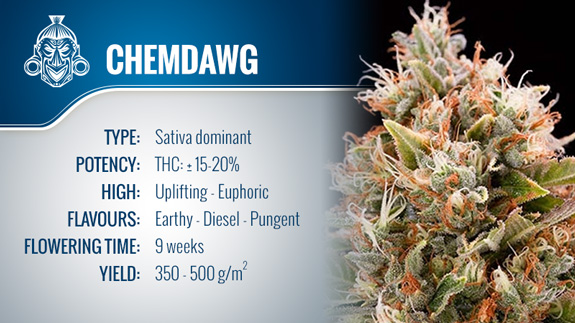 In terms of medical potential, anecdotal accounts say that it is great for stress, pain and depression. It has also been used to help alleviate anxiety, migraines and PTSD.
In terms of growing Chemdawg, it can be successfully cultivated both indoors and outdoor – although it will do much better in a warmer climate should you decide to do the latter. It grows with sativa characteristics, and can become quite dominating within a small space. Although it grows like a sativa, it has a much shorter flowering time than you may expect – taking around 65 – 70 days to come to full fruition. When it comes to yield, it is possible to get up to 800 grams/m2 when grown under an experienced hand, using advanced techniques (Chemdawg responds well to ScrOG techniques). It's not just big yields though that makes this such an appealing strain, on average Chemdawg grows to have a THC content of 20%.
Quite frankly, this strain is a legend. And it is likely to hold its place amongst the top echelons of the cannabis community for many, many years to come. It will sire many more children, and continue to amaze and astound. We cannot sing its praises enough. If you have never tried it, you are missing out.
You can get the original Chemdawg here:

---