Blog

2 min
Zamnesia to be the Main Sponsor of Psy-Fi!

2 min
Holland will be the proud host of PSY-FI: INSIDE THE VORTEX, a psy-trance festival that is on course to becoming one of the biggest in Europe; and what's really awesome is that not only will we be there, we are going to be the MAIN sponsor!
PSY-FI: HOLLAND'S BIGGEST PSYCHEDELIC TRANCE FESTIVAL (AUG 28 - SEPT 1, 2014)
If there is one thing we have learnt from our recent trip to Spannabis, it is that there is nothing better than meeting our customers face to face, and getting involved in the festivities and community spirit.
So what is Psy-Fi: Inside the vortex
Psy-Fi is a relatively new festival that focuses on psychedelic culture, and all of the music, art, nature and personal growth that goes with it. They have created an open space where people of all cultures, religions and countries can come together as one and enjoy life, love, peace and unity – all the while dancing to hypnotic rhythms of psy-trance!
Inside the Vortex is their second festival which will take 5 (!) full days this year, to be held this summer, following on from last year's "Glow in the Park", a relatively small experiment to see whether a psychedelic festival was even feasible in the Netherlands. Even though it was small scale, and had various restrictions applied to it, Glow in the Park was a huge success!
This year's festival will have none of the restrictions that the previous one had, and will be going all out with a huge and beautiful open air venue ideal for psychedelic chilling and exploration, and around the clock partying! It is going to set the bar high for all future Dutch and other European psy-trance festivals.
How's Zamnesia getting involved?
As the main sponsor, you can be sure that you will see us about the festival, enjoying ourselves and getting to know all you people. Of course we will also have a large show stand where we will be selling a wide range of our products including pipes, cannabis seeds, Salvia, Kratom, a wide array of headshop items, and of course, MAGIC TRUFFLES!
That's right! Magic truffles are legal in the Netherlands and we will be selling them at our stand. So don't worry about having to try and get psychedelics into the country or trying to source them before the festival. You can get the best of the best right here from us!
The Venue
The venue could not be more ideal for a psy-trance festival. Situated just outside Leeuwarden, the grounds for the festival are amongst lush grass vistas, enchanting forests and relaxing and serene lakeside beaches. This idyllic setting seems too good to be true, and has everything a pyschonaut could want for their magical journeys.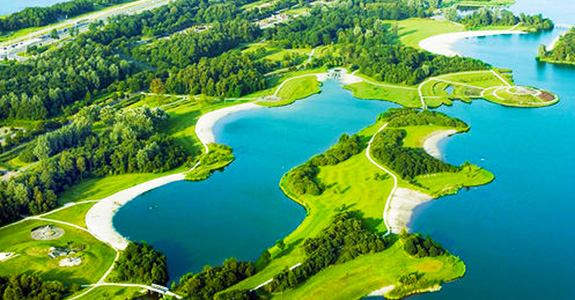 Main stage
The main stage is set to be placed on the grassy plains right next to the beach, overlooking the beautiful lakes and forest. It is where all of the main events will take place, and at night you can enjoy beach side bonfires, amazing visuals, decorations and Europe's biggest laser show!
Artist:
Ace Ventura

Cosmosis

Zen Mechanics

Atmos

Filteria

E-Clip

Perfect Stranger

Ital

U-Recken

Talamasca

And many more
Chill-out stage and magical forest
Another, more chilled out stage, with its own beach will also be set up. Here you can relax on the beach, go for a swim and enjoy the beauty around you. There is also winding walkways through the forest, leading to other, more secluded chill out areas; and at night, the forest turns into an enchanted wonderland, as it changes colour and relaxing music cascades down on you from the tree tops.
Alternative stage
Psychedelic festivals are about diversity and bringing people together, and the music should be no different. Set on its own scenic island, the alternative stage will host all kinds of music ranging from drum and bass to reggae. It's a party within a party!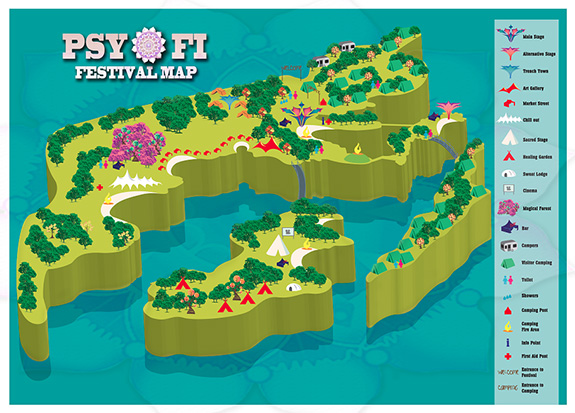 Sacred Island
Psy-Fi isn't all about partying, it's all about learning and growing as well. The sacred island has its own stage dedicated to workshops and lectures from some of the leading professionals in the field, including Dr. Dennis McKenna! The sacred island will also offer areas for healing and growth, with healing tents, massages and night time mushroom ceremonies!
Organic food market
Food connoisseurs will love what is on offer at the organic food market. Everything is made with the finest ingredients, and it offers a huge range of choices to choose from. Wraps, curries, pastas, pizzas, hamburgers, fruits, crepes – it's all here.
These are just a few of some of the attractions that will be featuring at the festival. You can find an expanded list of the wonders and sights here: www.psy-fi.nl
We are really hyped about this festival, and we really hope you can make it, no matter where you are in the world. Stop by our stand and say hi! We would really love to meet you all in person!
---