Blog

3 min
Top 5 Best CBD Weed In Amsterdam
3 min
Most cannabis lovers visit Amsterdam to get truly mangled—but the time comes when one must return to reality for a bit. CBD strains can help to tame the THC high, and make a great smoke early in the morning before exploring the city. Here are the best places to find CBD buds.
Are you looking for the best CBD strains in Amsterdam? Well, look no further. The Amsterdam Coffeeshop Awards 2019 are over, and the results are in for the top 5 coffeeshops for CBD flower.
AMSTERDAM COFFEESHOP AWARDS
The Amsterdam Coffeeshop Awards took place from April 2019 to September 2019. The massive competition featured 45 coffeeshops from all over the city, and votes came in from over 50 countries across the planet—over 54,000 votes in total. Such a massive number of votes, from such a diverse array of locations, has served to identify the very best coffeeshops in the city.
There were several categories that participants could vote in, one of which being "best CBD flower". Let's learn a little more about CBD. After that, we'll look into the best coffeeshop locations to procure some sweet CBD flowers.
WHAT IS CBD CANNABIS?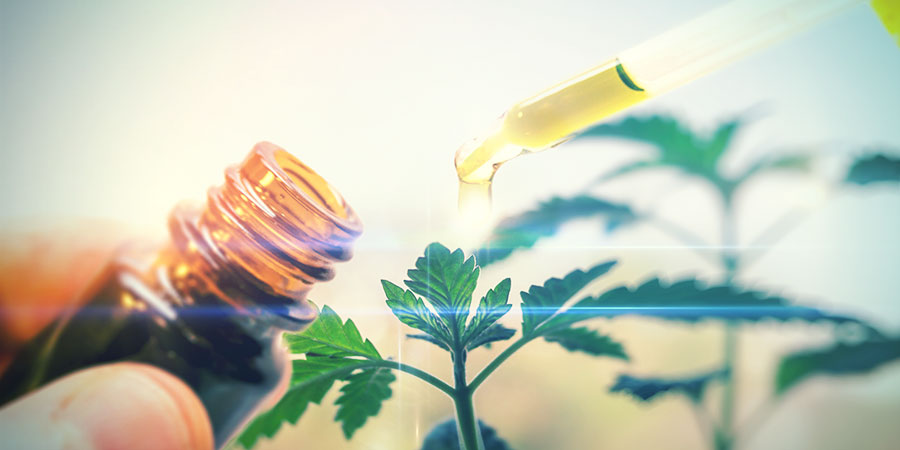 CBD, or cannabidiol, is a cannabinoid produced by the cannabis plant. It's the second most abundant cannabinoid in most cultivars and has risen to fame because of its intriguing effects profile. In preclinical and early clinical studies, the molecule has been shown to exert anti-inflammatory, anticonvulsant, neuroprotective, and antioxidant effects, among others.
It's become popular among medicinal users because, as well as imparting these effects, it's not psychotropic. Sure, it is thought to support a subtle, "sub-perceptual" shift in mood, but it doesn't produce a high as THC does. You can smoke and dab CBD all day long, and your head will remain clear and functional.
But CBD isn't limited to medicinal use. Recreational users also enjoy smoking CBD and experiencing the relaxing and clear-headed effects the cannabinoid offers. The high demand for the molecule has led breeders to develop cultivars with much higher CBD levels than traditional varieties. Strains with a THC:CBD ratio of 1:1 provide a relaxing effect with a mellow high. However, some cultivars contain incredibly high levels of CBD (~20%) and less than 1% THC. They exert no high whatsoever and offer a grounding, relaxing effect.
TOP 5 AMSTERDAM COFFEESHOPS FOR CBD FLOWER
Because it's non-psychotropic, CBD is legal in many countries. For this reason, many weed lovers that pay a visit to Amsterdam spend their time smoking THC-rich strains that are harder to acquire at home. However, CBD sales are rising within the city as the cannabinoid becomes more popular. But where are the best buds located? Find out below.
SIBERIË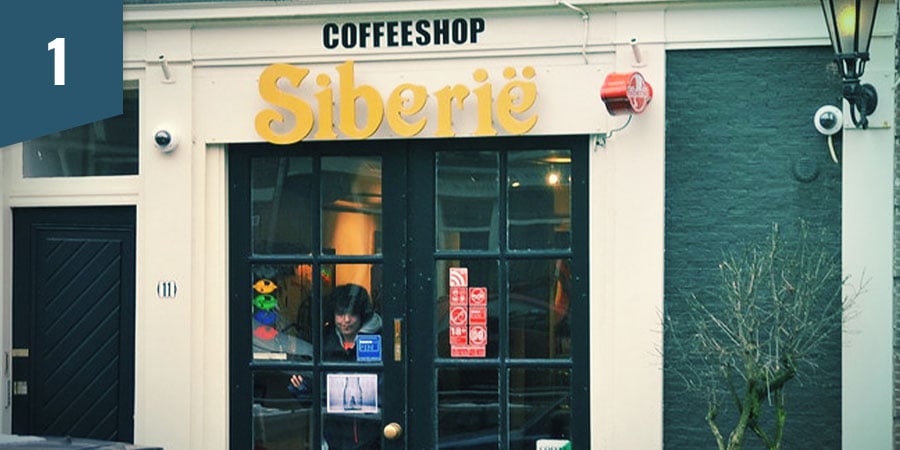 Siberië is a small and cosy coffeeshop located on a beautiful street close to Central Station. It's well known for its more obscure menu and low prices. The friendly staff and homely setting make Siberië an excellent establishment to grab some coffee, relax, and converse with fellow travellers. If you're in the mood for a spliff, use the free herbal mix provided to avoid inhaling tobacco smoke. Once you're sufficiently caffeinated and blazed, why not sit down at the chess table and test your cognition?
Siberië has a constant supply of high-quality CBD flowers. Their Violator CBD buds contain 16.6% CBD, 1.5% THC, and sell for only €6 per gram.
AMNESIA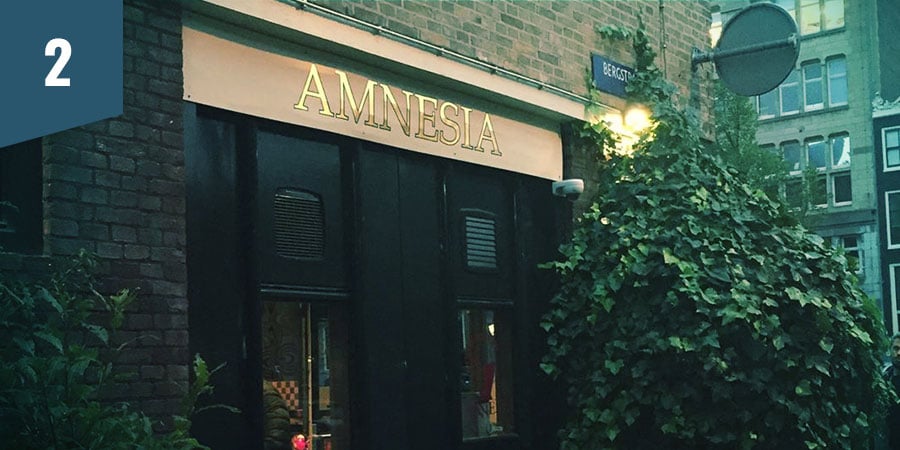 Amnesia is a boutique coffeeshop located on the Prinsengracht canal. You won't need to bring any rolling papers to Amnesia; there's a large array of vaporizers and glass bongs available for customers to use. It's a small, clean, and modern establishment with a mysterious and alluring vibe. The dark wooden tables, large leather sofa, and purple-lit bar set the tone.
Get there early to secure a seat, and spend an hour or so inhaling some fine CBD flowers.
BABYLON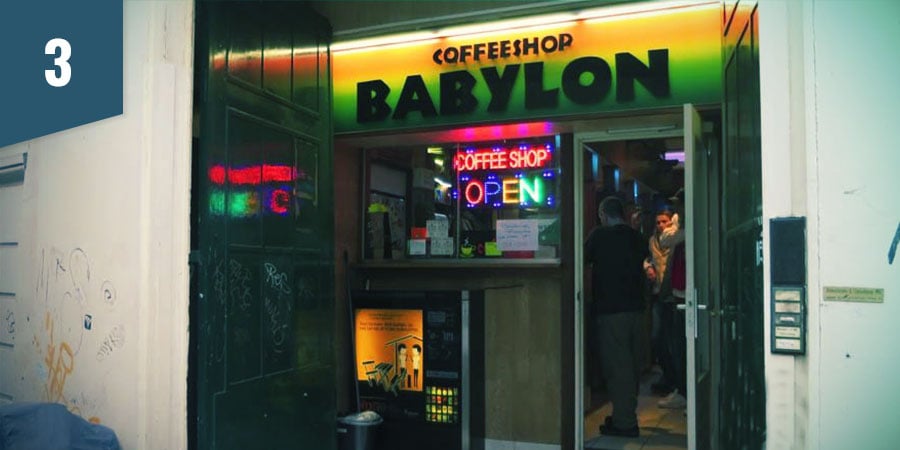 Babylon is genuinely a tiny coffeeshop, but this doesn't stop it from providing an unforgettable experience. As you walk under the colourful sign and through the entrance, you'll experience a laid-back vibe and friendly, welcoming staff members. It's a reggae-themed coffeeshop, and the syncopated music will instantly get you in the mood for a fat spliff.
Head over to the modern bar area to check out the menu and decide which CBD flowers you're in the mood to smoke. Once you've made the purchase, head to the back of the room where you'll find a glass partition, behind which is the smoking lounge—a small space filled with low wooden tables and long leather couches. It's a blissful space to blaze CBD flowers, converse with friends, and sip some fresh coffee.
BAGHEERA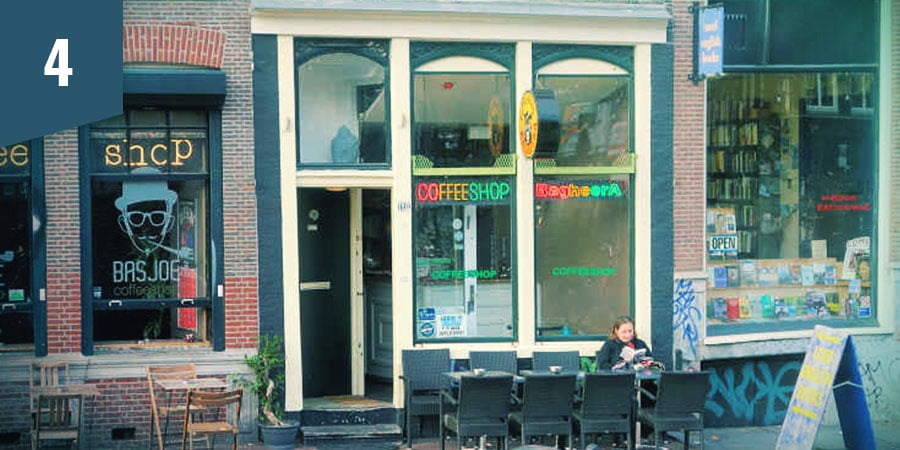 Bagheera boasts some of the lowest prices for flower in Amsterdam. It's located in the lively red light district and has a good view of some of the city's canals. Once called Amsterdam's best-kept secret, Bagheera has quickly risen in popularity and is now becoming known for its CBD strains.
Their extensive cannabis menu offers several tasty CBD-rich cultivars. If you're there in the summer, head to the seats outside and soak in the view.
HET BALLONNETJE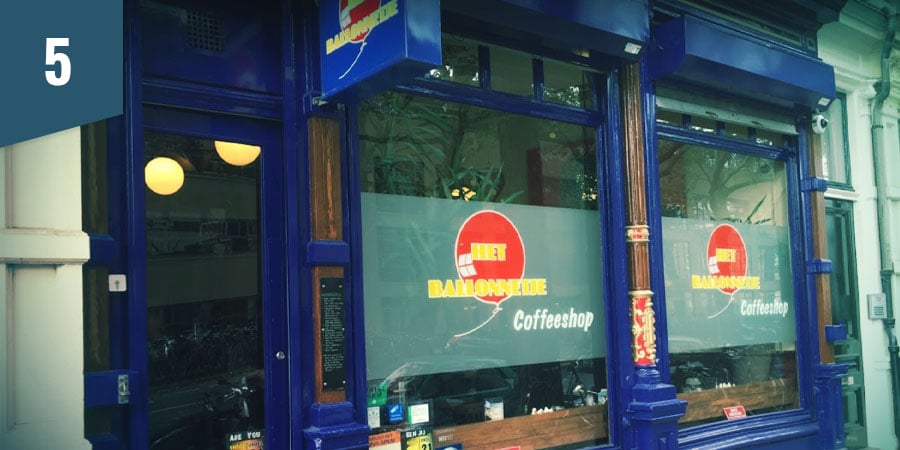 Het Ballonnetje is one of the oldest coffeeshops in the city, located in front of the University of Amsterdam. It's frequented by locals, which is often a good sign in terms of service and product quality. Since opening their shop in 1978, they've become one of the most popular spots.
Het Ballonnetje is home to world-renowned strains such as Super Orange Glue, Holy Moment, and Beachfront. If you've gone overboard with their delicious edibles or high-THC strains, try some of their high-CBD flowers to bring yourself back down to earth.